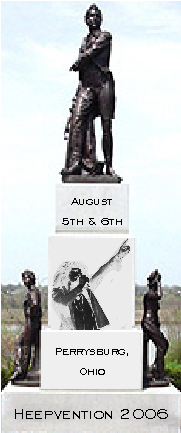 The 2006 US Heepvention will take place in
Ohio this year, so mark your calendars!
Dates of the Heepvention; being planned for
beautiful, historic, uptown Perrysburg, OH are:
August 5th and 6th.
Perrysburg is just south of Toledo, OH, near the
junction of I-75 and I-70/80. Toledo is an hour south
of Detroit, and a couple hours west of Cleveland. Toledo
has an airport, but if you plan on flying, check out
Detroit Metro Airport, also. Should be some cheap
flights out of Vegas, for you west coast people,
and Orlando/Sanford to Toledo is $84 one way.

This web information ©2006 Carolina Heepsters Association