Heepvention 02




October 4, 2002
Slackwoods Fire House / Lawrenceville, New Jersey
Photos By: Bobbie Hinson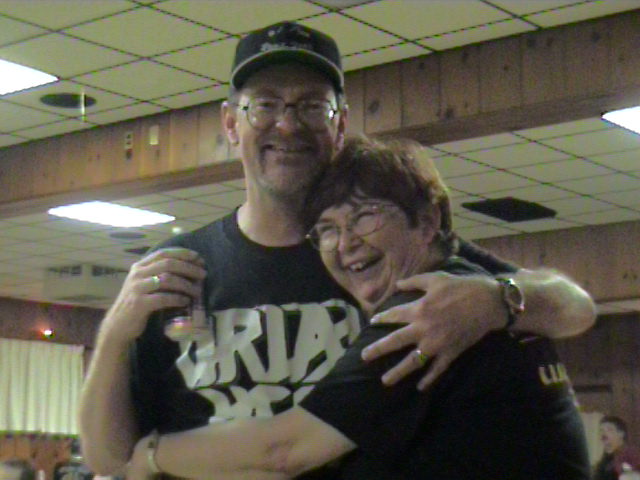 What started out in California months earlier ended up in New Jersey to coincide with the Classic Rock Festival. Dale and Helen Fredericks (pictured left) who had headed up the planning committee since beginning were more then happy to help continue the same work and dedication showed in the beginning to ensure the switch in locations went smoothly.

Bob and Susan Winward being New Jersey natives then became the host and Bob located the venue which turned out to be perfect accommodations.
Bob's review: "I just got home from Trenton, it is 2 am and I have to get up at 6am to go to a meeting at work. But, I owe it to you all to at least tell some tales, and folks they may seem like tall ones. You won't believe me, but here goes anyway. Friday night Heep fan Jam was fantastic, 2 utterly talented awesome drummers and a killer keyboard player showed up, and they were awesome.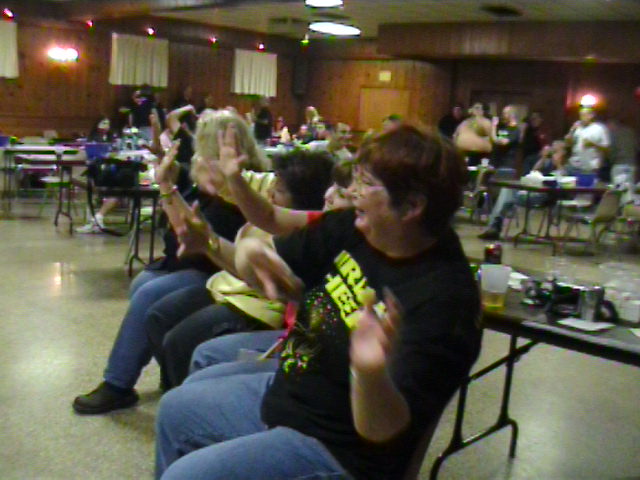 The night was going very well, then at 10:15 Pm, Uriah Heep, the band, walks into the firehall. The place went nuts!! They stayed for 2 hours, hung out, talked, signed autographs etc. Then just before they left, they all walked up to the front, picked up instruments and played Lady in Black, joined by a happy heepster chorus.
Then they went outside and waited for a van that never came. So a few of us had the big thrill of driving them back to the hotel. I chauffered Phil, Trevor and Charlie (sound technician). And I mistakently thought the rest of the weekend could not live up to that!! Susan was the life of the party and cooked up a storm, so everyone was well fed. We also went through 300 cans of beer. Pete Wharton, only drank 50 of them, the rest of us did nicely too!! :-) "
"Well, its over and it was fantastic, Heep did show up and hung out with us as the Heepsters band played, and played very well, but the highlight was when Heep decided to play a quick version of Lady In Black, which was a once in a lifetime event to never be forgotten, simply breathtaking, I need to rest up for the first big night of music.." Dave Sherrod
"Just got back from Trenton and all I can say is WOW! Can't decide what was the best part. Heep showing up for the Jam, hanging out and talking to everyone, and then taking up the instruments. Or, the electric show vs the acoustic show? Or hanging out with all the band members to chat? Or meeting all the great Heepsters from all over ?" Dave Bateman
"The Heepvention was a blast. The food was great (thanks Susan), the beer was cold, and the bartender was telling jokes. A lot of talented people on this list (myself excluded)!" John White
"The jam itself was a blast! I know that many of the musicians (like myself) were very critical of our performances that night, but overall I thought we played some beauties! You really can't expect perfection with absolutely "NO" rehearsal beforehand with a bunch of guys who have never played together before. But I thought much of the jam went very well." Rob Dwyer

"The mere fact that I had the unique opportunity to run the sound system for Heepvention was an honor (some technical problems aside) but to be able to have some in-depth discussions with Bernie, as I drove him back to the hotel after the impromptu performance, and Trevor about the status of the new album was beyond words and certainly were way beyond all expectations." Ed Halliburton
"Thanks to everyone who made this night possible, other then Bob and Susan we must not forget the efforts of Dale and Helen, Dave White, Mac, Keith Shaw, Joe Kelly, Lannis and Bobbie, Ed for running the board, the jam band participants who worked hard to learn their parts, and of course the Heepsters themselves for traveling hundreds or thousands of miles to be there. Plus a big thanks to the other Bob, Mr. Carruthers himself for his effort and support. Last Dave Owen, after all he did deliver the band to us. Oh, I should mention a certain English rock band that played at the end, the name escapes me at this time. This took lots of work, hundreds of email exchanges and many hours on the phone by ALL to make it happen. It worked!" Ron Mann
"HV on Friday was incredible. It was great to get to meet Ron finally! And to see Mac, Bob, Dave W. and everyone else again was a blast. Not to forget Pete Wharton, who is a true classic character in himself; great bloke. The music was great that night. The last HV I attended [4 years back] were great too, but this surpassed it I think cause there was so many more guys up there playing. Rob D and Dave did a great job on guitar and the singers and everyone did a great job too. Very well played and entertaining." Kevin Julie

"I've been to a couple of Heepvention jams before and I have to say well done to all the musicians. It was definitely the best sounding one yet. Particular congratulations go to those who were on stage after Heep had arrived. That can't have been easy, but I can definitely confirm that from watching Mick and Bernie standing there watching intently during Magicians Birthday their faces gave away how impressed they were. I don't know what they came expecting but they certainly went away with a better understanding. Congratulations to everyone who worked so hard on organizing and running the whole Heepvention day." Pete Wharton
"I thought the Heepster Jam band put on their finest performance of the 4 HV's I've been to, and they didn't even get a chance to practice this time. It was funny listening to Rob and Andre (the keyboard player) talk afterward though. They thought some parts went horrendously. I don't think we in the audience noticed." Dave Crookham
"Playing with the fine musicians in the Heepsters jamband and managing to pull it all off with NO! rehearsal and without ever playing/singing together...(even though I will 'umbly admit to a few "clams")...I think 2003, wherever it is going to be, will be KILLER...P.S. I can't wait to hear the tapes..." Keith Shaw


"Overall: I met so many wonderful people and I just can't thank them enough. Mac Steagall is one of the nicest guys you could ever meet and I am lucky to have met him. Pete Wharton had me in stitches the entire weekend with that wry British sense of humor (or is that "humour"). Heep should put Pete on their next album cover if they decide not to go with another Roger Dean work. And, of course, the band were phenomenal." Brian Worth
"The jam was to begin around 7 P.M. and after putting our things away in the hotel room, Gail and I ventured on up to see if we could find Slack Ave, where the jam would take place. Except for a wrong turn, we found it alright and some of our Heep family was already there. It was so great to see everyone again like Dale & Helen Fredericks, Mac, Ron Mann, Lannis & Bobbie, Dave & Carol White, and so many more. Lots of hugs later, we were jamming !" Muzzy Fedysky
"I think we were the second to arrive at the Fire house! Getting together with friends I haven't seen since Myrtle Beach 99 was fantastic and you could feel the electricity in the air once the equipment was unloaded and being set up. I think everyone was on cloud nine. Setting up the sound board with "Time to Live" which in my opinion was flawless...Then HEEP arrived and the place was in a frenzy!...They all hung arond for about 2 hours and we got to play for them instead of the other way around and I think that the intimidation factor had set in...LOL....no matter, Heep actually listen to us do their songs and I know they enjoyed that! They are a super class act signing everything we put in front of them...I know they had been waiting for this monent in the states as well, being at our function, for them." Brad and Amber Todd
"On Friday the band came to the Heepvention festivities and mingled with the people there for about 90 minutes...and then Mick walked up to me and said "Mate..can I use your guitar?" I was going to say "If you let me use yours :-)", but I thought twice about that *lol*. He asked me to get the distortion out, and to crank up the volume, and then they proceed to launch into Lady In Black...playing our instruments, at our party..." Dave White
Watch the video of:
Uriah Heep and the Heepsters
Lady In Black
Photo clips below from the above video by Rob Dwyer

Until next time.............