Grasping Onto Tomorrow
1970
As the decade of the 70s rolled around, rock and roll was changing; a heavier, more progressive sound was taking over the masses and new bands were gaining interest. England's second wave was ready to invade the ever-changing landscape of the industry; bands such as Led Zeppelin, Yes, Black Sabbath, Deep Purple and David Bowie & the Spiders from Mars were fast gaining momentum to set the stage for one of the biggest decades in rock history.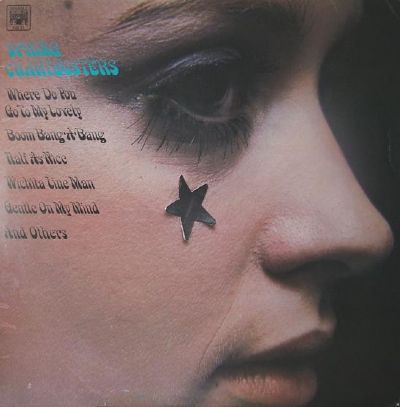 David Byron had already developed a unique style, a bold personality and stage charisma that helped mold the bands sound, and establish his own persona. His vast amount of studio experience had taught him how to use it to his advantage. His session work was getting plenty of attention and he knew it; regardless if his name was credited or not. A Marble Arch release using tracks from his Avenue Records sessions simply titled "Chartbusters '70" entered the British charts on January 31, 1970 where it remained for five weeks, and peeking at #7. This release featured eight songs with David's vocals. Paul Newton said of David, "From the first time I met David he always told me that he would be famous and it proved to be the case. Had he kept his life more controlled he probably would have been far more famous. He could have become a very successful solo artist."
Gerry Bron spent the early part of 1970 pushing the band to put the final touches on their first release. Most of the material recorded for the first album was already introduced into the live set by Spice, yet some of the tracks were being updated due to Ken Hensley's arrival. Although Ken couldn't be included in credits due to contractual obligations, his influence can't be dismissed; as Paul Newton recently explained, "Ken had a great influence on the band due to his songwriting skills, guitar work and general stage presence." With Ken now in the fold, most of the songs were re-recorded to get the right feel. All traces of Colin Wood were removed except for two songs; 'Come Away Melinda' and Wake Up (Set Your Sights). The first, 'Come Away Melinda' was a cover of the original Harry Belafonte song from 1963; the band's version was so unique and gave insight into how special David's voice actually was. The song itself became a favorite of David and Mick from the cover done by Tim Rose in 1967; yet their version was vastly different. The song was a regular in the Spice live set well before this time. It unveiled publicly how emotional David's voice could be and it displayed his true inner self, his comfort zone and the range of feelings that David had the ability to convey vocally. David was more open on tracks that featured feelings; little of the first set of sessions recorded under the Heep moniker showcased this side of David's abilities. Mick Box said this about the song, "It was recorded with a mellotron which gave it a great atmosphere, and to this day David Byron's vocal performance on this song sends chills down my spine." As far as David Byron's contributions to the album, Ken Hensley had this to say, "Dave carries the vocal flag with rare precision and expression and has uncanny flexibility which makes him an instrument of his own. A 'Davotron'! As one of the main writers in the band his contribution is priceless."
In the midst of all of this Bron had an idea to change the name of the band as a result of all the celebration for the 100th anniversary of Charles Dickens death. The band would take a name from one of the characters in the Dickens' book 'David Copperfield'. Gerry Bron said in a recent 2012 interview in Classic Rock Magazine he got the name from an advertisement placed in Melody Maker by someone seeking employment who he remembered writing, "Experienced roadie seeks work, please call Uriah Heep." Bron went on to ad, "I thought, 'Bloody hell, what a fantastic name'." On February 21, 1970 Spice played its last show in support of Deep Purple at St. Mary's College, Twickenham in West London . Paul Newton recalled it this way, "Gerry thought that Spice wasn't such a good name to launch the band with and had come up with Uriah Heep, we didn't object at all, at that stage the name wasn't important to us, one seemed just as good as another."
The band spent time rehearsing at Fox and Hounds pub in Chiswick, West London; as it seemed a central location for everyone, yet they wouldn't take the stage under the name Uriah Heep for close to a month. They debuted in mid March at the Horne Hotel in Braintree, but the official unveiling of the band was on March 20th at Salisbury Tech College in England. But this was not until making another line-up change which was a mutually agreed upon by all the band members. Drummer Alex Napier was to become the next to leave the nest, as it was discovered he had a wife and four small children; a conflict to the direction of the band, and a fact hidden when Alex joined the group. This was the perfect reason to replace the talented but confrontational musician and David Byron was the first to suggest that they be brave enough to off load Napier. Being 'brave enough' was the proper term in this case; as Paul Newton recalled, "He was a very hard man. He was a good man to have on your side; you wouldn't want to fall foul of him. He had scars all over his body from his days in Glasgow. His best mate 'Higgie' was our roadie at the time, he was a pretty hard case but even he was absolutely terrified of Alex! So we were always a bit wary of him. When we made the decision to fire Alex we then had to decide who would tell him because we were worried that when we told him somebody would get hurt! You don't know how somebody will act when they get fired, especially someone like Alex. I think that in the end we just sent him up to the office and let him find out from the management, it seemed safer that way."
An acquaintance from David's 'Avenue Records' sessions, Elton John suggested the newest member to take a stool with the rhythm section. Nigel 'Ollie' Olsson became the second drummer for Uriah Heep. Mick Box remembers, "Reg Dwight (Elton John) did suggest Nigel to be our drummer, as he had just finished his first album with him." Paul Newton recalled, "David knew Nigel Olsson from some session work that they had done together. Nigel had been working in the Spencer Davies Band but they had stopped touring and he was looking for something to do." Olsson ended up being credited with playing on only two songs on the album, 'Lucy Blues' and 'Dreammare'; this is attributed to being so late in the recording sessions and the final addition of these songs to the album.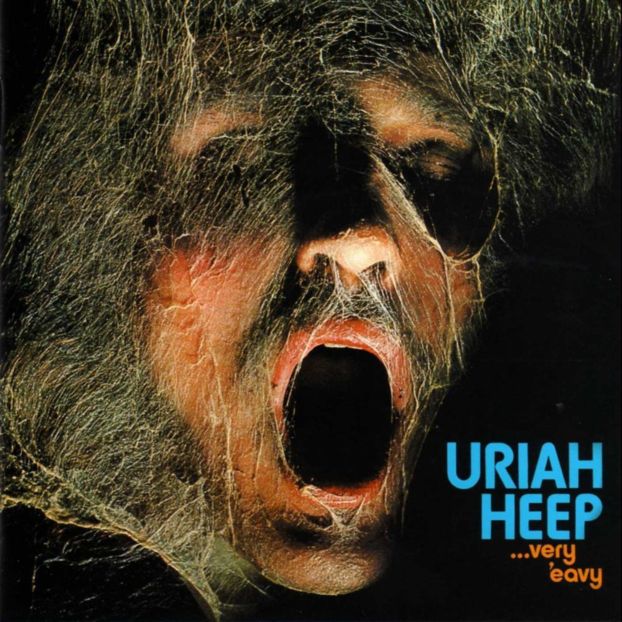 With the debut album finally completed, it was time to unleash it on the world, and another Charles Dickens reference became the title, 'Very 'Eavy, Very 'Umble'. The original idea for the cover was to have David dressed in a tailcoat and top hat to reflect the Dickens' reference of the name. After a session of photos it was clear the idea wasn't working, and as the story goes Mick Box decided to leave and go down to the local pub. When Mick returned he had gotten hold of a cobweb machine that had been brought in for the sessions. He pointed it straight at David and seizing the opportunity, tapped David on the shoulder and when he turned around Mick switched the machine on and it covered David's face with glue. The photographer snapped the photographs, and in the process captured a surprised but highly upset David Byron. The cover was born, and as Mick Box recalled the incident, "If there was any doubt at all, yes that is David Byron's face in cobwebs on the front cover and it was done by my good self with a glue based cobweb machine. It took three weeks to get out of his hair and impressed David was not! But it gave us a great cover!"
Vertigo Records released 'Very 'Eavy, Very 'Umble' in June of 1970. By time the LP was finally released Uriah Heep were looking for a new drummer once again. Nigel Olsson had left the band to rejoin Elton John and his last known show would have been on May 19th at the Marquee. Nigel spoke of his time in the band, "I got the road gig with Uriah Heep, which was a little heavy metal for me. I did nine dates with them, and Elton had this gig at the Roundhouse, which was kind of a prestige gig. It was kind of like the Troubadour would be. And he basically just wanted to do a promo for his record, to get his and Bernie's songs out for the Eurovision song contest... He said, 'Would you be interested?' and I said, 'Yeah'." As remembered by Mick Box, "He became our drummer until Elton had success in the USA and took him back in the middle of a Heep tour of the UK ! Nigel left the dressing room, and I never saw him again even to this day!" Paul Newton put it best, "Soon after joining us he got an offer from Elton John and it was an offer that from a financial point of view he couldn't afford to turn down. Nobody questioned it because although we were all committed to the band, by then if some one like Elton John had made any of us an offer like that we'd have taken it. We weren't that stupid not to realize that Elton was going to be very big." This was a clean breakaway of sorts; an offer of twice the income and a sound future was too much to overlook. The next drummer to be introduced into the ever changing incarnation of the band was Keith Baker, who was chosen after multiple auditions. He joined the group with his main experience to date being part of Bakerloo, which featured Dave 'Clem' Clempson on guitar who was soon to replace Peter Frampton in Humble Pie.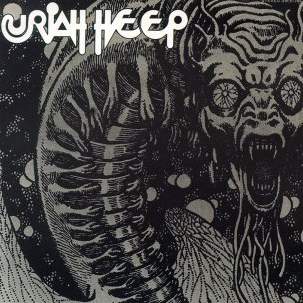 Gerry Bron had invited several Mercury Records executives to see the band live during the first UK tour, hoping to land a distribution deal for the United States. Former Marquee manager and Bron associate Colin Richardson remembered that time, "With regard to Heep signing to Mercury, that was more likely to be related to the fact that they were signed to Phonogram in Europe so Mercury (who later changed their name to Phonogram) would have had first refusal." So Gerry was successful in getting the band signed to the standard three album deal of the era. The first album wasn't released in the US for several months, simply titled 'Uriah Heep'; the cover displayed a dramatically different feel as it used a 1940s science fiction painting, and it included changes to the track listing on the LP as well. 'Bird of Prey' was the final track on side one, this would have been from an early session including Keith Baker on drums, and it replaced the song 'Lucy Blues' which was deleted from the US release.

The popular feeling is 'Gypsy' was the most memorable song from the first LP. Co-written by David & Mick, the lyrics were odd in certain places; but the feel of the repetitious guitar riff and keyboards gave the music the direction the band was after. David was later quoted, "That was just a story song about the gypsy religion. Like, if you're in love with a gypsy girl, there's a strong religious thing where you've got to prove yourself as good as they are. They found her making love to this guy so they beat the shit out of him." Ashley Howe, who worked his way up the ladder with the Bron organization recalled, "Gypsy has been their milestone of a song. And I don't know if you could do Gypsy without Byron, he had a wonderful sort of cheeky rock n rollness about him". Mike Paxman was quoted with, "I had the first couple of albums which I loved. I was not so aware of all of the albums after that, but I know some of them. For me, the song that had the blueprint would have to be 'Gypsy'. There are of course many others, but some of the early stuff really defined the style."
Looking back at the results from the first album gives a bit of a disheartening look into what the band would face in the press for the coming years. First off it didn't chart in the UK , and in the US it only made a small dent as it charted for four weeks and only reached the #186 position. The album had some harsh reviews all around, none more noted than that in the US publication, Rolling Stone Magazine. A review by Mellissa Mills has been quoted many times, the entire lack of knowledge and taste displayed is legend among fans, "If this group makes it I'll have to commit suicide. From the first note you know you don't won't to hear any more. Uriah is watered down, tenth-rate Jethro Tull, only even more boring and inane. UH is composed of five members: vocals, organ, guitar, bass and drums. They fail to create a distinctive sound tonally; the other thing in their uninteresting style is that everything they play is based upon repetitive cord riffs." As she continued with her journalistic drivel, Melissa added, "According to the enclosed promo information, Uriah Heep spent the last year in the studio rehearsing and writing songs. No doubt their lack of performing experience contributed to the quality of the record; if they had played live they would have been thrown off the stage and we'd been saved time, money, and vinyl." None of this mattered, as the band pushed forward and was driven to continue on.
With any spare time available, David had a strong drive to keep busy. His friendship with Peter Lee Stirling provided Byron with many opportunities to do just that. Their work together
had progressed from session work into more notable ventures attempts to gain some notoriety under their own names.

Somewhere during the early part of 1970 through contact with John Fiddy, who was handling the music score for a motion picture being filmed; David and Peter

came across an offer to write and record for the production.

In the beginning it's certain they felt this was a big move forward, and stars were in their eyes.

They wrote three songs together, the lead vocals on the original recordings were done by Peter since David was by now under contract with Bron, but it's evident that David did some backing vocals on the recordings.

The movie, 'Groupie Girl' was released in June 1970 in the UK and later in December 1970 as, 'I Am Groupie' in the US by American International; it was a cheesy, low budget 'B' film, with bad writing, bad acting, and poor production.

The opening credits to the film listed David's name painted on the side of van as co-writer.

The same is evident with a French version of the film released later in 1973 that was titled, 'Les Demi-sels de la Perversion'; this particular version, in which the title translates to, 'The Pimps of Perversion', contained sex scenes not included in the original film.

By time the original movie soundtrack was released by Polydor Records, it listed the songs David was part of under the artist name of, 'Virgin Stigma'; and all of David's writing credits were removed.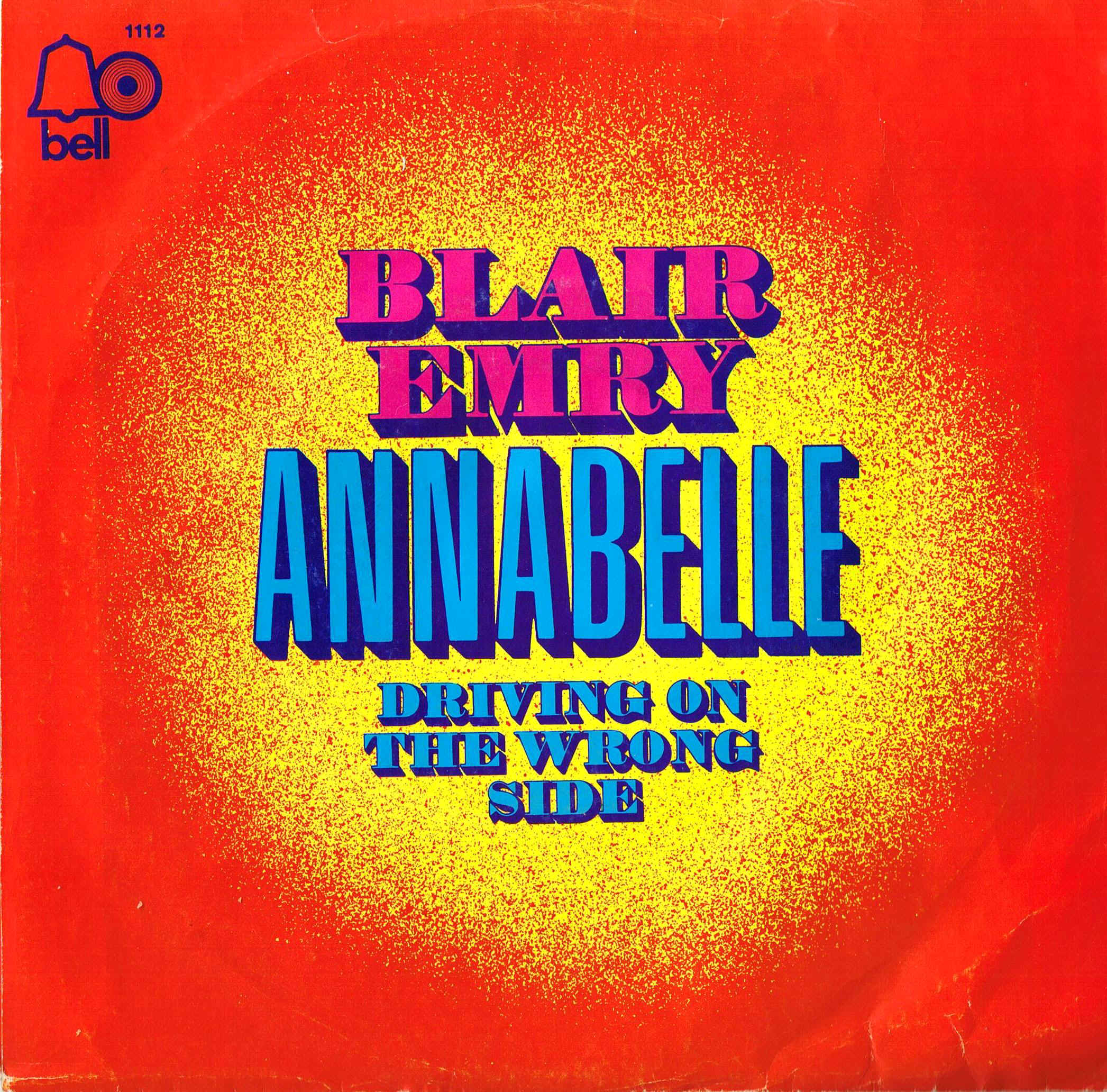 Some remarkable work was recorded by David along with Peter Lee Stirling during this period of time. Many of these projects weren't public knowledge for many years. In fact, the surprising number of projects in which David was involved underscores how driven he was. David was constantly striving to advance his career. The entire truth of one project, the 'Bell Singles' may never surface. There has been much speculation concerning these singles with the most popular theory suggesting an entire album was recorded. As of yet, no album has been located by fans, however demo singles have surfaced that were released by Bell Records under artist names of, 'Blair Emry', 'Faint Heart and the Fair Lady Band', and 'Platinum'. All three releases had the same similar credits, produced by Shel Talmy and arranged by Phil Denys. The material was a poppy style, one that would fit in nicely with the Avenue Records fare at the roots of the friendship between David and Peter. Both artists used their real names on the writing credits, so it's evident that both took part in writing and vocals. A book compiled years later through a French rock publication, title 'Enfer Magazine Presents – Hard Rock Anthology 1968 – 1980', written by Denis Meyer, it listed; 'Platinum / UK prog-rock with Larry Byron, pre-Uriah Heep / Bell [UK] 1970.' The mystery of this section of David's work may never be solved but the evidence is intriguing in a search to uncover the rest of the story.
It's well known that Gerry Bron wasn't the type person to hand out boatloads of money to the artist he signed. Keeping this fact in mind, we understand another reason why David kept such a relentless work schedule. He was always looking for opportunities to supplement his income. He was still making his routine ventures to do studio session work at PYE International for Avenue Records. His work on these sessions had now began to decline, as by now the friends he had made had left to pursue their own careers. Other vocalists were beginning to grab the staple of work and his importance to the label was diminishing. Yet David always spread the word that he was willing to take part in any project, any chance to be behind a microphone. The final sessions released from this period to contain any traces of his voice were recorded in September 1970. His time was no longer free with the bands first album released, sessions planned to record the next one, and demanding rehearsals, writing, and touring. The last confirmed track David did with Avenue Records was released in November, 1970; a cover of "I Hear You Knocking", originally recorded by Dave Edmunds.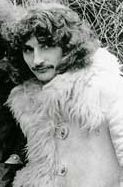 David took himself seriously, maybe a bit too seriously at times, as a vocalist or the star he intended to be. Some viewed him with having an arrogant attitude, but this didn't apply to his employers or co-workers; he was prompt for sessions, appointments, and performances. He was where he was supposed to be, and he delivered exactly what was asked of him with little rehearsal and few takes in the studio. David had that certain thing that spelled, 'star'. He summed up his feelings in a Mercury Records press release from 1970 with this statement, "I see myself as more than just a vocalist. I have a definite job in tying the band together visually. It stands to reason that the spotlights will be on me most of the time because I'm the front man, so by moving around I can involve everyone. I take singing very much to heart, and I try to use my voice as an instrument. You see, a guitarist experiments for hours to get different tones from his instrument and I see my voice as just that - - an instrument." In hindsight this so called, 'attitude' he had helped to form his stage presence.
This attitude was essential in helping him become the best vocalist possible; i
t's a quality in a strange sort of way.

Most of the biggest vocalist in the history of music
had this feeling of self worth, but it was difficult to contain without offending others, especially for a 23 year old who had yet to leave his own continent.

Colin Richardson said of David, "
David Byron - he was OK, I didn't have a problem with him, but he was a little bit of a peacock."

Former equipment manager Dell Roll remembers meeting David, "I first met David around 1970 on a ferry returning back to the UK, whilst I was working for another band, 'Sweet' I think. He was there with the rest of Uriah Heep, even on the ship he was acting like a rock star, which at that time I thought was pretty un-cool. Little did I realize that a year or so later that this full on attitude would be helping pay my wages for the next few years."
By now it was October 1970; the band had already planned out the next album and went into the studio to start work on the Salisbury sessions. The album was recorded in multiple sessions through the end of November. The most noted quotes on the album itself pertained to the recording of the title track, a sixteen minute orchestrated masterpiece of work. Ken Hensley recalled, "David wrote the opening chord and brought it to one of the rehearsals. We tried to expand the number as far as we could go just to see what would happen. It was a sunny day in the Fishmonger's Arms, Wood Green.... and all these silly ideas kept creeping in and the number we'd developed until we got to the end where we found we'd forgotten the beginning!"
Another of David's Avenue Records contacts joined in for this piece of work; bassist John Fiddy, who was known for his work with putting orchestra and rock music together. John commented on his feelings about the song, "I didn't like the final mix (naturally) as I felt the power of the overdub was somewhat lost, and Ken's organ seems to blast away and cover everything. In the circumstances a more 'even' mix would probably have worked just as well...by the way I was never an arranger who wanted his work to be heard in front of everything else, I always believed that the overall product was far more important." Another quote from John of interest was, "I got to know Mick Box and Ken Hensley, and there were discussions about my arranging a solo album for Ken, but it never came to anything." Ken backed that up later with, "We want to work with John (Fiddy) again. I've written another long piece; it's more spaced out than Salisbury . It's called 'The Ninth Door', and we want to work out a complete orchestra arrangement for it that allows room for more orchestral interludes. It's basically a simple thing with imaginative lyrics and a lot of mood changes." Since the Ninth Door was never recorded, an obvious question is whether Ken adapted the embryonic music into one of his later compositions.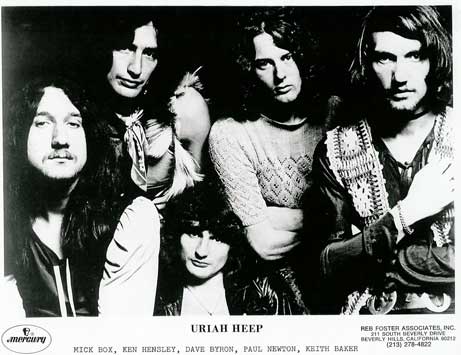 John Fiddy recalled how he came to be involved in the Salisbury sessions, "Gerry Bron contacted me; I had not met Gerry, or the band, before." This certainly sounds like John Fiddy is saying he had never met David during all the session work with Avenue or the Groupie Girl project. Since the musicians and vocalist during the Avenue sessions went into the studio at different times, they didn't record together; it would make perfect sense. With regard to the movie soundtrack, that would have been through contact with Peter Lee Stirling; so again he would have never met David at this point. Although it would seem John would have been familiar with whom David Byron was, it seems unlikely the prior connections with Avenue Records had anything to do with John Fiddy being hired for the Salisbury recording. Yet he had to know his name and who he was, regardless; so it's taken' that he just didn't acknowledge prior acquaintance, or didn't feel it necessary in that particular interview; which was directed into another subject entirely.
Ashley Howe remembers some humor from the recording of the Salisbury epic, "While we were doing 'Salisbury' we had to sort of hide the band because they had long hair and stuff, and there was session musicians playing on it as an over-dub. I'll never forget it! They [the band] all sort of crept in and Peter [Gallen] had got the sound and off we'd go. Everything was going fairly normal for an orchestra until they hit the guitar solo part and you'd hear the 'wah-wah' click on, the noise of the wah-wah on the fall-back speaker. I will never forget the look on those people's faces; it was like 'We're playing on a rock n roll record!' And the band had crept in and were leaning down and they [the orchestra] looked up, and for the first time, saw all these hairy guys. Ha ha... It was an interesting moment because that wasn't done very much." Mick Box once joked about that as well, "At the point in the song where I click on my 'wah wah', you can hear 22 orchestra members throw their headphones on the floor."
In the later part of October 1970, David met a young German girl by the name of Gabriele Liehmann. Although she was only around 16 years old at this time, she made quite an impression on him. Gaby recalled them meeting in an interview with Popfoto Magazine in 1977, "With David and me everything went automatically. I was still going to school at the time, to earn some money I worked as photo-model. It so happened that we took some photographs at the festival. When I went to the shelter to get a cola for refreshment I ran into Mick Box, guitarist with Uriah Heep, and shortly after David came along as well. We talked nonsense between the three of us and in between I had some more photographs taken. Uriah Heep was playing and afterwards we met again in the shelter where the refreshments were. The next morning David and I were still standing there chatting. In the afternoon David had to fly back to London ." David told Gaby he would write back and sure enough he did. Gaby says, "We wrote almost every day telling each other what we were doing and from this friendship by letter became love."
Paul Newton said of this early time, "David was a lovely, lovely man. He was a pretty naive guy. He didn't really have any girlfriends until we went to Germany and he met Gaby and they struck up a relationship and became an item. Dave had his feet more on the ground in the early days." Les Lambert recalled that time vividly, "When I did the first gigs with them, which we'd just been over in 1970 [Germany] he'd already met her. She was a model and quite high class and he was from public school background and her family had money. He was totally crazy for this girl." David would never be the same after this point.
Back To Biography I Back To Home