PAUL MARANGONI - an interview

Paul Marangoni is a veteran Canadian rock drummer who's played with numerous acts. His most noteable gigs include the likes of guitarist Alex Masi, Canadian prog band FM, and one of my favorite Canuck bands of the 80s -- CONEY HATCH! I came across Paul while checking out info following my interview with James LaBrie, and was learned about a 'forgotten' era of the Coney Hatch history. Here, Paul runs us through his career, his time with Coney Hatch, FM, and various other bands. For more info on Paul check out his own web-site at http://www.interlog.com/~paulm or his corporate site at http://www.musotech.com

Q: intro to drums? how long have you been playing professionally?
PM - I started playing drums at age 13 and played my first 'concert' with a rock band (Mantis) when I was 16. I became professional at age 18 and went on the road with a top-40 band called 'Selection'. I'm now 36, so I guess I've been playing for 23 years.

Q: favorite drummers?
PM - There are a lot of drummers that I admire and listen to for inspiration. A few of my favorite are Vinnie Colaiuta, Terry Bozzio, Steve Smith, Simon Phillips, Gary Husband, Chad Wackerman and Dave Weckl. Some local Toronto drummers that are really hot are Vito Rezza, Paul DeLong and Rick Gratton.

Q: when were you with FM?
PM - I can't remember the exact dates, but I think it was around 1989 until 1990 or 1991.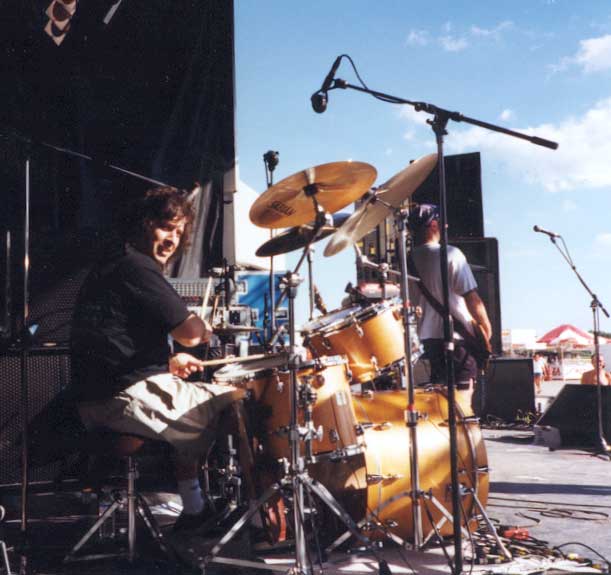 Q: did you appear on any recordings?
PM - No, I didn't record with FM. We started working on some new music, but it was never completed. We ended up doing a CD for Marty, who played violin and mandolin with FM at the time.
Q: who else was in the band during this time?
PM - Cameron Hawkins (Bass, Keys, Lead Vocals), Simon Brierly (Guitars), and Marty Warsh (Violin, Mandolin).
Q: The WORKS received some air-play years ago? what can you tell me about this band as far as who else was in it, number of albums, hits, highlights...... ??
PM - I had a great time recording The Works' CD "From Out Of Nowhere" in Miami back in 1989. Jim Huff played guitar, Brian Maloney sang, Stewart Zaltz played keys and Klyph Black played bass. The record was produced by Tom Allom who was renown for his work with Judas Priest. During this time drum machines, samplers and triggers were all the rage, so I ended up programming most of the drums on the record and overdubbing most of the cymbals. You'd never know it, but it's true. I wasn't very happy about it, but I did a LOT of drum programming in many studios around this time and I was (unfortunately) very good at it. After the CD was released, the band asked me to tour with them, but it wasn't paying enough for me to turn down the various gigs I had in town so I turned them down. They put out another CD under the name "Wall Of Silence" and then broke up shortly after that. I've recently begun doing some recording with Brian Maloney on some new material that he's been writing and he tells me that a compilation "Works" CD may be released in Japan soon too.
Q: Who's Simon Chase? Who else was in this band when you were there?
PM - Simon Chase was a rock band that first appeared on Q-107's homegrown contest CD. When I joined the band, it featured Tony Comparelli on vocals, Silvio Simone on guitars, Dave Tkaczuk on keyboards and John Menniti on Bass. The band released a CD before I joined and another after I quit. Silvio and Dave went on to play with Rik Emitt (of Triumph) and then Silvio played with Tom Cochrane too. Silvio then hooked up with Phil Naro and formed Blood Red Flower. Tony has been helping his wife Carmela Long with her music career, and he and I may do some recording in the near future too. We used to be in a band called 'Fuze' that had some great songs that I'd love to record properly some day. Anyway, Simon Chase played a bunch of clubs and we started doing more and more cover material so I decided to move on.
Q: You were in Coney Hatch from late 85-85 [!?] what can you tell me about this era of the band, as many people aren't familiar with it. when did you join the band? [before LaBrie right?] and how?
PM - I joined the band just as they were deciding to try doing it without Carl Dixon as their lead singer. We auditioned a few singers, and then I told them about Kevin Labrie, who was a friend of mine and lived just up the street from me. To make a long story short, Kevin joined, we rehearsed and wrote a bunch of songs and toured mostly around Ontario playing small clubs. The record company (Anthem) never helped much and was really apathetic about things, so it all fell apart in the end.
Q: you did some recording with LaBrie as singer!? what can you tell me about these songs - any titles? how did they compare to old Coney? etc... when were these recorded? and could they ever be released?
PM - We recorded about ten songs, mostly on crude 4-track equipment in our rehearsal space. Some of them were okay considering the time. It was pretty commercial rock; very pop. Anthem was never impressed though. There's no way they'll ever be released.

Q: what do you recall of the live gigs with LaBrie singing? what sort of venues or tours did you do? any huge gigs or opening slots?
PM - We never did any major shows, just clubs in Ontario and Quebec. It was the first prestigious gig for both Kevin and I, and we roomed together most of the time.

Q: what do you recall of the circumstances around LaBrie leaving the band?
PM - The band was still trying to appease Anthem, so in last ditch attempt at saving the record deal, we decided to try yet another lead singer. Kevin was a little upset at first, but we all remained on good terms and he started working with a lot of local acts and really began establishing a name for himself.

Q: how and when did Phil Naro join the band?
PM - Phil was still working with Talas, even after Billy Sheehan went on to play with David Lee Roth. When Talas wasn't working he would rehearse and write with Coney Hatch. We played a bunch more clubs in 1988, but this was short lived also.

Q: were there any recordings with Phil? [did you guys tape any of the shows with either Phil or Kevin?]
PM - There are some live recordings, but I don't know if anyone still has copies.

Q: how was the response to the shows during these years?
PM - There was a core fan base, but it was kind of waning since the band hadn't released any product for such a long time.

Q: did you leave Coney, or did it kind of fall apart?
PM - The band kind of fell apart with no interest from the record company, and then they started doing the reunion shows with Carl and Dave Ketchum.

Q: keep in touch with Andy, Kevin, Phil, or Steve?
PM - I talk to Andy now and then. Phil and I a pretty close. I saw Kevin in Seattle a couple years ago and we e-mail each other occasionally. I speak to Steve about once a year. These days we're all too busy with various day jobs or tours, etc.

Q: what have you done with Alex Masi? what are you currently working on?
PM - Alex contacted me last year about doing some experimental recordings and I recently went down to Los Angeles to record some music with him. It will be all instrumental and probably released only in Japan. I've recently begun working on a rock record with him too that I'm very excited about. I think it will be one of the best things he's done in the commercial vein.

Q: what can you tell me about the recordings you did years back with Alex & Phil?
PM - Phil and I went down to Los Angeles to try to get a record deal with Alex. We recorded a bunch of songs (some of which were great too) and then we played the Hollywood Palace. We went over well, but no deal resulted and Phil and I couldn't afford to just wait around for things to happen, so it kind of fell apart rather quickly.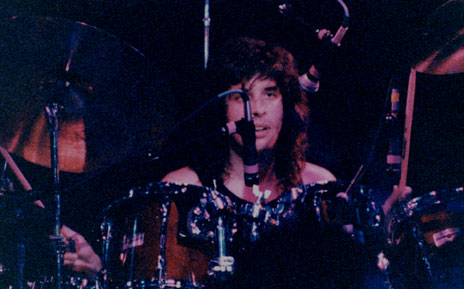 Q: what other bands have you actually recorded with , and are you more of a 'live' performer or a studio muso?
PM - I recorded with The Works, Martin Shaw (http://artists.mp3s.com/artists/28/martin_shaw.html), and a bunch of independent acts that no one has ever heard of (like Eddie Moon and James Jones). A recording that I did with Adrian Davison back in 1988 (called Bass Symphony) received a lot of critical acclaim in various guitar magazines. It was sort of a jazz-fusion recording; all instrumental and very over the top. I don't think it's available anymore though.
Q: what did you play on the magna carta Genesis tribute?
PM -I played with Over The Garden Wall, a local Toronto Genesis tribute band. We recorded "Firth of Fifth" for the CD.
Q: what else are you currently involved with?
PM - I'm currently working on a bunch of music with Alex Masi as well as a local Toronto artist by the name of Andi Duncan (http://www.andiduncan.com) who's music is in the vein of Shawn Colvin. Warren Toll is someone I'm planning to work more with here in Toronto. We recorded a demo a couple years ago that was quite good. I'm also hoping to write and record some of my own music over the next year too.
Q: favorite bands, musos, and albums in rock?
PM - I love Toto, and their new release is awesome. Other favorite acts include Jason Falkner, Tears For Fears, Zuckerbaby, Chantal Kreviazuk, Shawn Colvin, Mike Stern, Allan Holdsworth and Jeff Buckley.
Interview Copywrite: Kevin J. Julie, Dec. '99