Eddie St. James is an American musician now based in Germany.

Throughout the 80s St. James was in various LA area bands with musicians that came from such bands as Survivor, Pat Benatar, and Uriah Heep. Discouraged by the shoddy state of music in the US St. James packed up a few years back and re-located to Germany to seek a better future in his career.

Recently Eddie St. James has released his latest CD - a 4-track [5 including an edit] mini-album titled "Something More" on Rockwerk Records. Something More is less of the LA metal '80s styles, and more of a mature pop/rock style with St. James own distinctive smooth voice, harmonies, and memorable melodies on tracks like "Under Blue Skies" [my personal fave, with a smooth blues guitar edge], "World In Motion", and lighter tracks like the ballad title track [written in memory John Lennon] and "Persuasion Of Love".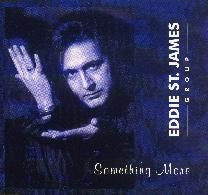 I can quite easily see a few of these tracks being excepted and possibly hits on North American radio. St. James handles lead vocals, keyboards, and shares all guitar duties with Carsten Egger, and accompanied by bassist & percussionist Marcel Diehl. Although Something More doesn't contain a big heavy rock cut, the tracks are all enjoyable, and should appeal to classic rock / pop / aor fans.

Recently I linked up with Eddie on the internet for this chat / interview about his career, life in Germany, and new projects. For more info on Eddie St. James check out his web site:
http:// www.wilrose.com/EddieStJames.html

Q: OK, I'm not familiar with your music what can you tell me about your style?
ES: well it's very simple, I'm 37 years old and i grew up with all the 60s stuff to current. That is to say basically everything from pop rock to Latin to musical. So I Like the Pop Rock stuff the best and that's basically the style that I write as original music.

Q: How would you describe your recordings?
ES: As far as my current direction and recordings go, I try to stay faithful to my roots but at the same time I try to stay current or add some un-typical sounds (sound loop , keyboards or midi generated sounds) to my songs to give them an individual or Eddie St. James type of trademark. Well don't forget everything (modern pop music regardless if its rock, jazz, hip hop, soul etc... it all stems from the basics blues).

Q: what do you think of modern music styles?
ES: How do I feel about modern music, I'll tell you I think right now rock or pop rock is in a stand still phase and as far as hip hop and rap go I'm just not a fan but I do like the R&B and Soul and especially the Lenny Kravitz style this funky rock.

Q: are you into Blues rock, aor, etc.. ?
ES: Yes I love Blues and Blues rock but I only play it to myself or in my cover band because with blues your limited to about 7 basic chord patterns, Yeah you can variate but if your not BB King or Gary Moore nobody wants to hear your blues songs because they already been written and played a million time over by better musicians.

Q: can you give me some of your biggest influences?
ES: First and foremost The Beatles, then I would say comes a very wide array of influences, for example classical to Funky, Vivaldi, Bach to Red Hot Chili Peppers and then over to tears for fears.

Q: you played with the guy who used to be in Pat Benatar's band. Neil Geraldo is one of my faves to listen to...
ES: Yes Niel Geraldo is incredible I am still fascinated by his playing, and by the way Mayron Grombacher is also an incredible drummer man what a pleasure to jam and record with the guy.

Q: Your resume boasts some other big names. who else have you recorded with?
ES: The complete Edgar Winter rhythm section, Phil Soussan (Ozzy Osbourne) and a couple members of Earth Wind and Fire, also with the producer for Luther Vandross, Ruth Pointer and Jon Sinclaire [Dunmore].

Q: what did you do with Sinclaire? and Soussan?
ES: With both Jon and Phil we did the First Jon Dunmore solo album (Hypnotica) together, I mean Phil Played on one song but I played and wrote on the complete CD.

Q: were you ever into the early 70s HR / prog scene?
ES: Oh yeah, with my first garage bands we experimented with everything from free acid jazz and then combining it wit Rush style song writing, 'Bitor and the Snow Dog' or the 'Necromancer'.

Rush is local here, and legend!!

Q: ever into the hammond bands > Purple, Heep, etc... ?
ES: Smoke on The water was the first song I ever learned. I loved Deep Purple, The sound and song writing was very big proud and majestic.

Q: were you ever a fan of Heep? any fave Heep tracks, LPs?
ES: Yes I liked a couple of the songs from Uriah Heep and we play Lady In Black in my cover band program, this song was also Heep's biggest hit here Germany anyways.

Q: What did you do with Stef Fontaine?
ES: This is also very interesting, I've got too many stories about Stef. But I will say I like the guy very much and he is ONE HELL OF A SINGER, man the guy belts it out, it's frightening. We worked together in my band The Eddie St.James group back in 1993 or 94 for about half a year or a little more. The problem was that to get an original Hard Rock Band off the ground from zero was the same as a snowball's chance in hell.

Q: who else was in that band with Stef and you?
ES: Yeah with Stef and me we had also Marc Droubay (drummer from Survivor).
Q: what sort of stuff did you guys play? any covers?
ES: We did cover stuff like Respect (Aretha Franklin) and Journey, Stef was a Journey freak, we even tried to start a Journey tribute band but could not find anybody for drums or keyboards, while the stuff sounds easy to play but it's not.

Q: funny i had heard Stef being compared to Steve Perry!
ES: Yeah Stef was or is known as the Steve Perry of Redondo Beach, actually the guy also has a 4 octave range and an ability to go hard gravel to soft and pretty.

Q: did you guys do any recordings?
ES: Unfortunately we did no studio recordings but we did a lot of shitty ghetto blaster recordings and one live video at Red Onion night club gig but I never got a copy of it because I didn't think it would ever be worth the trouble to copy it. So the drummer (Some unknown kid let his girlfriend film the gig) then I never saw the guy again.

Q: any idea what Stef is doing these days?
ES: I saw Stef one last time before I moved to Germany about 4 or 5 years ago. and he had cut his hair moved back in with his mother. He had told me he was trying to become an actor, but he also was playing in a Deep Purple tribute band with another friend of mine.

Q: can you give me a few of your fave guitarists?
ES: My favorite guitarist again a wide range, I think George Harrison was brilliant and underrated as a technical guitar player. Of course Jimi Hendrix and Dimiola, Van Halen, Niel Schon, Clapton, Delucia, Montoya (I love flamenco guitar- I think its the most difficult guitar to play).

Q: why did you re-locate to Germany?
ES: I relocated to Germany because four basic reasons Love, Money, Opportunity, and mentality of the Europeans. Europe and the Europeans still appreciate music and art, its appreciated and rewarded and in L.A. your just another long haired typical asshole loser that only wants to waste his time with such nonsense like music, so you are punished and humiliated and then kicked in the balls. Do I sound jaded, Yes I am jaded that I didn't move sooner. No really that I let this scene or people or what ever you want to call it, just really bring me down.

Q: How do you feel you are treated over there?
ES: I must say here I am king, or at least I feel that way, you know the T.V., newspapers and promoters pay attention to me and they're interested in my music. Buy the way I took over all the lead singing after I worked with Stef because I wanted to be independent from this so called Lead Singer Syndrom, Curse and misfortune. I don't sing as good as Stef or Jon but I always know what my singer is thinking and where he is and what he's going to do.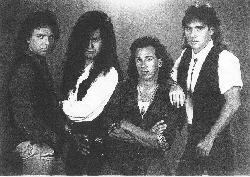 Q: yeah, it's interesting to see how the old classic bands are still respected over there
ES: I would also like to add that I loved the experience of working with all the people like Stef and Jon and Bobby Gianetti and Richard Grieco most of them are like blood brothers to me and it hurt me very much to move away from them, and I'm not gay, it's just that these where relationships that went deeper than anything else in my life.
Q: Keep in touch with anyone there?
ES: Yeah, basically with my mother and with Jon Sinclaire, also once in a while with the guitar player from Ronnie James Dio and the singer from Quiet Riot.
Q: do you see any other Americans over there like yourself?
ES: Yes I see and meet a lot of Americans that have moved over here or are passing through on tour, for example David Haynes (former drummer with Prince), Schaka Kahn, Jim Kahr etc...
Q: what sort of venues do you play there? and crowd sizes?
ES: At the moment I am self managed and do my own booking so I'm a small fish. So my gigs range from small little pubs to small festival settings.
Q: how many CDs have you done over there?
ES: I've done 2 CDs here of my original stuff. (maxi CDs 4 songs each)
Q: what does your own CDs compare to?
ES: I'm trying to go or stay in this Lenny Kravitz, Beatles, Hendrix mix plus trying to carve out my own writing and singing signature. I have definite visions for myself.
Q: what does your live set consist of?
ES: With the Eddie St. James group my sets consists of ONLY MY ORIGINAL SONGS.
Q: What has been your best known album so far ?
ES: I would say the CD I did with Richard Grieco (21 Jump Street, Booker etc..) It's not my songs but as far as my own songs I don't even know if anybody even knows that I'm alive or even exist.
Q: do you have any hits in Germany?
ES: No I don't but I think the Grieco and Dumore/Sinclaire CDs have been on the charts, anyways I have press with the CDs present on the bottom of the charts. Yeah it's still not that easy to get things really burning, like I say old guy rock bands like me are on the back burner.
Q: what are your favorite LPs of all-time?
ES: My favorite L.P.(s) of all time All the BEATLES LPs, Tommy (The Who), Captain Fantastic (Elton John), Houses of The Holly (Led Zeppelin) etc...
Q: Have any kids or hobbies ?
ES: I'm sure I've got a couple floating around out there somewhere, I am a family man, I'm sure I've started a couple. actually 1 boy that I know of he's here with me (1.5 years) my hobbies are funny enough I love to cook, I could actually work in a 4 star hamburger stand, no really I can cook very complicated exotic foods. I also collect coins and stamps. I would actually love to become a photographer for Playboy (That's my actual true dream).
Q: and plans or goals for the future?
ES: Yeah my plans are very simple, die trying if I don't succeed.
Chat/Interview conducted July 2000,
Copyright Kevin J. Julie