An Interview With ALICE COOPER Author Dave Thompson.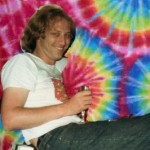 Rock writer Dave Thompson has penned over 100 books, most notably bios on the likes of Deep Purple, Joan Jett, David Bowie, Genesis, and numerous others. Most recently he has a new book out, through Omnibus Press on legendary rocker Alice Cooper, aptly titled "Welcome To My Nightmare".
Here Dave gives us the story behind his latest rock biography.
---
What was your introduction to Alice Cooper? [Song, LP, concert…] and how long Or how big of a fan are you?
The usual, boring story, I'm afraid, twelve years old and seeing "School's Out" on Top Of The Pops.

I went out and bought that and "Silver" the very next weekend, and forty years later, Alice and Hawkwind are still among my favorite bands.
How long has this Alice Cooper book been in the works? I recall with your Deep Purple Book you had told me you'd been collecting interviews for some 15 years.
Similar story here, too... I have boxes full of stuff I've collected, my own interviews, press cuttings, books and mags, and they are all "books in progress."

And will hopefully all see the light of day sometime.

Back in 1978, I did a pile of work towards what I imagined was the next rock'n'roll best seller, a biography of John Otway and Wild Willy Barrett.

Thirty years later, it was published.
So, to answer your question, Alice has been a work in progress for a long time - although it started life as a fictional story; Alice is one of those performers whose public image is so much more fascinating than his private life, so I was playing with the idea for a novel in which he lived the private life that we wish he did.

Dead babies, guillotines and all.
You've obviously interviewed loads of Alice Cooper bandmembers, original members sidemen, associates… who were some of most memorable characters to come across and who was most helpful and/or had the best tales?
Everybody threw in something that I could describe as priceless... but Glen and Neal from the original band were great to talk with; and Mike Pinera, who played with Alice during one of his less well-documented periods (early 1980s), shed a lot of light on things as well.

I still smile at Mike's story about the onstage knife throwing...
And of course Alice himself was invaluable, even if he did get his a few of own songs mixed up!
You have an extensive chapter on the early years of the Alice Cooper Band, prior to the first album. How difficult was it to track this era? [as most early AC stories merely mentions the band-names, not so much detail though].
I got lucky, meeting someone who was around Phoenix at the time, and was able to point me in the right directions... she didn't want to be named or quoted (something she had in common with a few people I talked with) but she definitely gave that period shape.
Another thing you go in to detail about is the stories about pre Alice theatrical Rockers like Screaming Lord Sutch, and more so – Arthur Brown. This is another aspect Of the early Alice story [or side bar] that rarely gets discussed. How did you get in to this Chapter? Did you, or why did you – feel these acts deserved a more in-depth look and comparison?
I was a huge Arthur Brown fan through the 1970s, and used to get into spectacular arguments with my Alice-loving friends about who was the best... I admit I played Devil's Advocate in a lot of them, but the fact is, there was a long tradition of horror theater in rock, long before Alice came along, and Sutch and Brown were a major part of that.
I noticed Dennis Dunaway is not in the acknowledgements. (whom I recently Interviewed). Had you not come across Dennis over the years? And was there anyone else that you would have liked to have had spoken with or tracked down at some point?
Dennis and I just kept missing one another, I think!

Which happened with a few people... the band's old booker in Phoenix was another who I would have loved to talk with, and we were in touch via e-mail but I think he was having health problems, so it never happened.

Bob Ezrin is my biggest regret - I've now written three books where he's a big part of the story (Genesis, Alice and Roger Waters... out next year) and he's eluded me for each one.
You also did a thorough telling of the whole Billion Dollar Babies band [Battle Axe], via Neal Smith.
I really like that album. An overlooked album, IMO.
Did you like that album
[in 1977 or now], and how important to the Alice story was it for you?
At the time, I loved it - it was just so over the top!

And it was a glimpse into the Alice album that we didn't get... the follow up to Muscle of Love, and a lot better than that one.

The timing was a bit off, of course... punk was happening, Kiss were huge; poor old Battle Axe kind of got lost in the shuffle.

But I remember making a cassette that mixed a few tracks from that with the best of Goes To Hell and Lace and Whiskey... a bit like those Beatles fans who create follow-ups to Let It Be from the early solo stuff... and it was great!
Alice's early 80s period is often overlooked and there seems to not be much info out there on it, but you managed to track a few people and come up with a lot of the story covering those 4 albums. Was this a particularly difficult period to cover and what did you think of that era of Alice's music?
As I said before, Mike Pinera was a great source of info... I've known Mike for a few years, written liner notes for a few collections of his solo and Blues Image material, and it was great to sit down and talk through the Alice years.

Plus, I've always had a really soft spot for that run of albums - the French TV special they did was spectacular, and Alice's look for that period, the urban guerilla zombie hooker, was so cool!
I am curious why Alice Cooper bandmember albums [Michael Bruce, Neal Smith, Billion Dollar Babies…] – are not in your discography, as these were equal members of the original band named Alice Cooper [!?]
That goes back to my earlier answer... the book is about Alice the man, not Alice the band.
What is your favorite period of the Alice Cooper story [musically and having to research]?
The Love It To Death / Killer era has always been my favorite - no matter which era of the career I was writing about, one or other of those would be playing.

I also found it interesting listening to his later performances of those albums' songs, and comparing them back to "the originals."

You can tell a lot about his backing band, and maybe even his state of mind, by how he handled those songs.
How often have you met Alice and had a chance to interview him? Have you had any feedback from the man, himself or any of the main figures in the AC story, regarding your book?
I've met him a few times, just as a fan in the 80s.

I interviewed him around the time of W2MN, and ... as I said before, he doesn't always get his own memories straight, but he's great to talk to.
Curious, if you've had a chance to check out any of the newer AC related releases by Neal Smith [KillSmith] or Blue Coupe [w/ Dennis Dunaway] (and if so, what you thought of it)?
I've not heard Blue Coupe, but I love the Killsmith albums.
What other rock books are you working on [or planning to] these days? And since we last did an interview [for your Deep Purple book] - what else has come out that classic rock fans might want to check out?
Right now I'm wrapping up a biography of Roger Waters.

I also have a Led Zeppelin book imminent; it's in a series called If You Like [whoever], You Will Love... so expect to find lots of things to disagree with in there, haha.
---
Interview: © Kevin J. Julie (Universal Wheels) September 2012