Q- Talas had a very straight-ahead hard rock sound, with a big guitar sound, heavy great rhythm feel, and memorable melodies and harmonies. What bands do you recall being compared to back then?
DC: The harmonies came from Paul and I. We were huge Beatle fans. Beach Boys, Crosby Stills and Nash.People used to say Paul sounded like Steve Perry from Journey or Paul Rodgers. It all came from there vocally. The heavy guitar came from The Who, Grand Funk Railroad, Led Zeppelin, and the like.
Q- Any stories or recollections of from the writing or recording of some of the Talas classics like Expert On Me, See Saw, Thickhead, Shy Boy, Sink Your Teeth.., High Speed On Ice, OR any others?
DC: I like "Expert On Me" we had broken up for a year or so again. We never wrote too much in our early days. I had a four piece version of Talas at that time. I wrote more in that band format. That's where "Thick Head" "Any Other Day" "See Saw" and other tunes came from. Much like what I eluded to earlier, Some of the guitar riffs that led to a couple of those songs came from my other guitar player at the time. Michael Marconi (from Alice Cooper's ex band members band, The Billion Dollar Babies). I would write complete songs from the licks that I would here him messin' with. Anyway, Billy had his own band at the time called Lightyears. He was writing too. When we were getting songs ready for the first album we started working on one of his tunes, "Expert On Me" I really liked the song and he wanted a bridge section for it. I came up with that part musically and vocally and I always like the melody of the solo I played on that tune. I originally was gonna use a twelve string electric on that solo. But it really didn't sound like I had hoped. So I just cranked the amp and ripped. We liked the punk type pop tunes back in those days.
Q- What were your own favorite Talas tunes, and faves to play live?
DC: I liked playing the stuff that I knew we did better than anyone around. Robin Trower was a fave. The Who, Even stuff a bit more flashy like "Twenty First Century Schizoid Man" (Billy's idea) We really could play just about anything we wanted. And we were lucky in that we always liked what we played. We were never stuck playing stuff that we hated.
Q- You guys opened for U2 WAY back, as well as a few other big names [Van Halen!?]. Any stories or recollections from any famous opening gigs or tours?
DC: U2 opened for us! We had a regular Monday gig at a club called Stage One. Harvey Weinstien of Marimax Films, believe it or not, owned the place and was part of our management. They would bring in new acts from all over the world to play their club. It was great. I remember seeing The Ramones and Judest Priest there. I also met Sting there when I saw the Police. The MC announced U2 as V2. Bono still mentions during the show, opening for Talas, when U2 plays in Buffalo. Pretty cool huh?
Q- What do you recall of gigs north of the border in southern Ontario? any great venues and gigs?
DC: We used to play Canada now and then. Spend two weeks up there and play 5 nights a week. the Gasworks and more. We also played Hamilton many times. Mostly Toronto area. Always well received but in the real early days it was a trip.
Q- What happened in that you guys split up?
DC: same as any other band. Way too much time together. Tension in the band, you know the story. It all seems so long ago to me that I'm just happy we are as good of friends as we are now. We sure did go through an awful lot of ups and downs together.
Q- What did you think about Billy putting together a 'new' version of the band with Phil Naro, Mitch Perry... ? did you know any of these guys or hear this version of the band?
DC: Yes of course I heard them. I knew Phil, he's a real nice guy. Billy still compliments how easy Phil was to work with. I had left the band, so it was very weird to hear others singing and playing the original tunes that Paul and I sang and played on. But hey, I made my bed, so I accepted it.
Q- What did you do in the years after Talas?
DC: I sort of started from scratch. I geared everything down. Played the smaller rooms just to get out and play. Truth is, I started this stuff because I love to play and sing. The fact that I can make a living at it was always just a bonus . Didn't make sense to me to try and be another Talas. With all the debts we had for PA's and Trucks and Hotels and Managers; I knew what I was up against. I even called the band The Tweeds again. We actually became quite popular. Paul Varga was my drummer and we had our following from our Talas years but we also had a new following as well. We opened for Robin Trower a couple of times, That was real cool. He sounded great.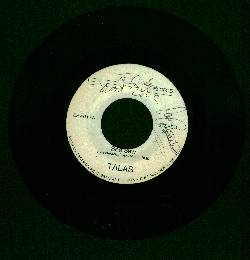 Q- You guys finally reformed in 1997. what lead to this? Were you surprised by the fan response?
DC: The 1997 show was unbelievable. Sold out in like a week or so. I still live near Buffalo. The town was truly pumped for that reunion. I was scared to death the first song , but damn it got good to me after that. One of the greatest nights I will always remember. Paul and I really had not spoken to Billy for years . Band break ups can really suck. I always respected Billy and was very happy for his fame. You know so many bands start out as great friends and the band thing blows it. Well I really didn't know what to expect after I agreed to an offer from 97 rock to do the show. I had heard that Billy was into it and that made me happy. I think it was the right time. I must tell you a true story that I remember like it was yesterday. I swear when I was driving in my car with Billy after only a few months of playing together, I told him , "man you are the best bass player in the world" I know he remembers that. And I meant it back then and I mean it to this day [I saw the '98 show, it was incredible! Got any recordings of this show? :-)] Hmmmm actually I do :) That was right after we came back from a Tokyo Japan Talas show. It was a bit different of a feeling for me because we already reunited, and I had just had that Japan tour experience, but it was great for sure.
Q- Were you happy with the release of "If We Only Knew Then..." CD? Great covers Of Battle Scar and 21st century Schizoid Man!
DC: I love that live album. I met Kim Mitchell back in 74 in Toronto. I would get to talk to him now and then over the years. He always complemented me on my guitar sound. Battle Scar is a great tune.
Q- Can you give me a favorite Talas road story?
DC: I remember back in 1980 when we were doing the Van Halen tour. We weren't sure what to expect when we left for that tour. Our road manager told us on the way there "now don't be real disappointed if the crowd doesn't react the way you hope, or if they are tough on you guys" Truth is, from the first song we played that tour, the reaction was unreal. I was getting the crowd to scream and yell and just playing the crowd as the tour went on. I was sitting at a sound check one day in Florida and Dave Roth comes over to me and says - "Who's doing all the talking out there?" I just looked at him and thought oops. I didn't say as much the next gig during the show. After all it was their tour. Truth is those guys couldn't have been nicer to us , but that sure caught me off guard.
Q- What do you do these days? Do you and Paul gig as 'Shy Boy'?
DC: We changed our band name to Shyboy after the Talas reunion. Paul and I had not been playing together for four years. I was playing the blues scene during that time period.Paul and I reunited the same year Talas did.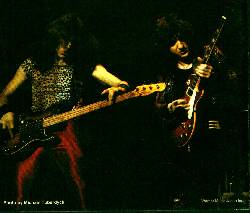 Shyboy is a cool band. We play some of the newer music , as well as Classics and Talas and Shyboy tunes.Our bass payer, Michael Runo, was a well know Buffalo guitarist. Paul and I couldn't find a bass player. Paul had been working with Michael for a year or so. He asked him to play bass. I'm really happy how he has adapted to the instrument. Great tone and style, and just a good guy. He's Billy's stage tech when Talas plays big shows around here.
Q - Can you give me a short list of favorite singers, guitarists, and band..?
DC: As far as guitarist? (Now remember I go way back) Chet Atkins, George Harrison, Scotty Moore , James Burton, Eric Clapton, BB King, Jeff Beck, Jimi Hendrix, Stevie Ray Vaughan, Robin Trower.
Q- Ones you listened to in the early years and big influences?
DC: Vocals.... Elvis Presley, John Lennon, Paul Mcartney, Mark Farner, Roger Daltry, Paul Rodgers
Q- Can you give me a Top 10 list of favorite albums? What do you think of the music scene today? And what do you listen to?
DC: I wasn't sure at first. I mean after Nirvana and all. I liked Pearl Jam to a degree. I always liked Black Crows. Big fan of Stone Temple Pilots, Collective Soul. I like Creed and some of the Puddle of Mud stuff. I still play a lot of this stuff out with ShyBoy. One thing I really like, is that all the singers sing lower in pitch than in the old days. The guitars are tuned down and the vocals are really low if ya think about the days of Robert Plant and Bon Scott. I can sing all the new tunes. Can't complain about that :). Not too many guitar solo's anymore. Hope that changes soon.
I guess off the top of my head my favorite 10 albums would be
Beatles- White Album
Hendrix- Electric Ladyland
Robin Trower- Bridge Of Sighs
Free-Fire And Water
Foreigner's first album
The Who- Live At Leeds
Bad Company-Bad Company
AC/DC- Highway To Hell
Grand Funk Railroad-Closer To Home
Vaughan Brothers-Family Style
Oh by they way, I have to confess that I'm not familiar with most of the Uriah Heep songs. But if I had to pick two favorites,they would be songs that I have performed. Easy Livin' and Stealin'
Thanks for the interview.
---
Interview: © Kevin J. Julie (Universal Wheels) April '02