An Exclusive Interview With:
STEVE DUNNING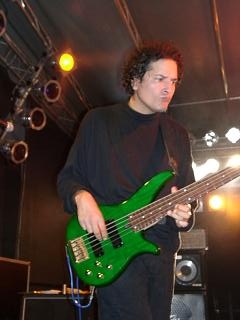 British bass player/guitarist/songwriter has become well known to John Lawton and Uriah Heep fans over the past 2 years when he teamed up with Lawton. Debuting with The John Lawton Band in January of '01, later that year at Heep's "Magician's Birthday Party" weekend Steve Dunning made a huge impression on fans

When he and John did an 'unplugged' set of classic Lawton material - ranging from his Lucifers Friend to Heep and his more recent solo stuff. From there the pair carried on at the 'Lawton/Dunning' Project to release the excellent acoustic CD "Steppin' It Up", followed by the live version 'One More Night" - both on Classic Rock Productions' label.

I recently got in touch with Steve via e-mail [thanks John!] and he was kind enough to reply to my questions, which I think will show some interesting info about Steve - his past and his work with John Lawton. Thanks to Steve for the quick and well typed answers :-) For more on Steve Dunning and John Lawton, or to order the Lawton/Dunning discs check out: http://www.johnlawtonband.com , http://www.johnlawton.org and http://www.classicrockproductions.com
---
Q- Can you give me a brief history of your career before hooking up with John Lawton? [Please include any recording or 'name' bands, albums, notable people you played with, highights...]

SD: I'll try to be as brief as possible! My first band was 'Allegiance', a rock 3-piece from London. We played the usual clubs and pubs, but only recorded a couple of demos before disbanding. Soon after this' I started working with Misha Calvin. I recorded 3 albums with Misha : Evolution, Evolution 2, and Riff Man. The musicians included; Tony Martin (Black Sabbath), Ian Parry (Vengeance,Air Race, Elegy) Pete Barnacle (Gillan, Yngwie Malmsteen), Dave Twose (Pink Cream 69) Martin Lister (Paul Carrack, Alphaville). I also recorded some demos with Midnight Blue and Spear of Destiny; Midnight Blue featured Dougie White (Rainbow, Malmsteen) and Jem Davis (UFO, FM). None of these recordings were officially released, but I'm sure they're on a bootleg somewhere! I have played on many other sessions, too numerous and forgettable to be listed here!
Q - When & How did you hook up with John? Were you familiar with his career in such bands as Lucifers Friend, Uriah Heep or Gunhill?

SD: I hooked up with John in the summer of 2000, just after Heepvention. A friend of mine knew Reuben Kane (John's guitarist at that time), and he heard from Reuben that John was looking for a Bass player. The rest is history! I must admit that I had not been aware of John's career in Heep or Lucifer's Friend. I have often wondered how I missed hearing much of the Heep material, as I grew up on Rock music (I never missed Tommy Vance's show!) and was a fan of most of the Classic bands. Still, it was a pleasant surprise when I finally heard everything!
Q - What was your thoughts on the whole Heep fan experience and response at the Magicians Birthday Party last year?

SD: The weekend was magical (no pun intended) for a number of reasons; I didn't expect to meet so many people who had traveled so far from so many countries. I was overwhelmed to meet people from Japan, Israel, Italy Germany, America.... I never had to travel further than my hometown to see my favorite bands! Our Borderline gig was a great start to the whole weekend.. to see John at Shepherds Bush with Heep ('Sympathy' in the original key! Ouch!) was special... then to have such a great time at the festival club was a massive bonus; when you do something for the hell of it, good things can happen!
Q - How did the whole set for 'Steppin It Up' come about? Was it primarily John's 'list' or had you a few selections from his past you wanted? Any favorite recordings from that release?

SD: The choice of songs for 'Steppin' it Up' was mainly taken from the set we did at the Festival club. I think John chose the songs as he was much more familiar with them than I was! There really wasn't much time to experiment with different material, but I'm glad that John suggested 'One more Night ' and 'Been Hurt', as I had never heard these songs.

My favorites are: 'Still Payin' My Dues', 'Burning Ships', and the two songs in the previous question! I love applying different interpretations to established songs, and I think these are good examples.
Q - You also contributed 'Shoulder To Cry On'. What can you tell us about this song? Was it previously recorded or written for this project?
SD: 'Shoulder to cry on' was written in the summer of 2001. John and I were writing songs for a possible JLB album, and this was one of them. I could imagine John's voice on it, but to hear him sing it was unbelievable! I'm very proud to have it on the album; hearing someone like John singing one of your own songs is really something!
Q - Heep's Phil Lanzon also guested on the album. What was your take on Phil and working with him?

SD: I was knocked out with Phil's contribution.. I think it's fair to say that I'd only heard one 'side' of him in Heep. He has such a feel and understanding for Rhythm and Blues; the ideas were coming so fast, we had trouble choosing which 'take' to use! Professional from beginning to end!
Q - You also recorded much of the same set for the 'One More Night' release. How well do you think that turned out? Any reason the set list didn't change much?

SD: Soon after the recording of 'Steppin' was done, we were asked to put a 'Live' show together. Perhaps if there was more time, some more songs would be presented, but I'm very pleased with the Live CD and DVD; The 'moment' was captured!
Q - How was the whole Classic Rock Festival in London a few weeks back?
What can you tell me about your set and response and did you get a chance to check out many of the other bands?

SD: Again, the weekend was magical! I'm very happy with our performances at the Mean Fiddler and Shepherd's Bush, plus I thought that Heep's Acoustic set was excellent! Damn those harmonies! Meeting the fans was better for me this year, as I could actually put names to faces! I had the chance to chat with some great people, and it was nice to just hang out for a while. And no, I am not a Sex Therapist! (Ask anyone at the Festival Club) I would like to thank everyone we met for a truly memorable experience.
Q - What's the plan for the new studio album? It's been said it'll be an electric album [!?] Can you give us any insight on what to expect?

SD: I don't want to give too much away! Basically, we plan to capture our 'Live' sound.... An Electric Album. A Rock Album. Enough said!
Q - Can you give us a few words about John as far as working with him and your view on him as a professional singer? Any great stories on the man or the band in general? :-)

SD: John is simply a joy to work with. Whether we play to 5 or 500 people, the attitude is always the same..he gives 100 per cent 100 per cent of the time. He gets to the 'heart ' of any song; I actually prefer the way he sounds now, I think there is more 'depth' to his voice now. We had a great time recording the Album,, and it was a real pleasure watching him work. Great stories? I'll let you know! Blame Jim Beam or Jack Daniel's if you hear anything!
Q - Can you give us a short list of influences and favorites musicians singers, guitarists, bass players... ?

SD: I listen to everything! Here is a short(!) list of my favorite musicians and bands... Thin Lizzy, Motorhead, Black Sabbath, Stanley Clarke, Marcus Miller, James Taylor, Joni Mitchell,Chick Corea, Wes Montgomery, Stevie Ray Vaughan, David Gilmour, Shawn Colvin, Twisted Sister, early Iron Maiden, Gary Moore, Kelly Joe Phelps, Jaco Pastorius, King's X, Rush, ..My hands are tired, this list goes on forever!
---
Interview: © Kevin J. Julie (Universal Wheels ) '02