Welcome To My Nightmare – Dave Thompson
[306 pages, Omnibus Press]
Dave Thompson - Welcome To My Nightmare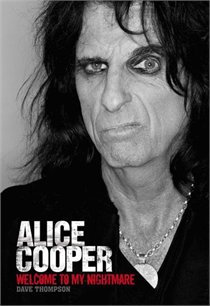 Years back I really enjoyed Dave's Deep Purple bio "Smoke On The Water", which was full of new info and research and interviews. His new Alice Cooper bio, aptly titled after Alice's first solo album. WTMN is a great read for Alice fans, having gathered a lengthy bit of exclusive info, stories, and quotes from every era of Alice Cooper's career, from the early days of Alice [Vince Furnier], the pre-Alice bands, and the classic years of the original band – plenty of insight from the likes of Neal Smith, as the band eventually ceased, and Alice went off on his own through years of drinking, some odd and inconsistent albums while the author also touches on the Billion Dollar Babies band – who released what would have been the follow up to "Muscle Of Love" in 1977. There's also a good run through of Alice's darkest and little known period in the early '80s, releasing a string of new wave albums for the era that all failed, guitarist Mike Pinera fills in a good bit of history here. I became an Alice fan in the '80s, so have followed him since the release of "Constrictor" to his latest works, so much of these eras I've seen, and there seems to be more use of the music papers of the day here [Alice was all over the metal music rags throughout the latter '80s and '90s]. Anyway, as a fan – I enjoyed the read; there was loads I was not familiar with, especially the early years and that early '80s period. Full Alice discography and loads of photos.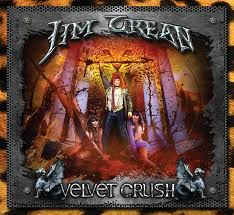 Jim Crean – Velvet Crush
[
Melodic Revolution Records
]
Buffalo, New York singer and songwriter Jim Crean has been around the Buffalo music scene since the '80s in various local acts and tribute bands. "Velvet Crush" was produced by Phil Naro and Steve Major – Naro, ex of Talas, 24K, and numerous other bands, who now fronts D-Drive, prog band Druckfarben, and Zeppelin tribute Ozone Baby – and who also plays some rhythm guitar and co-writes most of the material on this album; Major – is a longtime collaborator with Naro, who also plays guitar here, and provides plenty of smooth harmony vocals. And anyone familiar with and fans of Phil Naro's work will easily enjoy this album!
Crean doesn't sound too far off from Naro, and this kind of almost '80s melodic hard-rock will appeal widely to fans of Naro's bands like 24K, as well as Talas, Coney Hatch, etc… you get the idea.
Plenty of cool rockers like "Make It (A fine Line Between Love & Hate)", "Taste Of Reality", "My Heart Breaks Down" (penned by Billy Sheehan), and a cover of Talas' "Crystal Clear".
Velvet Crush also includes a few lighter numbers, such as the "Daytime Friends (Nightime Lovers)", and acoustic ballads "Colleen" and "Past Tense".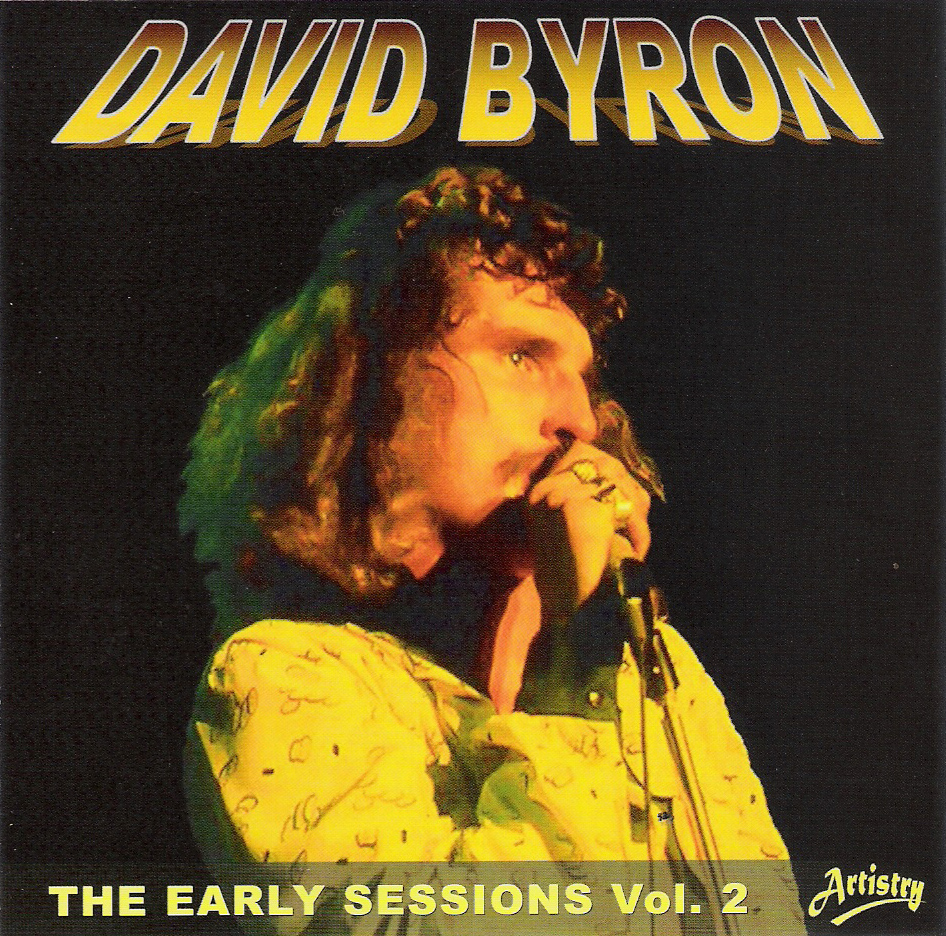 David Byron – The Early Sessions, Volume 2 [Artistry Records]
As titled, this is the 2
nd
release in this series of rare recordings from original Uriah Heep singer David Byron [rip 1985]. More of the session work David recorded in the late '60s til '71 for Avenue Records. Covers of chart hits in the UK, showing Byron was such a pro at this early age and very adaptable as he did on such classic songs as The Moody Blues "Question", The Doors "Hello, I Love", Humble Pie's "Natural Born Boogie", John Lennon's "Instant Karma", and Donovan's "Hurdy Gurdy Man". 20 tracks in total, with backing vocals on various cuts from the likes of Dana Gillespie, Peter Lee Stirling [aka Daniel Boone] and Elton John. The remastered sound on this release is better than the first edition [and it was good – considering the age of these recordings], and CD art featuring a rare photo from the collection of longtime Heep enthusiast Charlie Gibb. Well worth hearing for the performance of Byron without the heaviness of Uriah Heep, and simply for a collection of old classic hits performed so well and an enjoyable listen!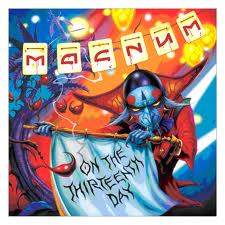 Magnum – On The 13th Day
[
SPV
]
Legendary Brit aor rockers Magnum just keep on putting out decent album on a regular basis; something many older acts struggle to do. But "On The 13
th
Day" is another solid release from band, who remain a favorite in their homeland and in Europe, but see little action here in North America. So, consider this a complaint for the band not being more available here. Anyway, those familiar with the band, and heck those that are into other legendary British acts such Asia or Uriah Heep will like these guys, and On The 13
th
Day being a contender for the band's best studio release since their comeback in 2002!
This one being a bit more rockier than previous outtings, but has a number of upbeat,
and memorable tunes from the majestic intro of "All The Dreamers", to rockers like "Blood Red Laughter", the slow heaviness of "Dance Of The Black Tattoo", and standout - more pop oriented tunes like "Didn't Like You Anyway" and the single "So Let It Rain". The latter half lightens up a bit, but not for lack of decent songs, such as "See How They Fall" [a short rocker], the ballad "Puttin Things In Place", and closing cut "From Within".
Magnum have a great album, more guitar heavy via songwriter Clarkin, and as always the voice of Bob Catley, one of the great underrated classic British rock frontmen.
*Comes in 2LP vinyl format, or with 'bonus' disc of unreleased tracks [demos, live, and acoustic]
26.10. D-Hamburg – Fabrik
27.10. D-Aschaffenburg – Colos-Saal
28.10. D-Cologne – Kantine
30.10. D-Ingolstadt – Eventhalle am Westpark
31.10. D-Mannheim – Alte Seilerei
03.11. D-Bremen – Schuppen 2
05.11. D-Nürnberg – Hirsch
06.11. D-Augsburg - Spectrum
09.11. D-Burglengenfeld – VAZ
10.11. D-Memmingen – Kaminwerk
12.11. CZ-Pilsen – KD Serikova
13.11. CZ-Zlin – Masters Of Rock Café
15.11. NL-Kerkrade - The Rock Temple
16.11. B-Vosselaar - Biebob
17.11. F-Vaureal – Le Forum
18.11. GB-Bristol – 02 Academy
20.11. GB-Liverpool – 02 Academy
21.11. GB-Glasgow – Garage
22.11. GB-Newcastle – 02 Academy
23.11. GB-Holmfirth – Picturedome
24.11. GB-Manchester – Ritz
25.11. GB-Nottingham – Rock City
27.11. GB-Leamington – Leamington Assembly
28.11. GB-Southampton – The Brook
29.11. GB-London – 02 Academy Islington
30.11. GB-Pontypridd – Muni Arts Centre
01.12. GB-Wolverhampton – Wulfrun Hall
02.12. GB-Norwich - Waterfront
Mick Mashbir

- Keepin The Vibe Alive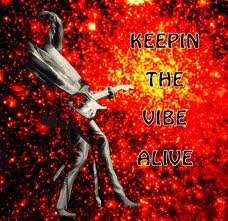 Alice Cooper fans may recognize the name of American guitarist Mick Mashbir, as he toured as a supplementary player on the original band's last couple of tours, as well as on the band's last 2 studio albums.
After Alice went solo in '75, Mashbir guested on Mike Bruce's "My Own Way" and Neal Smith's "Platinum God" recordings before disappearing from large scale tours and acts.
"Keepin The Vibe Alive" was originally recorded in 1997, but did not get mixed and released until 2007. The album features Mashbir's longtime friend and drummer [and arranger of material] Donald Lindley, who sadly passed away before this album was put out. The album also features a couple of notable guests such as keyboard player Bob Dolin [who also toured with the AC band and was with the short-lived Billion Dollar Babies] and keyboard player Ian McLagan [Faces]. First off, the cover is cool! Very '70s, as well as the song listing print on the back.
Song-wise, this album is kind of a mixed bag of rockers, soul
and R&B… Lead off track is a rocker titled "American Weirdo", and it's no coincidence that this is the one closest to the feel of the old Alice Cooper stuff, as this was written during that period, it's perhaps the biggest stand-out tune here. The title track is another cool tune, a very British '60s thing, reminiscent of early Fleetwood Mac to me; features McLagan on organ. Elsewhere -
"Hell Of A Man" [not sure what this is about, but..] but musically reminiscent of Zeppelin [the groovy riff], "Mirror Image" is a bit of funk and soul, with Mashbir talking the versus in a deep '70s funk way before the chorus comes in – pretty cool tune, as is the slow paced "Workin For My Wings" [also features McLagan]. Last track is the only one to feature Bob Dolin, who takes care of piano and strings on "Hold On", an epic piece, with a lengthy intro, acoustic guitar, and some nice built up playing from Mick with Dolin's keyboards adding a classy feel to it all. Mick also handles all the vocals on this album, and although he's likely not a lead singer, his voice suits the material for the most part.
Well worth checking out for old Alice Cooper fans and fans who dig that '70s guitar rock.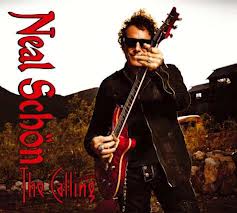 Neal Schon - The Calling [Frontiers]
The latest solo album from Journey guitarist / founder Neal Schon, to be released next month. "The Calling" sees Schon reunite with former Journey drummer Steve Smith, as well as guest appearances from Jan Hammer, playing moog on 2 tracks, and Igor Len playing piano throughout. For anyone who likes Schon's playing, and enjoys hearing him stretch out out of the Journey mold – "The Calling" features 12 instrumentals with various styles. The title track leads off the disc,
a rocking track, with a nice melody and groove,
and The Calling features other notable pieces such as "Back Smash" – where Smith really lets lose in this epic piece, "Irish Field", slow paced "Blue Rainbow Sky", and "Transonic Funk". A good listen, and one that grows on the listener with each listen.
---
Reviews: ©2012 Kevin J. Julie / Universal Wheels / Travellers In Time