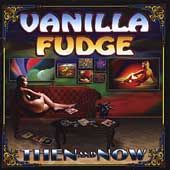 VANILLA FUDGE - Then & Now [Fuel 2000]
Vanilla Fudge are back, with a slightly different line-up, and much of the same songs that originally landed them success back in the late 60s [none theirs', by the way]. The original Fudge formula and sound is still there too on this new recording of old classics - "You Keep Me Hangin On", "Eleanor Rigby", "People Get Ready", "Shotgun"... The Fudge became famous for taking pop songs of the era [see Surpemes hit You Keep Me Hangin On], slowing them down and piling on the guitar, hammond organ and harmonies. The band became a huge influence on such 70s bands as Deep Purple, Uriah Heep and Led Zeppelin.
Then & Now also features a number of songs the band has given the Fudge treatment for the first time, "Do Ya Think I'm Sexy" [Rod Stewart's old hit, that also featured Fudge drummer Carmine Appice at the time], "I Want It That Way" [Backstreet Boys] and most notably [N'Sync's] "Tearin Up My Heart".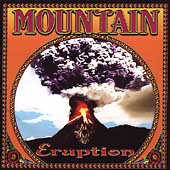 MOUNTAIN - Eruption [Fuel 2000]
A 2 disc set of Mountain live - one taken from shows recorded in 1985 on the first comeback tour after the death of Felix Pappalardi and Marke Clark filling in on bass, and the other taken in recent years [2003] with Richie Scarlet on bass. The set opens with the band's then-current single "Hard Times" and runs through classics such as "Never In My Life", "Theme For An Imaginary Western" w/ Clarke on vocals], "Nantucket Sleighride", "Mississippi Queen" and a heavy take of Joe Walsh's "Rocky Mountain Way" [w/ Clarke on vocals]. The sound is great on these recordings, with Leslie West's guitar up front, giving this a heavy feel all around.
Disc 2 opens with West, Bruce & Laing's "Why Dontcha", and goes on to cover classics "For Yasgur's Farm", "The Sea", "Dreams of Milk & Honey", as well as covers of "Crossroads" and "House of the Rising Sun". [Nantucket Sleighride being the only track to repeat on the 2nd set]. It also includes plenty of Leslie West's between song tales and chat [I'm gathering this was a fairly casual night]. Again though, great sound with West's guitar and his voice sounding remarkably well 30 years down the road from the band's commercial peak.
An excellent release from the band, covering 2 eras from the band well worthy of
checking out. Packaging includes liner notes from Corky Laing and Gregg Russo.
*Check out www.mountaintheband.com

BLUE OYSTER CULT - Secrets Revealed / UFO - Shoot Out The Lights [Martin Popoff]
Canadian rock writer Martin Popoff continues turning out rock bios, more recently with the BOC story and now one on Britain's UFO.
The BOC book coming in just under 190 pages, while the UFO story types over 260 [much of this due to the fact that UFO has been a busy recording band in the past decade]. Both books well worth reading for rock fans, taken from many of Popoff's own exclusive interviews [especially the BOC book, which he's had on the brain for years] and selective other sources, giving excellent

histories of each band, from album to album. "Secrets Revealed", of course, goes in to greater detail of BOC's lyrical content, while UFO's history is more riddled with personnel changes and numerous related projects.
Both, highly recommended rock reading. For more info check out www.martinpopoff.com and www.metalblade.com

---
Reviews: © Kevin J. Julie / Universal Wheels, July '05