M.D.G.
An interview with Matthew D. Guarnere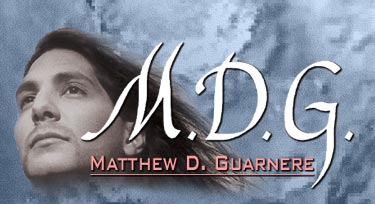 Matthew D. Guarnere is a Rochester, NY based musician who released an excellent self titled disc in 2001. Somewhat of a breakthrough, as MDG has been around for a few years [as you'll read] but this album - self written, produced, and largely performed is a great intro to an up and coming rocker who appeals to the old class of prog-rock and classic rock types, while being familiar with modern technology and ideas to give 'MDG' a fresh sound.

Check out the links at the end of the interview for more info and the music. Also check out my review his disc elsewhere at Universal Wheels.
---
1] Can you give me the basics about yourself > age, hometown, how or why you got in to music professionally?

MDG: I was born February 27, 1970 and I am now 32. I was raised in Rochester, New York. I got into music because I unconditionally love it and it has always made up a large part of my identity. I originally got into the business as a teenager because I found that I actually had the aptitude to teach myself how to reproduce sounds I heard on other people's records and also the ones in my head. Somehow I've managed to make a living at it ever since.
2] What's your recording history prior to 'M.D.G.'?

MDG: My first official collection of songs was a cassette entitled 'M.D.G. EP' on a label I named after my cat, MANFRED Records. That was a pretty experimental progressive/techno-rock sort of thing I recorded on an 8 track reel-to-reel. It actually came out before I graduated high school in June of 1988. A few years later, I started a business called WHAT'S REAL UNLIMITED. It was designed to be a sound recording service and an independent record label. WRU's first release was a self-titled cassette by WHAT'S REAL which was a progressive rock duo I fronted. The 1993 cassette EP featured the original version of the Freddie Mercury/Queen tribute entitled "You Never Have To Grow Old, My Dear." The WHAT'S REAL project dissolved later that year when keyboardist, Robert Scribble had to suddenly relocate to England. RADIO U was the name of another short lived band project I had (although it was basically a solo endeavor). RADIO U released a cassette in 1994 entitled "I Think It's This City" also on WHAT'S REAL UNLIMITED Records. Following that, I began negotiating with an outside record company which eventually led me to collaborate with guitar virtuosos like Derek Frigo of E'nuff Z'nuff, Paul Chapman of UFO and George Bellas. None of that music has ever really gotten past the demo recording stage, but the Frigo band did make it to the concert stage in Chicago. I will be releasing a CD containing faithfully remixed versions of all the early M.D.G. music from the 1987-88 period. Listening to it now, I think it's pretty unique. I played absolutely every instrument on there. I had very little idea of what I was doing, but I had such an appetite to try to create music that was off the beaten path. The old analog tapes still sound amazingly good despite the fact that I had to bake them before I could make a digital transfer! I'll probably remaster the WHAT'S REAL catalog and put that out on CD as well. It's really impressive stuff for a couple of 'barely legals' and I still like a lot of it.
3] You handle most of the music yourself on 'M.D.G.' What is your foremost instrument [guitar, drums, voice...]?

MDG: There are only two instruments I seem to have a natural ability to improvise on and that would be drums and voice. With everything else, I seem to have a pretty heavy handicap. If I'm just writing though, it doesn't really matter what instrument is sitting around. Next to the top two, guitar is probably my favorite thing even though it's a slopfest every time I try to play!
4] Can you give me a short list of fave guitarists, singers, and songwriters? [3-5 each]. Biggest influence?
MDG: OK, I'll try to keep it short, but it's not gonna be easy.
GUITARISTS
Alex Lifeson (RUSH)
Andy Scott (SWEET)
Brian May (QUEEN)
Robert Fripp (KING CRIMSON)
Allan Holdsworth
SINGERS
Paul McCartney
Freddie Mercury (QUEEN)
Brian Connolly (SWEET)
Todd Rundgren
Robin Zander (CHEAP TRICK)
SONGWRITERS (this is only a tiny handful of 'em)
Todd Rundgren
Eddie Jobson (U.K.)
Lee/Lifeson/Peart (RUSH)
Lennon/McCartney (BEATLES)
Joni Mitchell

I have no single biggest influence, but Todd Rundgren is pretty high up there.
5] Can you give me a Top 10 album list [of all time] ?
I always find it very hard to numerically rate things, especially when it's music and I'm given a small number such as 10. I literally have hundreds of favorite albums that I've enjoyed immensely and studied thoroughly, but I've gone through my record collection and pulled out what were probably the most influential 'turning point' albums for me from the age of about 5 to 15. I'll put them in order of encounter...
1. KISS - Alive!
2. PAUL McCARTNEY & WINGS - Band On The Run
3. KING CRIMSON - In The Court Of The Crimson King
4. SWEET - Desolation Boulevard (US version)
5. QUEEN - Queen II
6. TODD RUNDGREN - A Wizard A True Star
7. RUSH - Moving Pictures
8. U.K. - U.K.
9. KATE BUSH - Hounds Of Love
10. SYNERGY - Cords
6] M.D.G. is labeled as 'rock/pop/fusion'. It is somewhat progressive at times, but can also really rock. What sort of acts [bands] do you see yourself classified in with? [Kansas, Styx...?]

MDG: "Rock/pop/fusion with an experimental edge" was put in my bio because it best summed up the music on the 'M.D.G.' CD. The disc is not a full album. It was primarily meant to be a kind of singer/songwriter/producer calling card for me as well as an audio demo for WHAT'S REAL UNLIMITED. I chose the songs very carefully from about 9 years worth of material and that's probably why there's such a wide range of styles on 'M.D.G.' I've never minded being classified as a progressive rock artist even though most of what I do is in between. It is always a great compliment because it means there's a certain perceived skill level in my music and I've worked hard to demonstrate that. I don't think I really overplay or oversing though. You're not too likely to find M.D.G. doing concept albums or writing lengthy compositions with lots of movements, but I certainly put my time in listening to that kind of stuff and it taught me a lot. As for the second part to your question, I don't want to sound stand offish, but I'd rather not classify my music. I always prefer when people tell me who or what they think I sound like. It's really interesting and sometimes just plain bizarre. I'm definitely a rock chameleon and there aren't too many places that I won't go in the melodic arena. So far, the furthest I've been able to stretch my music is bebop jazz thanks to my good friend Paul Smoker, who happens to be an incredible and legendary trumpet player. He blows some really 'out' stuff on the "M.D.G. Record Remix" and we also did a very cool duet in concert last year. Just trumpet and voice, that's all.
7] 'White Trash Wonder' is a great rock song, memorable riff and all. what can you tell me about this tune as far as it's inspiration, how it developed, lyrically...?

MDG: In the United States if you turn on cable or satellite television any time of day or night and channel surf for even a few seconds, you will encounter some example of the baseless phenomenon known as the 'trashy talk show'. It is an unavoidable sort of TV car crash that you cannot help watching. The shows' producers and hosts now have it boiled down to a scientific formula and it's always the 'lowest common denominator'. Great idea for a song, huh? I think I got provoked after watching a staged riot on one of those stupid programs and I came up with the line, "You got a lynch mob livin' in the temples of your mind..." Then I built the main riff around that lyric on guitar. There's one bit in the tail of the riff that I might have borrowed from E.L.O.'s "Ma Ma Belle" or maybe it was just a coincidence...I can't remember. Anyway, I had a ball coming up with the fictitious show topics and storylines for the verses. By the way, the "white" in "White Trash Wonder" is not meant to attack a specific race although that's what a lot of people think. In the chorus it says "White trash is turning black" meaning that the problem is severe because it addresses all races and colors equally. That song was totally different for me at the time I wrote it [1995] and I was really juiced about the whole thing. "White Trash" is 100% guitar and prior to that period, I had to have some sort of keyboards in almost everything I did because I had very little confidence in my guitar playing. I would say there's maybe a tiny bit of grunge influence in the way that the drums bash. And vocally, I'm really just trying to do my best Burton Cummings. He was such an intense and communicative singer back in his Guess Who days. I'm yet to be compared to him though.
8] "You Never Have To Grow Old, My Dear" was written as a song for Freddie Mercury. It's a cool ballad. Nice eerie keyboards. What inspired this one? [as a ballad and as a tune for Mercury] Any fave Queen songs?
MDG: "Grow Old" was written as a direct reaction to Mercury's death. The news came off the wire on November 25th, 1991 and a buddy at a local radio station called me that day to break the news. I was really devastated. I drove to an old friend's house, keyboardist, Robert Scribble, to tell him what had happened. He was also a tremendous fan. That night, we decided, in an effort to cope with the loss and keep Freddie's spirit alive we would write a tribute song together. Over the next couple days, I began writing down some rather emotional lyrics and humming a melody to myself while Scribble experimented with some very moving chords on his keyboard. The style of the song had to be very grandiose as is the tradition of Queen's music. I think we might have referred to a couple of their more dramatic songs like "The Show Must Go On" and "Who Wants To Live Forever" for ideas. On the third day after Freddie's death, Scribble and I got together at my studio and we mapped the song out. It was a little spooky because it practically wrote itself (I still have a cassette of that session). We started by dialing up a wonderful church organ type sound from one of my old keyboards. Then I added a lot of reverberation with a couple of string patches tucked underneath and it sounded just like we were in a rock 'n' roll church. It was very fitting. I remember we recorded the intro together live in the studio because it didn't seem right to use any kind of metronome. I had to sort of fling my arms around to cue Robert while I was singing. Recording vocals for the tribute was a real test of my confidence. At the time, I was only 21 and I was not a very experienced vocalist. I just wasn't sure if I'd be able to sing it with the kind of expression and intensity necessary to do Freddie justice.
Before "Grow Old," I was not a serious vocalist at all, it was just one of the many sideline things I did. So what can I say? I think in a way, the spirit of Freddie Mercury helped me to find my best instrument and for that I am very
thankful. In 1992, one hundred limited edition cassette singles of "You Never Have To Grow Old, My Dear (Song For Mercury)" were printed up using the band name WHAT'S REAL. I sent copies to Queen's office in London and I got back an unbelievable letter of praise almost overnight! That was really encouraging and it got the ball rolling for the WHAT'S REAL duo. In 2000, I transferred the analog tracks to digital tape and thoroughly reworked the song. "Grow Old" was re-released on my 'M.D.G.' CD in time for the 10-year anniversary of Freddie's death. Not that I wanted to celebrate such a thing, but I don't want anyone to forget how great he was.....Favorite Queen songs? There's just so many. I'll have to say "Keep Yourself Alive, Ogre Battle, The Fairy Feller's Master Stroke, Killer Queen, Stone Cold Crazy, Death On Two Legs, Bohemian Rhapsody, You Take My Breath Away, Somebody To Love (especially live), It's Late, Mustapha, Let Me Entertain You, Leaving Home Ain't Easy, Play The Game, Dragon Attack, One Vision & The Show Must Go On" for a start...
9] What's with the remixes? Why are these here....as opposed to a few other originals? [I'm not asking this to be difficult, I'm just curious, as there are 4 original songs before them]. Is it a safe assumption that you have more songs 'in the can'?
MDG: Definitely! First, I should mention that probably by the time this interview is posted, there will be a new CD out. It's called 'M.D.G. mp3.ep' and it's available exclusively at
www.mp3.com
online. It contains 6 new tracks. Four are demos, but they are very high end ones and they all come straight from the "A list" of M.D.G. songs. The 'mp3.ep' also includes a brand new live track along with another remix of "A Little Chemistry" [there are two] called "In Flight Mix". I enjoy remixes very much when they are done well. The art form was invented in the mid 70's with disco singles and it was developed in the 80's with the pop driven 12" vinyl format. As a young engineer in training, I used to love the way popular songs would get dissected into bits. Then the bits would be sampled, re-edited and reintegrated into a groove that was often totally different from the original song. Sometimes there would also be an a capella version or something equally as revealing on a 12". Remixes get you closer to the master tape in a way and I love the fact that there are really no rules when making them. I think "Chemistry Experiment" [remix of "A Little Chemistry"] is interesting in that it is made up entirely of sources that are inherent to the master tape. Nothing was unnaturally fabricated so you can really see how much stuff is actually going on in the song at any given point. Plus, it's exactly twice as long as the original which only clocks in at about two and-a-half minutes. That's too short for some people, so they can opt to listen to a longer version of "Chemistry" if they like. I guess that song could be considered my single so I wanted to do a lot of things with it. The "M.D.G. Record Remix" is something that I'm very proud of and I cannot tell you how excited I was to actually be able to come up with the resources to produce something so elaborate. That kind of thing is usually very expensive. Until recently, financing a remix was almost always a 'big record company' decision. I just love the fact that a little indy like WRU was able to realize what I think is a cutting edge masterpiece thanks, in part, to the tall talents of musician/producer, Keith Henderson and also technical whiz, Jamie Marvel. I can't briefly describe the track to anyone reading this. Trust me, the "Record Remix" is worth the price of the CD! Finally, I am working on several albums worth of solo material, one of which is a live album. Little by little, the music is nearing completion and it will all see the light of day (although I
hardly ever do).
10] What other artists / musos have you been compared to [voice and musical style]?

MDG: Looking at some of my latest reviews, I see TODD RUNDGREN, FREDDIE MERCURY / QUEEN, STEVE WALSH / KANSAS, ELO, THE BEATLES, STYX, GENESIS, KING CRIMSON, artists like that. For some reason, I've been repeatedly likened to EXTREME (which is a band I've hardly ever listened to). Somebody in The Netherlands actually compared me to AVIARY the other day! That's very odd, but cool.
11] What else aree you currently up to? Are you doing a live gig at present or do you plan to?
MDG: I am very interested in performing and I do it when ever I can. Late last year, I played a couple of solo shows with a few special guests to celebrate the release of the 'M.D.G.' CD. I enjoyed it a lot and it was very well documented. There's a full length live video clip from one of the shows on my website.
[
http://www.whatsrealunlimited.com/pages/sound.html
] Lately, I've been trying to perfect a line up for my four-piece rock band. A lot of rehearsals have taken place and we are nearly ready to bust open the back door and load out our gear. I'll have to save the details for now though. Anything could happen (or NOT happen) as the case may be. On the studio front, I do a great deal of engineering and producing for other artists on a regular basis and I have to carefully plan my time out. My favorite thing to do is live location recording. I am one of few 'binaural' recordists: which means that I use a crazy looking head shaped thing with two microphones in it. I built my own binaural head over 10 years ago and the results of this recording method have always been frighteningly real to me.
12] You've set up 'What's Real Unlimited'. What is your view of the modern state of the recording industry and is this why you set up your own company?
MDG: I established WHAT'S REAL UNLIMITED back in 1991 mainly as a vehicle for the sounds I produce. WRU is also a publishing company for my songs and with my own label, I can have artistic control of my music (which has always meant more to me than a huge recording budget). I wanted a conceptual business name and logo because I feel that it helps to define the products I put out and it raises the profile of them too. 11 years ago, there were only two consumer forms of music media: non recordable compact discs and cassette tapes (vinyl had all but phased out in the US). This was long before the internet existed in the home and people were still fairly honorable about the idea that if you wanted music, it was a stately thing worth paying for. I am fatally disappointed in the current state of the music industry. It's been corrupted in just so many ways. Music has become truly disposable (right down to that little trash can icon on every computer's desktop). I think it's mainly because of years of quick cutting MTV type programming and the internet. I mean, I personally love some of the freedoms that the internet allows us, but now anyone can download almost any music for free in the privacy of their own home. The police don't come knocking, so it must be OK. Kids tend to be the worst offenders. They just don't seem to have much appreciation for the CD/album package. I've seen them shamelessly burn music onto CDRs all day long and their entire collections are made up of felt tip pen covered discs. Half the time they don't even know or care who the artist is that they're listening to. It's all instant gratification. Doesn't it ever cross people's minds that recorded music is supposed to be an artist's livelihood? We can't all afford to just give it away. Having said that, I don't believe that the majority of those who steal music do it deliberately to hurt the industry or the artists. People's budgets are getting tighter all the time and I can certainly understand how paying $16 for a single album is starting to become unthinkable. CDs have always been overpriced and I personally have complained about it from day one. I'm old enough to remember when a new LP was only $4.98 and for that you'd get an artistic 12x12" cover to ponder along with a lyric sleeve you didn't need a magnifying glass to read! We can blame it on those 'fat cats' who triple charged us for way too long and have lived decadently off of their artists' royalties, but in truth, it is human nature that's spreading the "free music" virus and I can't really think of a cure. I'm not even sure that people will want to buy online subscriptions in order to get music directly from record companies. Once all sorts of people find out that any music can be untraceably nabbed simply by sharing files, that's it. You can't go back. I really hope I'm wrong about all this. And for me, one of the saddest things about this disaster is that I think the quality of the art form I love so much has suffered irreparably.
If hardly anybody's going to buy music, then why should it be good, right? Popular rock music is now an unfunny joke. Playing skills are so piss-poor. I have several friends who teach guitar to young people. They tell me that many of their students who can barely play don't care. They won't push themselves to improve that much because now they know they don't have to. The bar has been lowered to the point where anyone can just step right over it and become a professional musician from day one. Just go out and buy your first guitar, join a band, pull on some baggy old jeans and a baseball cap, shave your head, get a dozen tattoos and piercings, sing or rap like a whining spoiled child and you can be on tour by the end of the month. But don't get me started on that whole subject. It's a good thing I love music so much 'cause this 21st century trip is almost enough to make me wanna cash in my chops and walk away. I won't though. I still have some faith. It's just hard not to be bitter about what's going on.
13] You worked with Paul Chapman?? How did that come about? [details!] Any other encounters with 'veteran' rockers?

MDG: That collaboration came about through Shrapnel Records, although it was not very extensive. Mike Varney heard the WHAT'S REAL demo in mid '93 and got very excited about it. Unfortunately, my prog rock duo was done by the time he called, so Mike came up with the idea that I might be very effective as a singer in some kind of hard rock project. I certainly knew of UFO's music and I had vaguely heard of WAYSTED, but I'm ashamed to say that I had no idea who Paul Chapman was personally when his name was brought up. Still, I said OK to working with him. A poor quality cassette arrived in the mail with 3 or 4 of Chapman's instrumentals on it. To be honest, they were extremely basic and I wasn't that impressed, but for some reason I ended up really latching onto one of the tunes. I soon came up with what is probably one of my better lyrics and melodies to date. I dubbed a lead vocal on the demo, added some harmonies, and sent it back to Shrapnel. Suddenly, calls started coming in from people just flipping out over the song. According to Mike Varney, Chapman was completely stupefied when he heard what I'd done. Varney would often hilariously imitate Chapman's reaction, [with heavy English accent] "OH MY GOD, THIS KID IS DYNAMITE!! I...I...I AM AGOG!!" Plans were made to move forward with the project, but when I actually got in touch with Paul Chapman it was clear that we were not on the same page musically. I tried to develop a couple other song ideas he had, but I was far more prog rock minded then and I just wasn't able to make it happen. So that was it. I haven't really had a chance to write with any other 'veteran' rockers yet, but I have been in the casual company of quite a few. That might lead to something.
14] Being from Rochester, are you familiar with the likes of Phil Naro, Mike Staertow, or Don Mancuso [Black Sheep] ? [See my site for more on these guys!]

MDG: I've known Don for about 10 years, though not too well. My brother, Vince Guarnere used to sing in an original hard rock band with him back in 1991-92 and I used to go see them a lot [Vince is featured on Don's latest CD - a version of Badfinger's "No Matter What"]. Phil, I do not know yet, but I certainly know who he is and how talented he is. Mike Staertow and I are new friends. He came down to the studio a few months ago and we really hit it off. I like his new record.
15] Lastly...I take it you know your Heep stuff!? Can you drop me a few fave tunes or albums and any thoughts on them in general?

MDG: When I was a kid, I was way more knee deep in the Heep than I am now, but I am definitely still a fan. I've got kind of a funny story about my first encounter with Uriah Heep. Do you remember when Mercury Records used to put little pictures of album covers on all their record sleeves to promote some of their other releases? Well, before my brother and I had ever actually heard any UH we spotted these little pictures. We read the name 'Uriah Heep' and we thought it was hysterical! We just assumed it was some silly opera singer or something. I mean, we had no idea that it was the name of a great rock band and we used to make fun of it all the time. One day, my brother and I went to a family friend's house for dinner. It was some guy whose kids we hadn't met before. During the visit, a bunch of us ended up in one of the boy's rooms sitting in front of a record player listening to music. These kids were a little older and they had some really cool stuff we hadn't been exposed to yet. So one of 'em pulls this record out and says "Have you heard this?" It was 'Uriah Heep Live!' and my brother and II just started cracking up. W thought we were about to hear "The Barber Of Seville" or something equally as droll. The needle dropped and we were instant fans! Right after that experience, I started buying up all the UH records I could find. I think 'Look At Yourself' is probably their quintessential album, but I also still have a very strong attachment to 'Return To Fantasy' because it's got John Wetton on bass & vocals and such a great variety of styles. 'RTF' was one of the first 20 or 30 records I owned, in fact. David Byron was a totally unique vocalist and I think the rest of the band were perfectly matched to him as far as originality goes. I know of no other hard rock band that has a drummer playing a shuffle beat on practically every other song! The only later Heep I'm familiar with is the 'Abominog' album with Peter Goalby on vocals. I remember when "That's The Way That It Is" was in heavy rotation on MTV and I was very happy about that!
Links....

Interview: © Kevin J Julie (Universal Wheels) July 2002