An Exclusive Interview With:
JOHN LAWTON
ON THE REBEL & ZAR PROJECTS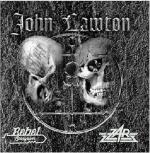 Following his departure from URIAH HEEP in '79 singer JOHN LAWTON recorded a solo album [Heartbeat] as well as a killer Hard rock album from a reformed LUCIFERS FRIEND titled "Mean Machine" [1981 Elektra], a very underrated album from the early 80s HR/HM period.

Mean Machine set the tone for a few future '80s projects that Lawton would be involved with; these being the hard rock / metal albums by REBEL ["Stargazer"] and ZAR ["Live Your Life Forever"] - both featuring German guitarist Tommy Clauss. The Rebel album was also Lawton's produced by Lawton, and featured a number of strong songs such as "Broadway Nights", "Surrender" [not the Russ Ballard tune!], and a great remake of Argent's "Hold Your Head Up" [which was quite different to HEEP's of a few years later]. The ZAR album had more of a 'metal' bite to it, and featured a few gems such as "Heart Of The Night", "Gone For Tomorrow" and the title track.

Lawton split from Zar after the first album, and the band went on to record 3 more albums [with Lawton guesting on the 3rd]. Both albums became hard to find until last year when Red Steel Music [UK] re-issued the 2 albums on one disc! A great deal, featuring 17 songs and some of the best rock vocals around.

Thanks to John for answering my questions in recalling these 2 projects. For more info check out www.johnlawton.org and www.johnlawtonband.com
---
Q] Was Rebel your first hard rock project after Lucifers Friend? What were you doing in Germany at the time?
JL: Yeah it probably was. I had just come back after a short tour with Lucifers.

Q] How did you hook up with Tommy C? What can you tell me about him?
JL: Tommy Claus rang me to ask if I would produce an album for him and his band, which was nice. Tommy is an excellent guitarist and writer and a very funny guy, He still lives in Stuttgart, I think.

Q] Was he in any known bands before you met him? [any names?]
JL: No and that I am pretty sure of ;-)

Q] Wondering....isn't there a 4 or 5 year gap in between the Lucifers Friend tour/album and the Rebel disc?
JL: Actually, my better half Iris, has just put me right to the situation. I was on the road doing radio promotion for Heartbeat, when a certain Mr.Tommy C. rang me at a hotel we were staying and that's how the whole thing started. It was recorded the year Princess Diana got married :-)))))))) if that helps.

Q] You started as Producer on Rebel, but ended up doing vocals as well. This was not something you wanted to do? Was it a lot of pressure in the end?
JL: It was a case of the singer not being able to deliver in the studio, which was the problem. I could see the rest of the guys getting very frustrated as we went along. Not only that, but they were working to a budget and that in a way is important. I gave the singer all the time he needed and some "one to one" coaching, but in the end I was asked to take over and that's the way it finished up.

Q] Happen to recall singer's name?
JL: No I don't, he was a local guy.

Q] You also co-wrote all the songs!? Who's idea to do the Argent cover?
JL: The bands actually, I like the song anyway.
Q] Did Rebel do anything as far as Live shows, promo appearances, etc ... ?
JL: I think we did one promo show, but no actual live gigs. As ZAR, we did some TV appearances, local and nationwide but all mimed :-))))

Q: Did you keep any of the TV/video appearances? Were there any singles or songs that received radio play?
JL: Yeah, I have videos, all mine ;-))) Line Of Fire was released as a single and that's the one we did most of the promo on.
Q] How was the album promoted and how well did it do? [Territories?]
JL: Promotion was not bad, the usual mags etc. I was released in Europe and I think it reached Japan.

Q] Rebel evolved in to Zar!? But this time Tommy produced it with Jerry Schafer. Was this a better situation for you?
JL: Yeah absolutely. I think the guy's had learned from the Rebel album and time-wise it made more sense. They could go into the studio whenever they wanted and didn't have to wait for me to come over from London. Plus the fact that I had other irons in the fire.

Q] Zar was a good bit 'metal', perhaps these are 2 of the hardest rocking albums you did aside from the first and last Lucifers Friend albums [IMO]. How did you feel about the songs and outcome of each? Was the metal sound of Zar something you were looking to do at the time?
JL: It was the way the songs had been written and laid down. Yes I had my input, but at the end of the day, this was the way the guys wanted to do it and they had learned a lot by then. And IMO, it turned out really well.

Q] What became of Zar that you ended up leaving after that one album?
JL: No real reason, they wanted to tour the album and I really didn't have the time. I figured it was better for them to get a singer who could be there for them all the time.

Q] What tracks are you happiest with from these 2 albums? [Were there any outtakes left anywhere?]
JL: No particular favorites, I think that they all turned out well. Some really good guitar work from Tommy which I was very impressed with. I don't think there were any out takes, to the best of my knowledge.

Q] Have you seen [or had any contact] with Tommy, Jerry, Peter, or any of the Rebel guys since then?
JL: Unfortunately not. The only one was Peter Kumpf, who came to a JLB gig in 2000 but with the others, I kind of lost of touch :-(.
---

Interview: © Kevin J. Julie (Universal Wheels) May '02.