A Review Of:
THE BYRON BAND / LOST & FOUND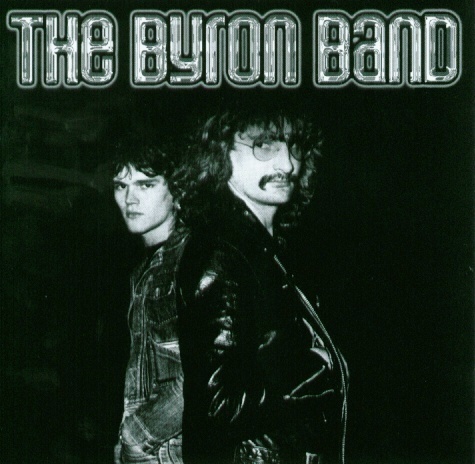 H
ere we are - 2003 and I am enjoying a brand new 2CD set from
THE BYRON BAND
; the last band to release an album featuring the original
URIAH HEEP
singer - David Byron, who passed away a few years after this band split up. David rose to fame from 1970 to '76 as the frontman for the British band when they were at their peak with such albums as Demons and Wizards, The Magicians Birthday and Return To Fantasy. He was fired from the band in 1976, sang on 3 post-Heep albums [
Rough Diamond s/t, Baby Faced Killer - solo, and Byron Band's On The Rocks
]. During this period his fame and fortune dropped and by the time he passed away in February of 1985, he had little in the way of money, a career or support after years of alcohol abuse. From 1980 to '82 he fronted
The Byron Band
with guitarist/ songwriter/producer Robin George. The band's lone LP ["
On The Rocks
", 1981 Creole Records] went out almost unnoticed by once adoring fans and media who years earlier would be keen to interview and put David front and center of the major music rags in the UK and the US.
A few years back Robin George mentioned he thought he had tapes of the Byron Band and later, after realizing the growing interest in David through new Heep books, remasters, and a David Byron book dug the tapes out and began to master them for this release. "Lost and Found" is the compilation of  tapes Robin had for the past 20+ years, some from demo sessions and a few live recordings.
Disc one starts with full band demos from 1982, and perhaps my favorite part of this release as it contains 5 unheard of songs featuring David Byron. It also IMO puts down any suspicion that David was washed-up at this point. These are great songs, David and the band all sound great and it's a shame they never were produced in to a 2nd album at that point in 1982. Tracks include the funky "Learn The Dance", followed by 3 excellent rock tunes - "I Need Love", "Fool For A Pretty Face" and "Safety In Numbers", as well as "Bad Girl" [which had previously been included on the band's 1981 LP]. Last up is "One More Minute", it's a ballad, with heavy guitar from Robin and a classic David Byron performance; the best of the 'new' tracks  here and I'd rank this near the top of David's recorded works. For the 5 unheard of songs - this release will be worth it for any David Byron fan....but there's more! Next up are a bunch of acoustic demos done at David's house with just himself and Robin. These are more like quick takes, with only a chorus and verse here and there and some chatter between David and Robin throughout, still interesting to hear though.
Disc 2 consists of a 1981 band rehearsal and a Live show from Liverpool in 1980. The sound is pretty good considering these weren't recorded to be released as such. The rehearsal features 6 songs, including a few from the On The Rocks LP, a few of the outtakes [see disc one] and 2 others - "Goodnight Blues" and "Last Chance Jam". Heep fans will likely love the Live in Liverpool '80 part a lot though. It includes 8 songs, including a few On The Rocks songs, "Roll Over Beethoven" [last song], previously unheard "Liverpool Blues" [which David seemed to thoroughly enjoy] and 2 Heep tunes - "July Morning" and "Sweet Lorraine".  While the band stayed true to the original arrangement of "July Morning" [add in Mel Collins' saxophone], it is "Sweet Lorraine" that is surprising, with the saxophone more prominent and the song has an upbeat feel to it. Interesting commentary from David as well, such as when someone calls out for "Gypsy" and he replies 'another band does that one'.  David sounds in great voice, again putting down the myth that had it in his post-Heep career. The band sound good, big guitar sound, tight, like they must've enjoyed the set and me hopes there's more such live tapes out there of the Byron Band somewhere. Disc 2 closes with "AngelSong", a lighter track by Robin George from 1985 featuring Charlie Morgan [Elton John] on drums, Pino Palladino on bass and Pete Green [aka Daniel Boone] on keys, plus Chris Thompson on backing vocals. I'm assuming it's included here as a tribute to David, as it fits nicely.
In all, an excellent and welcomed release by Robin George! The man deserves a big pat on the back for getting these recordings out to starving David Byron fans. Another reminder of how great of a singer/performer David was and how much he's missed, as well as the little known point that The Byron Band was indeed a very good rock band, and it's a shame they never continued beyond 1 album.
---
Review: © Kevin J. Julie (Universal Wheels) August '03