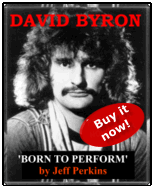 J
eff is a British rock fan, who has written the first biography on originally URIAH HEEP singer David Byron. The frontman was a co-founder and sang on their most successful LPs from 1970 to 1976. Following his departure in mid '76, he released a few solo and band project albums before his death in 1985. Check out what Jeff has to say about the writing of this 400 page history or one Rock's greatest singers.
---
Q]- How long have you been a Uriah Heep fan, what is your earliest recollection of them?
Jeff: Firstly thank you for interviewing me. I'm really pleased that the book is finally coming out. I can remember that the first Heep album I bought was Look At Yourself. I was 13 at the time and I'd heard it being played in the 6th form common room at school and I went in and remembered the cover. It was a really eye catching cover for the time. I went straight out and bought it, which was quite a big dent in my pocket money at the time! Pretty soon I was out buying their earlier albums Salisbury & Very Eavy Very Umble as well and I was well and truly hooked.  It wasn't until 1974 that I finally saw them live at the Hammersmith Odeon in London. It was the first big concert I had ever seen. David just mesmerized me. It was a wonderful, magical night and it shaped my love of music ever since.
Q]- What inspired you to write something based on David Byron? What elements of his life or career really interested you to pursue this?
JP: That first time watching Uriah Heep I rreally couldn't take my eyes off David Byron. Which when you consider the talent there was up there on that stage in Mick Box, Ken Hensley, Gary Thain and Lee Kerslake is quite remarkable and speaks volumes about David the entertainer. He had a stage presence that I have not seen in anyone since. David oozed charisma. I, like many other Heep fans, found it really hard when David left the band and tried to follow his subsequent career. I can remember what I was doing when I read that David had died. Since then many things have been written about David's life which seemed to concentrate on the problems that contributed to his death. I just wanted to find out about the real person behind that incredible stage persona and help reflect the more positive aspects of his life.
Q]- If I'm correct, this started out as something smaller and kind of grew through the contacts you made and interviews you did!? How did it develop?
JP: Yes it really took off. I can honestly say that when I first started it I had no idea that within a few months I'd be interviewing people like Ken Hensley who I had last seen on stage in front of thousands of people or Clem Clempson who I had seen with Humble Pie. I soon found that I was living within striking distance of where David grew up and went to school. There are small sections in the book, which are biographies of a biography, and these show how various things happened and how the book developed. We, my wife Debbie and I, spent days in libraries, newspapers, museums and local records offices to find elusive documents. It felt wonderful when we finally found a certificate or David's school reports!  We had fantastic breakthroughs and nearly everyone we approached happily helped us out which says a lot about the high regard that they had for David as a friend or fellow musician.
Q]- Without giving TOO much away, what were some of the most memorable interviews or contacts you made, and what surprises or 'finds' intrigued you most?
JP: There were really special moments along the way. We met Willie Bath who played with David's post Heep band, Rough Diamond and as a result we now have a very good friend who we meet socially. Also we tracked down Del Roll another lovely guy who we see quite a lot. One very special moment was when I logged onto my computer to find that John Wetton had sent me a lovely and moving reflection of his times with David. Also we received a lot of help from a friend and fan of David's who leant us letters written by him. These really helped us get to know him better. It was harder tracking the end of David's life and I found it a very moving experience. His death has been widely misreported and it took a lot of footwork to get it right. It had even been reported as happening in the wrong place, so I set out to put it right. I hope people will see that I tried to handle this sensitively. After all I'm a fan too.
Q]- I gather some things would be sensitive to people, were there any people you found who wished not to talk about David or anyone [s] you avoided altogether?
JP: I didn't want this project to become a painful exercise for people close to David. I wanted to celebrate a life that gave us all so much pleasure. Therefore I didn't pursue people. If they didn't come forward I respected that and let it be.
Q]- Was it quite the task to track David's early [pre Heep] days in the UK? What sort of things [avenues] to you do to discover things, and how well do You feel you did?
JP: Tracking and researching David's early life proved to be one of the most exciting parts of the project. As I say fortunately we lived reasonably close and could actually visit and photograph all the key places to include in the book. As we did we just felt closer and closer to him. It was quite an experience.
Q]- Is there plenty of never before seen photos or documents? Will this be a special part of the book?
JP:  Yes we tried hard to find photographs that had never been seen before. We have included quite a few letters written by David. His Birth Certificate. We even went to the Registry Office where David and Gaby were married and managed to get a copy of that certificate too. There is a lovely school photograph on his school report. We also took the decision after much thought to include David's death certificate. We did this to help silence some of the rumors that have spread following his tragic death. I hope people realize the reasons for its inclusion. More positively there are several good photographs from all periods of his life not just his time with Heep.
Q]- You must've had plenty of material. Was it a hard task editing it down to what you did?
JP: Yes it was difficult. There is a problem in that I had to include some of the better known stories surrounding Uriah Heep. They couldn't really be left out but I realize that they are well known amongst Heepsters. But I hoped the book would be read by people returning to David again or even those who were maybe discovering him. So please be patient with the book when you get a well known piece of Heep history as there is plenty of new stuff as well.
Q]- How has the response been to the whole idea of the book from those you've had contact with, be it fans or those you interviewed? What's the general consensus about a David Byron book?
JP: The overwhelming response has been 'at last'! I really couldn't believe when I started that no one had done a book about David before. After all he had a huge following and his legend continues. I was never asked why or why me.
Q]- How did the title 'Born To Perform' come about?
JP: It came about during my interview with Ken Hensley. I was so nervous meeting him but he was really kind and gave me a really good interview. He used the phrase Born To Perform when describing David several times during the conversation. Ken used to write a lot of the words that David sung so it seemed really appropriate when he said it and it leapt out at me as the title.
Q]- You obviously tried like hell to find a publisher. Why did you decide to self-finance it, and what sort of task was this? [Not that I'm interested :-)]
JP: Self-publishing isn't something I'd recommend! Lots of sleepless nights worrying whether I've done the right thing. Several publishers liked the book and wanted to produce it but felt that maybe it was too close behind Dave Ling's one last year. I felt that there was a resurgence of interest in David and wanted to further promote that. One of the things that came out of all of this was since contacting Robin George he remembered that he had some old Byron Band tapes, which he has now released. I'm really pleased about that.
Q]- Have you heard the CD set Robin George has released? Was there any effort to time your book with the CD? And what are your thoughts on the CD release?
JP:  Yes I have heard some of the Robin's tapes and I am so glad that they are being released. People have an image of David's latter career, which isn't reflected in these recordings at all. He is on fine form and he sounds the quality performer he was. There wasn't a conscious decision to coincide the release in fact I was worried that the timing wasn't great because of the amount of money that people interested in David would spend if they wanted the CD and the book.
Q]- What would you like readers to appreciate the most out of your book and/or David's story?
JP: If one person climbs the ladder to their attic and fetches down an old copy of Demons & Wizards or Live 1973 or something and remembers the days when David was up amongst the best front-men in the world then the whole thing would have been worth it. I have been moved to tears by his voice during this project and hopefully it will connect with people who also have special memories of this much missed man.
Q]- Are you all 'Heep - out' from this project, or do you for-see yourself  doing another project of this sort down the road?
JP: Yes I think so but I really hope that one day someone somewhere has a crazy idea, much as I did, and does a book on Gary Thain. Gary was one of the great bass players and like David is also one of rocks tragedies. Also I hope that you completes your book on Uriah Heep, which promises to be the ultimate and definitive account of Uriah Heep's continuing story. I have been asked to do two more books which is really exciting, so I'll be busy for a couple of years yet!
---
Interview © Kevin J. Julie (Universal Wheels) July '03