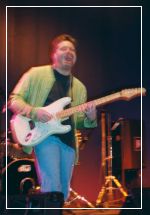 J
ason Gonzalez is a Seattle based singer/songwriter. His latest album is titled "On The Edge Of The Edge", and is a classy fresh sounding assortment of AOR and light pop/rock tunes, with smooth vocals, simple production, and a number of upbeat pop tunes and ballads. Not overly shmoozy, yet not heavy either. Worth checking out if you're looking for good singer/songwriter stuff that doesn't stray into cheesy pop or metal.
For dates, music and more info check out
KJ:
What sorts of music did you grow up on? can you give me a list of fave bands, musicians...? Biggest influences?
JG: I always listened to a lot of Eddie Money, Beatles, Rick Springfield, Peter Gabriel, and Wings, 'cause that's what my parents liked. In school I got into allot of stuff like Dokken, Journey, Warrant, Poison, Van Halen, etc. My favorite bands and influences though are Rick Springfield, Peter Gabriel, and The Outfield.
KJ:
'On The Edge Of The Edge' is actually you're 3rd [?] CD release!? What can you tell me about the previous 2 CDs, as far as their style, sound, direction, release info, how well they were received.. ??
JG: Edge is actually my 2nd release. This time around we took a more subtle subdued moody pop approach to my persona. We used much less keyboard driven instrumentation and more acoustic guitar and clean sounds. Also the stuff is more alternative based. "Through My Eyes" was much more 80's flavored and keyboard based. Plus it was mostly bass and completely drum programmed except for some natural snares. Edge is all live drums. Also, with Edge we kept the backing vocal parts down to a minimum, whereas Eyes has 4 and 5 part harmonies. I'm also singing in my lower register more and I think I finally found my signature vocal style (hints of it are in Edge", by cutting out a lot of the vocal Steve Perry like stuff.
KJ:
You're music on On The Edge is somewherez between pop-rock and adult contemporary. Is that a fair statement? If so - where do you see your music, and what type of audience do you think it'd appeal to?
JG: Personally I place it in AAA or A/C, maybe Soft Rock. I would say you're classification is right on. Somehow between Eyes and Edge I kind of moved out of a direct AOR format which some say has alienated me from the AOR community. I like to think it puts me on the gentler side of it.
KJ:
Your songs are pretty straight forward and attractive for their pop melodies and hooks. What influences your writing in such a way? and how do you generally come up with a song - musically and lyrically?
JG: For the most part my lyrics are based on my life experiences. I generally seem to write from a vocal melody in my head and fit the chords to the melody and then build the riffs around them, at least that's how it's been with these two albums. I always try to make my life experiences such that I can write my audience into the songs and they can relate the songs and words to their own lives.
KJ: Can you give me a few words on a few stand out tracks on the disc > I Will Find A Reason [classy ballad], I Need You Too, Walkin, It's Just A Feeling ... ?
JG: 'Walkin'" is my tongue out rebellion against my frustrations in life and with the music industry in general. I basically am saying "I'm outta here" to the things which are causing me stress in my life. "It's Just a Feeling" is my explanation to the world for why I do what I do when I get asked the same questions over and over. "A Shoulder To Lean On" is a thank you to my wife for always standing behind me and helping me through the last 11 musical and non musical 11 years. My personal favorite "My Own Way" is an anthem to all those who try to stand in my way and come before me and my goals and dreams.
KJ:
Do you have any personal favorites on 'On The Edge...'? [Any stories to go with?]
JG: Definitely "My Own Way". That one was written over the course of two years. The Chorus I came up with in 5 seconds and hummed it for two years without having anything else to go around it. The rest of the tune took two years including the music. "Walkin" I came up with the whole song in like 30 seconds but it took 3 straight weeks and 14 different versions before I got what I wanted. I also like "Do You Know What It's Like?" which is my personal criticism back at a music industry who care freely discard CD's (which are people's dreams) away without a moments consideration of the heart, soul, and hard work which went into them.
KJ:
What can you tell me about the production of the new CD? It seems pretty straight forward without a lot of overuse of instruments or sounds, but basic instrumentation, minus long instrumentals!? Any use of electronic drums? The guitar breaks [such as It's Just A Feeling] are brief yet effective.
JG: Yea, I wanted it simple. I wanted people to focus on the songwriting and vocals and words as opposed to production. Plus I wanted something that you could play in 20 years and not think it sounded dated. And I purposely kept out the instrumentals to make it more radio friendly]. We recorded it on ADAT as opposed to all digital hard disk recording. Though it was mixed digitally and mastered digitally. The only electronic drums were of a couple of tom parts which were copies of the live drum parts and layered on top. I also only did two tracks for each backing vocal part as opposed to 3 or 4 for the Eyes. The production of the album represents the way I like people to see me, no frills just honestly and completely. Vocally, I decided that I didn't need to have to prove to everyone "Look I can sing with the same control that Steve Perry does. Look at all these vocal runs and scales I can do!" to demonstrate I had a decent voice. I focused more on my range and nuances that are particular to me.
KJ:
If you were to sell Jason Gonzalez music to a music - who would you recommend it to or aim at, noting certain artists perhaps or simply a style?
JG: I would tailor it to two areas, pre teen/middle school and post college age (25-40). These aren't the top record buying public genres but they seem to be the ones who have responded the best to my music.
KJ:
How about as far as 'fans of this or that band' that would like your music as well?
JG: I would say that if you're a fan of Steve Perry/Later Journey, The Outfield, Bryan Adams, Rick Springfield, Matchbox Twenty, Peter Gabriel, Survivor, and maybe some Yes, you'd be into some of my stuff. If you're into very poppy BSB, NSynch, Brittany, or heavier more direct metal like Danger Danger, Hurricane, Warrant, Poison, UFO, Winger, Van Halen, REO Speedwagon, Scorpions, Dokken, etc. my stuff might be a little lame for you.
KJ:
Are you familiar with any Canadian bands?
JG: The only ones I know well are Rush and Bryan Adams, both who I like very much. Let me know of any Canuck bands at my sub major label level and I'd love to get in touch with them.
KJ:
On The Edge is dated 2001. What are you currently up to? Any plans for a next album at present?
JG: I have been writing a lot though I think this album will my first collaborative band effort as I'm now putting together a full band. Also, this album will much more upbeat and tempo. A lot more electric guitar and dynamics as well. And I'm going back to singing in more of my upper register.
KJ:
[You've seen my site!?] Are you familiar with Uriah Heep at all?
JG: Actually I but only two discs, "Raging Silence" and "Equator".
KJ:
Do you mean you have ALL but those 2 discs, or Only those discs?
JG: I bought those two CD's. I've only just gotten into them or rather discovered them, so it usually takes a spell to grow on me. Have to let you on that one. I've found that I'm generally an entire album guy or nothing, so no songs in particular ever stand out. I know when I like or don't like an album though. I have plenty of examples of multi disc bands whose albums I did and didn't like.
---
Interview: © Kevin J. Julie (Universal Wheels) June '02