A Review Of
HEAVEN & EARTH
A Taste Of Heaven

HEAVEN & EARTH : A Taste of Heaven
[Black Star Records]
Stuart Smith is back with Heaven & Earth, and the follow up to 2000's excellent "Windows To The World" album.
A Taste Of Heaven sees a few big changes in band personnel, with one-time Quiet Riot and Ex Rough Cutt singer Paul Shortino taking over for Kelly Keeling. Also, new to the band is bass player Dave Chamberlain [ex of Glenn Frey's band] and keyboard player Scott Warren [ex Dio & Warrant]. The new tracks here also see a change in producer with Dave Jenkins replacing ex Heart guitarist Howard Leese.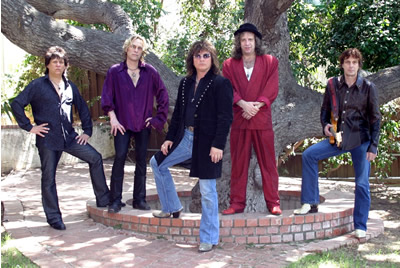 Now that i got all that out of the way... About the new disc! It's an 8 song disc, with 4 new tracks and 4 favorites from Stuart's "Heaven & Earth" debut. The 4 new tracks include a good ballad in "It'd Be True", which features a big solo by Smith, as well as the rockers "Heaven" [somewhat AOR, but very memorable] and the slower paced guitar driven "Nasty Piece of Work". But best pick here is the lead off track [and the only one co-written by Smith & Shortino] - "Screaming for Redemption". It's a classic hard rock tune, with all the H&E sound of Smith's guitar, plus hammond organ, and a great vocal. An instantly likeable song [and title track from the forthcoming full album later this year!]
The 4 tracks from the debut H&E disc here are the instrumental "Dreams of Desire", "When A Blind Man Cries" [w/ Richie Sambora on vox], "Heaven & Earth" [w/ Joe Lynn Turner] and "See That My Grave Is Kept Clean" [featuring Glenn Hughes]. The debut album is currently being repackaged and re-released with 2 unheard bonus tracks!
A Taste Of Heaven is a nice addition to the H&E set and the new songs show promise for more cool stuff from these guys in the near future! And the disc can be purchased through Stuart Smith's website for a mere $8! Worth it for the new & old!
Check it out: www.stuartsmith.com & www.blackstarrecords.com
---
Review: © Kevin J. Julie / Universal Wheels, August 2004