[Limelite Records]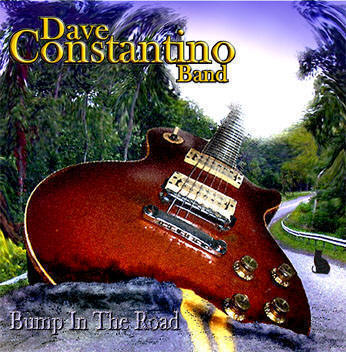 Dave Constantino is the frontman of legendary Buffalo band 'Talas' [which was known for being the first band of bassist Billy Sheehan].

Constantino was the band's original singer/guitarist, who featured on the few Talas studio albums, as well as the excellent live reunion disc "If We Only Knew Then...". Since then he's been busy getting his own music out there in such bands as Shyboy [w/ Talas drummer and other singer Paul Varga] and more recently on the blues scene as The Dave Constanino Band, which also features legendary Buffalo area musical brothers Ted and Tom Reinhardt [see Gamalon, Spyro Gyra, Willie and the Reinhardts...].

The band's 9-track debut disc is a fine mix of Dave's own blues and blues-rock songs. The album kicks off with the straight ahead blues of "Bump In The Road", and features such great songs as "Missing You", a haunting acoustic ballad, "Mystery Man", which starts out lightly before stepping up to become a cool blues rocker here, and "Where You Hidin'" - another great up-tempo funky blues track, featuring some killer guitar from the man himself. The album closes with a classy rendition of Jimi Henrix's "Manic Depression", which Dave guitar goes all out on.

As much as I love Dave's Talas stuff for the big straight ahead guitar sound and his tough vocals, his new blues album showcases his talents as more than just a rocker, with various guitar sounds and great solos, as well as a whole different take on the man's vocal abilities. Smooth stuff. Should make for cool outdoor summertime sounds.