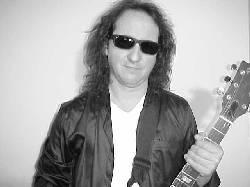 Q] What lead you in to more blues type guitarist and. the blues, after the straight ahead rock stuff of Talas?
DC: I was always fond of blues and the more blues type guitarist and singers.
Q] I know previously you mentioned being a fan of such people as Robin Trower and Hendrix [both blues based]. What other blues and blues-rock players or bands influence you?
DC: Eric Clapton, Jimmy Page, Paul Kosoff, Jeff Beck, BB King, Ritchie Blackmore, Stevey Ray Vaughan, and more
Q] Can you tell me a bit about the Reinhardt brothers? I know they are well-known on the Buffalo scene [from previous bands]. But how did you wind up teaming up and what were their contributions [aside from playing] to your songs on the CD?
DC: When Paul Varga left my band The Tweeds in around 1992 to join a new project, I hired Ted Reinhardt on drums. I went to high school with him. I always loved his drumming and was a big fan of his music with his band Gamalon. Later my bass player Alan Thompson left my band to pursue a new project and I hired Tom on bass. I always thought he was a great player and the two of them together is the best rhythm section around. We then merged their blues-rock band with Willie Haddath playing guitar and myself. Thatís when I really got into playing more bluesy songs. I wrote and arranged all the songs on my CD except for Manic Depression of course. Ted and Tom were very into the tunes. They had suggestions now and then, but the tunes really are pretty much the same as they were on my demos. But their playing brought the songs musically to a higher level. They are experts in the studio, with tons of experience.
Q] This album really let you come out more as a singer/guitarist. What were some of your own favorite moments recording - as a singer and as a guitarist?
DC: The last tune I wrote for the CD was Missing You. I had the music going for a bit but was never finished with the lyrics until not too long before recording the CD. I really wanted the solo for this song to be special and I was so into it that when I finished the last take I almost felt sick. My favorite vocal I think was Fit To Be Tied
Q] The track that really grabbed my attention first was "Missing You". Can you drop any comments on this song, as well as other faves such as "Mystery Man" and "Where You Hidin"?
DC: Like I said Missing You is one of the last tunes I wrote for the CD. I love the feeling of the tune, its heartfelt performance, and that it is slow and soulful and I loved soloing over it. Inspiration may be a bit from Hendrix Little Wing. Just a little though. Mystery Man I wrote during the time I was playing with Ted and Tom and Willie Haddath. Where You Hidiní, around the same time. Manic Depression was included because of the chemistry between the three of us musically. I love all the chops and how tight they are. And yes we did have fun. Lots of hard work and time went into this CD but I believe everyone involved really enjoyed it. It was a great atmosphere and I believe that you can feel that on the CD. I also cover Voodoo Chile and Little Wing at times in my shows.
Q] "Manic Depression" sounds like you had a lot of fun. The guitar playing is killer and you really stay true to the Hendrix original.
Being a Hendrix fan, was this an easy choice to include and do you perform other Hendrix tunes in your set?
Q] Do you have a wealth of blues material for another future recording?
DC: Itís a style musically and lyrically that I enjoy writing. We have discussed doing another CD next summer.
Q] Do you foresee yourself doing another straight ahead rock album in the future or is there anything else in store?
DC: Hard to say. I made changes in my band and musical direction because I am honest to it. I like having a straight-ahead rock touch to my blues.
Q] How has reaction been from new and old Dave Constantino fans been?
DC: The reaction to the CD has been great. Reviews have been real good and fans claim to listen over and over to it. Online I have sold a bunch to California, Florida, and many other states and even as far away as the UK.
Q] And how was the release bash?
DC: The CD bash was amazing! Packed house, great response, my special guests Johnny Angel, Willie Haddath, and to top it off Billy Sheehan - were all great.
Q] Anything coming up you'd like to plug or mention?
DC: Just trying to get the CD out there right now.
Any news will be on my site: www.daveconstantino.com
---
Interview: © Kevin J. Julie (Universal Wheels) March '07