An Exclusive Interview With:
Joe Bouchard
You've done so many different band projects since leaving BOC, why did it take you so long to get an album out under your own name?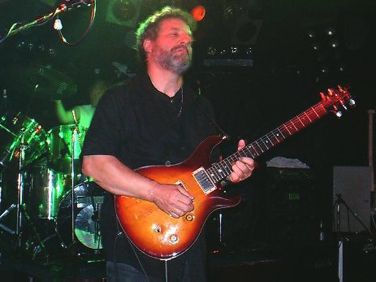 JOE BOUCHARD
/ Former Blue Oyster Cult Bass Player Steps Out On His Own with His First Solo Album:
For over 15 years Joe Bouchard was a big part of the original and extremely successful New York based heavy rock band Blue Oyster Cult. Bouchard would contribute to and play on all the bands hits until his departure in the mid 80s. Check your list of classic BOC rockers -- "Don't Fear The Reaper", "Burnin For You", "Godzilla", "Astronomy", "Take Me Away".... Bouchard was a major part of the one of the greatest American hard-rock/metal bands of the 70s. Since then Joe went on to numerous bands, recording, touring etc..... he's stayed a busy man, and most recently he's finally released his debut solo album! You can see my review under the 'July Reviews' section at Universal Wheels. Joe's also out there touring with 'Blue Coupe', a trio also consisting of brother and former BOC drummer Albert Bouchard and original Alice Cooper Band bass player Dennis Dunaway.
Here Joe answers my questions about his musical education, some his BOC highlists, and most importantly - his superb new solo album "Jukebox In My Head" -- available through Joe's site www.joebouchard.com .
You can also find out info on such releases as the X Brothers, The Brain Surgeons, and Bouchard-Dunaway-Smith, as well as Joe's latest gig listings [with a number of bands].
Enjoy the read, and thanks to Joe for his time in answering everything [in type no less].
---

You've done so many different band projects since leaving BOC, why did it take you so long to get an album out under your own name?
That's a good question. I've always been a band guy and like being one of the team. I study the dynamics of bands, why they work and why they fail. It's one of my obsessions. It was always easy for me to be "that guy in a band". Donald/Buck thought that when I left BOC in 1986 I'd jump into recording a solo album, but I was burnt out on the whole process.
About 10 years ago when I was recording with Dennis Dunaway and Neal Smith I thought that doing an all-acoustic album would be fun. This solo album, Jukebox in My Head, was supposed to be half acoustic and half electric, and it was supposed to be set up as a duo album with Patty G who was my lyricist/collaborator. But that didn't work out, and Patty developed a back pain problem and had to stop performing. So I took some of those songs and added a few more that worked for me in a solo context, tossed a few interesting covers, and after about a year of recording, overdubbing and mixing the album was done.
Are the songs on Jukebox written for this album, or are there some you've had laying around for a while?
All the songs are new and have been written in the last five years. The covers of Kickin' a Can and Dark Boat might be older songs, but for me they are new.
You perform all instruments on this disc, save for saxophone and drums - who you got Michael Cartellone [ex Damn Yankees & Skynyrd] in to do. Curious why you decided to play everything yourself, as opposed to using various guests and how Michael ended up as the drummer?
I woke up one day and realized I had not played bass on a album in 20 years! Since I was mostly known as a bass player in my past, I felt it was time to dust off my collection of basses and put them to work. It was fun playing on the tracks laid down by Michael. He's rock solid and has great feels, so fitting the bass into the drum parts was easy.
I've always been a guitar player. I guess playing all the guitars gave me an excuse to expand my guitar collection. My biggest problem was nailing the acoustic guitar sounds. I've got a set of world class electric guitars (a 62 strat reissue, a Fernandes, a SG, a 335 studio, a PRS and so on), but I struggled with the acoustic guitar sounds. I ended up borrowing a 60s Gibson J-50, but it developed a rattle after a week and I had to mix and match my own acoustic guitars (a 1982 Adamas, a Rainsong, an old 72 Gibson B25, a Breedlove). The best acoustic I have is a Fender 12 String acoustic/electric (cheap $250!) which I used all over the album. I have a Fender 6 string acoustic that doesn't sounds that great, but ended up being a great for slide solos. I used my mandolins, and even added one banjo part. I can't wait to start another album so I can dig out all those guitars and put them to work again.
When doing an album I knew the key to success was the drum parts. I debated a list of 20 different drummers for over a year, but I didn't think any one of them was exactly what I was looking for. Then I went to see Skynyrd in Hartford and was sitting in the audience just like like any one of you, and listening to the rocking set Skynyrd was laying down and I said to myself "That's the drummer I need!" Three months later I saw Michael in a club in NYC, introduced myself and said I needed a drummer for a solo album. He was up for it and said to call him. Well I didn't call for several months. Next thing I know I get an email from Michael saying "When are we going to do that album?" I was blown away that he even remembered me. It took about another year before we got the wheels in motion. Michael is tied up with Skynyrd who tour constantly from from April to October, but come late October we laid down 10 tracks in one day. I only used 9 on the album. Most of the tracks were done with live drums, and me playing acoustic 12 string and singing live to get a more "natural" feel to the songs. It was a fun session. Michael played all songs in one take, except one song Cowboy's Dream which required two takes, because he felt the first one was not good enough.
You're a very accomplished musician - not just as former bass player in BOC, but can play various instruments, sing, etc... You were a music student at College before BOC? What can you tell me about that?
When I was in high school I was deep into the music scene of the 60s. The Beatles and Beach Boys/Brian Wilson were my heroes, but I loved the Paul Butterfield Blues band and the Stones and the instrumentals of the Ventures. I did a wide variety of music too and I sang in the choirs and played trumpet in the school band. It was all good for me. I decided to study music in college, but in 1966 there were almost no colleges where you could study guitar, so I decided to become a piano major. The only problem with that was I sucked on piano, I had very little piano skills outside of playing Jerry Lee Lewis boogies. So my first years at Ithaca were a big struggle, doing mostly scales and arpeggios 3-4 hours a day, to try to catch up to my peers who were amazing classical piano players. But I loved it all. I would fall asleep in my repertory classes every afternoon, those were classes where a pianist would play their classical pieces. It was all really mellow stuff. The only problem is I'd start snoring in class and somebody had to shake me cause the noise was so bad! I got to sing with the Ithaca Chorus at Carnegie Hall with Leopold Stokowski conducting. I was being groomed for a career as a high school vocal teacher, but I was never a strong singer. If I didn't go into rock I'd probably be teaching in a high school somewhere with a choir and chorus and doing music for the local school musical.
In 1968 I joined a band at Ithaca College called Que Pasa. We were a latin jazz/rock group in the mold of Sergio Mendes and his popular group Brazil 66. Que Pasa was an amazing band of experienced older players who needed a bass player.. I was their man even though I had not played a bass at all. The leader of the band, Steve Brown, who also taught guitar at Ithaca, bought me my first bass. We had charts for everything and I learned a lot about music from that band.
With two years of playing jazz and rock on bass, I was all set to slip into the Soft White Underbelly in their waning days. Soon we modified our style and changed our name to Blue Oyster Cult.
Can you tell me a bit about the song Dark Boat and whom John Elwood Cook is? That is such a great haunting tune!
John Cook lived next to our family cottage in the 1000 Islands. I've known him my whole life. He is now a retired art teacher, does art pieces that are collages with fishing themes, and trades antique guitars in his spare time. He has an amazing collection of unique guitars and unique songs, hundreds of songs.
http://www.silvermineart.org/gallery/artist_detail.cfm?artistID=44
Since he lives on the St. Lawrence River for 9 months of the year he has many songs about the river, and the colorful characters who are a part of the upstate New York scene. John was the first person who played me a Bob Dylan album and took it very seriously. John's got a great raspy voice and we would sit on his porch and jam on his songs for hours. One song that stuck out for me was his song Dark Boat. When I was considering songs for the album, Dark Boat jumped out as a song I had to do.
I was the last song I worked on for the album, because I knew it was going to be an epic. The track was over 11 minutes long as recorded. It has three different drums sets, over 60 tracks of overdubs. and it was a real complicated song to mix. I have alternate mixes I hope to release as an extended bonus someday.
You mentioned the 1000 Islands and you guys seem to have some Canadian ties, curious where you grew up and how familiar you are with the Canadian music scene way back? Tour or fond of any Canadian bands back in the day?
Oh yes. Albert and I grew up in a large family, six boys and one girl in Clayton NY on a farm on the edge of the St. Lawrence River. My father's early ancestors were from Montreal and Ottawa, but his family moved south to upstate NY a couple of generations back. Most of the radio that my brother and I listened to was from Kingston Ontario. They had the Canadian content law where a good percentage of the artists played on the radio had to be Canadian. We listened to Ian and Sylvia and a lot of British stuff like Cliff Richard and The Shadows. Actually we heard the Beatles Canadian releases months before it was ever played in the US. The Canadian DJs were flipping out for the Beatles, but my first impression was that they weren't as good as the Shadows. There is a line in P.S. I Love You where Paul sings exactly like Cliff Richard!
Jukebox in My Head features such a wide selection of memorable songs. It sounds as if you had fun making this. I am curious how hard or easy it was choosing the songs for the album? And if you have a lot left over for a follow up album in the near future?
It was not hard choosing the songs. I had 14 songs at one time but I had to drop one song called Wolves. It's a pretty good song but the album was getting way too long.. I was going to add my version of Albert's Death Valley Nights, but I decided on two instrumentals instead. The instrumentals came out really good, and they give the listener a break from my voice. I might do an album of mostly instrumentals someday.
The songs on Jukebox really vary as does your guitar playing. What influences your writing & producing in so many different sounds and styles?
Beatles definitely influenced me with the variety aspect. But also I listen to a wide range of songs and don't mind spreading the styles around.
What are your own musical favorites and influences -- guitarists, singers & songwriters [past & present]? What do you listen to these days?
Newer Bands: Foo Fighters, Coldplay, Bang Camaro, Linkin Park,
Newer Acoustic: Kaki King, Andy McKee, Julia Nunes, KT Tunstall, The Weepies, Tegan and Sara
Older Acoustic: John Fahey, Leo Kottke, Tommy Emmanuel
Older Bands: Dennis Wilson (solo album), Brian Wilson Smile! Ian Hunter, Joni Mitchell
Dance Music: Lady Gaga
Blues: Keb Mo, North Mississippi Allstars, Otis Taylor
Beethoven Symphonies and chamber works, Ravel Orchestra and Piano pieces.
It is amazing to hear the sounds in your solo stuff that were part of the classic BOC sound. Can you tell me how different it is writing for your solo album as opposed to within the context of BOC? [Lyrically and musically] Haunted Dance Floor is a very melodic and classy instrumental piece. What inspired this track? [Sometimes a song just doesn't need any words - true!?]
I think the biggest difference between my early BOC songs and my songs recently is I'm a more experienced songwriter. I've taught classes on song writing and I read a ton of books on the subject. For example there are extremely detailed books on the music of Brian Wilson, I read them all. If you couple that with the different reissues of Beach Boys tracks with just the vocals and just the backing tracks, you get a big insight into how those songs were created and produced. In my classes I have worked with many young songwriters. It all adds up to being able to write a better song.
Another factor that changed my style was that I got my master's degree in music composition from the University of Hartford in 1996. I wrote many classical style pieces, a string quartet, a brass quintet, a piece for two oboes and piano, and a huge four movement dance piece for a full 90 piece orchestra. The last piece was my master's project and never performed, but the score is quite good, and I'll put it out someday. For those years I studied with serious classical composers at Hartford and started writing music that didn't have to fit into the "song" format. It really opened my imagination to a wider range of musical possibilities.
I'd like to say I have hundreds of great songs in the vault, but I don't and it's usually hard for me to get started. Ian Hunter said to me to write good songs you have to put in the time. You can't wait for the inspiration to strike. When it does strike that's nice, but you can't count on it. Ian would set aside 2-3 hours every day for writing and hone the songs to all kinds of precision. He told me if he only got one great word for a song in a day, it was worth it.
Haunted Dance Floor was inspired by every old dance hall I've ever played. Roseland Ballroom in NYC is a great example. I'm sure my Dad danced on that floor when he came back from the war in the 1940s. The ghosts of young couples/lovers/strangers are still dancing on some of those old floors. I wanted to do a waltz so I created a in 3/4 pattern with brushes on a snare drum. The brushes gave me the sound of the grit from street shoes as they scraped across an old worn down hardwood floor. A snowstorm was the inspiration for the string parts which I played on a borrowed Roland synth, and the guitar was pretty much improvised in one take.
What kind of promotion are you doing for Jukebox? Any live shows just featuring those songs? Any radio stations pick up any tracks?
Mostly YouTube videos. I've posted 19 so far. I have many more on the drawing boards. It's the best promotion there is. They help get live bookings and they tell potential ticket buyers what they'll see at a show at a glance.
http://www.youtube.com/user/hotastro
I plan a show called Joe Bouchard's Acoustic Jukebox based on my album. The Acoustic Jukebox will be coupled with a Blue Coupe show or another band if they can't make it. It's a power packed evening of entertainment.
You didn't use your brother on this album. Curious if you guys work together on any recording projects?
Maybe sometime in the future. He has pretty strong ideas about what he wants to do, so it would depend on the right situation. Plus the songs have to be right.
Do you have any favorite tracks Jukebox or personal attachments to any?
Shadows on the Streets of NY is dedicated to all my friends from NY who have passed away, specifically Billy Hilfiger and Helen Wheels. It's a little story about the rock business in NYC in the late 80s.
Travelin' Freak Show is about my life in the Blue Oyster Cult and those huge pyro shows that we used to do. The photos have surfaced on the internet recently.
Cowboy's Dream is the story of a young rocker/cowboy dreaming of the fast life. The original title Patty came up with was Country Boy's Dream, but I read it wrong and started calling it The Cowboy's Dream.
Jukebox is a Patty G story of those songs that keep spinning around in your head. She also tied a stack of song titles into the song's subplot of a crumbling relationship. I loved the lyric from the first time I saw it.
One More Song is about finishing a club show where it doesn't matter how many songs you play when it's over someone always yells "One more song!"
Which Road is Mine is another Patty story of her making a major change in her life a few years ago. I often say it's a song about me getting lost on the road back in the day, but it's really a personal story of frustration.
Kickin a Can is my brother Jim's song. It's a philosophical ode to life from the perspective of growing up in a real small town, which we did. That's just a few of the songs.
The Strat solo at 3:20 in Dark Boat is my favorite solo on the album. Most of the solos on the CD are just thrown together as an afterthought. I wanted to put the focus on the songs, but I might try to hone solos better on future albums.
You've been playing around in 'Blue Coop' with your brother Al and Dennis Dunaway [ex Alice Cooper Group]. How have those shows been going and will you be doing more of them in the future? [would love to see you guys up here again]
Yes, Blue Coupe is booking shows and getting offers from high and low. We're working on a logo and will have a website up soon. Some of the YouTube videos feature Blue Coupe and I must say they are great rock and roll nuggets.
It is amazing to hear Dennis and Albert play together. They compliment each other so well, in stage presence and their general wild imaginations. It's a great match for a band, and make it easy for me to do my job as a singer and guitarist. They should have played together decades ago.
Now there's a bit of a long bond between some of the old BOC guys and Alice Cooper alumni. Are you all pretty familiar with each other's back catalogue? And what tracks do you really get a kick out of playing from Alice's early albums?
Absolutely. We grew up on their music, and they know ours well too. My favorite track from AC - Under My Wheels. Ballad of Dwight Frye is a close second but it's very difficult to perform. You can't beat the hits - 18 and School's Out. Surefire rock songs as you will ever get to play.
Do you still have much contact with Eric, Buck or Allan? Would you ever foresee yourselves working together on some project -- be it Blue Oyster Cult or something else?
No contact with Allen Lanier. No one has talked to him in years. He's a total recluse. Occasionally I get an email from Eric, but I get mostly 2-3 emails a year from Buck. I sent him a link to a farmer in Ithaca NY who has a mushroom farm called Blue Oyster Cultivation. He thought that was funny.
When I heard you guys as Blue Coupe, it's interesting to hear how much of that classic BOC sound comes across with your singing and Al's drum performance. Some of the early Alice songs sound closer to the original arrangements than they do these days, with Dennis. What can you tell me about Dennis Dunaway and Al Bouchard and how you guys stayed true to the original recordings of both bands?
We study the the old recordings in detail, but add our own personal touches too. It's more than a tribute, it's an expression of great respect for the songs. Of course a young bassist has yet to unlock the secrets of Dennis' unique style. He's a one of a kind.
You and Al seem to have a real good time on the road. Al did his jam session with various musicians and you were around with your hand-cam. Do you get on the road on a regular basis? and how much do you enjoy getting out there and playing compared to the heyday of BOC?
We are pretty tied up with our home lives and so I only see Albert at gigs. When we play it's always fun and we've been able to keep the gigs great and all positive. Playing in the Halloween Parade to over 1,000,000 people on 6th Ave in NYC was an awesome experience, a thrill of a lifetime.
Can you give me a couple of your favorite or proudest BOC contributions [as a player and songwriter]?
Reaper is a pretty good track.. With incredible "legs" as they say in the biz. I knew it was a hit song when I first heard it, but in my wildest dreams I can't believe what it's become. The song is a legend in the music world. Quite quirky, it is a little off base to be a big song per se, but many people can't stop playing it.
And then there is the rest of the BOC catalog. Many gems, many experiments for the hardcore fans, a few misses, but I'm pretty proud of it all. At this perspective it's an amazing achievement just the bulk of it.
Towards the end of your time in BOC, the band put out a few albums that often get overlooked as classic [2 of my faves being Cultosaurus Erectus and Mirrors]. Is there any albums in the BOC catalogue you felt got overlooked that you were happy with?
I liked Mirrors a lot. Our record company didn't. It probably could have been mixed better. With Cultosaurus we deliberately tried to revisit the early eccentricities of BOC, but it was no Machine Head. I loved working with Martin Birch (producer of Deep Purple). He upped his track record with us with Burnin for You on the next album. He is forgiven. ;-)!
Hey Joe, a couple of little things....
- How long might it be before we see a follow-up to Jukebox? Any plans?
A second solo album is definitely going to happen. I've got about 27 tunes and sketches in my next album playlist, but I need to write a ton more before I can begin serious production.
I'm learning a lot about what was missing from the last album and what could be improved. But I have a long way to go promoting this album before I can set aside time time for new recordings.
I recently jammed with John Cook who wrote Dark Boat, on a bunch of his new songs. I'm trying to convince him to record his own album, but he's not sure he wants to do it. I may cover another song of his. He has a great new song about the legendary boxer Carmen Basilio. The funny thing is my father used to date Carmen's sister back in the 1940s! When I told John that as we were rehearsing the song he was blown away. Small world.
- Any chance of releasing something live on disc from a future Blue Coop show?
Yes, a good chance. We've got the videos up on Youtube that anyone can see anytime. It's a magic situation when Albert and Dennis are playing as the rhythm section. They are a great match. All I need is the right set of songs, and a little production magic and an album could be finished in no time.
- Aside from Reaper, any favorite BOC tunes you wrote [lost classics]?
Two of my favorites from the old days are Nosferatu and Light Years of Love. I rarely played Nosferatu until last November in NYC at LeRoyale. It came out amazingly well for having minimal rehearsal and the recording is magical. I guess we'll have to play it more.
I've done acoustic versions of Light Years of Love and it works for me both ways.
Fallen Angel is good too. The BOC version was recorded very sloppily and rushed. I didn't know what I wanted it to sound like. I re-recorded the song for BDS with Neal Smith on drums and it's fabulous. I also do a pretty good acoustic versions. It's my favorite Helen Wheels lyric, but she did an amazing job with Nosferatu too.
Morning Final is good one too, but harder to sing in a live context, especially since I play piano on it, and I'm playing mostly guitar now.
Hot Rails to Hell was the song I sang for years in BOC shows, but I don't feel as connected to it as some of the others, I don't know why. Richie Castelano does a great job singing it. I wished I had written more songs for BOC, but I'd get so pissed off when a song got dropped from the album at the final sequencing, I'd hesitate writing more for future albums. If I knew I was going to put out a solo album someday I might have been a more dedicated and zealous songsmith.
- You're also putting Jukebox on vinyl!? Great - i still love vinyl. Was there a demand for it or are you a fan of the old vinyl record as well?
When I started working on this record, I planned to put out the usual CD. I wasn't too excited about it, but I had some songs and wanted to polish them off for the fans. I had a little cash to invest in this indie production, but something was lacking. In the middle of the recordings I started reading about what other artists were doing with new vinyl releases. When I decided to release the album in both formats, I started getting really excited! . . .. I started dreaming what the album could be, and how it would trigger a nostalgic but modern feeling at the same time. It was a pain in the ass dealing with the lacquers, test pressings and extra artwork, but in the end I was very happy with the outcome. I have a large vinyl collection and listened to a lot of old vinyl to reorient my ears to the vinyl sound. I think we ended up with a great product.
- Ever consider writing an autobiography?
I'd love to do my memoirs perhaps . . . before the brain cells completely burn out. For a long time I didn't think there was enough to write about, but I read music bios constantly. I just finished reading Joe Boyd's book about the 60s, a biography of Maurice Ravel and two bios of George Harrison. Even Dinky Dawson has a bio. (He did sound for the Byrds on our first tour.) Somebody might think that my story adds a little something to the discourse of the music of the 70s and 80s. I wrote several educational books for Alfred Publishing, so I'm not a total stranger to the process. But it is a major undertaking. The book would have to be well written and have some depth to it. It would be a much bigger commitment than making a recording.
All photos are taken from the Blue Coupe
performance in Hamilton by:
Rebecca Armstrong of Oshawa
Photo Left:
Kevin Julie [right] with Dennis
Dunaway [center] & Derek Spear [left]


---

Photo Right:
Kevin Julie [right] with Joe
Bouchard [center] & Derek Spear [left]