AN INTERVIEW WITH
MIKE STARRS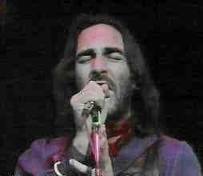 For those who don't know or remember who was Mike Starrs was way back, he had a couple of major band releases, singing first with Colosseum 2 – which also featured the late Gary Moore, as well as Jon Hiseman, and Neil Murray. He also went on to sing on 2 albums from German based band Lucifers Friend. Throughout the late '80s and '90s Mike Starrs kept a lower profile, but in the 2000's he fronted anew version of 'Lake', and more recently is singing, writing, and recording with his latest band – The New Partners in Crime [see my review elsewhere].

In this exclusive interview Mike gives us details of his early days, his brief tenure with Gary Moore, as well as Lucifers Friend, various other projects over the years, and his new pride and joy in promoting The New Partners in Crime, who are looking to release their debut album, and on the look-out for bigger shows.

Thanks to Mike for his time and fast & thorough responses to my questions!
---
What do you recall of your early days, as far as influences and then any early bands you were in?

Ok let's see what I can remember. I grew up in a little mining village in Fife "Lochgelly" I was the youngest of 7 children. My older brother was in a Skiffle band so I was introduced fairly young to the joy of music. My earliest influences were Eddie Cochran, Little Richard and of course the young Elvis. My first proper band was the Debonair's Showband. I then joined the Veltones and then the Gaels Blue. I worked all over Scotland with other Scottish bands The Stoics with Frankie Miller, The Alex Harvey Big Band with Maggie Bell the Average White Band, Jethro Tull, to name but a few.

Can you give me a bit of insight into your early '70s solo career? You had a few single releases? Any chart success or band offers at this time?

In the '70s I was living and working in London, Singing 6 nights a week in a Pub in Essex the Band was called Spinning Wheel our Keyboard player for approximately 2yrs was Rick Wakeman who as you know went on to become rather well known. A Record producer heard the band and offered me a deal with The Marquee Studios which was behind the Famous Marquee Club. I recorded 1 Album and a couple of singles the guitar player on these sessions was Geoff Whitehorn.

It was during this period Barbra Thomson, Jon Hiseman's wife was recording at the Marquee Studios and mentioned to someone that Jon was looking for a singer for his new project, My name was mentioned and Jon & Gary came to hear me at the pub we had a few rehearsals and I was the singer. No Chart success, but Jazz Sommers who became the manager of Wham wanted to be my manager; maybe I should have accepted!?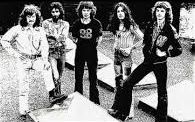 You joined Gary Moore and Jon Hiseman in Colosseum 2. How did this gig come about?

Joining Colosseum happened as above.

Colosseum 2 was signed to Bronze. What do you recall of working for the Bron[s]? :-) I read that it was band manager's wife that initiated your departure from the band? [Lilian?]

With regards working for Lilian and Gerry I wasn't aware that she had a problem with my onstage persona until much later. But you win some you lose some! All Water under the bridge.

Regarding Gerry & Lillian and until this day I have had no contact with them. Bronze I do believe was a successful Record Label. At Bronze, did you cross paths with their other acts, like Manfred Mann's Earthband or Uriah Heep?

At Bronze I didn't meet MM or Uriah Heep, but with Lucifers Friend we supported The Manfreds on their European Tour.

The one album you were on was a very experimental musical record. What do you recall of making that album? [Did you write on it, any favorite tracks...]?

Strange New Flesh was a complete change of direction for me. It was certainly a learning experience! All the tracks were written before I was involved, so no input regarding the writing; my voice was the only input from me. My personal favorites are On Second Thoughts and Down To You. But it was a lotta fun during the recording of the album.

Gary Moore passed away a few years back. How did you get along with Gary and what did you think of him as a player / bandmate [i love his work with Thin Lizzy!], and did you keep in touch with beyond Colosseum 2?

It was tragic that Gary died so young. Personally we got on very well together. He used to come and stay with me while we were working on the album, so during the time I was with the band we were pretty close. We did a little tour with Thin Lizzy and that was quite Hair-raising. Brian Robertson [ROBBO] was at his best, so you can Imagine 3 Irishmen, 2 Scotsmen and a Yank. Heaveee.

Any stories from that tour you can share? J

The Thin Lizzy tour, I would probably end up in JAIL if I related some of the pranks. One quick one -- after a show in Holland we were partying in Mr Lynott's room and on our way to bed at whatever hour Gary & Robbo decided to have a water fight with the water hoses, which were on various walls and of course the fire alarms started, the fire brigade arrived, the hotel was evacuated and of course we were innocent!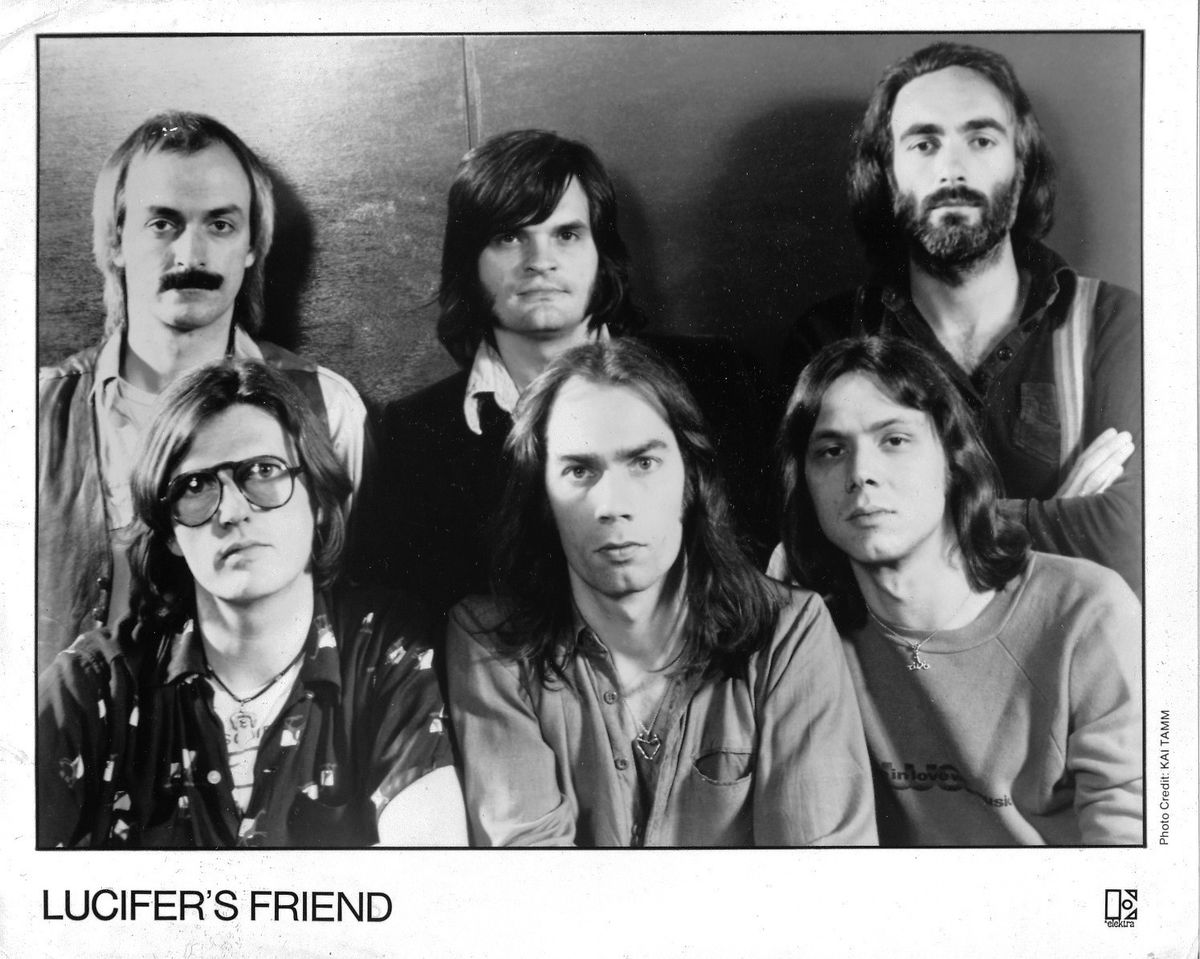 From there you joined German band Lucifers Friend. You joined them replacing John Lawton - who had left to join Bronze act Uriah Heep. Had you crossed paths with John? or auditioned for Heep, yourself?

I didn't meet John until he came to The Rainbow in London. We, LF - were supporting Van Halen on a European tour. As Uriah Heep were signed to Bronze I don't think I was on the short list for that gig. [laughs]

BTW, you are from Scotland, how did you wind up singing for a German based band? [I know John Lawton had spent years in Germany in his early days; did you relocate there at some point?]

I was going through some personal problems and LF were looking for a replacement for John so I auditioned and went to Germany. I never really relocated, more so commuted to and fro.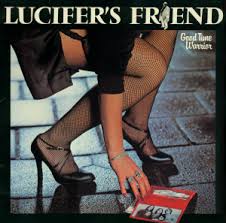 You sang on 2 Lucifer's Friend albums. They are good, and a good bit more 'pop' oriented than previous LF albums. What can you tell me about these 2 albums [separately] - as far as your input [writing, arranging...!?]

"Good Time Warrior" was recorded in Jan Akkerman's [Focus] Studio in Holland. We rehearsed for approximately 6 weeks in a farmhouse near the East Sea. The music was a combined effort all the Lyrics were penned by me.

LF was largely a studio band prior to you joining, but you seemed to do a good bit of TV appearances in Europe then. Did the band play many live shows and was there any response to the band in North America? [any radio play or live shows over here?] And how was the support from WEA [any major tours or shows over here?]

"Sneak Me In" was recorded in Hamburg, it was a similar arrangement regarding the music but by now we had another keyboard/Guitarist in the band called Adrian Askew so we both wrote the lyrics. Adrian comes from Sheffield, England and is now gigging with The Clem Clempson Band. Adrian & myself left LF. At the same time we went on to form "Toneband", and had a top 20 hit with "Germany Calling". We released 2 Albums on Polydor - "Germany Calling" and "The Tokyo Twist".

LF didn't really have any major success even though WEA were 100% behind us; they put us on 2 major European tours supporting MM's Earthband and Van Halen, and I just remembered - The Scorpions.

We never played America/ Canada. The Very first LF album [When the groupies killed the blues] which was with John, was the biggest selling import album for that year; not sure which year early 70s -- sold almost 150000. Then the small indie label went bust. So nobody saw any monies etc.

Have you kept in touch with anyone from that band? [Peter Hesslein is a great player, but little is heard of him].

Unfortunately, I don't see any of the guys apart from Adrian we are in close contact. We are like brothers.

Peter, as far as I know still tours with the James Last Orchestra. Peter was, even in the LF days always touring with James Last. So if you or any friends have ever seen James Last then Peter would have been the guitarist.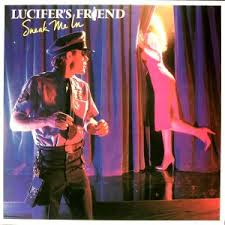 You left after "Sneak Me In". What lead to you leaving, and did John's return play a part in it? [they released Mean Machine with him in'81].

The reason I left was basically W.E.A. Had spent all they were prepared to spend on L.F. And I have to say it was a lot. I had commitments, so as I said Adrian and myself left and went on to form Toneband - which became relatively successful.

What were the highlights and your favorite tracks from your Lucifer's Friend days?

The tour we did with the Earthband was a lotta fun and Rockpalast was a big highlight for me simply because I think every major act has played Rockpalast. My Favorite songs from this time would be Burning Ships, My Love and Foxy Lady.

Do you have a favorite of the 2 LF albums you sang on? [I'll take Good Time Warrior, and I love Mind Exploding from the era with John].

My favorite from my time Was Good Time Warrior & I have to agree Mind Exploding was very special, even the album cover.

I find it odd that WEA/ Elektra put the effort in to releasing the LF albums here in North America, but never brought the band over. Was this ever discussed?

I didn't know we had release in North America so I can't really comment on WEA or their motives for not sending us to the States or Canada.

Any tales from either the MMEB or Van Halen tours you can tell?

MMEB were, I think at their peak at this time - Chris Thompson was on vocals ("Davey's On The Road", etc), so we had a hard time opening for them but one funny story. Their guitar player at this time, (whose name escapes me) liked a wee dram, so he was quite often in our dressing room before the gig and of course would participate in some liquid refreshments with us. Unbeknown to us Manfred had forbidden him any Alcohol Prior To The Show. So you can imagine some of their early shows were not SO-SO.

Van Halen were great live but Mr Roth had a bit of a problem with me. He came into our dressing room before one of our shows with his bodyguard and insisted that I didn't jump off the drum riser, as that was his thing. I explained that as I couldn't jump half as high as he could I didn't think I was spoiling his show. Anyway, his bodyguard was standing in the front row looking very intimidating as I made my first jump of the evening. Eddie did apologize the next evening.

What did you do throughout the 80s & 90s? Any band offers, recordings, ...?

In the 80s I had the success with Toneband, and I met my "Partner In Crime" - Richard Rossbach we were together in a German band called Duisenberg we toured and recorded an album which unfortunately didn't see any release. It was a hard time for Rock bands in Germany this was the New German Wave time a bit like the Punk era in England.

The 90s was relatively quiet for me I made one Album with a guitarist called Ray Fenwick it was a bit country style. I worked clubs and small venues around England. So I was pretty low profile at this time.

You joined a reformed 'Lake' in the early 2000s... they were another band that was well known in Europe [but not over here for whatever reason]. How was that gig? And any highlights from that period?

Lake was well known in America touring with Bob Dylan, Lynyrd Skynyrd; they even did some shows with Barbra Streisland !!? I made one album with Lake - "The Blast Of Silence". We toured extensively until I left in approximately 2009. I had problems with my voice which we eventually discovered was caused by Acid Reflux, which basically was while I was asleep the acid was burning my vocal chords. Thankfully we got it all sorted but it did have me worried for a while.

You're now working as The New Partners In Crime, which is a very different type of band - a bit poppy, backing singers, big production.... sounds great. How long has this been going and what can you tell me about the band's sound and setlist?

Partner In Crime is Richard Rossbach and myself; we have known each other for over 30 years. All songs apart from the odd cover ("Mama told me not to come") are originals written by Rico & myself. We recorded all tracks at Rico's studio in Itzehoe, which is just outside Hamburg All tracks are new versions of old songs Ideas etc which go back a few years. We recorded the new versions in August of last year. Rico produces and has produced me for many years he has also produced many well known German acts. He Also produced Mitch Ryder a few years ago. Rico has his own style which you can hear in the Real Partners In Crime Production He is MY MAIN MAN.

From the recordings the band made last year, do you have any favorites and or stories behind any of the songs? Who's writing them and how has response been? [interesting choice of Mama Told Me Not To Come - i love Three Dog Night's stuff as well].

My personal favorite's are "Loving you" written by [Rossbach, Starrs, Stehr.], "How Long" [Rossbach/ Starrs] "P.I.C." [Rossbach/Starrs] "Shine On" [Rossbach/Kessler], etc.. "Trace" is also a great song [My Opinion] Kevin we have too many to mention. Tell me your Favorites & see if we agree??

Of your new tracks – I like Shine On the most, great song, vocal.. (I take it you often write stories in to the songs!?), I also like Trace, Hold On, and Partners in Crime…

"Trace" was featured in the film "GOING UNDERCOVER" Starring Jean Simmons & Christopher Lemmon [son of Jack] I do believe it has become a bit of a cult film. "Shine On" is a song about WW 2, with a message to the world that maybe we should "ALL SHINE ON". We are promoting Shine On as our first single as we Speak/write. As yet the Response ???? But generally all the songs are being received very positively.

Our Set list comprises of all the material from the album and a few covers. We are very fortunate to have top session players working with PIC on drums we have the Rock Steady - Hove Steen. Joining Hove in the Engine Room we have the fantastic Martin Altmann on guitars. And bringing youth and a more cutting edge to our sound is Rico's son Roman. And last but not least providing the Orchestra with his keyboard Wizardry is my "Partner In Crime" Richard Rossbach.

What sort of shows [and how often] do TNPIC play? Festivals? Also, what is the plan for this band? [when might the album come out?]

Until now we have played a couple of Festivals in Germany. The album should be ready May/June and we will be presenting it with approximately 5 shows in May. Maybe you know a Promoter who would like to bring us over to Canada for a few shows!? Now that would be nice!!

What else are you up to these days? Local gigs? any other recordings or projects in the works?

I do a few shows locally. A couple weeks ago I did a show for the flood victims. We had some serious flooding in my hometown Boston. a lotta' people lost pretty much everything. I go back to Germany end of April and we will be recording some new tracks and also rehearsing for our live shows.

Can you give me a short list [5+] of favorite bands or artists, singers, etc…?

My Favorite Singers -- Paul Rogers, Frankie Miller, Gerry Rafferty, Bonnie Raitt, LIowell George, John Hiatt

Bands -- Little Feat, Average White Band, Bad Company.

---
Interview © Kevin J. Julie, [Universal Wheels] March 2014.