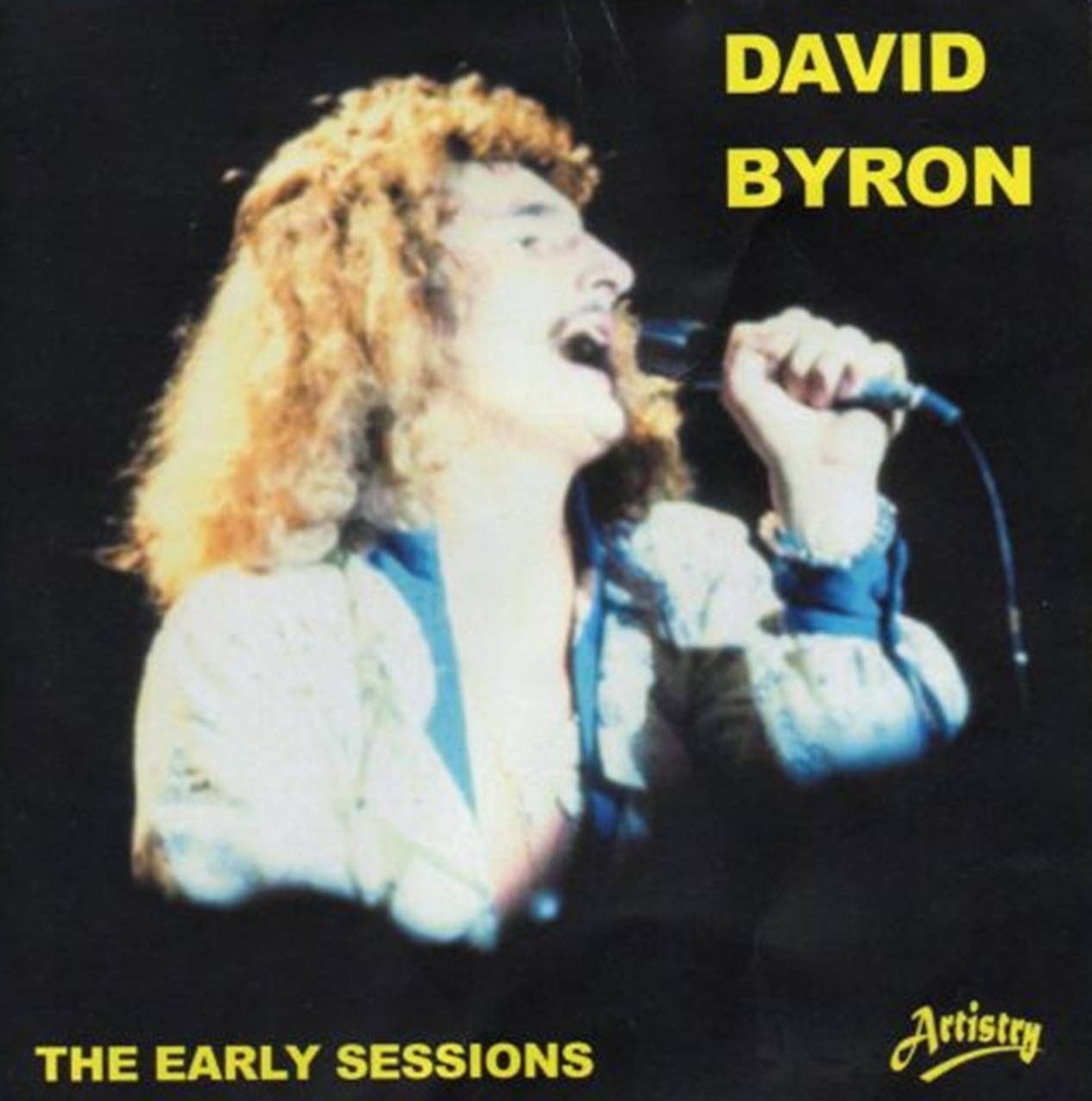 David Byron – The Early Sessions [Artistry]
For years Uriah Heep die-hards have been aware of these rare session recordings that David Byron sang on during the late '60s until sometime in 1971 when his duties as Heep's frontman would demand him fulltime, and an alternate income wasn't necessary [presumably]. Long time fan and webmaster for davidbyron.net – Ron Mann has spent much of last year researching these recordings, making contacts to get the stories, and eventually persuade Artistry to release some of these recordings on CD.
These tracks were always covers, covers of the top hits of the day back then, and released on compilation LPs and EPs. This first collection made available shows Byron's take on 20 varied hits, and with the different style of songs here, one can appreciate how superb of a job the singer had to do in order to keep the song as true to the original as possible. Although many of these tracks may not exactly be to my own taste, it is indeed a treat to hear one of the '70s greatest and most overlooked singers delivering these songs, and it is a testament to how great of a singer he actually was beyond the framework of Uriah Heep. It is neat to hear David [now gone for over 27 years!] sing such hits as "American Woman", Badfinger's "Come and Get It", CCR's "Bad Moon Rising", John Lennon's "Cold Turkey", "Yellow River", "Mony Mony", as well as a couple of duets with fellow Avenue recording artist Dana Gillespie, and a back-up vocal on "Soul Sister Brown Sugar" – sang by Peter Lee Stirling.
This collection is a must hear for any fan of David Byron's, even if you're not a pop fan, just to hear him again in 2012 is something spectacular. And well, if you 're a fan of the late '60s / early '70s pop era – there's plenty of top hits here, performed by one of the greats! Here's looking forward to the next installment of these recordings.
For the complete story, check out:
www.davidbyron.net
Neal Smith – KillSmith Two [Kachina Records]
For anyone who doesn't know [shame on you], Neal Smith was the drummer in the original Alice Cooper Group, which went from the late '60s until early 1974 when the band took a hiatus and then Cooper, himself carried on the name without the band. Smith recorded an album [released years afterwards] titled "The Platinum God" back then, and in more recent years has recorded with fellow Cooper bandmate Dennis Dunaway, BOC's Joe Bouchard, and a few others, as well as appearing on the latest Alice Cooper album "Welcome 2 My Nightmare".
Not familiar with the first Killsmith album, but here Smith handles a number of duties other than drumming, such as lead vocals, synths, and rhythm guitar, as well he wrote and produced it all.
KillSmith 2 is heavy, aggressive old Alice style rock n roll. It's a big guitar sounding record, with a few lead players guesting, and altho Smith's vocals may take a bit of getting used to, the songs are usually catchy and memorable, and one can't help but think – this is the sort of stuff the old Alice Cooper group would be doing if they were together. Tracks like "2000 Miles From Detroit", "Evil Voodoo Moon" and "Squeeze Like A Python" all standout for this fan of old-school AC stuff. Another standout tune would be the more laid back, melodic tune "Die For The Night". Smith's use of some industrial influences and his punk edge come out on various tracks as well, such as "Crimes Of High Passion" and "Kiss My Rock".
A decent release from one of rock's greatest drummers, who shows he can still come up with some hard hitting memorable rock, 40 years after the heyday of the greatest American band that ever was!
For more info and ordering check out: www.nealsmithrocks.com
Fair Warning – Best Of [SPV]
A 2 disc set to celebrate the 20th anniversary of Fair Warning. The band straddles the line between hard rockers and aor, and very much '80s type of stuff, think a heavier Bon Jovi, Journey, Firehouse, Harem Scarem … with the high end soaring vocals of Tommy Heart and the distinctive guitar sounds of Helge Engelke. This extensive collection of hard rockers, power ballads, and a few acoustic numbers is compiled from Fair Warning's 6 studio albums , 4 live releases, and a few singles. The whole set kicks off with "Burning Heart", a hard energetic rocker recorded live in Japan in 2010. Altho the band initially split up following the "4" album, they returned in 2006 with "My Brother's Keeper", which is represented by 2 notably heavy cuts in the blazing "Generation Jedi" and "Don't Keep Me Waiting". The "4" album was one I had at the time, a bit more aor, but represented by 2 outstanding radio friendly rockers in "I Fight" and "Heart On The Run". The band's last studio outing was 2009's "Aura", which is represented by 3 solid tunes, most notably "Just Another Perfect Day", a solid '70s rocker , reminiscent of Deep Purple. And going to back to the band's early work, the band's debut featured more big '80s rockers in "Longing For Love" and "When Love Fails", as well as the power ballad "Long Gone"., while follow up discs "Rainmaker" and "Go!" would include a number of gems such as "The Heart Of The Summer", "The Way You Want It", and "Angels Of Heaven".
A great mixed set of one of Germany's best bands, who I've missed a lot of. This is a good intro to the band, and I'm more than tempted to go back and start finishing up the collection, particularly 2010's "Live In Tokyo".
For more info, check out: www.fair-warning.de
Malice – New Breed Of Godz [SPV]
Legendary L.A. based metal band [members from Portland, and Texas] that came to rise in 1981, and were at the forefront of the metal scene early on, released 2 albums and an EP in the '80s before splitting up. The band drew comparisons, musically to Judas Priest with a heavy guitar attack, vocals resembling Rob Halford, the studded leather look, and more of a British Metal approach than what was happening in the US at the times, definitely heavier [with future stars turned sellouts Metallica opening for them on occasion]. The band's been resurrected with new vocalist James Rivera [ex of Helstar] and [ex Black n Blue] drummer Pete Holmes, alongside original members Jay Reynolds, Mick Zane, and Mark Behn. This release is a re-recording of previous Malice stuff, plus 4 new songs – most notably the title track, which grabs one's attention right away, and the heavy epic ballad "Winds Of Death [Angel of Light]". Though I'm not familiar with the band's original recordings, this seems like a fine intro to the band as they blaze through 11 rockers like the machine-gun metal of "Hell Rider"; "Circle Of Fire" - coming off somewhere between early Maiden and Priest, with Rivera putting out impressive Halford-like vocals and screams, and cool groove rockers in "Stellar Masters" and "Chain Gang Woman".
Cool old style metal! If you're a fan of early Maiden, old Priest, or Sabbath – Malice is something you will want to check out. A great return, and if the new tracks are any indication, well here's hoping they'll do more.
Axel Rudi Pell – Circle of The Oath [SPV]
"Circle Of The Oath" is the latest studio outing by German guitarist / songwriter Axel Rudi Pell [ex of Steeler], along with his longtime band including drummer Mike Terrana [ex Malmsteen], bass player Volker Krawczak [ex Steeler] , keyboardist Ferdy Doernberg, and the heavy and distinctive vocals of Johnny Gioeli [of Hardline]. If you're familiar with Pell's albums [and I have a few], then you may know what to expect. Pell and company stick to their guitar heavy brand of classic hard-rock / metal, with plenty of heavy & cool riffs and hooks, some acoustics, some synths, well produced and memorable tunes, hard edged vocals, big, fast guitar solos, killer drums ,…. Circle sticks to the formula and doesn't disappoint. There's the fast, thundering rocker "Ghost In The Black", the more mainstream metal anthem "Run with The Wind", the slow paced dark epic "Bridges To Nowhere" featuring one lengthy killer solo [this track very reminiscent of Dio era Sabbath], the punchy rocker "Hold On Top Your Dreams" , the ballad "We've Lived this Life Before". This album also boasts 2 great, lengthy epics in the title track – a sort of Zeppelin styled blend of acoustics and heavy guitar, [with Gieoli sounding like Tony Martin at times], and somewhat heavy-ballad "World Of Confusion" -- both clocking in at nearly 9 and a half minutes. A very likeable disc from Pell, and one that will see many listens as there's plenty to it. *Comes in 2LP and box set packages as well.
For further information, check out his official website at: www.axel-rudi-pell.de
Vengeance – Crystal Eye [SPV]
Dutch band, lead by singer Leon Goewie , now in their third decade. "Crystal Eye" features an all-star line up of guitarist Keri Kelli [ex Alice Cooper], bassist Chris Glen [ex MSG], and legendary drummer Chris Slade [ex Manfred Mann, AC/DC, Asia…]. "Crystal Eye" is a rough and gritty guitar rock album. Lead off track "Me And You" is instantly likeable [and the slide break reminiscent of Ken Hensley's sound], as is "Bad To The Bone", which has a cool riff, and a light use of keys, giving this one a bit more commercial appeal. These guys kinda remind me of some 80s Canuck rockers like Killer Dwarfs and Helix, throw in a bit of Jackyll and AC/DC perhaps. Stand out rockers here in "Desperate Women", and party rocker "Barbeque". Classy heavy ballad in "Promise Me" and minor epic in more progressive title track. Well worth checking out.
www.spv.de and www.vengeanceonline.nl.
Kill Devil Hill [SPV]
The new band featuring former Black Sabbath / Dio drummer Vinny Appice and former Pantera bassist Rex Brown, along with guitarist Mark Savon and singer Dewey Bragg.
Kill Devil Hill is a very heavy and dark sounding album. A fine debut, with Appice's new project filling abit of the void left by Heaven And Hell. Unknown singer Dewey Bragg sounding like the late Layne Staley [Alice In Chains] and Rob Zombie at times, and Rex Brown gives this a heavy underlying groove, making this thing sound somewhere between Dio-Sabbath [ie "Dehumanizer" era], and Alice In Chains. Cool tunes such as the slow metal of "Rise From The Shadows" and "Time & Time Again" [both feeling like Dio era Sabbath], and epic "Gates Of Hell". Classic fast paced opener in "War Machine", and standout rockers in "Voodoo Doll" and "Strange". Lightweight acoustic gem "Mysterious Ways" throws a bit of a curve to lighten things up briefly, great tune.
Sounds great. Check it out! www.killdevilhillmusic.com
---
Review: © Kevin J. Julie / Universal Wheels - May, 2012.