An Exclusive Interview With:
ERIC SINGER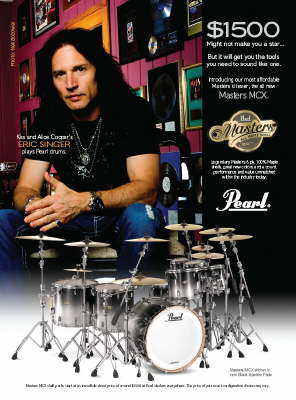 Rock drummer Eric Singer has been a name in the business for 25 years now. Growing up a major rock fan in Cleveland, Ohio, Singer moved to Los Angeles and would go on to play with numerous rock legends, such as Tony Iommi & Glenn Hughes [in Black Sabbath], Bob Daisley, Gary Moore, Kiss, Brian May [Queen] and at present [and off & on] since 1990 - with Alice Cooper.
Alice Cooper is presently on a world tour, and you can catch Eric in action with Alice live. Eric also played on Cooper's excellent new concept album "Along Came A Spider". Thanks to Eric for taking his time out on a very busy tour to answer my questions! The man also spent his days on the Canadian tour making numerous in-store appearances Pearl Drums.
Check it all out: www.eric-singer.com ; www.alicecooper.com & www.kissonline.com
All photos courtesy of eric-singer.com except Alice Cooper band photo courtesy of sickthings.co.uk
---
Q- Prior to moving to LA, did you have any local gigs in Cleveland of note?
ES: I played in my Father's band growing up and in a few local "original" bands such as TASKMASTER, which became Beau Coup. They ended up with a record deal and were a very good band.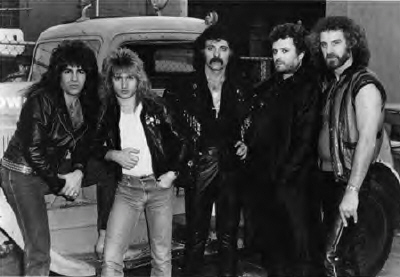 Q- After your first pro gig with Lita Ford, you joined Tony Iommi's Black Sabbath in 1985. What was your big break; having gone from Cleveland to joining Lita's band and onto Sabbath [which also featured Glenn Hughes at that time]?
ES: I lived in L.A. for about a year and entered Carmine Appice's drum battle competition. Someone spotted me there and asked me to do a video for PLAYBOY "Women of Rock" and got the Lita Ford audition out of that experience.

Q- You did a couple of albums with Sabbath and then played with Gary Moore and Badlands in the 80s. What can you tell me about going from being unknown to working with such rock legends as Iommi, Moore, Bob Daisley and others; all in a fairly short period of a few years?
ES: It all happened very fast; I went from being so "green" and inexperienced to learning the business and touring in a crash course on the job! Bob Daisley and I remain great friends to this day.

Q- Gary Moore is a huge name overseas, but only talked about amongst real classic rock fans in North America. What can you tell me about Gary and your time working with him?
ES: The guy is an amazing player and the most intense guitarist I have ever worked with. He makes you a better player and I really raised the bar on my own self during that tour.

Q- Seventh Star is a pretty underrated album IMO, being a Sabbath fan and a Glenn Hughes fan. You also worked on the next Sabbath album, which featured Tony Martin, having replaced Ray Gillen. This being one of Sabbath's craziest periods as far as personnel went. How was it from your perspective?
ES: I was very young and learning as it happened. This was a time when the reality of the "business" aspect of music really reared it's ugly head. Although I feel fortunate that I got to work with some great musicians and legendary people. I would love to be able to play with Tony Iommi again!

Q- Any favorite tracks, stories or Sabbath people to work with?
ES: The song Eternal Idol was a kool track and Turn to Stone from those 2 records I did. Loved working with Bob Daisley - the very best in the biz. The guy is John Paul Jones, Jack Bruce & Paul McCartney wrapped up in one.

Q- You played on the 'Stream' album. Now, was this mainly a session job as opposed to an actual band project?
ES: That was exactly just that. A session. Always great to work with Daisley!

Q- How did you land the gig with Paul Stanley's solo tour in 1989 and do you recall any of the non-Kiss material performed live [anything you particularly liked]? And how much of a step was it to eventually join Kiss?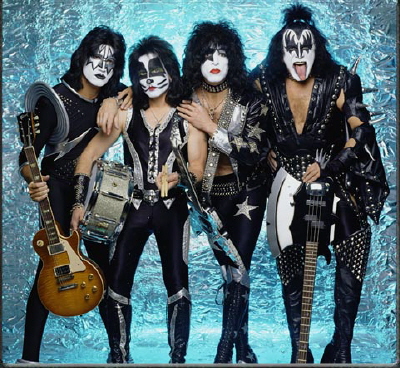 ES: I was recording in New York and was referred to Paul by Dennis St. James (bass player on that tour) That was a great fun band and led to my relationship with KISS. I was not much of a transition other than to learn to work with a new set of people i.e.: Gene & Bruce, who were very helpful to me thru the transition period.

Q- Of the Kiss albums and tours you performed on, what are your favorite musical moments [songs, album]?
ES: Loved recording the REVENGE record since Bob Ezrin was the producer. The most recent European tour was great. Super crowds, band got along fantastic!

Q- Peter Criss and then Neal Smith [original Alice Cooper band] - were 2 legendary and influential drummers. Eric Carr was also a great drummer! Who would you say influenced your own drumming style more?
ES: I respect all the previous drummers from any band. All you can do is try to play in the spirit of that style since those records were recorded many years ago.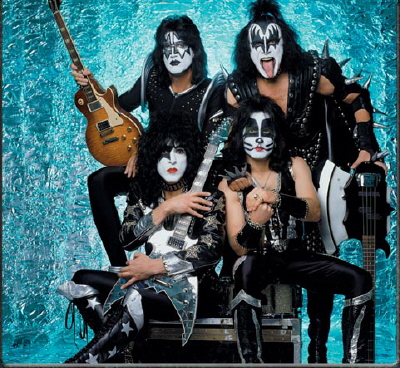 Q- How was the adjustment to taking over the 'Catman' persona, with the make-up, etc..? Is it [applying the costume & make-up] a strange ordeal?
ES: It is no problem for me. I actually like the whole KISS experience of doing the shows. It makes for very long days and it is hard work. But, the fans love the band and this makes it worthwhile!

Q- You seem always busy, either with Kiss, Alice Cooper, ESP or other projects. Do you keep up with any of the outside stuff of your bandmates - like take up golfing, watch Gene's reality show or check out art shows?
ES: I do not golf (yet) I have been on Gene's show (twice ?), and I know nothing about art other than I know if I like something when I see it (isn't that the essence or idea anyways...?) I think it is great that others have found extensions of their personalities and outlets for expression. They are all very talented people and have more to offer than just their musical side.

Q- Both Gene and Paul released solo albums in recent years. [I actually haven't heard Gene's], but thought Paul's was great, very overlooked. Any thoughts on either of these releases?
ES: They are exactly that. "Solo" records and this gives them the chance to do exactly what they want. I played on 2 tracks off Gene's record and loved his video for "Firestarter". Paul's record has some great stuff on there and the production value is really good. Paul has always delivered the goods in my opinion as a writer.

Q- I've read you really enjoyed working with Brian May of Queen. They were a great band that really didn't get to North America a lot, especially in the 80s.
ES: Brian is my Fave guitarist next to Hendrix! The guy plays the perfect solo on anything he touches. Brilliant musician and an even nicer human being you will not find... QUEEN is one of my most cherished bands of all time. Getting to play some of those songs with Brian (and Roger Taylor on a few occasions) will always be one of the best highlights of my career!

Q- You've obviously kept up a friendship and working relationship with Bruce Kulick. Do you guys have any plans in the near future? He is a great player, very adaptable [saw him with Grand Funk - sounds great].
ES: Bruce is the consummate musician and dear friend... We work together with ESP when time and schedule's permit. Hopefully more in the future.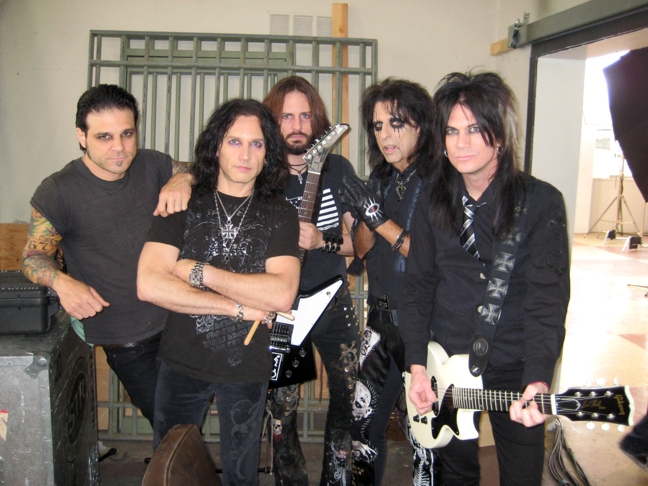 Q- Now, you worked on the Trash and Hey Stoopid tours, correct [Last Temptation?]? [You've also kind of played on every other album since Brutal Planet]. How did the association with Alice come about?
ES: I auditioned for COOP in Jan 1990 to replace Jonathan Mover on the Trash tour & have worked on & off with Alice since then... (this year is my 12th tour) I have also recorded 3 albums and been on 2 "live" concert long-form videos with AC.

Q- Aside from the Alice Cooper albums you played on, do you have any favorite Alice classic songs to listen to or play and any favorite AC albums from Way back? [Ever see AC live in your early years, especially with Neal Smith?]
ES: Billion Dollar Babies is a "classic" record and one of my fave all-time records. In fact, all the early stuff is great and enjoy playing anything from that era. Never saw AC live in the early years :-( FYI, my mom would not let me go to the BDB tour in 1973!

Q- Brutal Planet was a very heavy modern metal. What can you tell me about those recordings, and the sound that was being looked for?
ES: The record was done very quickly on my part. I came in and replaced drum machine parts with "real" drums in just over 2 days. I liked the heavier approach but did not have a lot of time to absorb the music or think about my drumming other than to play what I felt or was directed by the producer.

Q- The Eyes of Alice Cooper was real return to old school hard rock, and included a number of great songs that should've been hits [if we had radio that still played decent New music]. [Again] can you tell me a bit about those sessions and a few of the songs that stood out for you?
ES: Great record IMO, and was fun making that record. We had a real band vibe with Mudrock the Producer who encouraged us to play "live" in the studio together as a band with no click tracks. He had a real vision and direction, which was a much-needed fresher approach, IMO from the previous record I had recorded with Alice (Brutal Planet).

Q- "Along Came A Spider" is quite a masterpiece. You played on all but 3 tracks. What can you tell me about these sessions?
ES: Again, the recording of drums happened very quickly. I played what I felt for the songs even though the vocals were not done yet which makes the approach sometimes harder. I like to play off the lead vocal melodies whenever possible to be more musical/melodic.

Q- You aren't credited as a writer on the Alice albums you play on. What exactly is your involvement & input, aside from the drums? Are you generally [or with the new album] there for most of the recordings and part of the main ideas and suggestions of what sound is being taken and what direction the project is going in?
ES: I "write" my drum parts which is sometimes overlooked by most people... Drummers contribute a lot when it comes to arrangements and vibe to songs. Last time I looked out into the crowd during a show the people pump their fists in the air to what? The beat or rhyme :-)

Q- Any plans for any future ESP recordings? You guys seem to have a following, especially in Japan and Europe.
ES: Possible European dates next year... We play where we can make it work for everyone.

Q- You were a big rock fan growing up in Cleveland. Can you give me a 'Top 10' list of favorite albums from your youth, as well as a few favorite bands and favorite shows you saw back then? [Have you kept an album collection?]
ES: I still have a turntable hooked up at home! Cleveland was a great city to grow up in and be from. There is a reason they say "Cleveland Rocks". I saw so many great bands and shows in the 70's early 80's - I'll name a few concerts that stick out in my memory... Queen 1975 Music Hall / Led Zeppelin 1975 Richfield Coliseum / Mott The Hoople 1974 Allen Theatre / KISS 1974 Allen Theater (they opened for the New York Dolls) KISS 1975 Akron Civic Theatre (RUSH was opener "Fly By Night" tour) Edgar Winter Group 1976/Public Hall (they opened for J.Geil's Band) David Bowie 1975 Public Hall //Diamond Dogs Tour / Van Halen, Music Hall 1980 VHII tour / Ozzy Osbourne, Diary of a Madman 1983 w/ Randy Rhoads, Richfield Coliseum and so many more that I could mention...

Q- Can you give me a few of your favorite drummers growing up - either on LP or live?
ES: Denny Carmassi, Tommy Aldridge, Carmine Appice, Steve Smith, Aynsley Dunbar, Billy Cobham, Simon Phillips, Bobby Caldwell, Cozy Powell, Brian Downey, Neil Smith, Alex Van Halen, Lee Kerslake, Buddy Rich, Louie Bellson, Lenny White, Max Roach, Bill Buford, Neil Peart, etc...

Q- You're familiar with Uriah Heep, I presume - have any favorite Heep albums, songs or drummers?
ES: Yes, I saw Uriah Heep in their "heyday" 1975 Cleveland Stadium "World Series of Rock". The bill was: Rod Stewart & The Faces / Uriah Heep / Aerosmith / Blue Oyster Cult & Mahogany Rush. I remember Lee Kerslake was an animal behind the drums and Heep were great!

Q- Growing up not too far from Canada, were you a fan of any Canadian bands way back?
ES: RUSH! In fact, Cleveland was the first American city to "break" the band in the U.S.A.

Q- Anything else you have on the go, or anything you'd like to mention or plug?
ES: Look forward to more drumming in 2009!

Thanx to all for so many great years and all the support throughout my life...