AN EXCLUSIVE INTERVIEW WITH
HEAVEN & EARTH'S
STUART SMITH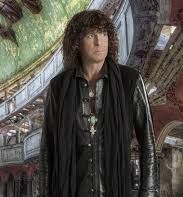 British born guitarist Stuart Smith has been around for years, and after relocating to Los Angeles a couple of decades ago he set about really getting his career off the ground. First came 1998's solo album "Heaven And Earth", followed by "Windows To The World" a couple of years later, a mini album titled "A Taste Of Heaven" followed a few years after that. Then Stuart put his band, with ever-changing membership, on hold while he toured with Steve Priest's version of The Sweet throughout the US. When Smith decided it was time to reactivate Heaven And Earth, he resigned from The Sweet, and brought with him singer Joe Retta. The band's brand new album "Dig" is nothing short of brilliant; a classic rock masterpiece full of big arena and blues based rockers, that will appeal to those fans of old Deep Purple, Bad Company, Kansas, and Rainbow, all wrapped in a stunning package from famed photographer Glen Wexler.

Below is my conversation with Stuart, as he discusses putting Heaven & Earth back together after The Sweet, and the whole process of writing and recording the band's new album,

Check out more on the band at www.heavenandearthband.com , or order the album [CD and vinyl] through www.amazon.com .
---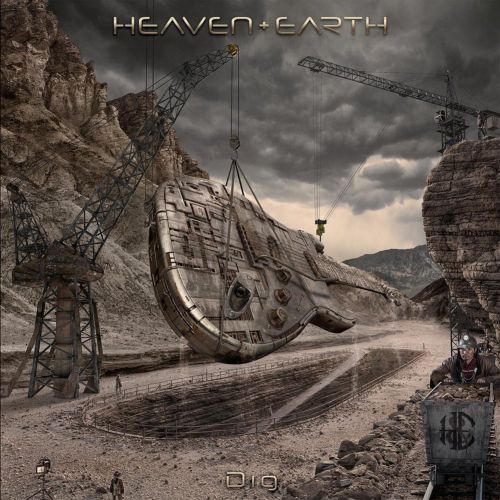 I've got the new album, and I really like it a lot, and I am excited to see that it's on vinyl. So, I want to ask who's idea that was, and how much are you in to vinyl, yourself still?

Well, I don't even have a record player, but I am getting one! Keith Emerson told me that the last album he brought out – they put out on vinyl, and he didn't have a player, so he went around to his guitarist's house and he had one, and he said that it just sounded amazing, it sounded so different, and that's what all the fans are saying as well. And I think it might have been Glen Wexler, or Fred Crozier, who's sort of handling the whole record company, and "you know vinyl sales are up %46", and this is a huge comeback thing for vinyl. So a lot of fans are saying "hey, bring it out on vinyl", so we're doing the whole 180 gram vinyl, 15 minutes a side, and apparently it sounds great, so I'm waiting for the record player to arrive so I can hear it!

Well, I was going to ask if I didn't see it on vinyl…but I see Joe [Retta] posted the other night [on Facebook] that it was on vinyl. [Talk ensues on vinyl]

I want to go back to the beginning of this project. Was it an easy decision to leave The Sweet and resurrect Heaven And Earth?

Oh yeah. Well basically what happened was I'd got the deal originally for Sweet and Steve Priest didn't want to do a new album, he saw no point in it, and didn't want to travel over to the studio four days a week, or whatever we had to do. So he didn't want to do it. So I said to my friend Bruce Quarto, who's the head of Quarto Valley Records "well we could always do a Heaven and Earth album", and he said "wow, great! I love Heaven And Earth, I'd much prefer if you did." So, that's what happened. And originally he was just going to invest in it and we were going to license it to records labels. And then he asked why we needed a record company, and I said "well they've got the infrastructure, the publicists, and the radio promoters, and the social media team.." and he said "can't we hire them?", and I said "Yeah, we can hire them but it's expensive." , so he opened his own record company and did that.

So are you guys the only ones on the roster right now?

Yes we are. I mean he's going to see how this takes off whether he'll sign other bands, but obviously if this works then he'll sign on other bands.

I always thought that when you joined The Sweet thing that it would always be in the back of your mind to eventually get back to Heaven & Earth!?

It wasn't, because to do an album properly you need a decent amount of money and record companies are just not giving that for rock n roll now; I mean even major acts – they're not giving enough to spend the time… and Bruce's attitude was "well, I want a phenomenal album here – I don't just want a good album. If you think you can do better – I want you to go and do it again, I don't care how long it takes or how much it costs!" And to have that kind of support was great because we really spent a lot of time crafting the songs.

How did the songs come together?

Well I'd have a riff, and go to the band, and when we started off with songs like "Victorious" and "Back In Anger", I'd go "I'll tell you what – here's the riff and here's the title", and I'd take it in to the band and we'd start jamming on it and build it up that way. And we'd record it, not professionally, but just with a few room mics, and then everyone would get a CD or an mp3 and we'd go home and listen and say "ok, we can change this, and this will be better …." – that kind of thing. And that's how we did it. We spent a lot of time crafting songs with the band, and then it became touring season and everyone got busy, so on 3 of the songs – "Man And Machine", "I Don't Know What Love Is", and there's another one […?] Joe and I just got on with it, and we wrote them ourselves.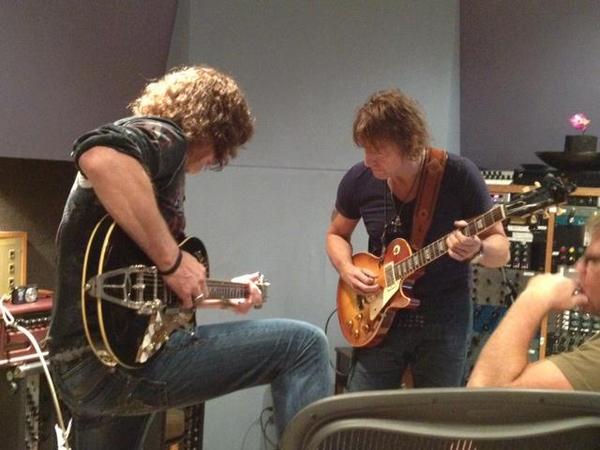 Now were the lyrics everybody's or anybody in particular?

Joe, I would generally come up with the title and he'd come up with the lyrics.

What do you mean when 'you come up with the titles – just things you've jotted down over time?

Yeah, I mean – "I Don't Know What Love Is", the original title was "I Don't Know What Love Is Anymore", but we did find a bit long but that's what he sings. And I had this title about 20 years ago, and I thought "it's a very powerful title and I don't want to use this just on any old song – it's got to be a great song". So, when Joe went to visit his parents in Rochester I put the electric down and picked up the acoustic. And I thought we needed a song like "Heaven And Earth", off the first album. so I spent 3 weeks putting this song together, and when Joe came home I said "OK – here's the music, here's the title.." and disappeared in to his room for 3 days, I never saw him, and then we came up with the song.

Do you usually have an idea when you give him a title – if it's going to be a ballad or a rocker, or if there's a subject you want attached to it?

No, I mean – generally I come up with the main riff, like "Back In Anger", I thought 'well this is a nice pace, it sounds angry – that's good for that title'. That was going to be the original title of the album, you know – because we'd been away for a while, that kind of thing. So generally I try to get the title to fit the part, like on "No Money, No Love" I had the main entrance part and the riff… And there's a story behind that one. Joe sold his house up in Ventura, and he was looking, and I live about 2 miles from Ritchie Onori – where we have the studio, and I said "look I've got a spare room, why don't you move in!?" And I'd just been through this huge break-up, so I was sort of pissed off, angry, and depressed [laughs], so It was here's the first title – "Back in Anger", here's the second one – "House Of Blues", next one is "Non Money, No Love", and then we had "I Don't Know What Love Is" – you see where this is coming from? And you know playing music heals you. And then half way through the album we came up with "Rock N Roll Does", which is sort of the turning point of the album.

David Jenkins I wasn't familiar with, but he's done a lot of heavy stuff in the past.

Yeah, he got involved around the time we did the re-release on Black Star Records, when we formed our own record label and brought out that re-release with the bonus tracks. He got involved with us then, and he's just very good on the board, knows what he's doing. So that's how we brought him in, but he has worked with a lot of other people before.

Maybe you can tell me how it was recorded differently, because when I listen to the album it's got more of a live feel, more of a band feel – as opposed to being pieced together in the studio type of thing.

We cut to tape on this one. We went in to Ocean Studios in Burbank and we used something which is called the 'clasp', which is something where it takes the signal from the board and runs it on to the big 24-track studa machine, and then records off a sync-head and then takes it back in real time in to Pro Tools; so you can drop a band in on the fly – which you can't do really well with tape, but you have that tape saturation. And we were all in the room together, playing together – which is great because that way you get the separation and everything.

Well that's the thing that stands out for me, that it's a very live feeling album, loud and and Chuck's bass is up front [in the mix]. I love's Chuck's bass sound, especially on "Waiting For The End Of The World" and "House of Blues". It's all well mixed.

Yeah, Chuck's a great player, and he's a great person to write with, because I will generally have a riff and I'll throw it at the band and we'll jam on it, and Chuck sort of instinctively knows where to go for the next part, he comes up with great parts.

And you have a number of guests on this album!?

No, just 3. We weren't going to have any guests, then Howard Leese – it's sort of been a tradition where every time I have an acoustic track to do we do it together; he comes in a plays the 12 string and I play the 6 string, that way we get that sort of reasonance of the 2 guitars. And Howard's a great keyboard player with the strings and everything; he did a lot of the strings for Heart, so Howard did the strings on "Live As One". And then David Paich from Toto; I go around every year to his Christmas Eve party, and I play the acoustic and he plays the piano, and we play Christmas Carols, and there's no one there to see them. So 2 years ago I took Joe with me, and after the party we went in to the studio and I played him some of the tracks, and he said with "I Don't Know What Love Is" – "wow, you've got a hit here, this is great! I'd love to play strings on it.", so he did that, put the strings on. And then Ritchie Sambora – I needed to use a SG, a Gibson SG and I didn't have one, so I called Ritchie and he was down in the East-West Studio doing his solo album "Aftermath Of A Lowdown", and I took this guitar down that I was signing for a charity auction, and they'd asked if I could get Ritchie to sign it, so he signed it. So the 2 of us are standing there holding this guitar that's been signed, and they took a picture and this got out on the internet and fans started saying "Hey, are you 2 going to do something again?", because he was on the first album.

Regarding David Paich and playing the strings. Do you mean he did them on a keyboard?

He did them on a keyboard, David has London Symphony Orchestra sampled on keyboard.
And with Ritchie when the fans were saying "are you going to do something together?", I called him and said "hey, do you want to do something together?' and he said "Sure". Then of course he was incredibly busy, he did this huge publicity tour, then he was playing with Bon Jovi, so then on his one day off in 3 months he came in to the studio and spent 6 hours with us and loved him to death for that; he's one of the nicest guys in the business.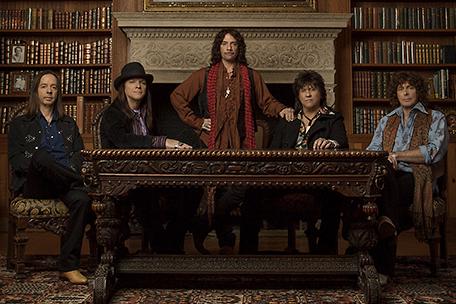 How exactly does the "Talk-Box" work?

Well it takes the signal from the amplifier, from where you go in to the speaker , and it's got like a driver in the bottom of the box, and it sends this signal out through this tube and then you put the tube in your mouth and it's by a microphone, so you shape the words, shape the notes with your mouth, and the microphone picks it up and it goes through the PA system or in this case – on to the recording.

And Ritchie's a master of that; he's used it on "Livin' On A Prayer" and all sorts of things. And we did the live show so I had to learn how to use this thing! And it's not easy.

And you had some backing singers as well?

Yeah, we had some gospel types, the Agape Choir, and we had them sing on "I Don't Know What Love Is" and "Live As One". And they were amazing! These guys are were so good.

One thing that is a highlight for me and obviously for a lot of people – is the packaging, and Glen's artwork. So Glen was a big part of this project!?

Oh yeah. He's the artistic director for the whole project, including the live show – he designed that, and of course he did the cover. Just about everything we do goes through Glen, he's such an incredible talent; he's very meticulous.

Glen is amazing, and this is an idea he had for a lot of years. He gave us the concept with the huge guitar being dragged out of the ground, which I think is incredible.

[www.glenwexler.com]

Now, Arlen has left and you're working with Ed Roth!?

Yeah, Arlen was committed to the tour with Joe Bonamassa, so unfortunately don't have Arlen with us for the live touring.

Was it hard to find another keyboard player?

Oh yeah, well Arlen is one of the best Hammond organ players in the world, so it's very hard to replace him. But we're using Ed Roth for the live shows.

I notice on the album there's a lot of guitar and Hammond interplay, much like the old Deep Purple stuff.

Yeah, Arlen and I do that a lot. He's so connected to the instrument, I mean he plays it like a guitar - he's constantly moving the draw bars and everything. He's a very exciting player. So when there's a gap in the music, we sort of look at each other and see who can get in there first!

"No Money, No Love" is the first single [video], and you're doing another one!?

Yes we have, for "I Don't Know What Love Is". And we shot some footage for "Man And Machine", but we haven't done any of the actual dialogue for that yet. But that's down the road, the main thing now is to get the second one out, which is a lot more intricate because it's got a lot of cgi effects in it.

I know radio's messed up these days, but are you getting any feedback from anyone who's playing it?

Yes, I think we're actually getting a bit of radio play, which is good. I mean I just got back from Chile, and the album's just come out, so I don't know how far down the road they are with that, but I've been getting emails from fans saying "Hey, I just heard it on the radio."

Now I find that on your albums you always put on something a bit 'left field'. On the last album there was hidden track, plus the intro and the outro, and on this album you have the ballad "A Day Like Today" – which is very different to everything else on the album.

Yeah, originally I'd wrote that for what was going to be the third Heaven & Earth album that never happened, back in the day when I had Kelly Keeling. And I wrote it with Kelly and Howard Leese. What happened was I used to play this classical warm-up exercise, that part from the Brandenburg Concerto, and I said to Howard – "we should reduce this to the basic bass line, to the route note of each bass line, then write a song around it, and then give it away when we get to the solo." So that's what we did. So most people don't know it, but it's Bach's Brandenburg Concerto with lyrics stuck to it.

It sounds like a bit of a show-tune, something you might hear in a Shrek movie or something!?

Yeah, it is left-field, but that's good.

I think Joe does an incredible job on the album, for somebody that I don't think is known beyond some of the cover-bands he's done.

He's amazing! He has an amazing voice, and this is the first the world has really heard him.

Do you have any favorites on the album?

You know they change every day. It's a strong album. I mean the first album had maybe about 5 or 6 good songs on it, the rest were fillers really. I mean they weren't great songs. And the second album, that was interesting, but we recorded that in our own studio and we didn't have Dave Jenkins, we didn't know what we were doing, so the production's not that great. And with this one, the production's great, and there's not a weak song on the album, which is what we intended when we started writing; we didn't want any weak songs on the whole album. so, I don't have favorites; I put it on and I think I'm going to play a certain song, ...and then I find myself listening to the entire album.

Now, what are the plans for touring?

Well, we went straight from the recording studio in to the rehearsal studio, and we did this big showcase on April 10 in Los Angeles, at the Henry Fonda Theater. And we did the show, it was a great show, it was packed and everything went well. And a lot of agents came down, and this is what we're working on, getting a booking agent to sort that out.

We're looking to get on tour with a big band – opening up. But people don't know us yet, so we're relying on the social media side to really help us with that.

Was the live show just new album?

Yes it was.

Do you think once you get on the road that it'll be mainly the new album or will there be stuff from the first 2 albums?

Oh no, we'll definitely have stuff from the last 2. We'll have to decide what we're going to put in, but at the moment we're obviously promoting the new album. Really, we're looking at this album as the first album for Heaven & Earth; the first one was really a solo project, and the second one was an interesting album - had some good stuff on it, but this is sort of the album I've been waiting to do my whole life.

Do you ever get tired of the Blackmore or Bad Company comparisons – as far as the album or your playing goes?

No, not really, it's an honor. He was my biggest influence growing up. And then we met and became best friends, and he taught me a hell of a lot. This is our influences – Bad Company, Deep Purple, Zeppelin, that kind of thing. So all these songs are where we're coming from. So, yeah – I consider it an honor, I don't care what people say.

It's funny when I play something from the album for friends, people are kind of "oh he sounds like Blackmore…" …. But I think "so what, Blackmore doesn't play like this any more."

No, it's gone. It's a shame, I'd love to hear another rock album or a blues album out of him. He's an incredible player at everything, but he does just an amazing job on the blues; I'd love to hear a blues album by him.
---
Reviews: © Kevin J. Julie (Universal Wheels) April 2013
Photo credits: ©2013 Glen Wexler