Alice Cooper - Billion Dollar Babies [Super Audio CD]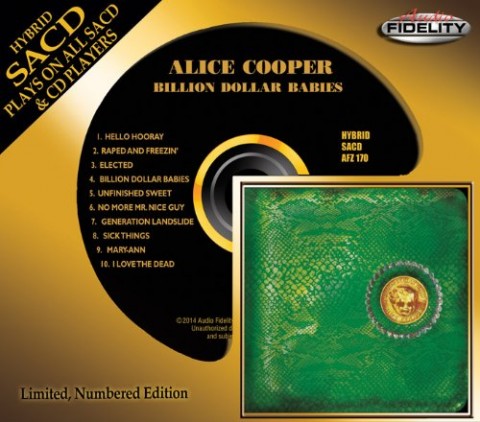 THE classic album that marked the peak of America's greatest rock band! Alice Cooper's rise to fame really started with the hit "I'm 18" and picked up steam across North America, the UK, and Europe, as they gained hit singles, big selling albums, and bigger and wilder tours - all the while facing the wrath and non-approval of parental, social, religious, animal, and political groups! So, when the band's 1973 album "Billion Dollar Babies" hit #1 in the US and UK, #9 in Germany, and boasted 4 hit singles - it was a slap to those groups and those establishment folks that brushed the band off for their theatrics and rebellious songs. The band's tour to promote the album was the biggest of the year, raking in over 4 million dollars, and breaking box office records across North America previously set by The Rolling Stones. Whatever critics thought of them [Rolling Stone gave this album a mere 2 & a half stars] - Alice Cooper was the top American band.
The original packaging of Billion Dollar Babies came in a gatefold cover, complete with removable pictures / cards of the band members [if one was silly enough to make that mistake], a colored sleeve with lyrics and band photo, And the classic 'Billion Dollar Baby' dollar bill! The new Audio-Fidelity, Super-Audio CD release comes with the booklet containing all the originally released photos, as well as lyrics, and it also comes nicely in a slip box w/ a reprinted [albeit down-sized] Billion Dollar bill. I'm not totally sure on how big of a different this is to the previous CD issues [last one I got had a bonus live disc and a few bonus tracks], but turn this up and it definitely jumps out at you from every angle!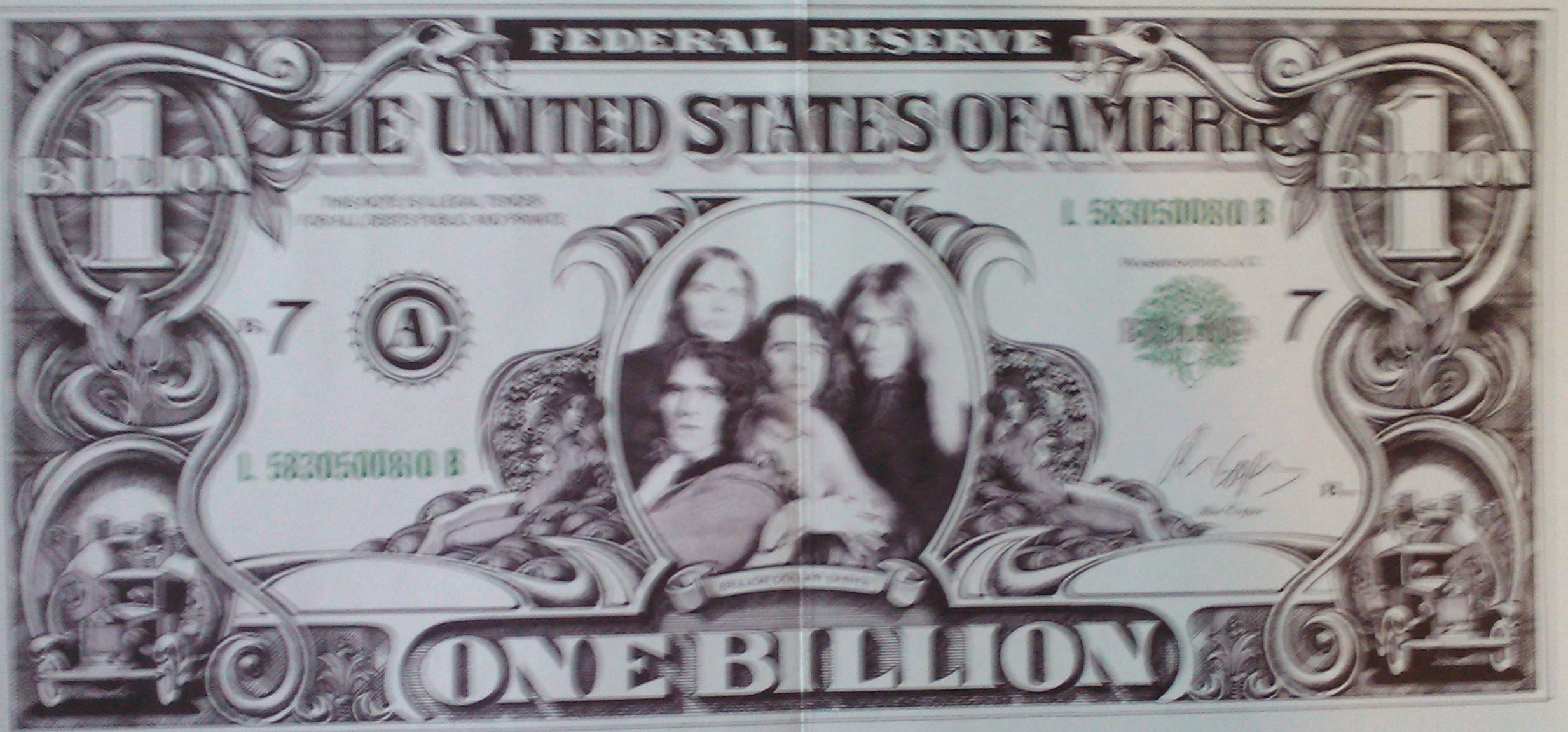 One thing about Alice Cooper is you could never accuse them of not being lively in the studio either. Each track on this album was written for and could've been a live classic, and frankly i don't think any track [aside from the creepy piano ballad "Mary-Ann"] didn't make it in to the live show at some point on that tour or Alice's subsequent solo tours. Indeed 4 of these tracks are still almost all featured in Alice's live shows. Billion Dollar Babies though was THE band - a band that all contributed songs, ideas, and as players - all had their moments, whether it was an opening guitar riff, an opening drum roll, or an instrumental that was driven by the bass, a guitar solo, or even harmonica. Alice Cooper - Glen Buxton - Dennis Dunaway - Neal Smith - Michael Bruce! Mind you Billion Dollar Babies also included a few guest players, most notably guitar players Steve Hunter, Dick Wagner, and fellow Phoenix buddy Mick Mashbir - whom the band would take out as a touring player.
The album kicks off with the classic opener "Hello Hooray" [the first outside penned track the band did since Love It to Death's "Sun Arise"] which was written by Canadian Rolf Kempf, and had been previously recorded by Judy Collins. AC's theatrical rocking rendition of this song made it an obvious number to open the tour with [and one Alice has brought back over the years]. It was one of the 4 hit singles. "Elected" was another hit; a single that preceded the album and written [a re-write of the song "Reflected" from the band's debut - Pretties Fo You] and released in time for the US election. It was also the first song accompanied by an actual acted out promotional video [film]. "No More Mister Nice Guy" opens with that distinctive little riff, a clean guitar rock track that is Alice's reaction to the critics at the time. The 4th hit single from this album was the title track. My own favorite from this album, with one of the most recognizable drum intros in rock history; it is really Neal Smith's distinctive drum pattern that drives this song, which includes British singer Donovan sharing lead vocals on the chorus. "Raped And Freezin" is another favorite here, a twisted tale that takes place in Mexico, that is unusual rocker. One thing this band could never be accused of And that's being repetitive. Each track here [and on other albums] - were extremely different, always using sounds, very different intros, sound effects, and a wide variety of songs [musically & lyrically]. "Generation Landslide" is another unusual track; a band composed song, and the last to be written for the album, this one is based around the acoustic guitar & drums, worked out something like an old Yardbirds track, complete with a harmonica solo from Alice, himself. The remainder of the album was written & produced for the stage - such tracks as the "I Love The Dead" - which deals with necrophilia, "Sick Things", and the dental trip nightmare "Unfinished Sweet". The latter track jumps out on this disc, with that instrumental section highlighted by Dennis Dunaway's bass lines that give this a James Bond theme kind of feel, complete with drill sounds!
A classic album, restored to it's fullest in sound. Each CD comes numbered [limited edition].
And an interesting quote from Mick Mashbir concerning the sessions, "The first song I played at the first rehearsal for the B$B album was "No More Mister Nice Guy". From then on we worked 8 hrs. a day for at least another week.. then Bob Ezrin showed up and we rehearsed a couple of more days with Bob. The mobile truck showed up to the bands mansion and the real work began. I spent 8 hours a day in the Butlers pantry with my amp recording my parts. Of course, the rest is history. This was the first album that I had ever played on ..who knew it would go to #1"
http://www.audiofidelity.net

Berggren- Kerslake Band - The Sun Has Gone Hazy [AOR Heaven]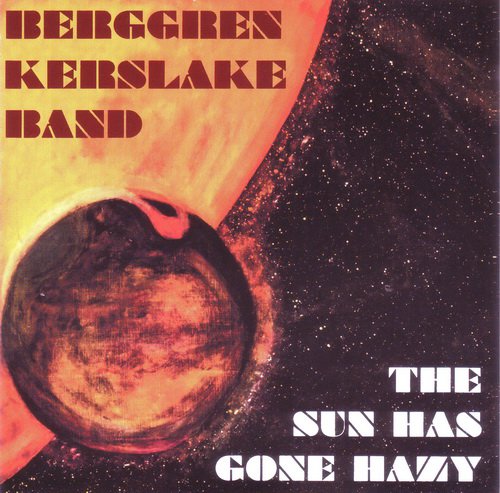 It's been some 7 years since legendary drummer Lee Kerslake left Uriah Heep, mainly to deal with his own health, and during that time he connected with Swedish singer/guitarist Stefan Berggren, who's best known to rock fans as fronting Company Of Snakes & M3 - featuring original members of Whitesnake. The comparisons to David Coverdale may come easy for Berggren, but he's a good bit more - include the likes of Paul Rodgers, as well as Berggren's guitar playing and songwriting, and putting it together with Kerslake's powerful drumming, writing, and vocal harmonies and it's quite impressive. The band is rounded out by bass player Tomas Thorberg [ex Michael Schenker, and Snakes In Paradise w/ Berggren], and 'guest' organ & moog player Joakim Svalberg [Opeth, Malmsteen]. Frankly, Lee was not a writer in Heep for the past few decades i didn't know know what to expect, or expect how good this would be - because it is really really good all around. A great mix of different songs, lots of fine melodies & memorable tunes, harmonies, and solid performances.
I loved the first single [video] - the blues rocker "Walk Tall", what a fantastic track! and this album gets better from that opening song. Heep fans will dig "Super Sonic Dream", a song that is driven by Lee's drums, and with it's backing harmonies [Heep style] and background keyboards in places, this is a song that would fit nicely somewherez in the UH catalogue of 1972-73! "My My" is another classic tune, starting out on the acoustic with Stefan's vocal being a highlight here, it's a nice summertime melody that rides along mid-tempo to a catchy chorus. The title track is a blues rocker that chugs along, very atmospheric with the lyrics, keyboards, and Stefan's guitar - another standout. Kinda looking forward to playing this album in the summer. This album has a few choice ballads in "Free", "As Time Goes By" [love the harmonies on the chorus], and the closing mini epic "Born Again" - a classy track built around the acoustic guitar, with a great vocal from Stefan, along with harmonies, and a nice built up to the end. Blues fans will enjoy the old Whitesnake feel of "Rock n Roll Gangsta" and the straight ahead blues-rock of "Fools Asleep", gotta love Stefan's guitar and the accompanying organ, and Lee provides such a steady beat that drives the whole thing along.
Though this album switches gears and pace in places, and doesn't rock all-out - it is a classic album IMO, varied in fine songs, and great playing. Again, far better than I expected! And here's hoping we'll hear more from these guys!
http://www.aorheaven.com ,iTunes - Music - BERGGREN KERSLAKE BAND, http://www.leekerslake.com,
http://www.stefanberggren.com/, https://www.facebook.com/pages/BKB-Berggren.../172767819542504

Lita Ford - The Bitch Is Back : Live [SPV / Steamhammer]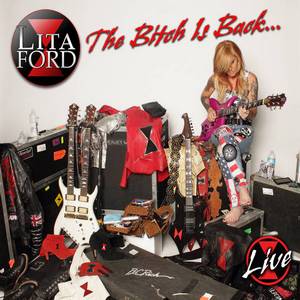 Admittedly, I never really 'got' Lita Ford in the '80s, though she was at least one female rocker that rocked, and didn't totally sell-out to shitty pop & ballads [though the one-off duet with Ozzy was close, presumably Sharon Osbourne's fault]. Her 2012 comeback album "Living Like A Runaway" was pretty cool, and had some fine rockers, so i guess a live album is a good next step, mixing up some old gems and a few of the newer tracks on a very 'live' album. I'm not totally sure why Lita's labelled the Queen of Metal, fairly solid hard-rock, but metal [?] and Queen[?]...really? Solid straight forward hard-rock more like it.
The Bitch Is Back is a good listen, and kicks off well with Lita's rendition of Elton John's "The Bitch Is Back" [a bogus track from her last album]. i could do without all the between song yammer and reminiscing, and the obligatory 'fuck yeah's; all takes away from a good listen through. [Note to bands - intro the song and play it without the recall of getting drunk or laid or swearing!]
Back to the recording.... Lita's voice sounds remarkably well live [though I think she'd be more suitable to poppier material], and she's got the legendary Mitch Perry on guitar [ex Talas, Steeler, MSG, also of John Payne's 'Asia'], Tracks like "Dancing On The Edge", "Back To The Cave", and newer tracks like "Relentless" and "Living Like A Runaway" all come off well, as does the crappy hit ballad she did with Ozzy - which sounds better with just her voice. An enjoyable listen, for the most part. Anyway, check it out - http://www.litafordonline.com, http://www.spv.de
Red Dragon Cartel [Frontiers]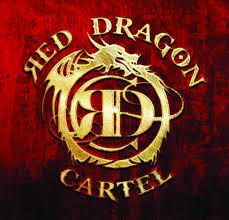 Jake E Lee rose to fame in the 80s, a guitarist [ex of Ratt, Rough Cutt], who had the task of filling the void left by Randy Rhoads as guitarist for Ozzy. A great player, and very different sounding to Rhoads, but unfortunately following the 2 Blizzard of Ozz band albums, it would be all downhill for Ozzy. Bark At The Moon [the first with Lee] was a strong album, and Lee sounded great, but the follow up - The Ultimate Sin was dire, with a few decent songs, crappy production sound, and a bloated Ozzy at the height of his drinking days. Lee left to form his own group Badlands, which featured Ray Gillen [ex Black Sabbath, RIP] on vocals, Eric Singer, and Greg Chaisson.
Following that Jake E Lee would release an instrumental album in the '90s and only show up on a few tribute albums and guest appearances, but his long awaited return has finally arrived with his new band Red Dragon Cartel - great name and cover art!
Red Dragon Cartel starts off huge with Lee's guitar sound coming out full-blast on "Deceived", a solid fast rocker that is good here, and really let's one know who it is and that he's back! This is one track that sounds like it could've easily fit on one of the albums Jake did with Ozzy. RDC is a heavy album [sometimes feels like it is for the sake of making it heavy], and has a few cool rockers, though Lee's playing is usually the highlight, as I'm not crazy about a lot of the vocals [gawd, the guest ones especially], or the '90s feel of a few tracks, and lack of melodies. Singer D.J. Smith does a decent job, though he needs some getting used to [i wouldve preferred to hear him instead of the 'name' guests, frankly]. On Lee's part, there's plenty of cool intros, solos, and riffs. "War Machine" is the standout track for me, a very heavy Sabbath like tune, with a bit of NIB present in the opening riff. "Fall From The Sky" is a good song, the closest thing to a ballad, the vocal fits this well, and Lee turns in one of his lengthier amazing solos. Anyway, it is great to finally hear Jake E Lee again, but the album overall I am not crazy about, not digging all the vocals [Sass Jordan being the only listenable guest vocal IMO, on the cut "Redeem Me"], all the songs , or the production! Look forward to hearing more from Jake E. Lee tho; it's been too long, and this guy was the man Ozzy should've kept! http://reddragoncartel.com, http://www.frontiers.it, https://www.facebook.com/reddragoncartel
Eddie St James - Streets Cry Freedom [Mega-Media]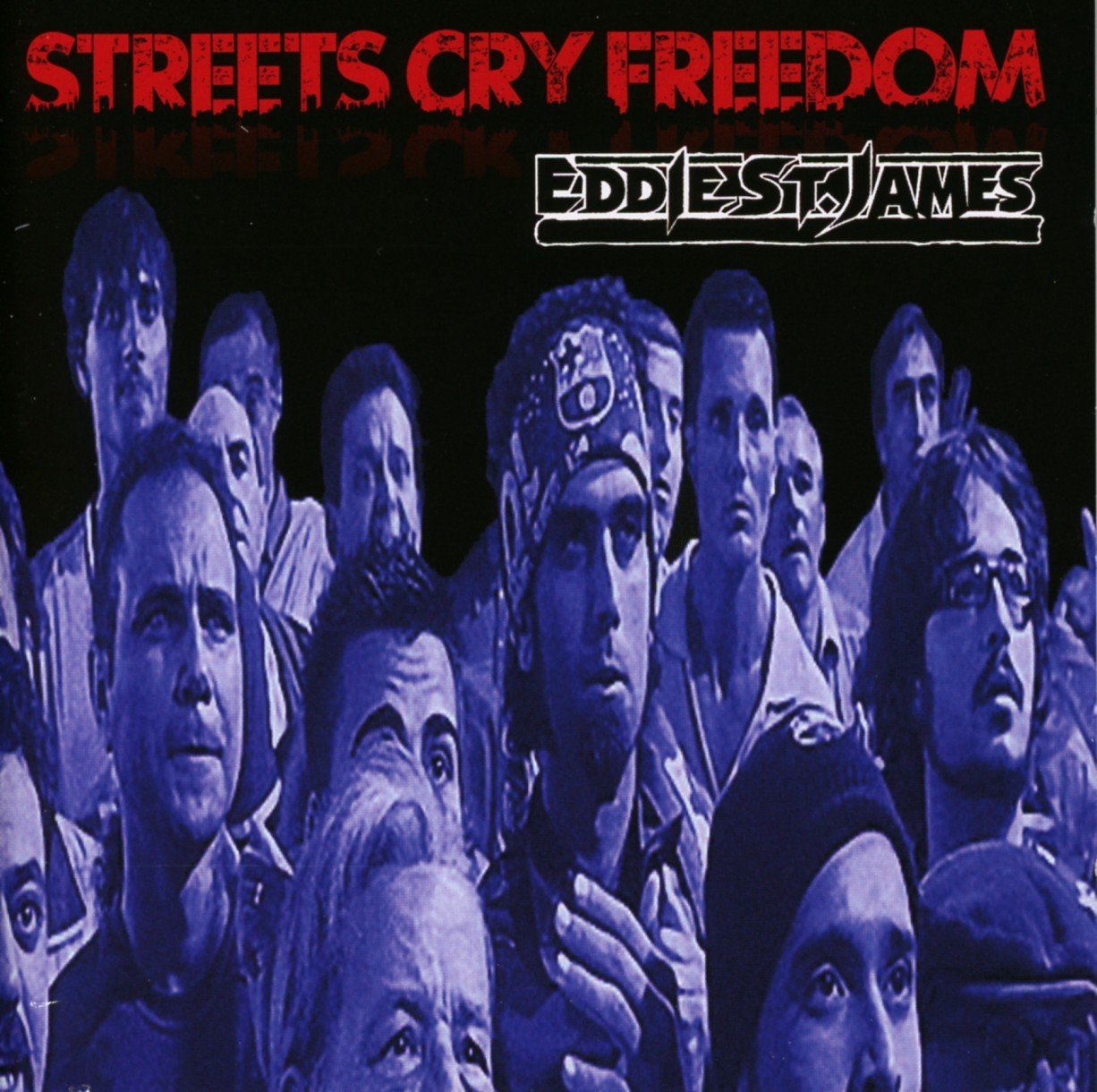 German based, American guitarist/singer/songwriter Eddie St.James is back with his first real kick-ass hard-rock album in years! Past St.James releases were poppier [Beatles influence] or blues stuff, but "Streets Cry Freedom" finally sees him return to his LA metal days, with guitars turned up. Recorded between 2009 and 2013, Streets Cry Freedom features some great riffs, solos, and catchy rock anthems and melodies, a bit 80s in places, but this album does rock and it's something new & exciting [after some of the other stuff i've sat through!]. Filled with songs about current political climates, social issues, movements, and beliefs, St.James has put up some stuff to think about. Although songs about 'crying freedom' and 'children of a revolution' may not be exactly new, they are delivered convincingly without any over the top production ideas [no handclaps, and endless singalongs...] Opening with 2 decent rockers in the title track and "Rat Race", the third track really stands out - "Johnny Got His Gun" intros with some news clip before slowing coming in, a mid-tempoed smooth song, that St.James voice really sounds good on this one, and the guitar solo is a classic [!}, he lets it rip, where has this been from the guy!? "Shotgun Messiah" is an even stronger rocker, opening with a big riff, and again this guy's solo is a big highlight. Though musically reminds of say a mid 80s Kiss rocker, with the melody and backing vocals on the chorus. [Kiss did release some decent stuff in the 80s]. "Why Should I Believe" is the first lighter track here, but definately one of the best! A great melody & vocal, and lyrics about what to believe in [be it church, politics, individuals], features Spencer Sercombe [Michael Schenker alumni] on e-guitar; if there was a 'hit single' on this album - this is it! "Talkin Plenty" gets back to rockin', and "Rock & Roll Ain't Dead" is another big favorite here, an anthem about St.James outlook on rock n roll these days. There's a few instrumentals here, first "St.James / James Bond", where the guitarist meshes his own ideas with the James Bond theme, making a cool 4 minute plus ride. and "Critical Mass" which is a real heavy & metal guitar jam number, reminds me of early Van Halen, but with more guitars. Streets Cry Freedom is a pretty heavy guitar rock album, and pretty refreshing, with other rockers like "Monster Under My Bed", "Operation C02" and the closing classic "Rainbows and Dragons", which addresses more issues [like poverty, and corporations ruling] - but with it's title and references to 'the beast' and dreams - it is also fitting that this song is dedicated to the memory of Ronnie James Dio. A nice touch [as well as the piano reprise at the end] to conclude a very enjoyable album!
http://www.youtube.com/watch?v=SCORa0GRBEk
Check out more on Eddie St.James: http://www.eddie-st-james.com, and look him up on Facebook!
https://itunes.apple.com/gb/album/streets-cry-freedom/id791200838, https://myspace.com/eddiestjames

Michael Des Barres - Hot N Sticky : Live [MDB immedia]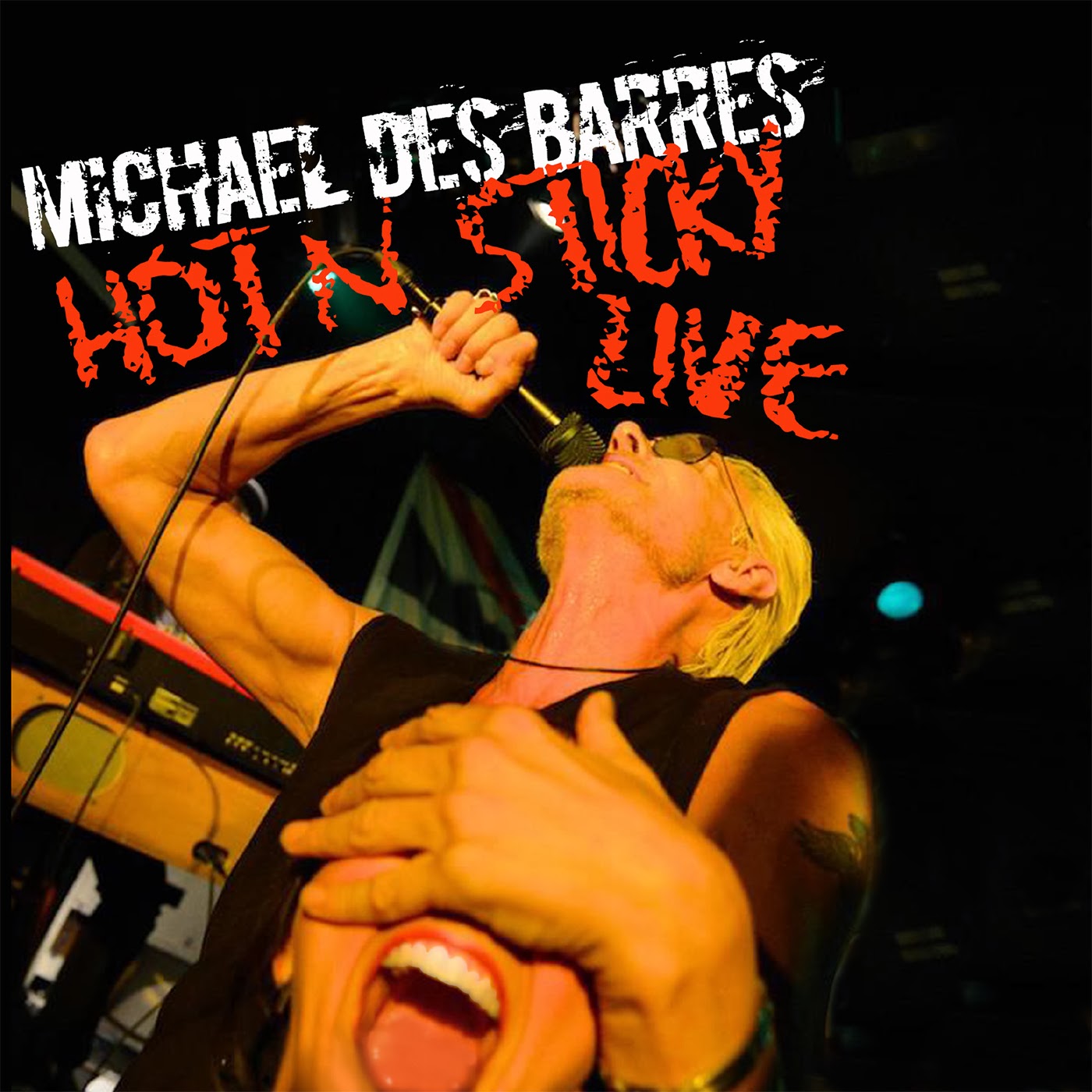 I don't know of any rockers-turned-actors can claim such a fine career as Des Barres; an early rocker in such bands as Silverhead [w/ Pete Thompson on drums], then Detective, a few solo projects, a brief fronting of The Power Station in the 80s, and Then a TON of television acting credits, and movies! I always remember seeing him as the frontman for the ficticious Scum of The Earth [Detective] on WKRP In Cincinnati. So, now Des Barres would like to be a rocker again, and this live album follows up from 2012's "Carnaby Street", which was seen to be a return to his early rock roots and received great reveiws, thus most of this live set is from that album. Des Barres doesn't sound too bad, and anyone who likes that classic British blues & gritty rock of The Faces, The Stones, or Humble Pie will like this; Des Barres has that voice that reminds me of early Rod Stewart [before he sold out] and more so of Steve Marriott [RIP] - whom he pays tribute to here in the closing number "I Don't Need No Doctor" [which also includes a medley of his rocker "My Baby Saved My Ass" and T-Rex's "Get it On"]. At times I would like to hear his voice a bit more up in the mix, but this is a really all-out rough live album. Aside from the newer songs, also included is a rocky take of "Stop, In The Name Of Love" and the Detective classic "Detective Man".
A nice return, though now I'm more interested to hear the "Carnaby Street" album. Also of note is his live band features keyboard player Damon Fox of Bigelf.
Check it out at: http://www.desbarres.com, http://www.mdbimmedia.com
Axel Rudi Pell - Into the Storm [SPV/Steamhammer]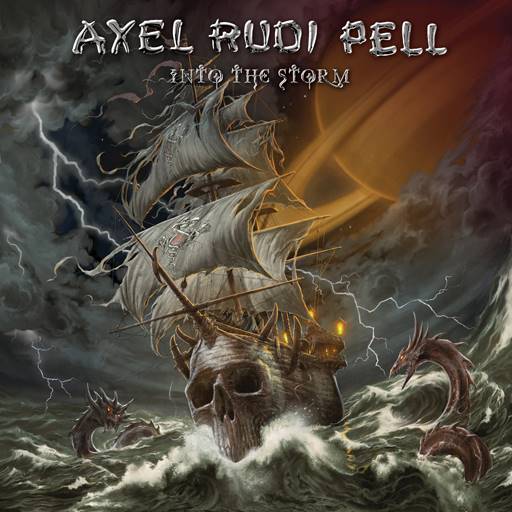 If you're familiar with German guitarist Axel Rudi Pell's work, then you know pretty much what you're getting. And "Into The Storm" doesn't stray from his and his band's previous umpteen albums, cool cover-art, which will feature a skull on it somewhere, some kind of mystical or scary album title, opening likely with a soft keyboard intro that builds up, a mix of cool riffs, rockers, rough edged vocals [via Johnny Gieoli], keyboards used where actually needed [as not to overshadow the guitar]; there'll also be at least one lengthy epic track [usually the title track, as is here], a power ballad that Gieoli will over-do and painfully stretch out, and then for some reason a covered classic [here, a pointless remake of Neil Young's "Hey Hey, My My"]. So, there ya go! But hey, I like Pell's albums, though predictable - the guy's got loads of great riffs, solos, and memorable kick ass rockers from the classic hard rock school of Deep Purple, Rainbow, Sabbath, Heep... And aside from the Neil Young cover - I love this album, from the Sabbathy riff of the first rocker "Tower Of Lies", to the more commercial rocker "Long Way To Go", to "Burning Chains" - which is reminiscent of Rainbow [and at least the riff to Can't Happen Here], then there's the ballad "When Truth Hurts" [see above], and then at the mid-way point POOF - things turn back, and "Changing Times" comes galloping out - a great fast paced rocker, followed by a slow acoustic start to "Touching Heaven" which builds into a decent heavy mini-epic, and then a fairly decent upbeat rocker in "High Above" - yep -- songs about flying high up, rainbows, wings.... Into the Storm closes out with the 10 and a half minute title track [this one will require multiple listens]
Album comes in regular 10 track format, digi pack w/ bogus tracks, as well as 2 LP vinyl edition. Can't wait to get in the car and play this loud! Also of note is the addition of American drummer Bobby Rondinelli [ex Sabbath, BOC, Rainbow, Lizards, etc....].
http://www.axel-rudi-pell.de, http://www.spv.de
The Real Partners In Crime [feat Mike Starrs]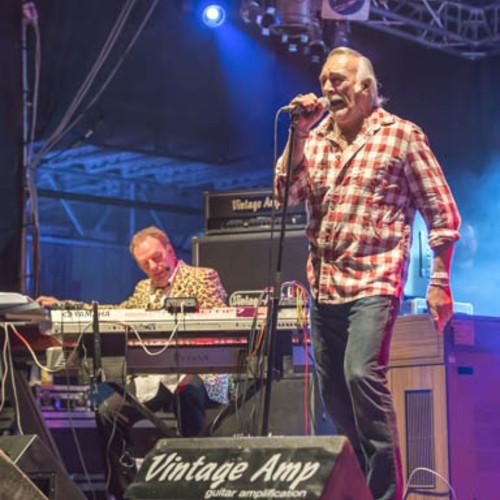 This is a fairly new band fronted by legendary Scottish singer Mike Starrs. I was reminded of Starrs recently, while revisiting the Lucifers Friend catalogue. Mike Starrs had a few solo singles in the early '70s before joining Gary Moore, John Hiseman and Neil Murray in Colossseum II. He sang on the band's debut [on Bronze] before being let go by management [along with Murray], and went on to replace John Lawton for the next 2 Lucifers Friend [while Lawton had left to join Uriah Heep]. Starrs post-LF career seems to have been quieter on the rock front, but his new recordings with The Real Partners In Crime, which they are currently looking to release [any labels?] shows that Starrs still has the voice and material for something great. Not a heavy or progressive rock outfit, but more pop and adult oriented stuff, complete with with female backing harmonies, keyboards, and great production. There are some great songs amongst the band's recordings here [done last summer], such as the piano based ballad "Trace (Still A Trace Of You In Me)" and "Shine On" - which also piano based, but a bit more upbeat, with a definate gospel sound / feel to the chorus. But it's not all ballads, the band's name title track is an upbeat pop rock track, well produced, probably danceable [I don't dance!], a cover of "Mama Told Me Not To Come" [made big by Three Dog Night], this one being pretty funky and rocky, complete with horns, another really good production, and both "Hero" & "How Long" are also decent pop tracks here. The band also includes keybaord player Richard Rossbach, Roman Rossbach on guitar, German session player Martin Altman on bass, and fellow session man Hove Steen on drums.
Again, far from hard-rock, and really - the 2 LF albums he was one were pretty pop oriented affairs.
You can check out more from The Real Partners In Crime [and Mike] via Soundcloud: https://soundcloud.com/kla4rico/trace-theres-still-a-trace-of?utm_source=soundcloud&utm_campaign=share&utm_medium=facebook.
http://www.youtube.com/watch?v=nyd4eVhqS4c, https://www.facebook.com/pages/Mike-Starrs-The-voice-of-scotland/266881259991054?ref=ts&fref=ts

---
Reviews: © Kevin J. Julie (Universal Wheels) February 2014