A Review Of:
THE BYRON BAND
ONE MINUTE MORE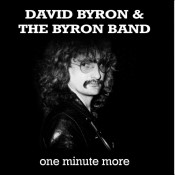 Following up the 2003 release of The Byron Band "Lost and Found", Robin George is making the old Heep faithful happy [again] with this new compilation of outtakes and interviews. Lost And Found consisted of outtakes, demos and 2 live shows; while One Minute More includes 5 of those outtakes [remastered] plus 3 more! The 3 'new' outtakes - co-written by Byron, George and Pete Green [aka Daniel Boone] should be the selling point to any Byron fan alone. "What's Your Game" and "It Gets A Little Crazy" are both rockers, and aside from featuring great vocals by David Byron, also feature some superb playing by a band that could rock and a guitarist who could let loose. The former track kicks off with a great guitar hook, and lyrically, is a fun rocker, boasting a cool organ solo, followed up by one frenzied guitar solo. The latter is my favorite track here - "It Gets A little Crazy", which sounds like it may not have been complete lyrically, but the drums and bass and then Robin George's guitar solo over top come off like one killer band rocking out to a packed house! On both tracks David Byron is in top form and really sounds like he is having a blast.
"I Still Wanna Hold You" is a decent ballad, and it's an obvious Daniel Boone produced type track, that would've suited David Byron's underrated poppy solo album "Baby Faced Killer" from 1978, lots of high backing vocals, organ, piano...and a cool guitar solo! These 3 tracks are all excellent, and along with the previously released Byron Band rockers like "Safety In Numbers", "Fool For A Pretty Face", the mid tempoed "I Need Love" and the classy ballad "One Minute More" [and best vocal performance & song by David Byron in his post Heep years] - one can only wonder what a great follow up album to the lone LP release "On The Rocks" this band may have had.
I love these recordings, and I really am grateful to Robin George for releasing them, but damn, being a David Byron fan, this stuff saddens me. It's sad to think that the guy could sound so great and so into it, yet a recording business would toss him aside and personal problems would see him disappear from Rock's front pages and then a lonely end. As a side-bar, I've always felt that it's a crying shame that David [with some help] couldn't have hung on for a couple of more years when CD re-issues and Uriah Heep fans started to come out of the wood-work in the late 80s.
Anyway... the second half of this release is a 1981 interview wrapped around 6 remastered tracks from the band's lone LP release "On The Rocks". and it's amazing how well tracks like "Start Believing", "Bad Girl" and "Rebecca" stand up in 2008. They all still manage to rock, without sounding dated [like most early 80s stuff], and the interview clips [with Byron and Robin George] between the songs add some interesting insight into David Byron and the Byron Band; not overly reveiling, but neat to hear the man talk and some of his views on what would become his last living album release. The set closes with Robin George's "Angel Song", which was written as a tribute to a sadly departed friend [And remember George would also go on to work briefly with Phil Lynott a few years later, just before he passed away as well] ... a touching acoustic track.
Aside from Robin George, the Byron Band also boasted Mel Collins [sax - King Crimson, who was in the band but did not appear on these new tracks as they were only demos at this stage], Bob Jackson [keys - later of Badfinger and The Fortunes], Roger Flavelle on bass, and drummer John Shearer [later of Iron Butterfly and Hurricane, before becoming a magician!]. Also featured on the Byron Band recordings [demos] are legendary bassist Pino Palladino [now a-days with The Who] and drummers Charlie Morgan and Pete Thompson [ex Silverhead, Ken Hensley's Shotgun, and lately playing with Robin Trower].
A must hear for David Byron fans. Not even 6 years after his firing from the Heep and much of the record industry and rock press had written him off or completely forgotten him, but here we are in 2008 and US fans can appreciate what was missed out on 27-28 years ago!

Thank you Robin George!