"GETTIN' TIGHTER" - DEEP PURPLE '68-'76
Martin Popoff, Power Chord Press
When I first read that Martin was doing a Deep Purple book, I wondered why, as there's been a couple of other DP books in the last few years [most notably Dave Thompson's]. But, Martin has accumulated so many great Purple and related interviews on his own over the years that it really offers plenty of great new reading for readers. Martin's main claim is to get to the stories about the songs and then the politics around them. And he's done a spectacular job bringing out great stories and recollections from the likes of Nick Simper, Gillan, Hughes, Glover, etc… and even Blackmore! Getting' Tighter goes album to album, song by song, with never before read stories, antidotes, memories and candid views from the various past and [some still] present band-members, and other Purple inspired rockers like Yngwie Malmsteen, Pat Travers, Kurdt Vanderhoof [of Metal Church] and Lars Ulrich of Metallica. There's also some interesting commentary and views from related players like Ronnie James Dio [of Rainbow] and Bernie Torme [Gillan], Mick Underwood [Episode Six/Gillan] as well as contemporaries like Heep's Mick Box & [ex Heep] Ken Hensley, who discuss the age-old comparisons between the 2 bands [….and I'll take side with the Heep guys]. This book goes right into cover the early beginnings of Rainbow [Popoff has a previous book on Blackmore's band] and touches on early Whitesnake, Gillan and various other related projects [Hughes', Lord's, Bolin's] after the sad details of the band's [and Bolin's] demise in '76. Well written [minus the odd typo, like Blackmore mixing up his Heep titles] If you're familiar with Purple, this is a must read, with loads of 'tell it like it was' stuff. Can't wait for part 2!
You can order directly at: www.martinpopoff.com
Drumbo – City Of Refuge
Proper Records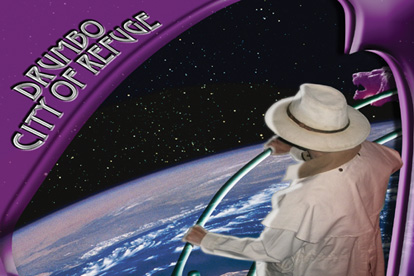 John "Drumbo" French was the drummer and musical director for Captain Beefheart's Magic Band. His new solo disc reunites him with former Magic Band members Rockette Morton, Ella Guru, Zoot Horn Rollo and John Thomas. "City Of Refuge" is a neat mixed bag of jazz, dixie, blues with tracks like swinging funky numbers like "Bogeyman", "Blood On A Porcupine Quill", "Get So Mean", the upbeat "Shirt Off My Back", and "Who's Side Ya On". "Abandon" is a slow paced guitar track, probably the closest thing to anything considered 'mainstream' rock here, cool electric intro and twin solo. And there's a few gems in the odd instrumental "To The Loft Of Ravenscroft", the title track, with its quiet piano solo intro. Plenty of harmonica & sax, harmonies… Songs based largely around French's unique drum patterns and his gritty distinctive voice. I'm not familiar with the Magic Band catalogue, but this is a cool, latter day intro.
Check it out: www.proper-records.co.uk & www.myspace.com/drumbojohnfrench
Eddie St James – Living With The Bomb
Mega Media
Former LA guitarist / songwriter Eddie St.James has been busy the past 2 years. After a near fatal car wreck and subsequent 3 year delay from his previous outing. "Living With The Bomb" is a 2-disc set recorded with just band, minus outside producer, and in a 24-hour period. And having sat through all of this, I can say that Eddie is perhaps the best-unknown metal and melodic hard-rock guitar player out there! This guy can come up with some killer riffs and solos. Not sure if it was intentional or not, but disc 2 seems to be the more appealing one here, opening with "The Killing Season", a smooth mid tempo rock tune, with a stellar metal guitar solo stuck in the middle. I must say, Eddie's guitar on occasion seems to be at odds with the songs, like he's this killer metal player dying to come out of this [sometimes odd] pop and rock stuff. (Kinda reminds me of Tom Schulz on the last Boston album [tho not as extreme] – where his heavy solo's stick out like a sore thumb on some lighter track, just for the sake of letting the listener know it's still a Boston album!) Disc one features a number of cool guitar intros, hooks and solos, but songs like "Story Of My Life", though musically powerful, the vocals come across a bit off and kinda rap or funk [whatever … in a Faith No More sense]. I ain't keen on some of the vocals as they match to these songs, as well as some of the keyboards in places, but guitar wise, this guy would be spectacular in a band with a big producer and great singer, 'cause he certainly can come up with thick, cool guitar bits like on the 80s rock of "Hello Hello" [one killer riff, solo and some typical 80s synths] and "Lil Mary J." Best pick here is "The Sun, Moon & Balloons Of May", an upbeat aor rock tune, with St James delivering perhaps his best vocal here, and another stellar solo that really builds up, then comes back down with a light keyboard and vocal ending.
"Sweet Sister Mercy" is one of a few memorable guitar heavy ballads [see also "Medea" on disc one]. "Welcome To The Real World" is a cool rock track here, with Eddie's heavy guitar laying a base, a memorable hook & chorus and one big solo. "Only One Reason" is another highlight in this package; kinda reminds me of Poison's "Stand" – not in sound, but the feel, and ESJ shows a more soulful side to his playing. "Living With The Bomb" is an interesting collection of guitar rock tunes, and certainly more of interest for guitar fans. Not yer straight ahead rocker album, with this mixed bag of tunes, but this guy has the potential. Would love to hear him in some sort of major metal group type situation.
Check out: www.myspace.com/eddiestjamesband
OTR - On The Rocks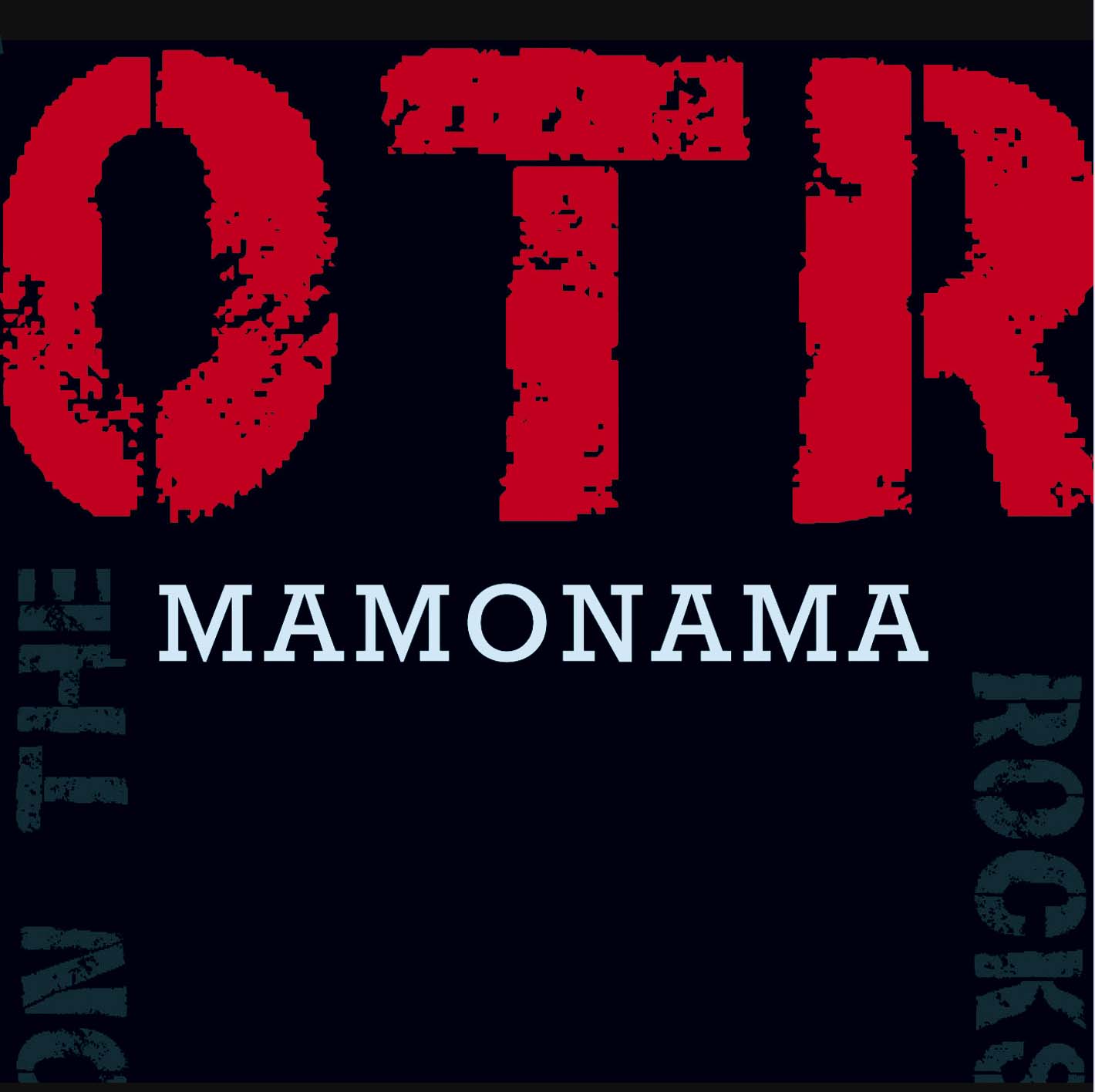 On The Rocks is the new band featuring former Uriah Heep / Lucifers Friend singer John Lawton, and one-time Focus guitarist Jan Dumee. And WOW is this impressive. Probably one of the most unique albums I've ever heard, featuring a rhythm section from South America, giving this album various styles of rock, jazz, blues, funk, etc…. Really an album that has so much to offer aside from the standard rock / pop type tunes, that I've found myself getting more in to this disc the more I put it on.
Manonama opens with a mid-tempoed funky rock tune in "Ghetto". Though Manonama isn't an overly soft album it does feature 3 excellent ballads, with "Hello" - a very soft song, where Lawton's vocals kinda soar over the organ, with gospel-like harmonies, and then some cool electric guitar kicking in to pick it up a bit before the end, while "Shine" is a more simple acoustic track, with a simple sing-along chorus. "Steal The Night" though, is a 7 minute [plus] epic, and the centerpiece of this album; this tune has it all, a classy soft vocal from Lawton, organ, acoustic guitar and piano, changes in tempo, a distinctive [and changing] guitar solo [I love the guitar and organ combo on this release]. Another fave here is "The Corner Club", which is almost a folky-southern rock type upbeat track; riding on acoustic and slide guitar, organ, and another unique guitar break from Dumee. Manonama doesn't really rock out in Heep or Lucifers Friend [well, the debut album] sort of way [though the riff on "Face To Face" is the closest sounding Dumee gets to Peter Hesslein], but it does rock in places, such as on the old style rock of "Ride On" and the jazzy rocker titled "Taking You Down", which features a fast cool riff and some neat interaction between guitar and organ, as well as acoustic guitar.
Anyway, a very different album of simply very good songs and great musical performances. Jan Dumee is one diverse and outstanding guitarist, very creative, and what can one say about John Lawton? The guy has got to be the most underrated singer in rock history, and I dare say I don't believe bigger any '70s "name" singers can sound this good at this age. The man still has it from ballads, to blues, to rock.
Highly recommended for any classic rock fan! Check out: www.otr.co.uk & www.lionmusic.com
Damage Control – Raw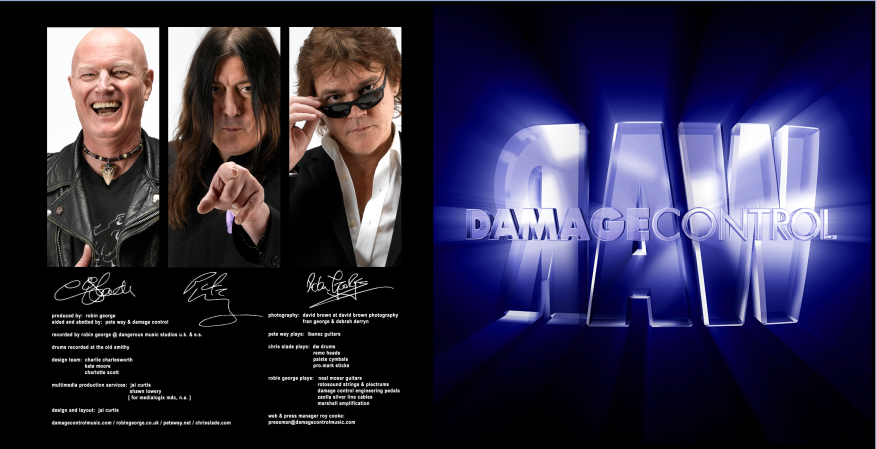 A British classic rock trio featuring legendary drummer Chris Slade [Manfred Mann's Earthband, Uriah Heep, AC/DC…], UFO's Pete Way on bass & vocals, and Robin George [whose worked with David Byron of Heep, Phil Lynott, Robert Plant….] on guitar & vocals. Raw is the 2nd release of Damage Control's first album, with George & Way subbing in their vocals for original singer Spike's [ex Quireboys].
Raw is a gutsy guitar album of blues and rock, somewherez between old AC/DC, old UFO, Savoy Brown… Robin George shows his stuff throughout this album, from "Bitchin Blues" – a typical cool blues rocker, featuring slide guitar, the slow paced "Selfish", and the upbeat "Savage Song", which starts out quietly on acoustic w/ vocal, before the band kicks in. Much of this album is slow to mid-paced heavy guitar rock and blues-rock, but the songs are cool, and the vocals fit. Much of this stuff sounding just like a cool live tight classic blues-rock outfit.
Check out: www.damagecontrolmusic.co.uk
The Lizards – Archeology / 04-08-11 [Live – DVD]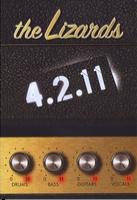 Archeology is The Lizards 5th studio album, an 8 track disc of covers filling the gap between bass player Randy Pratt's car accident [which he suffered thumb & finger injuries] and the band's planned next studio disc of new material to be titled "Retpilicus Maximus". These tracks feature The Lizards doing a number of different and lesser obvious classics, such as Free's "Fire & Water", where Mike Dimeo [also of Masterplan and Riot] pulls off a pretty solid Paul Rodgers like blues vocal, as he also does a convincing job taking on John Waite's vocal on The Babys classic rocker "Head First".
Otherwise, it's a really neat selection of songs, John Lee Hooker's "I'm Mad", great rockin' renditions of Boomerang's "Juke It" and Stray Dog's "Tramp", as well as Humble Pie's "Thunderbox", Uriah Heep's "The Wizard" [feat Steve Augeri – ex of Journey, on backing vox], and Detective's "One More Heartache".
The Live DVD is compiled from a few major gigs over recent years, as well as including a few interviews with bandmembers. The performances are great [this band sounds and looks like a great live band], with Dimeo's presence adding a whole new dimension on stage – via keyboards. Highly recommended!
Check out samples at the band's site: www.thelizardswebsite.com