AN EXCLUSIVE INTERVIEW WITH ALICE COOPER TOURING GUITARIST
MICK MASHBIR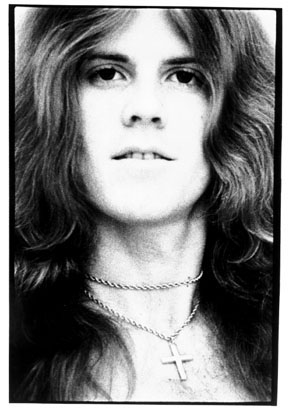 For serious Alice Cooper fans the name Mick Mashbir is well known. Mick was brought in to the band to help out on the "Billion Dollar Babies" and "Muscle Of Love" recordings and tours. Along with keyboard player Bob Dolin, Mick w as added to add to the albums' sound and as a well needed guitar player on stage. Mashbir had a history with the Cooper gang before that 1973-74 period, so he fit right in. In this exclusive interview Mick gives us his story of his roots in music, his hooking up with Alice Cooper, his post Cooper years, And his fantastic 2007 solo album "Keepin The Vibe Alive".

For more on Mick [and ordering his album] - check out his website : www.mickmashbir.com
Also check out this feature on Mick : http://www.sickthingsuk.co.uk/musicians/m-mickmashbir.php
http://www.youtube.com/watch?v=ttImx3xQ2Uw
http://www.youtube.com/watch?v=U4b3IvxNVhU
http://www.youtube.com/watch?v=LIMcV89ZhIQ
---
You grew up in Phoenix[?] what was your association with various members of the Alice Cooper band prior to ever working with them?
I went to High School with Neal, dated his sister [who is now Dennis' wife]. I gave guitar lessons and was friends with and recorded with Mike Bruce, prior to his being the ACG. The other guys I only saw at the VIP club when I was hanging out or sharing the stage.

Who were some of your own musical influences, heroes, favorite bands and/or albums in your younger years?
Seeing Elvis in 1958 on TV got me on the path. I'm not a big Elvis fan, but he was the first rocker I ever saw. The Ventures "Smash Hits" was my first album, and "Ghost Riders In The Sky" was the first song i learned off that album. My first band The Jaguars - was pretty much a Ventures cover band until The Stones and Byrds came along. We played a lot of that and some Yardbirds and Beatles, as well. I bought The Who's "My Generation", then Jimi Hendrix, Cream and Free showed up and totally changed the game for me. I only wanted to play in classic trio form with lead singers. Early guitar influences would be Nokie Edwards, Pete Townsend, Jeff Beck, Clapton, Keith Richards, Jimi and Paul Kossoff. Milestone albums for me were "Meet The Beatles", "Rolling Stones Now", "Are You Experienced", "The Who Sell Out", "Tons Of Sobs", and "Fresh Cream".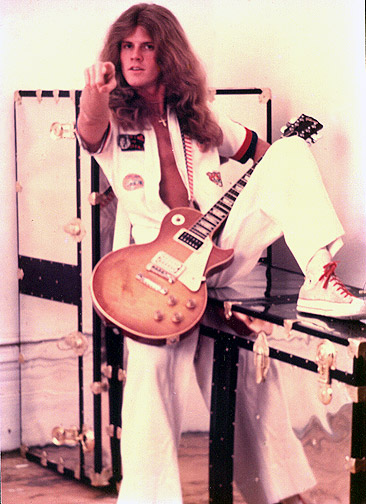 What was your own musical history prior to Alice Cooper – bands, any recordings, major shows or venues?
I formed the first band at my high school. We were the "Jaguars". Mike Bruce's band "The Duals" were from a rival high school. Mike and I met at a Battle of the Bands and became friends. He and I recorded together as the "Wildflowers". I was Mike's first project and he wanted me to play on it.
I then moved to Hawaii for college and founded the first multi-ethnic band, "the Blues Crew" which later evolved into "Lukes Pineapple Store". We played the first Hawaii pop festival with "Moby Grape" and "Canned Heat".
Went back to Phoenix and joined a band called "Thackery Rocke". We opened for "Tommy James and the Shondels", "The Animals" and "Blue Cheer" among others.
I then formed my first blues rock band "Sun House". That was short lived. I formed "Joshua" a power trio. We released a single, broke up after about 18 months. Then I moved to London.

[Ref to the SickThings interview] – You were invited by Dennis [?] to come back from England and play on Billion Dollar Babies. What were the circumstances or reasons that they wanted you there, baring in mind – they had 2 guitar players and had already been using the likes of Dick Wagner, Steve Hunter [?] …?
It was actually Mike Bruce that made that happen. GB was basically on strike. He didn't want to be in the same room as Michael or Bob Ezrin and they were rehearsing for the next record, B$B. Mike was also looking to the future because he didn't know what GB was gonna do. He knew I would fit in with the other guys from Phoenix.

How much of B$Bs did you play on? Any favorite performances? And how involved was Glen at this time?
I played on every track except "Elected" "Sick Things" and "Generation Landslide". My favourite song was "No Mister Nice Guy". I was happy with all my parts, GB was around as little as possible. We were recording in the bands mansion and he didn't bother to come downstairs.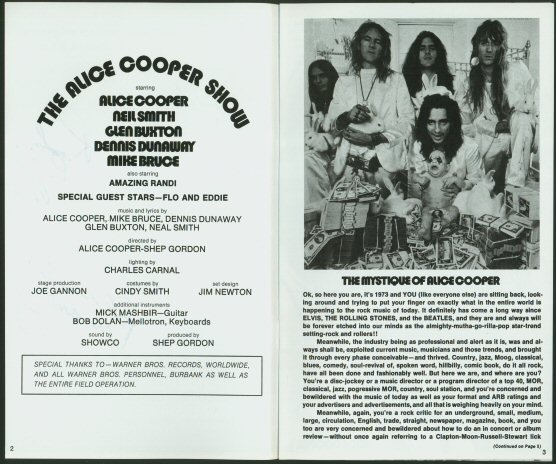 On the Billion Dollar Babies tour Bob Dolin was also brought in on keyboards. What can you tell me about Bob? And how did you get along with him as well as various other members of the band and surrounding entourage?
I'd only seen Bob play in one band and Mike Bruce wanted a keyboard player for the live show, so we auditioned him. Bob was a gifted player with a fabulous ear. On tour we got along quite well since we were the hired guns. Whenever there was a press conference at the hotel the local promo man would show Bob around town so we would not be interviewed by the press. On the B$B tour everyone from both bands got on tremendously. The openers Flo and Eddie hired Bob and Me about 5 years later.

You then wrote and played on Muscle Of Love. I really like this album. A couple of things…. What songs did you contribute to writing and play on and why [OH why] – did you go un-credited in the writing and specific song performances? What are your favorite moments from that LP?
I wrote the verse in "Never Been Sold Before" and Co-wrote "Hard Hearted Alice" with Mike. I knew nothing about the music biz so I didn't really know what to ask for. The album credits were on the book cover insert and I was credited as "additional guitar". Shep didn't want the public to know that GB wasn't involved. My favorite moment was when we have been trying to get a basic track for "Muscle" and Neal kept fuckin' up the take. Then after about a dozen or so tracks, I fucked up and Neal threw an empty vodka bottle at me. There was a lot of tension because this was the follow up to B$B.

Though you were brought in as a sideman to the band, did you ever feel you a bit disappointed or 'cheated' [for lack of a better word] about not being included in the spotlight?
In the beginning I was just happy to be a part of it all. After the B$B album and tour, GB won an award for his slide work on the "Slick Black Limousine" Flexi-Disc. That was my work that got me thinking that I might be getting the short end of the stick. During the recording of the MOL Album there was talk of making me a permanent member but Alice left the band before that could happen.

One thing regarding Muscle of Love I am curious about, is if Glen wasn't around much for this album [did he play on anything?] – how would he have ended up with a number of co-writing credits? [if you'd have any insight to that]
There were a bunch of writing sessions with only the band. I was not asked to be there. GB was there but I don't know what he contributed if anything. They were trying to get him back into participating and probably thought giving him songwriters credits was a way to keep him interested. But, since he didn't know how to play any of the songs when we were rehearsing for the MOL tour (I had to teach him the songs) I don't think he actually "wrote" anything.

I take it [ref to other interview] that you preferred working with Jack Douglas more so than Bob Ezrin?
Jacks style and vibe was much more "Rock n Roll" than Ezrins. Don't get me wrong Ezrin was a trained musician with a lot of talent, but he just wasn't fun to work with. If you can't have fun while workin or playin, what's the point?

What do you recall of the winter tour in support of Muscle Of Love? Was the tour and response to the album a bit disappointing from your perspective?
First let me say that touring in the winter in the Midwest and Northwest is not pleasant. Some days the weather was so severe that I didn't expect anyone to show up at the arena, but the fans did. We were using a modified version of the B$B stage and because of the storms the stage didn't make it to the gig, but the equipment did so we performed as a flat stage rock band. I think those were some of the best shows for me and the band. It was the first time I could go to the edge of the stage and engage the fans. It was hard for Alice because he relied on the props to do his thing and they weren't there. When we went to Rio we were a flat stage band and we kicked ass. I wish there were some bootlegs of that show. Anyone out there have any?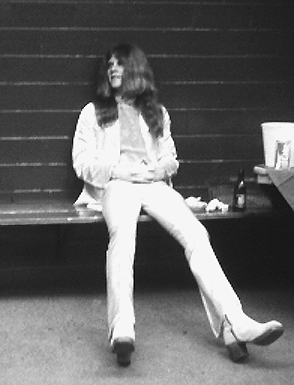 What was the state of the band at the end of the tour and what did you do immediately after?
Actually the state of the band was cool because the Billion Dollar Babies book hadn't come out yet. I was sharing a house with Mike and Bob Dolin and we continued working on songs in our home studio. That is where I began teaching myself to produce and engineer.

You worked on albums by Neal and Michael. What can you tell me about those sessions and some of the songs you played on?
Neal had a home studio and some over dubs were done there. I didn't remember playing on "Platinum God" until its re-release. I was given lead guitar and harmonica credit on "Baby Please Don't Stop"..Harmonica!?!..That was a surprise.. I worked with Mike on "In My Own Way", from conception to completion. I played lead on every track. We recorded in L.A. at the Record Plant. It wasn't the most pleasant experience because Mike chose the guitar player and drummer from The Young Rascals to produce it. They changed everything we have been working on for over a year, as far as songs and arrangements, and not for the better in my opinion. The album was conceived as more of a rock album but they turned it into a weak pop record. We could have had Bill Szymczyk (The Who, The Eagles, Bob Seger, Joe Walsh) produce, but Mike Bruce didn't want to wait for him to be available.

Dennis, Neal and Mike Bruce got back together [w/ Bob Dolin] to record the "Battle Axe" album, but you were not included. Why?
I was offered the gig. But I had just relocated to L.A. and I was not ready to go back East again. I was also a little burned out on the guys in the band so I just turned it down.

What did you think of that album? And were you disappointed not to be involved?
I thought it was nice in its own way and after hearing how it ended I have no regrets.

What else did you work on following the Alice Cooper stuff? Any name bands, recordings, tours…?
Besides "In My Own Way" (Mike's solo project), I worked with Flo and Eddie on a short tour of the north east in 78' and then again with them in 85' for an eight month tour, when they reformed the Turtles for the first "Happy Together" tour. I spent a lot of time in the trenches trying to get something together. I had a couple of offers but turned them down.. and those acts went nowhere. Since there was no real credit for my work and zero publicity attached to my time with AC I was just another guitar played in L.A. I was involved in a number of promising bands but the management in all cases were not able to get the labels to pulls the trigger.

"Keeping The Vibe Alive" was recorded in 1996 [?]. Was this your first attempt at a solo project?
No. I had also written a one man musical play in 76' that almost made it to the stage but the lawyers could not agree on a fair deal so it died. I got my first 4TRK Porta-Studio and carried on writing songs.

How is this album been being distributed, just through your site?
I don't sell it on my site but you can link through my site www.mickmashbir.com directly to ITunes or CDBaby.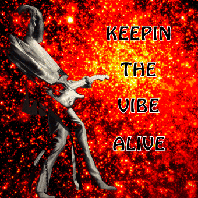 I understand that the sad passing of the drummer, Donald Lindley, really set you back and the album did not get mixed or issued for another 10 years. Can you touch briefly on this period and how you eventually got the project completed?
Donald and I had been working together on and off since 71'. We had a real musical chemistry. He was living in Austin in 97' when he found a 24TRK Studio that was struggling to stay open. "The Hit Shack", Has a neve desk and a studer 24TRK tape deck. It was exactly what we needed to capture the classic rock vibe we were going for. We got a killer deal for a two week lockout. Donald brought in John Chiambotti with whom he had been working with for the park 8 years to play bass. They had also had great chemistry. All but 2 of the 10 basic tracks on the album were first takes. I also did most of the solos only three vocals, but not everything was tracked. This was in early September 1997. Donald had been playing in a jam band with the famous Ian McLagan of the Small Faces and Rolling Stones fame. He added some killer Hammond B3 to "Waiting For my Wings" and the Title Track "Keeping the Vibe Alive". About nine weeks later Donald was diagnosed with cancer and he passed Nov 4 of 1998. Losing my friend and musical ally and the future we planned (we had even discussed being just a drum and guitar duo) knocked me on my ass and I just could not listen to the tracks. This was way before the days of Kickstarter and I didn't have the cash or desire to get back to it.
In 2006 I finally got a version of Protools, version 6 I think it was, and I began finishing the tracks. I was at a loss as to where and how I was going to mix it. I had become friends with Alan Parsons through a mutual friend and we spent a lot of time partying together at the beach and occasionally up at his house. I was trying to mix my record in my home studio. On different occasions as his house I would has him if I could go into his studio to listen to my work. After 4 or 5 times of this, he asked me "if I would mind if he had a listen?" of course I said yes. As we were listening to my crap mixes he asked me "Is this the was you want the album to sound?" I said no it wasn't even close. He said that I should try mixing it in his room. So we set up the dates he gave me a 10 day lockout and I went for it. He had a lot of things on his plate but he would occasionally pop in to listen. He made a few suggestions in the beginning and that was about all until I was almost finished. I needed help placing my vocals in the mix so he went through all the tracks with me. He also suggested the track sequence for the album. If it hadn't been for Alan's generosity the album may never have been released.

Bob Dolin plays on 1 track , "Hold On". What was / is your contact / relationship like with Bob, and why did he only end up on one cut and what do you recall of it?
Bob it turns out, an amazing keyboard player, was really a frustrated guitar played. When he showed up to play the first words out of his mouth were "don't expect me to be creative"!?!WTF! Bob was one of the most creative players I had ever worked with. Needless to say the session was like pulling teeth but in the end I got some string parts and piano in the coda. All the other keyboard parts were mine. We haven't spoken since.

You handle vocals on the album. how did you feel about doing them? I take it you're a guitar player first.
When I began to revisit the material I put an ad in the "Music Connection" in L.A. looking for tapes from singers. They were all crap. So, in order to move forward I had to just do it myself. A very difficult proposition. Some of my vocals were definitely better than others, but I made the decision that as long as the lyrics could be understood and there was some emotion in the track I could live with them. If I could do it all again I would have found someone to help me.

Regarding the songs… "American Weirdo" was written during your time with Alice Cooper!? Interesting, as it certainly seems to fit in with the AC feel musically and lyrically. What inspired the lyrics?
"Weirdo" was actually written in 1979, post Alice. The reason it had an AC feel is that when I played on B$B and Muscle, my playing helped create the AC feel you are referring to. Someone who reviewed my album thought I was a second rate Alice. There was no intentional aping of that sound. That sound was what I was doing before I played with AC. As I mentioned earlier every one of us in the band at that time had played in cover bands and we all covered the same bands, so our influences were all the same. That is why I fit in with them musically. If I walked away with any influence it was how to arrange songs, thanks to Ezrin.
The lyrics were a work in progress until they were recorded. The politics in America had shifted radically. It was getting hard to tell one political party from the other. Also, it was becoming clear that freedom and liberty as it was supposed to be in America was disappearing.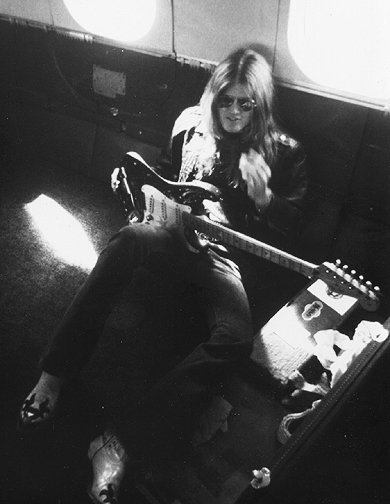 How many guitar parts are there in American Weirdo? [3?] I'm curious how you would ever do this live. I love this song, it's kinda' become my theme song around here [and in the car] - despite my being Canadian!
Thanks Kevin. It's cool that it knows no borders. When MySpace was really a great place for musicians, I got comments from all over the planet. I remember someone from an Eastern Bloc being very pissed off that I would talk that way about America. There are four parts. Electric rhythm, lead, slide, and acoustic rhythm. The acoustic was really to get the "Gimme Shelter" feel in the chorus. Live? I would just forget about the Slide part and play it straight as a trio with the Wha-Wha solo. Donald and I also discussed having a B3 player to fill up the sound. When we rehearsed the tunes it was just the two of us so we knew it would work as a duo or trio.

And, did you write any other songs during this period that haven't surfaced yet [or surfaced elsewhere]?
The one man play I mentioned earlier "Lightin' Up" was all written during that period, and all I have are some of the demos.

Who was "Hell Of A Man" penned about? [kind of a Zeppelin groove-riff to it].
Zeppelin! Thanks for the compliment! The idea for the album was to let all the bands that influence Donald and I shine through the songs. I didn't try to write like the Who or Zepplein, the songs just came out that way. We agreed if the influences showed up to just let them stand on their own.
Those lyrics were written by the late, great Curt Phillips. Curt must have been hangin' out with a pretty tough crowd at this time of his life. He captures a great snapshot of the lesbian biker-chic chick of the 80's.

What can you tell me about some of the '70s soul / funk style on "Mirror Image".
That was Donald's influence. Being a drummer, he was always interested in different grooves. Hip-hop was coming into its own and he really wanted to try to incorporate some of that funky feel. We both loved Otis Redding so it wasn't hard to find our way in that groove.

"Workin For My Wings" ?
That track was as close to a Hendrix influenced track that we had at the time. It was the only track that I played a Stratocaster on. It's a song about searching for personal freedom and identity. It was influence by my psychedelic experiences from the 60's.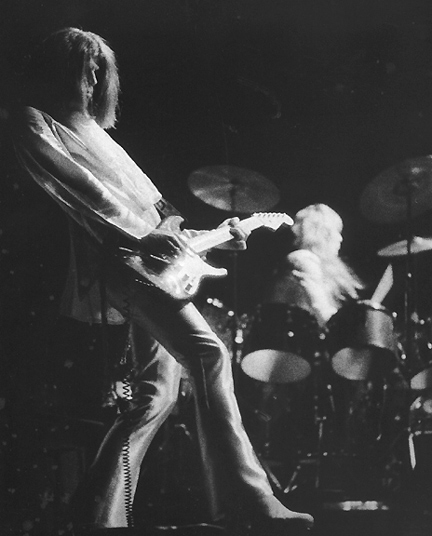 The title track seems to have an old British blues feel to it, almost like early Fleetwood Mac, and I swear I hear a lick from AC's "Killer" in there. What can you tell me about this song, musically and lyrically?
"Keepin The Vibe Alive" has many influences. It sums up the whole concept of the album. Keeping the classic rock sound and 60's "Peace and Love" vibe alive. When we recorded this album, most albums had piles of guitars, so we wanted to sticks to the open guitar sound of classic rock. The lick you are referring to is probably in the raga part of the solo, but is not intentional. The Who style rave-up at the end was a total jam and the very ending was an example of the way Donald and I played together. We didn't rehearse the ending. We just both ended at the same time cause that's how much unspoken musical communication we had.

Do you have any favorites or stories behind a few of the other tunes?
"Golden Touch" was inspired by books I was reading about Elvis and Jim Morrison. It seemed to me it was fame and fortune that killed them, not drugs. "Heartache Train" was another Curt Phillips lyric about a crazy relationship, which Curt had more than his fair share. He always wrote with a sense of humor, not anger. He wrote the lyrics to "Gods Gotta Gun" as a comment on mans inhumanity to man with god as the judge and jury and the biggest fuckin' gun you've ever seen.

Since you did the artwork, were you an art student as well? [as some of the AC guys].
No, I wasn't an art student. I can't draw for shit, but I've always been able to come up with visual concepts. Once again it was out of necessity and I had trained myself to use Adobe Photoshop and Illustrator, so I just went for it. I am very pleased with that. The whole concept as I mentioned before was to keep the "Classic Rock" vibe alive so the cardboard CD Cover and the enclosed CD (that actually looks like a vinyl record), completed the package. It looks like a miniature record album. It's gotta be a collectors item just for the packaging alone and because it's not in a plastic case, if someone buys it internationally from CDBaby, they don't have to pay a premium for shipping.

And how has feedback been?
The feedback has been mostly positive and I'm happy for that. One of my favorite compliments was that my CD was the closest sound to a vinyl record that Alan Parsons had heard in years. If you go to CDBaby you can read some other very cool comments.

What are you currently up to? Do you play regularly live or have any plans to record a follow up album?
I miss playing live, but there's really no opportunity to play out where I live. I have since released a couple of new tracks on ITunes and have some more in the pipeline and I have a few instrumentals that I will eventually release. I recorded some tracks for a cool band "The Velvet Saints", but those haven't been released yet.

Have you have any contact with or keep in touch with any of the AC guys -- Neal, Dennis, Alice or Michael?
Mikes a "ghost" no one can find him.. no contact with Neal or Alice. Dennis and I were in touch for awhile through Myspace because we both released solo projects at the same time and that was 5 years ago. So, basically, no.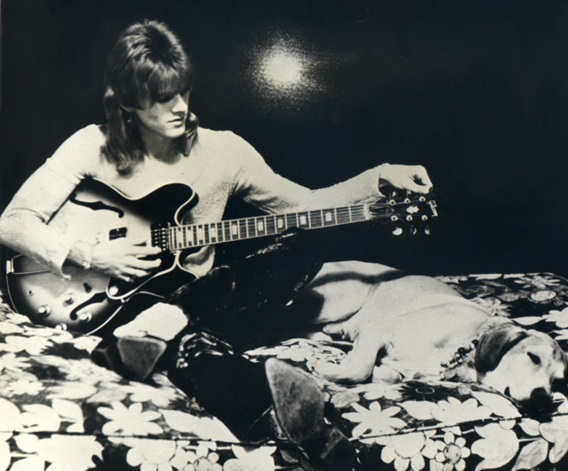 In regard to the AC band songwriting...... what did you think of Mike Bruce as a songwriter and Alice as a writer? and was there a good bit of competition going on at the time you were there? [w/ Alice being Alice and Mike being the major writer.
I think the success of their work answers that question. I rarely hear any post ACG songs on the classic rock station, just songs like "Schools Out", (every year at the end of school) and "No More Mr. Nice Guy", my favorite.
I know that Mike presented a lot of the songs in finished form, lyrics and all, like "Be My Lover" and if Alice felt they fit what he and the band were trying to present then he would leave the songs as is. If the lyrics didn't fit , Alice would rewrite them. I can't give you any specific examples of the rewrites but I know that it frustrated Michael and that led to his desire to express himself with a solo album. The easiest way to understand this is, Mike embraced the Beatles music,[ listen to "King of America on his solo album] and the rest of the guys were a Stones band before he joined. I remember that during the tracking rehearsals Alice didn't sing, he sat and listened and worked on his lyrics. What competition there was led to a more creative working situation, as it often does in bands.
In reference to Mike's solo album.... were you happy with any of the songs or your performances [as they were produced)?
As far as my performances, I felt my work was just what those songs needed. The Beatles pop feel let me play my George Harrison style slide work which I quite enjoyed. If you listen to the bonus tracks on the double album release you will hear the tracks we recorded with Jack Douglas producing. Comparing the demo of "As Rock Rolls On" with the finished product, you will have a perfect example of how the work was watered down to a pop sound. The whole guitar solo section on the demo was left out of the final arrangement by Gene and Dino. The Slade cover, "So Far So Good", came the closest in energy to what I thought the album should feel like. It was sad to me that other songwriters were brought in to the project. I was disappointed that Mike allowed that to happen , but it was his solo project, not mine, so I respected those choices and supported that with my playing. And in the end none of the above really matters, because I don't think that many people have heard that record. I will add that the engineer David Palmer did a nice job.
What happened to Michael after this album [from your view?] - being that he was such a prolific writer for years.
Well, a writer needs a place for their song to live. First there was the ACG, that ended. Then Mikes solo project that never really got off the ground, for lack of management, and finally the failure of the "Battle Axe" project. Mike kept writing, did another solo project and that was the last I heard from him until years later, when he did the Iceland recordings. But, don't forget that last year (2012) Alice released his latest record and did a semi-reunion with Mike, Dennis and Neal. Mikes song "When Hell Comes Home", was in my opinion, the best song on that album. It was truly classic Alice Cooper.
[My apologies to Mike for any omissions that I may have made].
Kevin I just want to say thanks for giving me the opportunity to tell more of my story.

[Thanks to Mick for his time in answering my questions, Ron - for a few suggestions and keeping the site up there, and to Michele for the typing].
---
Reviews: © Kevin J. Julie (Universal Wheels) June 2013