A Review of Lou's comeback release and an exclusive interview with guitarist Don Mancuso.....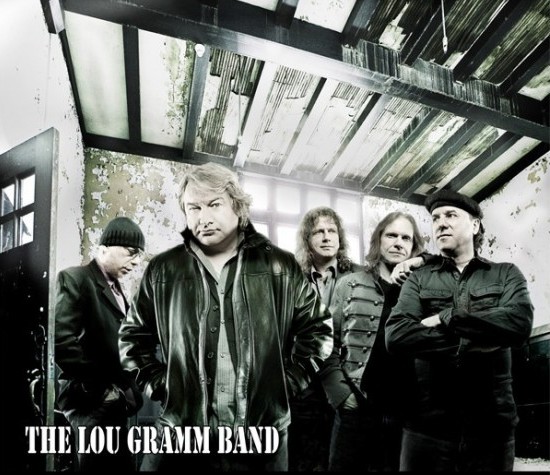 Lou Gramm Band - Lou Gramm Band [Spectra Records]
Former Foreigner lead singer Lou Gramm is back with his band's debut album. The band features former Black Sheep guitarist Don Mancuso [also see Lou's first solo album and more recently D-Drive w/ singer Phil Naro], brothers Ben Gramm [drums] and Richard Gramm [bass & backing vocals] as well as keyboardist Andy Knoll [also of D-Drive]. Lou Gramm has assembled quite a band, with Mancuso, Knoll, and the Gramm brothers all contributing to the songwriting, and Mancuso delivering some cool solos.
Lou Gramm's health issues would force him off the road with Foreigner years ago and after a return, he would leave again in 2002 for good. Gramm's health would lead to a change in his appearance, as well as contribute to changes to his voice and a change in his life, with this album having a very spiritual attitude with often Christian lyrics.
The Lou Gramm Band disc boasts a number of great tunes with "Made To Be Broken", the lead off track - being a classic memorable Lou Gramm pop-rock tune, that sits in the class of "Midnight Blue" and Foreigner's "Say You Will". There's plenty of upbeat and up-lifting stuff here, such as "Willing To Forgive", "Baptized By Fire", the rockier "Rattle Yer Bones" and the harder edged "So Great" which features gospel styled harmonies on the chorus. There's also a cover of Billy Preston's "That's The Way God Planned It", which really suits Lou's voice these days [and it has noticeably changed in places]... reminds me of his vocal and melody on Foreigner's "You're All I Am". Another great choice of a cover here is George Clinton's "(I Wanna) Testify)", where Lou and his backing singers deliver gospel-styled vocals over a classy funky rock band performance. The disc closes out with the ballad "You Saved Me", complete with the RHEMA Gospel choir on backing vocals.
Give it a few listens, Lou may sound different, but he sounds great and he can still come up with an enjoyable batch of melodies. Check out: www.lougramm.com
---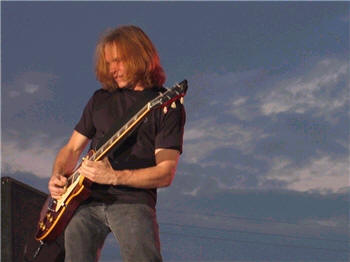 Following is an exclusive interview with Lou Gramm guitarist Don Mancuso (there is a previous interview with Don at Universal Wheels upon the release of his solo CD years back) Please check out : www.donmancuso.com
How easy was it for you to jump back in to a band with Lou? You obviously remained friends since the Black Sheep days.
Very easy. Iíve played with him on and off since 1973 in Black Sheep. Weíre very good friends and enjoy writing together a lot. We have a good chemistry.
Can you comment on Lou Gramm and how he is to work with since last leaving Foreigner, and how his past health issues have affected his voice?
Heís basically the same to work with. Tough after being in a band like Foreigner and top for all those years. Actually thatís more of what affected his voice than the illness. Iím sure Kelly will sound different after singing those hits for 10-15 years live. Thereís a lot of screaming and super high stuff that takes its toll on any singer no matter how high they sing. Lou is lucky that he wasnít just known for that. He has a soulful phrasing thing and "big TONE" that heís known for more than the screaming thing.
The only thing the illness did was to make him have to work longer and harder to regain his strength and stamina. He was never assured that he would ever be able to sing again, or live.. Heís very lucky. And singing great!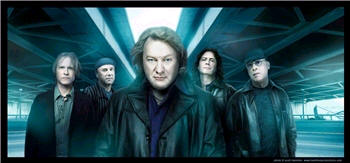 How long has The Lou Gramm Band CD been in the works?
5 years
You co-wrote 4 tracks on the new album. How do you and Lou write together. just swap tapes and ideas?
I just brought him 20-30 ideas that I had and thought he might like and he picked 6 of them out that he liked. The other 2 are each on the European and Asian imports on Frontiers Records as bonus tracks. One is "Our Lord Never Fails" (which we shouldíve sold to the Ford company as (Our Ford Never Fails) LOL!! The other was called "Itís Not To Late". Iíd really like to get copies of those! Then we just jammed them with the band to get the arrangements that Lou wanted.
Can you comment on some of the songs you had a hand in -- "Made To Be Broken" is an instant classic and "Willing To Forgive" is my next favorite here. "Rattle Yer Bones" is a cool rocker as well.
Oh ya. Made To Be Broken I actually came up with in the studio when we thought we needed extra music. I love writing like that - off the cuff and so does Lou. Has a certain feel thatís fresh. Willing to Forgive was written musically when I came in with it, but the band took it to another level along with the melody that Lou sang.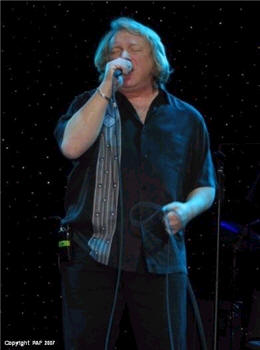 Many of the songs have a very spiritual or Christian theme. Is this a fairly personal album on Lou's part?
Yes. Heís been wanting to do this since 1997, but none of musicians he was working with saw any potential monetarily and wouldnít do it.
Aside from songwriting and playing, what sort of input into the production and song choices [covers] did you have?
Lou had the main input, but we all had a hand in it.
What are some of your own favorite moments on the CD - be it your performance or the song?
The solo on the single "So Great" (should be available for download somewhere. I would think you can more than likely get it on Itunes) - was something that came out in 1 take and blew me away. Andy Knoll wrote that song and itís as close as we get to a more modern/hard edged type of sound. I love that stuff myself. Awesome song. Other than that my work on "Thatís the Way God Planned It" by Billy Preston was a lot of fun and came out great. Also the guitar on Made To Be Broken hit home for me.
How much of the album are you guys putting in to the live show?
Weíre hoping to have the single in the set soon.
How much of Lou's past [Foreigner and previous solo albums] are featured in the live show? Any Black Sheep tunes?
All the hits that people remember plus the hits from his solo thing that people thought were Foreigner like Midnight Blue and Just Between You and Me. No Black Sheep though. I wish we would. Funny how many people know it and ask for it, but not big enough hits.
Is any of the new songs getting any radio play on the FM dial or otherwise?
Not that Iíve heard about.
What else are you currently up to? Anything in the works with Phil Naro? (D-Drive)
Oh ya. DDrive is going strong both live and we have a new CD that should be ready for release by late this year, or early 2010. Itís a bit different, but our producer thinks itís out best yet. We also have a surprise guest on one tune "Dig Down In The Earth" We had Billy Sheehan (Mr Big/David Lee Roth) play bass on that one. That guy rocks!! Our bass player JT had some personal issues and we had to get things going with bed tracks. I play bass on 2-3 tunes and we had another close friend do a couple for us and then Billy.
He did an outstanding job on the tune and actually rushed getting it done before the Mr. Big tour for us. Luckily JTís back and did the rest. The band sounds great and for anyone in the Connecticut area weíll be playing at the Wolfís Den at the Mohegan Sun on Wed. Oct 21 for a free show. All you have to do is get there and get a seat! Nice place too. Both Phil and I have played there before.
Oh!! And the big thang right now is that Phil sang on a daytime TV show theme "6 Teen" that won an EMMY!! Thatís opening a lot of doors for us at this point. He really deserves it. Besides Lou heís the only one I have that kind of chemistry with. And it goes even a bit deeper with Phil.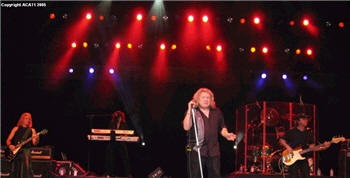 When might we see the Lou Gramm Band up here in Southern Ontario? :-)
Youíve got me, but I hope itís soon!
What are you listening to these days?
Jeff Beck, Incubus, The Offspring, Beatles (still), Hendrix ( I work with his cousin Regi also. He did the "Voice" on the intro and the speaking parts behind my little white boy rap thing to the title cut off of the last DDRIVE cd Straight Up The Middle), Kings X, Michael Buble, just about anything that has energy, a great groove, a lot of passion and soul.