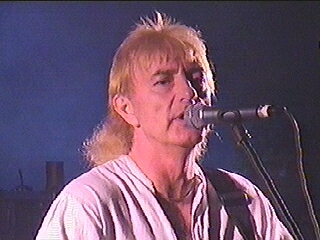 British singer John Lawton [see Uriah Heep, Lucifers Friend, John Lawton Band...] is currently set to finish his latest project 'On The Rocks'. It is a collaberation with ex Focus guitarist Jan Dumee, and also includes a number of Brazilian musicians. Aside from that John has also sang "It Won't Last" from former Heep bandmate Ken Hensley's new concept album "Blood On The Highway". John's performance is outstanding, and the album's favorite cut amongst the Heep-family followers.
Here John gives us an update and details on his latest project On The Rocks, as well as his thoughts on his recent work with Ken and other gigs on the go.
Thanks a load to Mr. Lawton for being so kind in answering my questions.

Enjoy the read, and check out John's sites......
---
Q - You are currently working with Jan Dumee, making an album under the name 'On The Rocks'. What can you tell me about how you hooked up with Jan, as he was the guitarist in the latter day version of Focus?

JL: Actually, I hooked up with Jan via our good friend Rodrigo in Brazil, he put Jan in touch with me. Jan was the guitarist in Focus after Jan Akkerman until recently... Jan Dumee is an excellent musician with great ideas and so we decided to do a project together.

Q - Jan is really in to the South American [Brazilian?] music scene and On The Rocks also includes a number of Brazilian musicians. How familiar are you with the music there and what was the appeal to take on such a project?

JL: I am not too familiar with the scene in Brazil, only what we all consider to be Latin American Rock ie. Santana etc :-), but they really have a healthy rock music thing going on. I think it was hearing some of the earlier work that Jan has recorded in Brazil and working with musicians who have a different feel towards Rock/Blues music.

Q - What can music [and John Lawton] fans expect from On The Rocks? Will this be something very different sounding, or will there still be some very distinctive John Lawton blues-rock? [any tidbits you can mention?]

JL: I think this will be different sounding, I can already hear traces of Lucifers Friend in there. Jan has a feel of Peter Hesslein (Lucifers Friend) in the way he plays and composes. Also the guys put a different slant on the way the material is recorded and it just feels right. I can tell you more when I have the vocals down. But I have always tried to do something different on every new recording I do. I am at that age when I can take a few musical risks :)

Q - As Jan is a little bit younger than you, is he very familiar [a fan] of things you did with Lucifers Friend or Heep?

JL: He is familiar obviously with Heep but not so much Lucifers Friend...but that's okay :)

Q - You are also doing a few gigs with the likes of The Rock Classic All-Stars [some interesting names there], The Mary Rose Band, and Five Fifteen. What can you tell me about some of these shows, as far as how they come about and what stuff you sing on?

JL: Well the Rock Classic All-stars is a bit of fun really, it's a collection of singers and musicians with a history behind them, getting up and doing the "Hits" for a good cause. In this case, it was for Animal Rights, which is something I support. Mary Rose I have played with before on a couple of occasions, good Slovenian band, 5-Fifteen from Finland also a good band, and BTR from Bulgaria. These guys are all into rock music and of course - Uriah Heep. So the invitation to sing with them is nice.

Q - What sort of songs do you do with these bands - their's or your's and Heep stuff?

JL: Mostly Heep material, that's what fans want to hear, but some songs from "Still Paying My Dues" and a couple from "Sting In The Tale".

Q - You sang "It Won't Last" from the new Ken Hensley album. How did you end up doing that song, in particular? It suits you well [did you have any choice of songs or did Ken set that one aside for you?]. What did you think of the song Ken had presented to you and the finished track?

JL: Ken asked me to do a track on his new album and I was presented with that track to sing. Whether he put that to one side or not, you had better ask him :) Overall I think the album is very good - well played and well sung by everybody. I know there are a couple of older songs of Ken's on there, but in the context of the whole idea of Blood On The Highway, they are part of the story he is putting across.

Q - Were you in the studio for very long, aside from It Won't Last, perhaps with any of the other sings? Any comments on any of the other performances from Glenn Hughes, Eve Gallagher or Jorn Lande?

JL: Actually only a couple of hours of singing. I drove up to Ken's studio in Alicante (Spain) from my place in Southern Spain, so it's about a 4/5 hour drive. I didn't meet any of the other singers until the live show in Hamburg. Jorn is a fine singer in true David Coverdale style :) and Eve is just great, close your eyes, and it's Tina Turner :) The only negative is Glenn; I am a big fan, but I think the choice of songs for him was wrong, but he does what he does well.

Q - What do you think of the finished Blood On The Highway album and story? Was there much of it, lyrically [such as It Won't Last] that you could relate to or that brought back any memories [baring in mind this is mainly Ken's story and you each took different approaches and paths]?

JL: As before, I like the album a lot and Ken has put a lot into it, but that is his outlook on his past and good for him.

Q - Is 'On The Rocks' the only major project for the foreseeable future, or might there be another John Lawton Band or solo album in the not too distant future?

JL: At the moment On The Rocks is what I am doing and preparing, apart from doing some European gigs with the other guys. JLB or solo... hmm !! who knows in this business, you just never know :)

Q - Are you in touch with the guys from the JLB [Steve Dunning, Erol Sora.. or even Peter Hesslein] - that may have something to do down the road?

JL: Yeah I am still in touch with the JLB guys and I met up with Peter Hesslein at Ken's gig in Hamburg.
For further information, check out all of John's websites: www.myspace.com/johnlawtonmusic , www.johnlawtonband.com ,
www.otr-band.co.uk , www.johnlawton.org