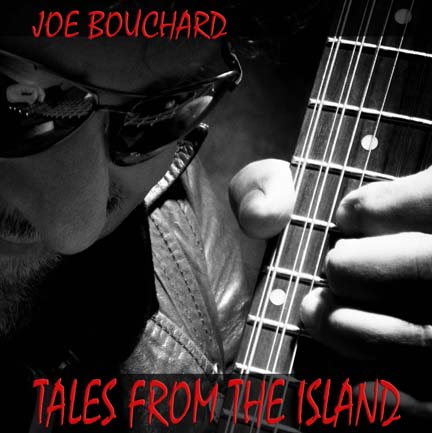 Joe Bouchard – Tales From The Island
Founding member of Blue Oyster Cult Joe Bouchard has been a busy man the past few years. After finally releasing his first solo album in 2009, he soon recorded with brother Albert and Dennis Dunaway to release the first Blue Coup studio album, and is back already with his second solo album –
"Tales From The Island". Tales is a complete solo album with Joe playing and singing everything! He's penned 8 of the 15 tracks, with artist/songwriter/friend John Elwood Cook writing the other 7. Cook's "Dark Boat" featured on Bouchard's first solo album. One thing Joe cannot be accused of is riding on past success, because "Tales…" (like "Jukebox In My Head") offers so much different stuff, this will appeal to far more than just BOC die-hards. It's a mix of pop, rock, Americana, almost folky at times, telling stories, and using a wide array of instruments – many fairly unusual for traditional pop/rock efforts [banjo, trumpet, mandolin…].
"Retro Rockstar" is an early favorite, an uptempo guitar rock tune, a very catchy and memorable tune about an aged rock star who is still out there at the local bars trying to re-live his glory days [hmm]. That, as well as the straight ahead hard rocking "Heart of Wine" [co-written w/ Richard Meltzer] and the slow paced heaviness of "Your Dark Secrets" [co-penned w/ the late Helen Wheels] featuring some cool slide guitar, will easily appeal to the old BOC fans. Story telling songs of travel and adventure are always in Joe's repertoire, so songs like the rocking "Roadtrip", "The Pub That Never Closes", and the softer acoustic "Motel Tropico", along with John Elwood Cook penned tracks like "Parole", "Perpetrator", and "Wild Lands"
- all make for pretty imaginative listens. Classic Cook penned tunes in "Midnight In River Town" – a beautiful summertime feel to it on the acoustic guitar, and "Katrina (Jesus The Fixer Of Broken Hearts" - a more atmospheric tune, and those that enjoyed "Dark Boat" from Joe's debut album will easily dig this one.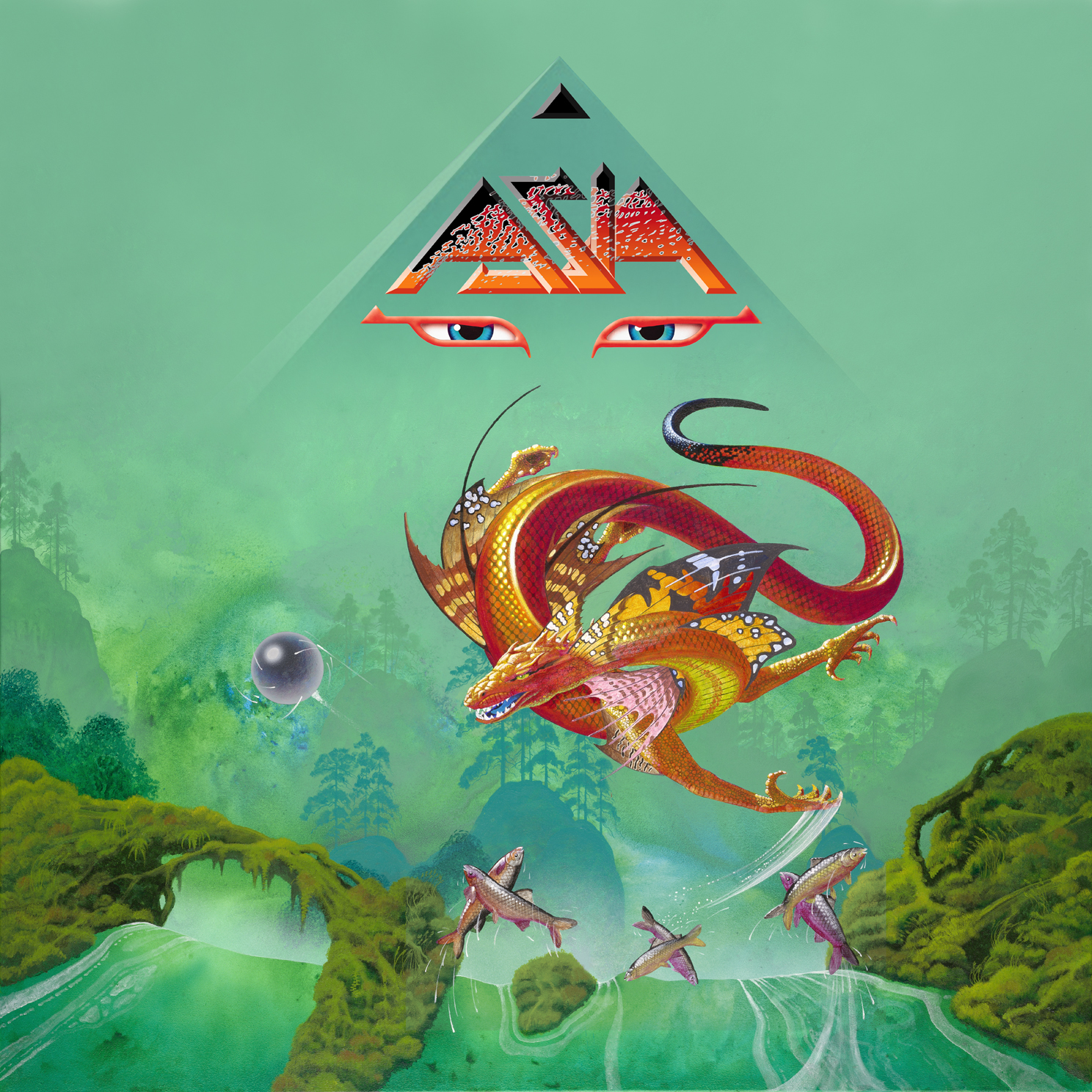 Asia – XXX
Having been enthused about the return of the original Asia since the beginning [2006?] – I have enjoyed a lot of the bands previous 2 albums "Phoenix" and "Omega" , both featuring a few classy 'classic' Asia songs, that would sit nicely along "Heat of The Moment", "Only Time Will Tell", and "Don't Cry", but "XXX", also produced by Mike Paxman [Omega] – has to be the best complete album the band has come up with since their 1982 debut album, that was monstrously huge, worldwide. The album [CD & Vinyl] comes sporting an updated dragon by legendary artist Roger Dean [to match most other Yes & Asia covers!]
More upbeat and rocking than the previous 2 albums, "XXX" is a more enjoyable listen straight through. The disc opens with a classy Geoff Downes piano, kinda quiet, before kicking in to "Tomorrow The World", a faster paced pop rocker,
so easily likeable, with such a great vocal from John Wetton;
one of the band's best songs – period. And altho this is THE best track
IMO, the album carries on with classic aor rock, pop, a couple of ballads, prog stuff; there may not be a "Heat Of The Moment" for this decade, but like the debut – every track is a good listen, and there's no filler thrown in to clog things up.
Faves include "Bury Me In Willow", "Face On The Bridge" – which is the band's first single & video, and closing epic-ballad "Ghost Of a Chance", where Steve Howe's solo really stands out. Asia fans will easily enjoy tracks "Judas", ""Al Gato Nero", and the ballad "Faithful" [2
nd
single / video].
Lots of smooth harmonies; and regardless of age – John Wetton, Carl Palmer, Geoff Downes and Steve Howe – haven't sounded this energetic on disc in years.
Special edition of "XXX" comes with 2 bonus tracks and a DVD including the 2 promo videos, and a 'making of' film; also comes in limited edition vinyl!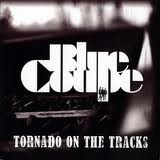 Blue Coupe -

Tornado On The Tracks
The debut disc from these 3 veteran rockers, founding BOC members Joe & Albert Bouchard, as well as original Alice Cooper Band member – Dennis Dunaway.
A great live band, with plenty of classic rock tunes to their names, and now "Tornado on The Tracks" – a studio disc of 10 new tracks [including a nice cover of The Byrds' "Dolphin's Smile"].
Tornado On The Tracks is full of solid rock tunes that won't disappoint fans of either alumni bands, and not to mention these guys are turning out something new & fresh sounding, less like old folk rockers and more so like a young band still trying to make it!
Features the track [and single / video] – "You (Like Vampires)" penned by John Elwood Cook – a classic rock song and great lead off to this disc;
Joe seems to adopt these songs and deliver them so smoothly! Aside from The Byrds' cover, which is about the lightest tune here, Tornado rocks with heavier tunes like "Angel's Well" – featuring Doors' man Robby Krieger on lead guitar, "Tornado Warning" w/ Albert's vocals, and "Man Up" also featuring Krieger on slide guitar. These guys can also still write some memorable pop oriented anthems, particularly Dennis' "God I Need You Tonight" and "Waiting For My Ship". The latter showing the guy still has a sense of humor, and "Waiting…" features Dennis on lead vocals; a standout song that AC fans will really dig. "Deep End", one of Albert's tunes is a darker tune, and perhaps the closest to the classic BOC feel.
Tornado offers up a good range of stuff too, and the guys harmonize on a few gems with Dennis' anthemic "Untamed Youth" -
with Joe singing; and the almost country rock feel of "On The Darkest Night", with Albert's vocals and Joe on slide guitar.
A mighty enjoyable disc, that gets better with multiple listens. Here's looking forward to the next one!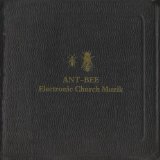 Ant-Bee

-

Electronic Church Muzik
I was forewarned that this was different. Well, ok – but Ant-Bee [aka Billy James] has a wide array of influences and a long list of '70s music legends to help him out on various projects. The guy is a great drummer, as well as singer, producer, author, etc... On this album there's plenty of little 'tracks' and full of twisted psychedelic excursions, talk ["snorks"], sound effects, … then again this is coming from a guy hugely influenced by the likes of the Mothers of Invention [a few of whom appear here], the first few Bizarre Alice Cooper albums [Michael Bruce is on here too!], Gong, Utopia, and other more 'left-field' stuff of the late 60s/early 70s era].
Not a rock album by any stretch, but interesting to say the least, and it includes some very likeable and worthhwhile to check-out covers, such as "Living" [from the first Alice Cooper album – "Pretties For You"], Todd Rundgren's classic "Don't You Ever Learn" – featuring Murphy Brock on vocals [I thought this was Glenn Hughes at first!], and Peter Banks "Endless Journey" [w/ Banks also on guitar], as well as a few interesting originals, like "Flutter-Bye, Flutter-Flye" – a quiet track, co-penned by Michael Bruce [who also plays on this one], and "Sectrets Of The Dead" – co-written by the late Bruce Cameron, who also performed guitar & sitar on this.
A unique project, and one that is far from the usual 10 track pop-rock/rocker/ballad format; this one being 22 'tracks' long, and one that requires a few listens to see how far-out this really is. Kudos to Billy James for coming up with such a unique listening experience; aside from writer, producer, and arranger, James also does a stand-out job as drummer, keyboard player, and singer throughout much of this.
Running Wild – Shadowmaker
Long standing German metal band, which seems to really be singer/writer/guitarist Rolf "Rock n Roll" Kasparek. Having checked out the band's earlier stuff, "Shadowmaker" is a bit more accessable, perhaps due to the production, and varied songs , but this still kicks ass with some well written tracks like "Me And The Boys", "Riding On The Tide", and "Piece Of The Action".
Solid vocals and plenty of big 'choir' produced vocals on the choruses; huge guitar sound, with loads of cool riffs and solos. Reminds me some of the latter day Saxon stuff I've heard .well worth checking out.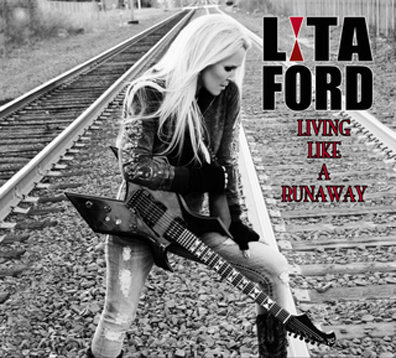 Lita Ford – Living Like A Runaway
Former Runaway [hence the album title] Lita Ford returned to action a few years back, after 14 years away from rock n roll, and this her 2
nd
album since then is a nice surprise. "Living Like
A Runaway" is a pretty heavy album, with thick, heavy, melodic guitars, new rock production ideas, and Ford sounds good. Anyway, it starts out heavy and promising with tracks like "Stranded", "Hate", and "The Mask", and the laid back title track is a good song, as is the heavy power-ballad "Asylum". A more personal album, co-penned by Michael Dan Emhig, which apparently ties all this together. Things pick up again, briefly with the mid-tempo'd dark rocker "Devil In My Head", cool tune. A very good album, one well worth hearing, despite things easing up after the first 3 killer tracks.