An Interview with Songwriter
John Elwood Cook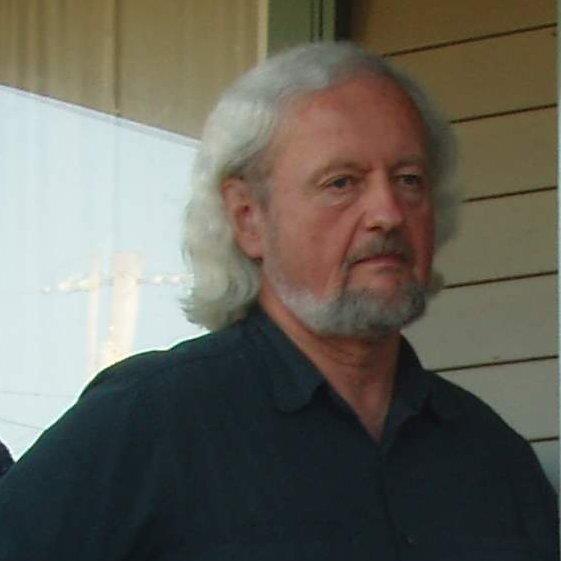 More known as an artist, John Elwood Cook is also a songwriter whose contributed a number of songs to Joe Bouchard's [ex Blue Oyster Cult] latest solo album, as well as tracks to Joe's debut solo album and Blue Coupe's debut album. For those that have heard these albums – among John's story-telling songs are "Dark Boat" from Joe Bouchard's "Jukebox In My Head", "You (Like Vampires)" from Blue Coupe's "Tornado On The Tracks", as well as "Parole" and "Katrina (Jesus The Fixer Of Broken Hearts)" from Joe's new album "Tales From The Island". You can watch it here. Check out John on Facebook at:
http://www.facebook.com/#!/JohnElwoodCook
.
You can also check out some of John's renditions of his songs on Youtube.
Thanks to John for his time in providing insight and recollections about his songs.
---
You're an artist first, but a songwriter as well. How long have you been writing songs, and what usually becomes of them?
When I was 15 I picked up a 1928 Gibson LO for $50. I bought it from an old lady who lived next to my aunt. I can't remember a happier day. I got a book and as soon as I learned a few chords and had a basic idea of what I was doing I started making stuff up. Like the art I was compelled to do it. I went on to study art via degrees but never took a guitar lesson. I don't think it matters either way. The art and the songs come from the same place regardless of the preparation. I have written 100's of songs that my friend Dan Picchioni and I have developed mostly for our own amusement. Years ago he was in bands that played out in bars and they did some of my drinking songs. Apparently, they went over. My son also plays(better than I do) and we collaborate. Personally, I'm a recluse and none of my songs were exposed to the real world until Joe came upon "Dark Boat." I was very pleased with his interest, concept and interpretation. Obviously, we wouldn't be having this interview had that not occurred.
You grew up with the Bouchards [Joe and Albert]…. Had you kept in touch with them much throughout their 'rock star' days in BOC? [Any tales?]
During the Blue Oyster Cult days my main contact with Albert and Joe was through their family. I kept up on their exploits but they were always touring. I have nothing to report. No tales.
Joe recorded 'Dark Boat' on the first album. That is a favorite of mine, a great song on the album. Curious how you felt about a) Joe wanting to use your song[s] and b) how happy were you with the final recording? Can you tell me what that song is exactly about? I get the impression that the 'dark boat' and 'taking one last look around' refer to having a last look while on this planet[!?]
Thank you for your connection with "Dark Boat." I can elaborate on that song's origin. My father died. He was a riverman and he died by the river. Actually, he died in hospital but in reality he died by the river. That's what the "I'll have one last look around if you don't mind" is about. I envisioned the dark boat rowing through the Gananoque Narrows about a mile out in front of our house. Six months before it had come for my mother. Gananoque is a little river town. He was born near there on a willow point. I know he wanted to die here. The "skate away"analogy is a tribute to my grandfather's brother who used to skate miles cross river to a border town "when the ice froze slick on the bays". I thought it was a perfect metaphor for the release of the soul.
What do you draw from for lyrics? You tend to pen stuff about the outdoors, relationships, even vampires.
I write songs in many categories. Lyric source depends on song category. Some of my work is straightforwardly satirical and some extends the imagination. Most ideas come internally, from situations or experience but I do also write employing visual arts collage techniques. I extract words and phrases form newspaper articles, movies, reviews, obituaries, tv shows etc. that I combine with my own ideas. I have a song based entirely on critics' quotes and my Walken song is derived from a play review. I wanted to work something up for the Bouchards since they had the famous Saturday Night Live connection and I'm delighted with the way Joe did this. Christopher Walken is walking her home. That's my work but some of the words and phrases are "found" in the same sense that collage or assemblage pieces are " found" and then organized. The trick, of course, is to realize the potential. I hope this isn't too pinheaded. My art background does affect the way I approach writing.
Blue Coupe did an extraordinary job on "You(Like Vampires)" and their performance was recognized by making it through the first round of the Grammy nominations. I really appreciated that since none of my work had even been heard much less recognized. That song encompasses two references in your question. The song is about a malignant relationship that is nonetheless destined to endure. The vampire concept is a simile that describes that failed relationship. You run through me " for everything that's missing in my" sums up the inception of the relationship and it's eternal futility. Like vampires.
http://www.youtube.com/watch?v=85L1vekEcvM
Can you give me a couple of lines about the songs Joe recorded for "Tales From the Island", such as when they were written and what may have inspired the lyrics? ["Katrina" is one of my fave tunes on the new album]
'Katrina' obviously came from the hurricane. Three years later I crossed the Lake Pontchartrain bridge into New Orleans. I was met by a huge billboard Jesus towering over the blue tarps still remaining on the roofs below. Beneath the image were the words "Jesus the fixer of broken hearts". I recalled Bush's feeble effort to view the destruction by flying over. I conjured an image of Bush spotting Jesus (and probably some angels) heading for New Orleans at the precise moment he was hi-tailing it back to Washington. Flying Jesus imagery was about all the people had to hold on to. The song recounts that idea. I think Joe's use of the combined banjo and trumpet is really innovative.
"Wild Lands" is intended as a north country song. The "true northern woman" line should be sung in bars. I think it would connect. Joe puts in a nice country touch and his version improves on mine.
"Perpetrator" came from an old Lee Marvin movie combined with images from a Kevin Costner cowboy film. Both were morality tales and the crime and punishment theme is extended to a love relationship. Perpetrator see what you've done.
"1000 Midnights" is a song about vengeance and mortality. I wrote this with Joe or Blue Coupe in mind. The Sisters of Mercy may have exonerated you but you are still left with what you are. (And) Deep inside your heart there's a 1000 midnights.
"Midnight in a River Town" is a heartbreak country 2 step dance tune. "We walked beside the water and watched as the waves rolled in on our lives. Each one like the other till the river ran dry" finalizes the relationship but - "it's midnight in a river town and I'm still loving you" signifies the futility of a broken heart. Dance on. Joe's mandolin is a great touch.
"Parole" - 'Smells like a felony and I'm on parole says it all for this song'. I've never been arrested so this is conjecture.
What sort of music do you listen to?
I don't listen to music as I did when I was young. I've always been a proponent of just enough education, at least for arty types. I listened to just enough old blues, Tom Rush, Fred Neil. Jesse Colin Young, Jesse Winchester, Snaker Ray, Bert Jansch, JJ Cale, John Prine and Johnny Cash to develop a style of sorts. Obviously, everybody tried to emulate Dylan. Lou Reed, Neil Young and Tom Waits are the best. I admire Leonard Cohen, Joni Mitchell and Jack White who's intelligence and diversity are exceptional for a man that young.
Any plans to record some of your own songs for CD release?
I don't sense there is any public outcry for me performing my own work. I did perform when I was young but never really had the nervous system for it. I don't think relative maturity has altered that. However, I have received recent favorable response to my work and I am encouraged. I put a few things on You Tube and so far haven't even delved into my drinking songs or my river songs and I do feel some obligation to do something before it's too late. I am hopelessly disorganized. Thank you so much for your interest and insightful questions.
---
Review: ©June 2012 Kevin J. Julie / Universal Wheels / TravellersInTime