AN EXCLUSIVE INTERVIEW WITH
JOE RETTA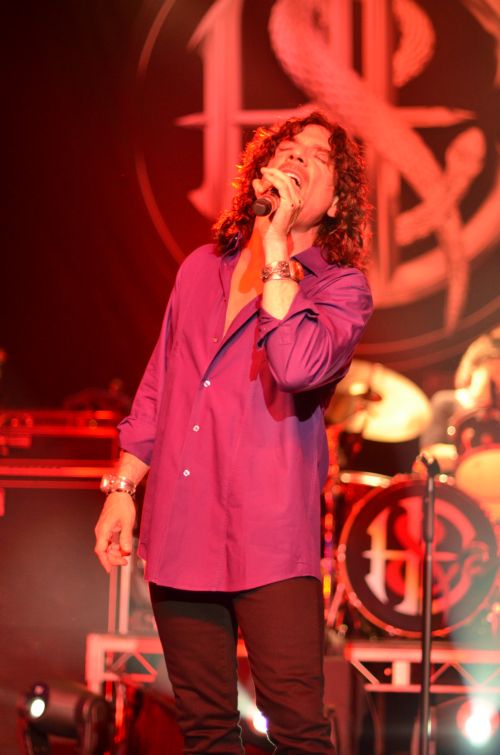 Joe Retta is the new singer in Stuart Smith's band "Heaven And Earth". The Rochester, New York born singer, also performs with Steve Priest's version of The Sweet.

Prior to The Sweet Retta made a name and living performing with various tribute bands, doing commercials, and whatever else came his way. But on the Heaven And Earth album "Dig" - Joe is finally leaving his own mark, and really helps to make "Dig" a classic album. The guy sounds killer on Dig; has his own style, and is another great singer in this outfit, easily following in the footsteps of such names as Kelly Hansen, Joe Lynn Turner, Kelly Keeling and Paul Shortino -- all of whom who've sang on previous H&E albums. But with the addition of Joe Retta, [as well as longtime drummer Richie Onori, keyboardist Arlan Scheirbaum, and new bassist Chuck Wright of Quiet Riot] -- Heaven & Earth sounds like A band, and a great classic rock band at that. Joe, who also contributed to the songwriting on Dig, fills us in on his career, his influences, and the new album "Dig".

For more on Joe Retta, check out : http://thesweetband.com/joe.html

You can order "Dig" at: http://www.amazon.com/dp/B00BNWWUJ8/ref=cm_sw_su_dp
---
Can you give me a few lists of the following --- a few fave bands growing up, a favorite singers, a 'Top 10' of favorite albums from your youth?

Wow everything 70's, too many to name. 60's too. Anything with soul. I'm a huge R&B fan (Stevie Wonder, Aretha etc…..)

Favorite rock singers: Janis Joplin, Steve Marriott, Ronnie Dio, Brad Delp, Steven Tyler, Robert Plant, Dan Macafferty, Steve Walsh, Paul Rogers, Edgar Winter, John Anderson, Lou Grahm. I could go on and on. My R&B list is even bigger. I'm a big Jazz fan too. as well as Classical. When I'm driving classical relaxes me. I love all music. Latin, Africano -- anything with a groove.

Top ten? Impossible. I have love for so many. To measure like that would be unfair. Plus my taste varies on my mood.

And yes I love HEEP! That's my point - so much great stuff. I will say that was blessed to grow up with the music of the era. Before "Frampton Comes Alive" big business was not involved with the industry and so much. And radio play was open to the best of everything. All styles. Yes' "Roundabout" ('1972) was in the Top 40 and it was almost 10 minutes long!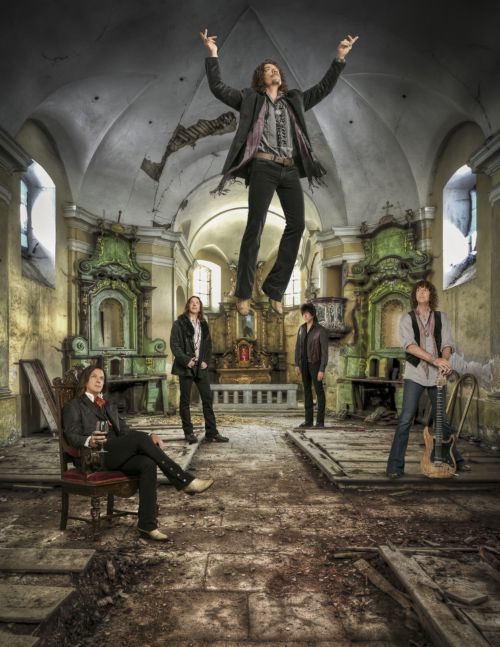 You're from Rochester, NY; a great city for some legendary rockers. How familiar are you with some other Rochester acts?

Rochester, Lou Gram (Lou Gramatico) was a home town hero. He played at my High school with his band "Black Sheep". Ronnie Dio (another Pizan) is also from upstate N.Y.

It was pretty cool to do Sweet shows with The Lou Gramm Band on the same bill these last few years; Lou survived a brain tumor and sounds better than ever these days. His brother and other local Rochester boys make up his band. So when I go home to Rochester every summer, some of the guys and I hang out. Donny Mancuso, his guitar player and I stay in touch year round.

Having been in tribute bands to Zeppelin, Queen, and Dio [?] -- what have been some of the biggest gigs you played with these acts, and have you ever had any feedback from the actual bands [bandmembers] ?

Tribute gigs have been a blast, especially for fans who can no longer see the original groups. Sometimes they're excited the same as if they're watching the original act.

It's the songs of coarse that are so special to people. Another amazing thing is how young the audiences are - I'm talking 14 years old and singing every word, And their parents are right beside them rocking right along. Pretty cool.

Led-Zepplica has toured all over Canada twice. (bus tour) Every big city, Full production, Video screens with multi cameras, 2500 to 5000 seaters. We've played India 4 times, Chennai, Bombay, Mangalor and one other and ALL over the US.
Queen Nation has been mostly domestic (US) again very diverse ages. Headlined Las Vegas New Year's Eve 5 times; I really like the Hilton Theater (Celine, Cher, Barry Manalow, Elvis. HUGE stage!

Holy Diver (Dio) was just for fun, but Ronnie's camp caught wind of us and had us perform for Ronnie Jame's "Anthology" record release party a few years ago.

I sang "Ronnie" in front of Ronnie! I picked on him a bit. At the end of "Rainbow In The Dark" I sang….. "Yoooour A raaaainbooooow, in the light, In the Dark, in the sky, in the sun, in the shadooooowwww. (Poking fun at his past lyrics). And I see him across the room staring and pointing at me. Moment of silence... "Sorry Ronnie" I said over the mic. The whole room busted up! He was so cool, treated me like a brother and then procedded to choke me a photo op.

I later was asked to sing at his memorial. A total honor.
Have you been involved in many studio recording projects prior to work on the forthcoming Heaven & Earth album?

I did a lot of out of country records – Japanese, German, European. With most of them I was never given a copy of the recording. One of the few I do have was with "Miami Sound Machine" - Everyone in the band but Gloria! The guys wanted to do something outside the "pop" box I guess. It was very Latin but at the same time more modern.

I've also done radio commercials for beer and other products.

I couldn't commit to a touring band in the 80's because I was raising two young daughters on my own.

Do you write and play your own material as well? If so, can you describe your own music and writing?

There are a lot of songs I have written in the interim, but just like my drawings or paintings - I finish them to a degree and then put them away in a box And then on to the next; I don't need to hear or see them again. I express myself and move on. I write better when I can bounce off someone else. Even if I just get a simple groove from someone. I can step back and let the music influence me to a feeling and then storyline. If I do it all myself I get too hung up on which hi-hat I should have used or keyboard patch etc. I can't separate myself from the mechanicals. "Dig" was a good process in this regard.

What are some your favorite Sweet tunes to perform and what's your fave Sweet album[s] to hear?

Sweet - 'hits', the radio hits! Great songs. It is so cool to get on stage in front of 20 000 or more people and sing and party with the crowd. Hey I'm one of them. The only difference is I'm on the stage. Again, Sweet fans at our shows are so young and enthusiastic.


I have a picture on my Facebook, these kids look 11 years old holding up a "SWEET RULES" sign, rockin' and singing every word. I stopped the show to acknowledge these little rockers and asked "how do you know this music? Pretty cool parents, me thinks.

Fave Sweet LP[?] -- Desolation Boulevard.

What can you tell me about working with Stuart and was it a natural step to join him in H&E?

Stuart!? Driven, focused and he knows a lot about the business.

How easy was it to accept the invite to join Heaven & Earth, and how exciting of a prospect was it?

Three of us were from Sweet so the transition was no transition at all. And B)- I just wanted to write!


Heaven & Earth has had some great singers on past albums; how do you feel about joining the likes of Hughes, Kelly Keeling, Kelly Hanson…?

You left out Kimball and Turner. You're right - I'm in damn good company!

Having done the various tribute bands, The Sweet, etc… Was this project your first 'huge' venture in to a brand new full album, studio recording?

No, I have done many records but Most 'overseas' … And most I don't even have a copy of! But this is the first in a while that all the songs were co-written by me.

Was there any particular direction or sound you guys were aiming for?

No preconceived direction. I just adapted to the style of the songs; if you give me country - I write country. Give me R&B....etc.

David Jenkins did a great production job, gives this album a big, heavy, live sound and feel. What can you tell me about working with him and what he got out of you guys in the studio?

We've worked with Dave for years with Sweet and other records. It's always easy to work with him. We know what each other is thinking before we say it.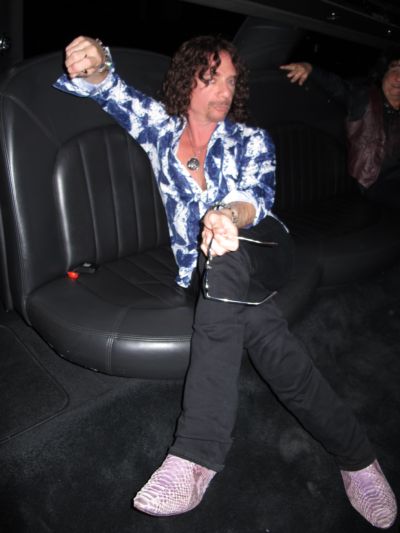 Did the basic songs come mainly from Stuart and yourself? Did you come up with most of the lyrics? [You play guitar. Did you come up with any of the hooks or musical ideas as well? ]

(Writing) Stuart would come up with a title of a song or an opening riff and I would take it in my "Cave" (bedroom studio) and finish the song. (Lyric and melody) and there were always some last minute chord changes as well.
Some times I would rewrite the lyrics to a song 50 times till I got it right.
Other times the first draft was the complete thought.

Some of them were difficult because some of Stuart's titles were "dark" ("Back In Anger", House Of Blues", "I Don't Know What Love Is Anymore") … So, I looked at them like an English writing assignment. A couple of the songs, after Stu giving me the opening riff, I would finish on guitar as well. ("Man And Machine", House Of Blues"). Sometimes it's difficult to write a melody over a song that's given to me complete. "Victorious" and "Good Times" were given to me complete, so I had to adapt and I did but other tunes required some cut and pasting so my melodies would work.

Can you recall the first song[s] you guys put down and what your initial thoughts / reaction was?

The first song was "Back In Anger" Thoughts? I can't recall. I was just ready to write the next one.

OK, can you give me some insight in to some of the songs – either as a writer, and / or any studio tales? I am particularly fond of "I Don't Know What Love Is", "House Of Blues", "Waiting For The End Of The World", and "Sexual Insanity"….. Any favorites?

"I Don't Know What love Is" was almost finished musically when Stuart gave it to me. I changed a couple of chords because it was too 'happy' sounding and the title was so sad. It was tuff because I had to write lyrics to a song title that I couldn't relate too. I said: "I don't feel that way about love". So I had to write empathetically and try to tell a story from the title alone.
"House Of Blues" wrote itself; I took Stu's opening lick and kept it simple. There are only 3 or 4 chords in the whole song. "Waiting For The End Of The World", and "Sexual Insanity" were songs I had to listen to and then let the feel of the song take me to a story line.

There are a couple of different tracks near the end of the disc, particularly "A Day Like Today", which is quite a grand ballad, and very different to anything else on the album. what can you tell me about that song – writing, recording, …. ?

"A Day Like Today" is the one song on the record that I did not have a writing hand in. It was written before by Stuart, Howard Lease and Kelly Keeling. I just had to sing it. But also got to play flute on it. It was fun to put my "Ian Anderson" hat on for a second.


What else do you have in the works or future plans, be it with H&E, solo or other projects?

New stuff!? I want to keep the writing machine in motion. I get ideas everyday. I'm looking forward first to playing these songs on the road for people.

The band's debut show at the Fonda Theater seemed to be a huge success. Is there material from the earlier albums you'd likely include in the live set? And is there a bigger tour in the works [that will see you guys in upstate NY or Southern Ontario]?

The Fonda show was a gas! Crazy night. Yes there are a couple older H&E songs I'd love to do - "Heaven And Earth" (which Jo Lynn Turner sang), for one. Tour? Hope so soon. I'd like to take the show to my home town. I can't wait to get out there and play!
---
Reviews: © Kevin J. Julie (Universal Wheels) April 2013