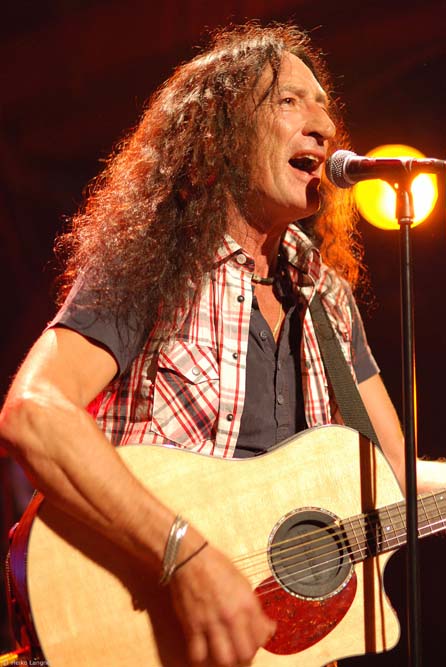 The latest project from Uriah Heep's former keyboard player / songwriter is his most ambitious yet and strongest musically, since his comeback 8 years ago.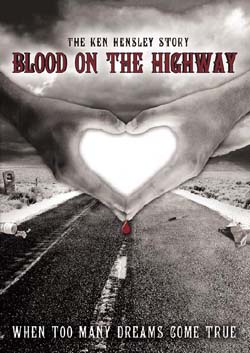 "Blood On The Highway" is the musical companion to Ken Hensley's autobiography "Blood On The Highway - The Ken Hensley Story: When Too Many Dreams Come True" [now in a new expanded version to coincide with the CDs release]. Blood On The Highway is a concept album that takes the listener through Hensley's career and is aided by a guest list of great singers.
The album [story] kicks off with a pair of solid upbeat rockin tunes in "[This Is] Just The Beginning" and "We're On Our Way". Lyrically, these 2 are the positives - one dealing with the 'rock-star' dream and the other dealing with the rise to fame and fortune [from "the back of Benny's Pub"]. Jorn Lande [ex Company of Snakes, Ark, Millenium...largely known for sounding so similar to David Coverdale] sings the first 4 songs here [though Hensley effectively sings the intro to We're On Our Way and injects a bit of the Heep classic "Free Me" in the middle]. From the get-go, it's classic Hensley - with the Hammond, the harmonies [he helped to make part of the trademark in Heep] and Hensley's slide guitar. "We're on our way to fame and fortune; one million miles, ten million hearts, one simple song"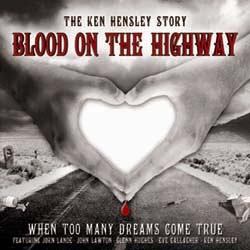 The album's next 2 songs deal with the more negative aspects of the business [the consequences and drugs]. The title-track is a classy bluesy song, in the vein of early Whitesnake, thus fitting Lande's young Coverdale-sounding vocals. "You've Got It [The American Dream]" was first released on Ken's 2002 album "Running Blind", but [as with a few others] - fits the storyline here, so it's given a fresh retake musically and vocally with Lande's powerful vocals, with this version having a good bit more bite to it.
"It Won't Last" is Hensley's warnings of the realities of fame [and applicable to most stars out there], and easily my favorite here. Lyrically and musically very powerful, it features John Lawton [ex Heep bandmate] on vocals, and really - Hensley could not have picked a better song for Lawton's big vocals, along with the heavy guitar, Hammond and Hensley's trademark guitar sound in the solo - the best track he has written and produced in years! "Go on and ride the crest, thinking it's you that's blessed; wear a new coat of paint, act like the sweetest saint, and I know it won't last"
"Think Twice" is another song that gets redone here. Originally from Hensley's "Glimpse of Glory" album, this new take features British singer Eve Gallagher [Missing Link] on lead vocals, sounding very much like Tina Turner. It's a light poppier song, with a memorable chorus and it really seems to be brought to life with Gallagher's vocals.
"There Comes A Time", yet another great song from Hensley's past that fits the story here. Originally recorded in the early '80s when Hensley relocated to the US and was without a record deal. One thing Hensley was always good for [since the beginning of his recording career] was coming up with 1 or 2 good ballads each album. This one, mainly done on piano and a bit softer [see also Heep's "Rain" and "The Easy Road"] features the man himself on vocals. A gentle song about making a big decision.
The album boasts a big rocker in "OK [This House Is Down"]. It also features Lande on vocals and is presented to mirror the in-concert feel, complete with crowd noise and band intro. It's an arena type rocker with great guitar, organ, vocals and a cool chorus – very energetic, play this one loud. "OK [OK], we're glad you're still around; we've got to go, it's sad to say, but that's OK because - this house is down!"
"What You Gonna Do" is the first of 2 songs to feature Glenn Hughes on vocals, and deals with having to come down from being on top of the rock world. It's a smooth soft rock tune. It's got a different feel to it and suits Hughes RnB voice.
Before the next song Hensley revisits the intro to "We're On Our Way" in "Postscript". His story then comes full-circle on another powerful ballad – "I Did It All". This one is sung by Ken himself, which is perfect as it is the most personal song here, so who else should be singing it? It's got a great chorus, strings, and delivered with a good bit of emotion. It signals the end … or does it? "And if you ask me how I am today, I can turn to you in truth and say – I did it all and now at last I'm doing fine."
The disc ends with "The Last Dance", the title track to Hensley's previous disc. It's a great story and song, which leaves the question as to what exactly is 'the last dance'? Regardless, it a classic Hensley epic. This version has the added touch of strings, And [gulp] – features Glenn Hughes on vocals. The only puzzling piece on the disc, for me, is why Hughes is singing this song. Maybe I'm just so used to Ken's original, but as much as I love Glenn Hughes – on Glenn Hughes songs, I don't think this one suits his vocal escapades, and thus loses a good bit of the 'drama' of the original.
Oh well, a great album, and easily the best thing Ken Hensley has written and produced in over 30 years. There's a lot here lyrically and musically that will ensure plenty of plays. Most impressive is that the best songs are the newest ones, so here's hoping 'the last dance' will open a new door to more Ken Hensley music!
*Credit must also be given to an outstanding cast; Ovidio Lopez [guitar], Antonio Fidel [bass], Juan Carlos Garcia [drums, Vicente Ruiz [piano] and co-producer & engineer – Dani Saiz.
For the latest information, please visit: www.ken-hensley.com or www.myspace.com/kenhensleymusic
* [Ken photo credit: Russell Smit & Lex van Zonneveld]