URIAH HEEP & RELATED REVIEWS
Well, this section will be for the wayward Heep and Heep related releases of the past few years that, through various reasons - I never did review. Normally, I review what's sent to me, but this is a Heep fan's site, so I'll run through some things I never have reviewed....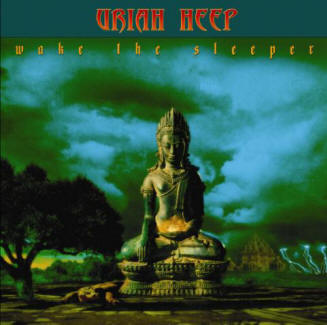 URIAH HEEP - Wake The Sleeper
Heep's latest, and long overdue. WTS features the first Heep line-up change in 20 years, that being new drummer Russell Gilbrook replacing Lee Kerslake. And as much as Kerslake was a vital part of Heep since 1972 [save for his work on the first 2 Blizzard of Ozz albums], Gilbrook has come in and given this recording a real new energy boost. I will say 2 things up front -- first, I am not crazy about this Heep album [or more so - any particular songs from it] as i was with Sea of Light [1995] or Sonic Origami [1998], due to the songs [more later]. Secondly, I appreciate and understand what the band was trying to accomplish on WTS, and to a great degree they have and it should appeal to more old fans for this reason -- Heep wanted to create a heavy album, much in the vein of the heavy tracks from Look At Yourself; lots of heavy 'wah-wah' guitar and lots of hammond organ. For the latter reason, there really are no ballads, acoustics or lighter keyboards as Heep reestablish themselves as a major heavy rock band. It is the heavy sound that initially hit me with this album, as opposed to any songs though.
The album opens with the title track, which is largely an instrumental, a fast paced frenzied track loaded with hammond and Mick Box's wah-wah guitar, oddly I usually skip this. WTS features a couple of tracks that stand-out for me above others, those being "What Kind Of God", which starts with a military beat from Gilbrook, which suits the songs subject. It is a great performance all around, and builds nicely after Bernie Shaw's vocals, into a bass solo and then heavy guitar kicking in to take it to the end. I just wish this song went on further, as it has potential to be a huge classic epic Heep track. The other song of note is "Angels Walk With You", which is a slower paced almost bluesy track, which features quite a vocal from Bernie Shaw. One thing about Shaw on this album, is a number of songs really showcase him as more than just a great aor / hard-rock singer, particularly on the 2 tracks just mentioned.
One slight disappointment of this album is the lack of Trevor Bolder penned songs here. Bolder contributes Angels Walk With You, as well as "War Child", another pretty distinct track, which features a classy vocal from Shaw and lyric at the beginning of the song before Gilbrook kicks in the pace, making this a solid and unique rock tune that closes the disc. The rest of WTS is penned by Mick Box & Phil Lanzon [with Lanzon writing one on his won as well]. I like Bolder's writing on the band's previous albums dating back to 1989's "Raging Silence", particularly on the band's previous 2 albums Bolder has contributed a number of very different and stellar tunes like "Fear Of Falling", "Shelter From The Rain", 'I Hear Voices", "Fires of Hell" and "Dream On", so Yes - I would've liked to see a couple more tracks from here. But, oh well.... The band seems to have no shortage of songs. What's missing IMO, is a couple of real killer stand-out tracks, where as songs like "Against The Odds", "Logical Progression" and "Universal Wheels" [among others] blew me away on first listen of Sea Of Light, as did "Between Two Worlds" and "Sweet Pretender" from Sonic Origami; Wake The Sleeper lacked songs that hit me right off the bat and stuck. In fact, after numerous listens, I still haven't 'gotten it', aside from the 2 tracks mentioned previously. There are however a number of rock tunes, many of which have grown on me a bit, and what can i say when the consensus is among the Heep faithful that they love this album!? "Tears Of The World" is perhaps the most mainstream commercial rocker here; it's a pretty catchy and memorable tune, though it reminds me of "Time Of Revelation", a classic from Sea Of Light. "Overload" is the main rocker here, it kicks off after the instrumental opener and has been pegged as THE rocker here by many fans. It is decent, though it took a while on me, but it still falls behind Between Two Worlds and Against The Odds, the 2 previous lead-off classic heavy rockers from the previous 2 discs [in the same rocking vein but almost like a distant cousin as opposed]. "Book Of Lies" is another one that has grown on me to be a fairly good tune, i like the hook and the chorus; if there was still a 'singles' market, this one would be a good pick! Last to mention is "Ghost Of The Ocean".
Played loud this one's a good blazing rocker in the classic Heep fashion, however [sorry again], the intro reminds me of "Everything In Life" from Sonic Origami and i have a hard time getting beyond that, cool subject matter though [female pirates!]. Lyrically, this album is pretty interesting, as the writers steer away from more mainstream relationship topics and dive further in to more worldly and different topics. Soundwise, producer Mike Paxman has made this as heavy as Heeply possible, loading up on the hammond organ and overloading on the wah-wah guitar sound, and he does manage to bring out Bolder's bass playing as a major part of Heep's heavy style [and you gotta dig Bolder's work, especially on What Kind Of God]. What stands-out separately for me is the Gilbrook's playing; as I said before he really kicks in a load of energy [see Ghost Of The Ocean, Shadow and the title track], as well Bernie Shaw's vocals, as this album is much heavier than Sonic Origami and Shaw delivers some vocals that he really stretches out on and away from straight ahead hard-rock styles [see War Child, What Kind of God, Heaven's Rain].
Anyway, an album that will appeal to hard & heavy rock fans, and classic Heep fans, though I ain't blown away with all the songs, the overall sound is heavy and a there are a number of tracks have grown on me a bit [especially played loud], and - if so many Heep die-hards are digging this, there must be something to it.

check out: www.uriah-heep.com , www.mick-box.com & www.wake-the-sleeper.com


ASIA - Phoenix
Well, after years of Geoff Downes dragging the 'Asia' name through the mud, the original band [and unequalled group] reunited and delivers a brand new album. And what can one say? John Wetton is back in order and sounds great [I had one of the Icon releases, which he sounded like crap on] and Asia [w/ previous line-ups] haven't released anything near as good as Wetton's "Battle Lines" from 1994 , so i ration it's been some 13 years since we got a really great album from anyone connected to Asia [though a few of Wetton's post-Battle Lines albums were fairly decent].
So Phoenix kicks off with a true classic Asia majestic pop-rocker in "Never Again". A great, catchy, rockin', solid song kicked off with Steve Howe's guitar riff, before Wetton's bass and vocals kick in as do Carl Palmer's drums and Downes keyboards. And then.... what hell? No more rockers. Kinda weird, upon first few listens, i was greatly disappointed after the lead-off track [which sits comfortably alongside Asia classics like Heat Of The Moment, Don't Cry and Go] as 'adult contemporary', ballads, prog, circus-like keyboard intros and acoustics kick in. But there is [and have been] a number of tracks that are deep and grow on you. This is a 'mature' album, not an old folk's album. "Heroine" is a classy ballad, better than any of the band's previous ones. I love Wetton's vocals on it, sounds great! "Alibis" is a upbeat poppy tune, with a melodic guitar intro from Howe before the band kicks in; another amazing vocal from Wetton, Downes synthesizers, Palmer's solid drums, big harmonies on the chorus, and a cool guitar break from Howe as well. "Parallel Worlds / Vortex / Deya" is a 3 piece track, with Parallel Worlds being the main song, a ballad, with great finger playing from Howe, some smooth harmonies on the chorus, and Wetton's strong delivery. The latter 2 parts are instrumentals, with Vortex being a progressive break for the band to stretch and Deya being a softer more romantic part. "An Extraordinary Life" is an upbeat proggy pop rock tune, starting out lightly, it builds builds up to a memorable chorus. Somewhat lightweight, but a very likeable tune.
As said, the majority of the tracks are ballads, but there's a lot of good songs here, and this album will grow on you over time. It's a pretty uplifting album, great performances. And though i shouldn't pick favorites - this is the best thing Wetton has done since Battle Lines, he is the key here IMO. Asia .... in 2008! I love it.

Check out: www.originalasia.com & www.johnwetton.co.uk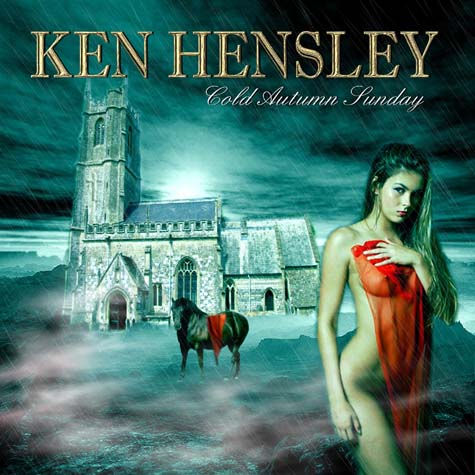 KEN HENSLEY - Cold Autumn Sunday
This album being a 'partner' to Ken's previous release "The Wizards Diary". The previous disc was a collection of Uriah Heep classics that Ken re-recorded. "Cold Autumn Sunday" is Ken re-making a number of gems from his first 3 solo albums [Proud Words On A Dusty Shelf, Eager To Please and Free Spirit]. Although I don't know how or what the criteria was for the songs chosen, there are some interesting and excellent versions here. Now Ken's voice ain't like it used to be, and he admittedly has a harder time taking on hard rock songs, where as he still sounds great and at ease on the ballads. That said, the disc opens with a new lighter and up to date version of "Send Me An Angel" [co-written by American Jack Williams] which was recorded when Ken was in Blackfoot on 1983's "Siogo" LP [w/ Rickey Medlocke on vocals then]. With Blackfoot it was a heavy commercial rocker and a single release; here the song sounds very very different and still extremely enjoyable. A number of songs come from Ken's first post Heep solo album Free Spirit [and the last before he joined Blackfoot, then went in to retirement for a number of years]; these being "Inside The Mystery" [also co-written with Jack Williams], "When", "Brown Eyed Boy", "Woman" and the synth dance number "Do You Feel Alright". Brown Eyed Boy was and still is a classic, though I miss the guitar solo exactly how it was originally, the song still sounds good, as does Inside The Mystery, which sounds great [the original now sounding a bit dated], When sounds good, though I'm not crazy about the change in vocal approach. Do You Feel Alright is even more of a synthesized dance number now and extended! a fairly catchy tune. How funny would that be - Ken Hensley - with a hit dance track!? Songs from Ken's first 2 albums like "Longer Shadows" [with added electric guitar - I loved this song, still do], "Secret" [with a different vocal effect, and musically sounding less 'country'], "Cold Autumn Sunday" [with more hammond and classy guitar breaks - making this more of an epic than it originally was], "When Evening Comes" [one of the tracks that remains very close to the original, but i love the guitar solo], "Go Down" and "The House On The Hill" [love the slide guitar in the intro] - all sound a up to date with different guitar tones and more spaced out musical breaks. Best cuts here though are the previously unreleased "Romance", a classic Ken Hensley dramatic ballad and the 'then and now' version of "Through The Eyes Of A Child", which pieces Ken's original demo of the song [from some 35 year old tape] and his new players crashing in for the songs heavy finale -- simply an amazing piece!
Not that it really matters if you have Ken's first 3 solo albums, this is an excellent addition to the collection, even if he is re-doing his old stuff, he manages to do it in style.
Visit: www.ken-hensley.com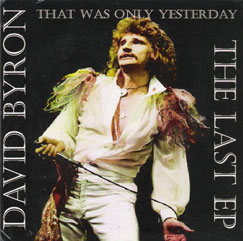 DAVID BYRON - The Last EP
These are the last 3 tracks that David Byron was ever known to have recorded. Put together by a record exec and producer as a step to [hopefully] re-launch David's career at the time. This EP features the only 3 tracks cut during these sessions, which were produced by David Digby Smith [who'd previously produced Byron's Rough Diamond band], and all 3 are covers. The songs being "That Was Only Yesterday" [Spooky Tooth], "Waiting For The Sun" [The Doors] and "Pride & Joy" [Marvin Gaye]. The band consisting of Rabbitt Bundrick [keys, ex Free, Crawler, now of The Who], Tim Renwick [guitar], Neil Conte [drums] and Alan Spenner [bass], as well as The Chanter Sisters on backing vocals. This collection is less of a rock excursion and more of a smooth R&B approach to the songs. David still sounds great, like he was into it, and it's neat to hear him in such a different style, especially on The Spooky Tooth and Marvin Gaye songs.
An interesting final chapter in the career of one of rock's truely forgotten greats.

check out > www.travellersintime.com & www.david-byron.com