BERGGREN-KERSLAKE BAND
AN EXCLUSIVE INTERVIEW WITH
STEFAN BERGGREN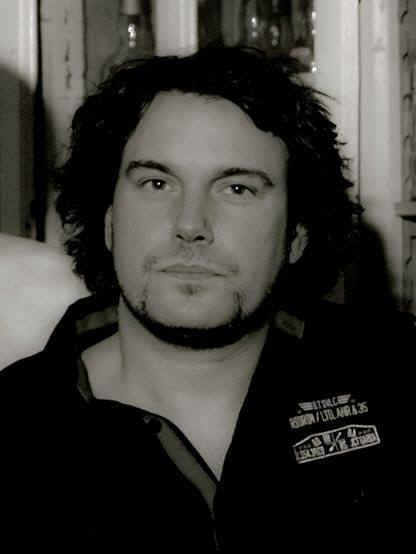 Swedish singer Stefan Berggren has become well known to classic rock fans over the past decade through playing with original members of Whitesnake in Company Of Snakes and M3, and more recently teaming up with Lee Kerslake [ex Uriah Heep, Blizzard Of Ozz] for various shows, and a brand new project – The Berggren-Kerslake Band. The BKB has their debut album coming out this month on AOR Heaven [Records]. It is an excellent collection of classic rock and blues rock originals, showcasing Berggren's bluesy vocals [think Paul Rodgers, David Coverdale, John Lawton] and guitar playing alongside Kerslake's powerful drumming, and the pair's songwriting collaborations which has produced a number of great rockers, and a few choice ballads. "The Sun Has Gone Hazy" is a pretty varied set of tunes, but fans of either Berggren or Lee Kerslake will easily like the first single [video] "Walk Tall" as well as the title track, and the Classic Heep-like rocker "Super Sonic Dream".
For more info, check out: http://aorheaven.com/ , http://www.stefanberggren.com/ ; and like them on Facebook at:
https://www.facebook.com/pages/BKB-Berggren-Kerslake-Band/172767819542504
---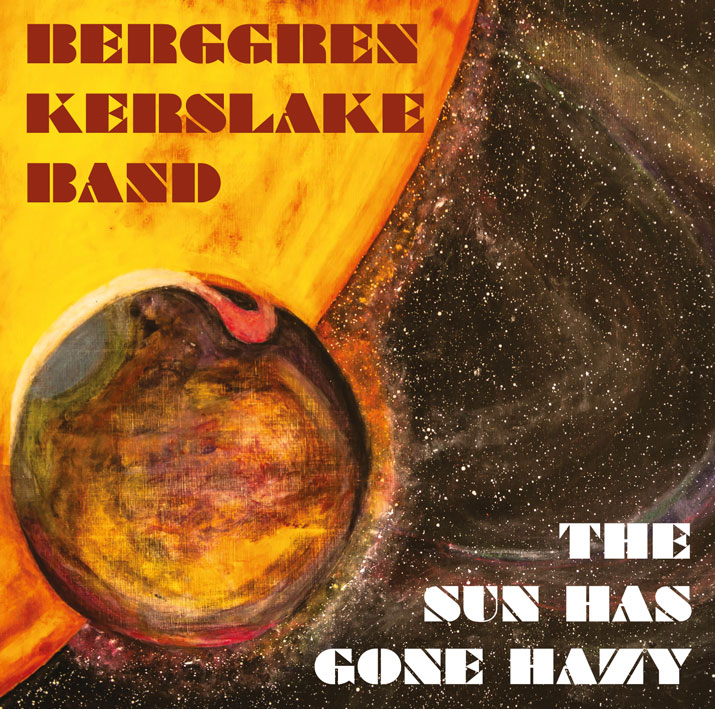 You first got turned on to music via Elvis [?] Interesting, at your young age.

Yeah, borrowing my parents' records, I really liked blues-based Rockabilly music (still do). Guys like Little Richard, Chuck Berry, Jerry Lee Lewis, even Bill Haley, etc… There is a special kind of swing (groove) in that kind of music that moved me. Not many drummers can play it properly. Even today. most of them think they can (99.9% of them play it wrong….Lee can play it!)

I wanted to be a drummer when I was 4-5 years old. I practiced on pots and pans, with forks, knives as sticks, and I played along a lot to those old Elvis records. Eventually my parents bought me a snare & 1 symbol & brushes. I could not figure out what to do with them, so I quit playing, plus Elvis died 1977. I did not get back to music until 10 years later; I'd started to play football instead.

Curious what came next as far as favorite bands, singers, players...

After a long time. Credence Clearwater, Rainbow & Deep Purple, Johnny Cash, Queen, Led Zeppelin, & Beatles, etc… -- Got me back. It took me a long time to really dig Led Zeppelin; the first time I heard Led Zep I thought Plant was high and flat. I even switched the Led Zep '3' album I got from my aunt with a Y&T record from a friend - That was a bad switch.:(

Can you give me a few favorite singers and guitar players, as well as a 'Top 10' list of your favorite albums from your youth days?

Singers: Little Richard, Elvis, James Brown, Ronnie James Dio, Freddie Mercury, Johnny Cash, Paul Rodgers & Ian Gillan.
Guitar Players: Tommy Bolin, Peter Green, Freddy King, BB King, Ritchie Blackmore, Jimi Hendrix, Yngwie Malmsteen, & Robert Johnson

Albums: Queen - A Night At The Opera, Breakthru, Innuendo, Free- Tons Of Sobs, James Brown - It's A Man's World, Deep Purple - In Rock, Fire Ball, Burn, StormBringer & Come Taste The Band, Rainbow- Rising -Long Live Rock`n Roll, Down To Earth, Straight Between The Eyes & Bent Out Of Shape, Whitesnake – Northwinds, Love Hunter, Ready & Willing, Come And Get It, Saints And Sinners, Ozzy Osbourne - Diary Of A Madman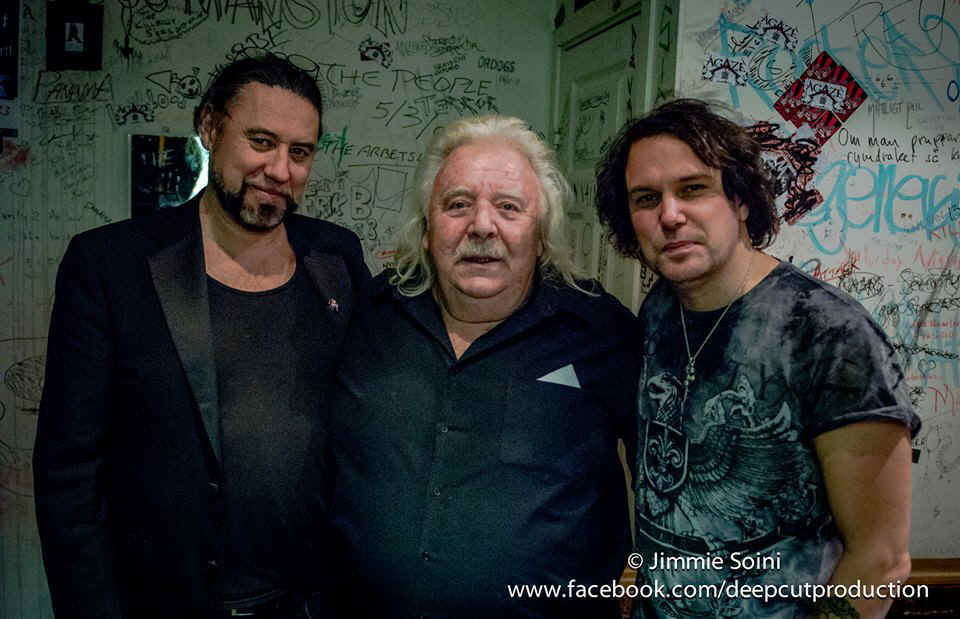 You got the gig singing for Company Of Snakes, which evolved into M3 - with the Whitesnake guys [obviously]. How familiar were you with WS [the early blues version of the band and the '80s more mainstream metal version], and do you have a preference to any era of the band [in the songs you'd perform with those guys]?

With the Company Of Snakes & M3 we played the songs from the early albums > Northwinds, Love Hunter, Ready & Willing, Come And Get It & Saints And Sinners…I really dig those early albums! I remember listening to them one time with head phones on, I was 14 and dreaming, I thought to myself - if I was the singer in that band - I`m gonna make it big. I thought the band and - especially the bass was amazing (Neil Murray)…20 years later this dream came through ..Guess it's my claim to fame.

You also fronted Snakes In Paradise and Razorback. What can you tell me [a bit] about these bands -- highlights? favorite recordings? are you still active with either?

Snakes In Paradise, I really like working on the first 2 albums - Garden Of Eden and the first album. It was great working with Brett Walker as a producer. Later I wrote a couple of tracks for his solo albums "Lift Off", a song called "Not About To Give In". I think we will do one last CD with Snakes but that will be some time in the future.

My favorite album with Razorback is "Criminal Justice". It could have had some more guitar solos on it though. We also did one tour that was very well received with that band. Right now Razorback are on ice. My focus is on BKB.

You released a solo album recently. Can you give us some details on that? Sound? Players? Availability? Response so far? (Revolution Road)

It's not my solo album!! its more of project I have with keyboard player & producer Alessandro del Vecchio. The Label is Avenue of Allies.

I'm happy with what we came up with and the response has been very good, so far. The music is a mix between SIP & RB. Very melodic.

How did you come to hook up with Lee Kerslake? And how did the whole BKB project come together?

I met Lee for the first time 2005 in Friedrichshafen, southern Germany - where they make the Big Zeppelin Luft ships. I Played with M3- Classic Whitesnake, Lee played with Uriah Heep. We met in the bar after the show; Lee was talking to Bernie Marsden about Ozzy & Whitesnake stuff and I thought they looked very funny together, those big fellows...(the Evil twins) so I said hi. A couple of years later we ended up in Zürich (Swiss) & did some more shows, this time together in the same band, but not under the flag BKB. Among others we did the club Z7, supporting Nazareth & the Earth Band. We went down a storm! The song repertoire at the time was mostly Heep, Ozzy and some Whitesnake songs. We only did 1 original Berggren Song - "Back to the Blues", a song I wrote for the Company of Snakes on the "Burst the Bubble" album. We really enjoyed playing together...

We played some more shows in southern Germany (Swiss) over the years together since 2007-2010, but we never had the chance to write anything. In 2011 Lee phoned me up and asked if I could do an acoustic show with him in Helsinki (Finland). After the show I had a couple of hours before my flight back to Stockholm. So we decided to go to our friends Matti &Tuija Takala Summer house to hangout. I knew Lee had penned plenty of great Ozzy Osbourne & Uriah Heep songs in the past. I also thought that this could be the last time I see him. So I wanted to check him out and see if he still had it (the song writing).They had some guitars in the house, I started to show him some riffs & ideas, and Lee started immediately to sing a-long and jam with me. The material that we came up with was pure magic! We cannot thank Matti &Tuija enough for putting us together. They also provided us with an unlimited amount of Chardonnay, which gave us the incredible 'inspiration' to come up with 7-8 really amazing song ideas, on a very short amount of time that afternoon.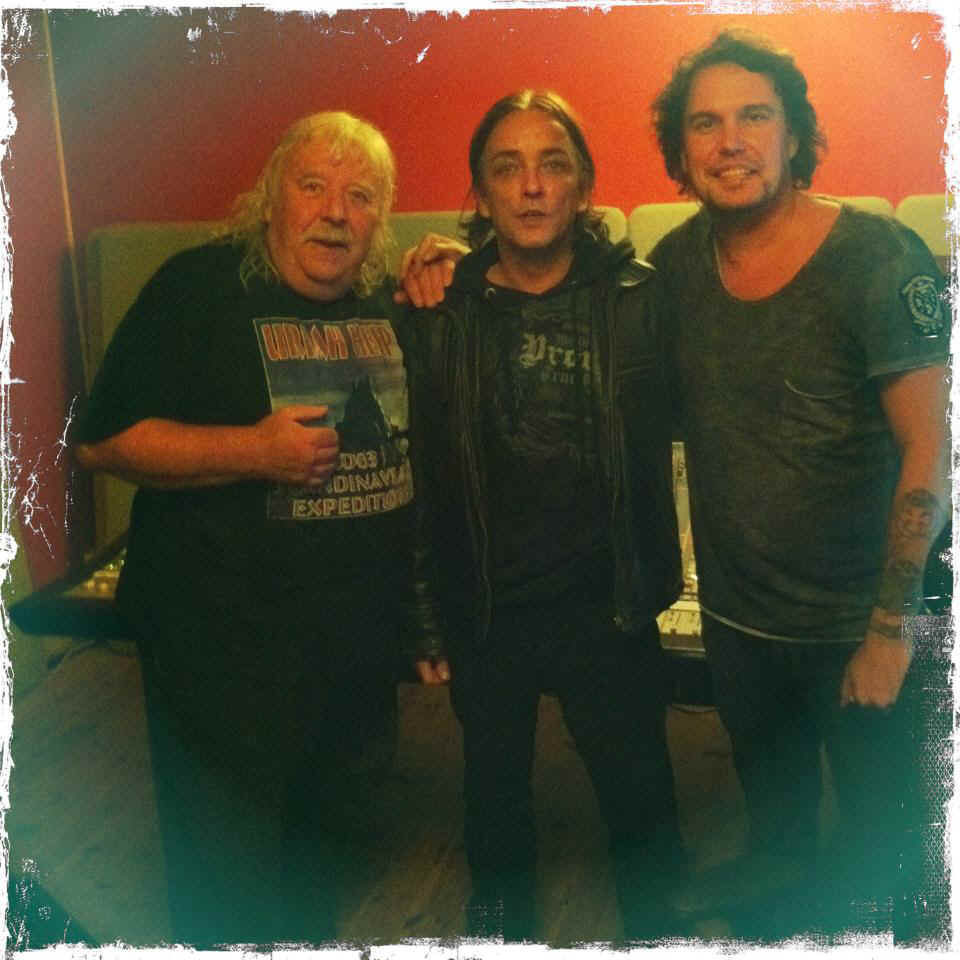 How familiar were you with Lee and his past with Uriah Heep [+ Blizzard of Ozz]? Any favorite albums or songs from Lee's repertoire?

No, not really. I listened a lot to Blizzard of Ozz -Diary of a Madman but I thought it was Tommy Aldridge playing (I should have known better), there was no internet back then when I was listening to those records.

I heard "Easy Living" and "The Wizard" with Heep. I thought those songs were very good. More recently I have checked out most of the old Heep records. I must say I really like the David Byron era, he was a great singer with a lot of feeling…And with Gary Thain on bass - what a line up! Demons And Wizards and The Magician's Birthday are my favorite albums from Heep.

What can you tell us about the experience of working with Lee as a drummer and songwriter?

Lee has his own way of tuning the drums to create his unique drum sound. He also has a special shuffle swing in his playing, which I love. And he is very quick recording wise, he knows immediately what to play to the songs in the studio without rehearsal. Lee writes most of his songs on keyboards & he has a very easy time to come up with vocal melodies and lyrical ideas.

Now, are most of the songs collaborations or how did songs and ideas come together - musically and lyrically?

They are all collaborations. First, I usually come up with a riff or a chord progression on the guitar, then we jam on it, and then write the melodies and lyrics together. We write and share 50/50. Lee came up with the music idea for the song "Back On The Road Again", then we wrote the melodies and lyrics together on it.

Upon hearing the first track [Walk Tall], it is a great song, easily likeable, remiscent of early Whitesnake, Bad Co, and late 70s Heep [Lawton]. Is that a fair comparison? And what can you tell me about this particular song and why it was chosen as the first track to introduce the album?
People want to compare us with some of the old 70s bands. We are not trying to sound like a 70s band. The sound is what my vocals, guitar and fingers provide together with Lee's drum playing and tuning…it just the sounds that we get when we play together. We recorded it very natural in the studio; we kept it very simple and honest. But I guess it has to sound a little like old Whitesnake and old Uriah Heep because we both played a long time in those bands and you get influenced by people you work with, hopefully in a good way. People are not used to hearing that sound any more. Most artists use pitch corrections and drum machines these days. We like hand-made stuff without klick. "Walk Tall" is just a good classic rock song. I had the riff before I went to Helsinki to meet Lee. I played it to him that afternoon and we started to sing and jam on. It turned out great! That was one of the first songs that we finished from the Helsinki sessions. So we both thought it was a good idea to start the album with that song.

Listening to the samples of the other tunes so far, it is quite a good mix of melodies, tempos, etc... The first track [Super Sonic Dream] seems to have a strong Heep feel via Lee's drums and the harmonies. Can you tell us about that track?
We needed a fast track on the album so I came up with that riff, Lee wrote the melody on the verses and also plays mellotron on them and pre-chorus. I wrote the chorus and the bridge. We thought it sounded a like cross between Ozzy & Heep. So I put the 'ahhhh' backing vocals on the chorus, to make it more authentic…:)

Can you give us a few other details on the album's songs -- mix of rockers, many ballads, anything unusual? any favorite songs or standouts And any other videos in the works?

I like them all, but my favorite tracks are "My My" , "The Sun Has Gone Hazy", & "Free". I think we found our own unique sound on those songs. I also like "Fools Asleep"

Aside from yourself, Lee, and the bass player, are there many guests on the album?

Tomas Thorberg (SIP, Plankton) plays bass; he is great! We've worked a lot together over the years. Lee thinks he is fantastic guy to play with; the drums and bass have to lock. I also brought in another long time friend Joakim Svalberg (Opeth,Yngwie) as a 'special guest', who does some fantastic Organ, Moog playing (solos) on the songs "As Time Goes By" & "Rock`n`Roll Gangsta".

Will you guys be touring or playing select shows to promote the album? [anything lined up? and any chance of UK or North American appearances?]

We're definitely going to do some shows with this band In Scandinavia & hopefully all over Europe. Not 200 shows, but a couple :) It also depends on the sales and response from people; if you want - we come and play.
---
Reviews: © Kevin J. Julie (Universal Wheels) January 2014