A Concert Review Of:
ALICE COOPER
Hamilton, Ontario / October 6th 2008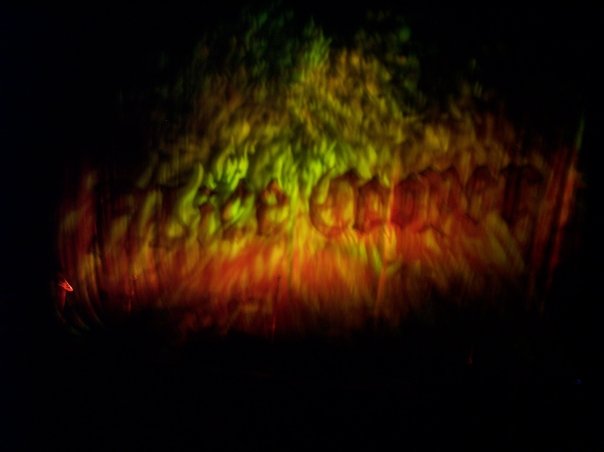 There was a time when Alice Cooper was seen as some sort of offense to family life, now an Alice Cooper concert has become a family night out. In fact, it's a safe bet that as the classic rockers age – those that were fans growing up are taking their own kids [and grandkids!] to these shows to experience them while they still can. Heck, I took my 9 year old [as he listens to Alice in the car and asked to go] and he wasn't the youngest or only kid there! There were whole families, one with parents and kids in Alice make-up!
So, does Alice still have it? He sure does. He can still sing out the classics, get the crowd going, and entertain – 35 years after the biggest selling album and tour – "Billion Dollar Babies", by the original line-up. The Alice Cooper show today is less of a mapped out concept based on his current work, but more of a show separated in to 2 acts.
Act one is a kick-ass hard-rock show featuring the anthems and classic guitar-rock hits like "I'm 18", "Under My Wheels", "No More Mr Nice Guy", "Is It My Body", "Be My Lover", as well as the underrated gem "It's Hot Tonight" [from Cooper's 1977 ill-fated "Lace & Whiskey" album] – which opened the set, and post-90 favorites like "Feed My Frankenstein" and "Lost In America". Cooper's new album "Along Came A Spider" is a concept album, but instead of pushing the new storyline in to the set, only 2 of the new songs were done alongside 2 from his previous album "Dirty Diamonds".
"In Touch With Your Feminine Side" came off pretty strong, sounding like it belongs amongst the classics, while "Vengeance Is Mine" was the other new song. Listening to the new disc, I would've picked the latter [along with a few others] to be included, but the former came off far better IMO. "Woman Off Mass Distraction" and "Dirty Diamonds" from his previous album both went down well, with "Woman…." Being my pick as the stronger one and a song that could stay in his live set for tours to come.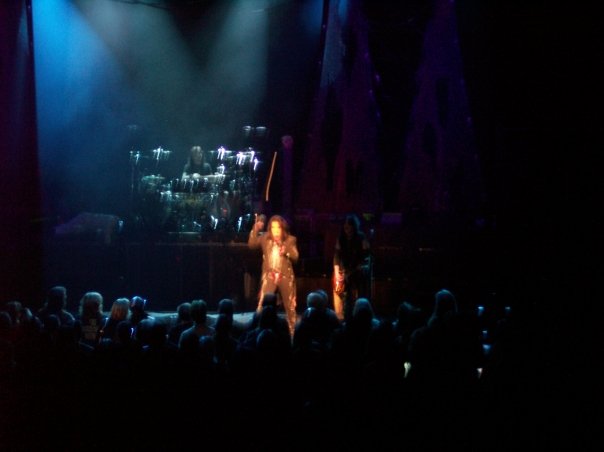 For whatever reason, gems from "The Eyes of Alice Cooper" and his heavier releases "Brutal Planet" and "Dragontown" were also passed over. But oh well, Cooper has so much to choose from, and a large number of classics that can't be omitted, so something has to give.
The band, and a great sounding band features longtime drummer Eric Singer [also of Kiss], bassist Chuck Garric [also of The Druts, and whom has played with LA Guns, Dio, Lynch Mob…], guitarists Keri Kelli [LA Guns, Slash's Snakepit], and Jason Hook [who's worked with everyone from Canadian Lee Aaron, to Hilary Duff, Bullet Boys, Fred Curci (Sheriff), and Union 4]. During "Halo Of Flies" the band-members stretch out on this 1971 epic [giving Alice a break], and Eric Singer is given his time in the spotlight for a lengthy solo, aided by both guitarists for a time, who each take up a drum on either side.
Act 2 of the Alice Cooper show is the theatrical stuff. Although I didn't get any storyline to it all, as Alice seems to try and cram as much stuff in that time, with "Welcome To My Nightmare", "Steven", "Only Women Bleed", "Cold Ethyl", "Dead Babies" and "The Ballad Of Dwight Frye", featuring dancers [such as Alice's daughter Calico – who performs during more of this half of the show], ghouls, stuffed mannequins [which Alice tosses around during Cold Ethyl], a toy baby & carriage [complete w/ Alice make-up], the straight jacket and ending with Alice being hung!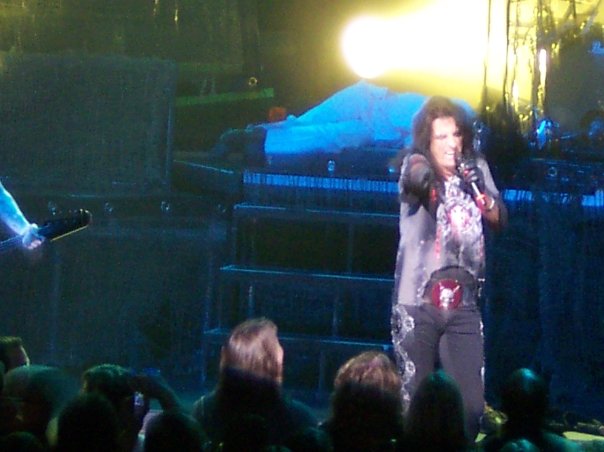 The last act being the encore – "Billion Dollar Babies", "Poison" and "Elected".
SO, being this day and age, does Alice still "shock"? Not really. Everyday news does that; As well as numerous other acts have 'out-shocked' him by overstepping any 'boundaries' that Alice originally set. [There was a time when profanity and religious attacks were out of bounds – not now]. BUT, does Alice still entertain – yes! And more than anyone.
Adults bring their kids to see Alice's shows because he is the original. The fans 'get' the acts on stage – if you are really offended, then you don't get it, nor do you understand what Alice is about! [Satire!] . and [like me] – don't take a bathroom break! You never know what you'll miss!
Though I'd like to see Alice play more of his new stuff, REALLY – how can I complain? The man playing Alice is 60, sounds great, is more in control on stage than ever before, and I would strongly suggest you don't miss him now, because 20 years down the road – who the heck is going to entertain us like this?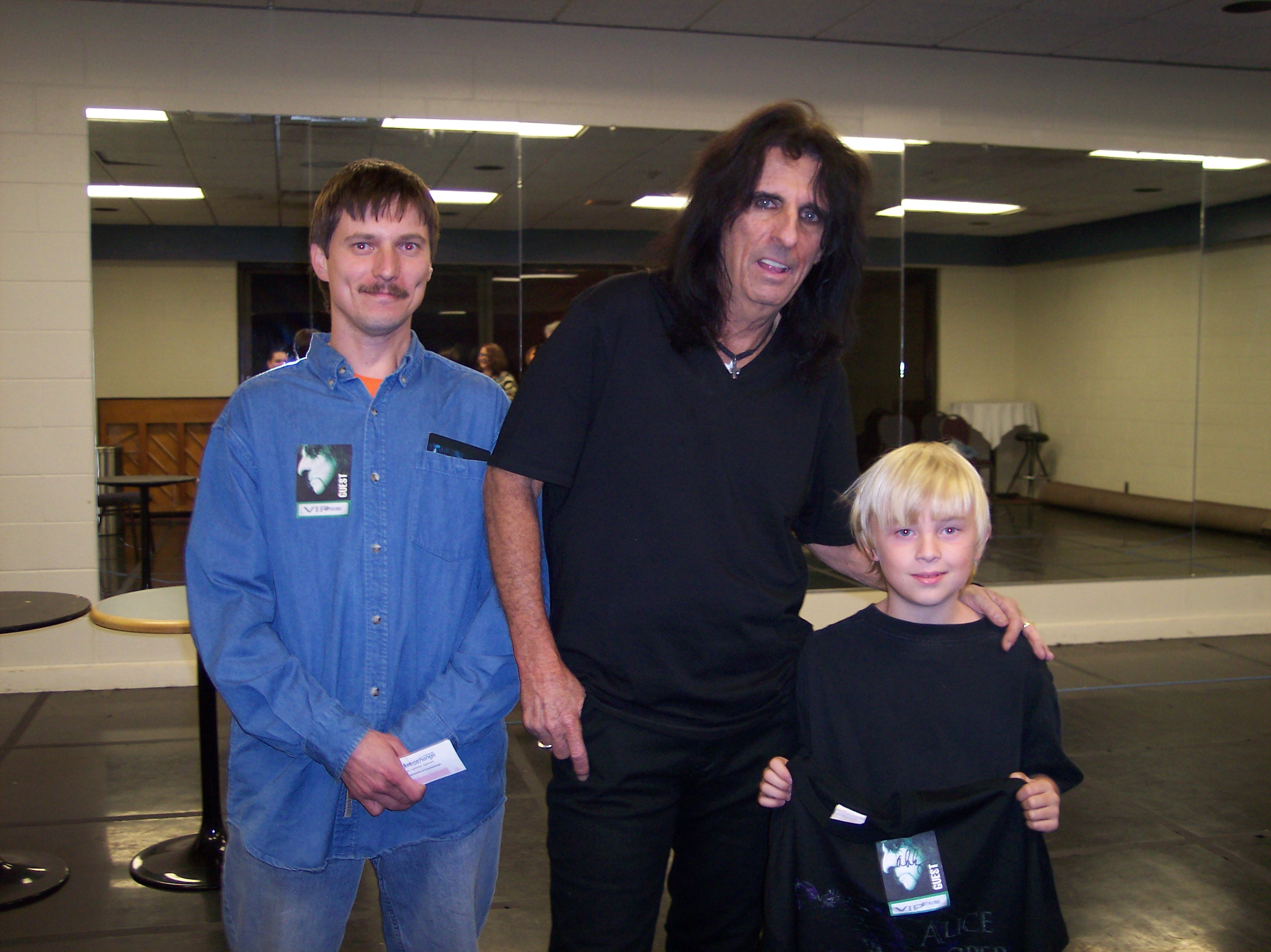 PS [Post Show]: I was fortunate enough to get in to see Alice after the show [thanks to my friend Ben at Y108 Radio in Hamilton]. It was a brief meeting [in line] to get a photo and say a few words. Well, what could I say? I have been an Alice Cooper fan since I was 12. I was an Alice fan when he was no longer touring and it was unfashionable!
Imagine how happy I was in 1986 buying tickets for "The Nightmare Returns" show?
I can still remember that day in line and the show – in Hamilton!
Now, 21 years later I finally got to meet him, and what did I have to say? Not much.
In fact, Alice himself came across as such an easy-going, funny guy, I didn't need to say much at all – and being a fan for so long, I was at a loss for words. . I was more thrilled that he made small talk with my 9 year old son. What a guy! In a brief time Alice asked him about sports [Alice admitted he coached soccer for years, so have I], asked what he'd like to be for Halloween [upon a shrug Alice suggested 'how about me?'], and then suggested an action photo of my son strangling him [from which my son uncharacteristically shied away] – so Alice grabbed him.
It was a great moment, and one my son was thrilled with.
Photos courtesy of Elisha M.