A Flashback Review Of:
ALICE COOPER
Lace And Whiskey
A FORGOTTEN CLASSIC ALBUM
ALICE COOPER – Lace & Whiskey (1977)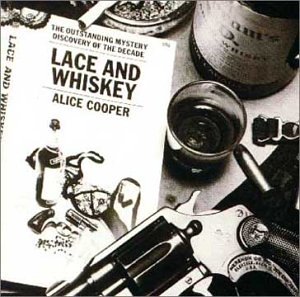 Lace and Whiskey would be Alice's third solo album, following the highly successful "Welcome To My Nightmare" and it's sequel "…Goes To Hell". The latter being a weaker follow up of the Coop doing few rock tunes, along with ballads, disco tunes, and show tunes. "Lace and Whiskey" took a new direction, away from the whole Nightmare theme, and introduced a new character in Inspector Maurice Escargot. The album's cover and stage show being based loosely around a 1940's type detective, with cover portraying a book, with made-up reviews of the fictional book. Song-wise, Lace and Whiskey is far stronger than it's predecessor with Side 1 boasting more rockers such as the lead off track [with a simple, yet classic riff] – "It's Hot Tonight" [which was brought back in to Alice's live show as the opener last year], the title track [which featured in the live show with big dancing chickens carrying machine guns!], "Road Rats" [also featured in the movie "Roadie"] and the slightly country-styled comedic "Damned If I Do" [featuring the legendary Al Kooper on piano] . Lace & Whiskey also featured 2 ballads, most notably "You And Me" – which would be Alice's highest charting ballad single at #9 [he had a string of 4 of them from '75 to '78] and an ode to his past hit ballads – "I Never Wrote Those Songs".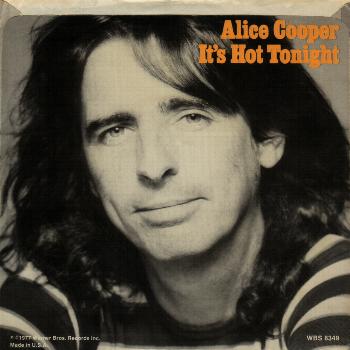 Side 2 of the album would feature more of the 'show' type tunes, yet still with a bit of rock to them in "King Of The Silver Screen" [which the tour was named after at the time], a cover of Chas Underwood's 1956 hit "Ubangi Stomp" and the closing epic "My God". The other track being the somewhat cheesy '70s pop of "(No More) Love At Your Convenience" [also a single]. Interesting to note that Cooper also shot promotional videos [films] for the singles [You And Me, (No More) Love At Your Convenience] – again, well ahead of the MTV era.
Lace & Whiskey still featured the same guitar duo as it's 2 predecessor's – Dick Wagner [also co-writer of the material] and Steve Hunter, as well as keyboardist Jozef Chirowski, and a long list of other musicians, backing singers and choir. It would also be the last Cooper album produced [and co-wrote] by Canadian Bob Ezrin for a number of years [1978's "From The Inside" would see Canadian David Foster produce].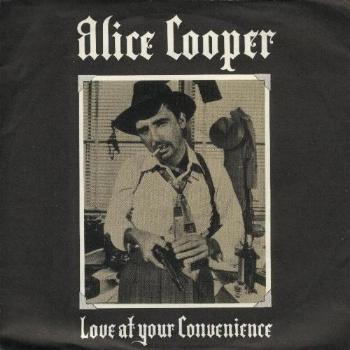 I recently read an interview with Dick Wagner where he stated that this album "was thrown together under time constraints and suffered from lack of focus on the songwriting." [visit: www.sickthingsuk.co.uk] This may have been true from the point of those involved, but frankly after the 2 Nightmare albums, Lace And Whiskey was a bit more back to earth and easier to get in to, despite being made during the height of Alice's drinking days. I hadn't pulled this album out for some time, until I heard Alice open with "It's Hot Tonight" last week in Hamilton, and I realized how good and forgotten this album really is! A good bit better than Goes To Hell, and certainly one in a pile of Cooper solo albums to come that rarely get spoken of.
* Sidenote: There's also video footage of this era titled "Alice Cooper And Friends" [from Anaheim, California, June '77]. An interesting piece to watch, as Alice dressed as Inspector Maurice Escargot dances around stage with giant chickens. It also clearly shows Alice at the height of his drinking problems, as he would admit himself to hospital soon after this tour. The end of the year would also see the release of Alice's first live album "The Alice Cooper Show". 1977 also saw Alice on numerous TV shows, his first stint in re-hab, as well as the one and only release from Billion Dollar Babies – the band featuring his former band-mates Neal Smith, Dennis Dunaway and Michael Bruce.