Long overdue reviews, but more in the near future.
EMERSON, LAKE & PALMER – Beyond The Music [05, Sanctuary]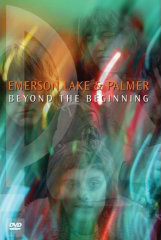 Well, this 2-disc set I have been getting more into as of late. ELP being one of those classic bands that I'd rather watch & listen to live [on DVD] rather than the old vinyl, because the band came off more energetic and exciting live and were a site to see, as witnessed on this DVD set. Disc one is essentially a collection of ELP's best on film, culled from various concerts, TV shows and promotional films. The earliest footage being "Rondo/ Pictures At An Exhibition" from the Isle Of Wight Festival in 1970, and there's the classic "Hoedown" from a Milan, Italy show in 1973 [one of a few songs taken from that show]. There's some great oddities such as Greg Lake's promo clip for "I Believe In father Christmas" and Emerson and Palmer's guesting on the Oscar Peterson Piano Party show. Throw in a few live clips from the California Jam 74, Montreal 77 and a couple of others, as well as the band's performance of "Tarkus" taken from one of their return shows at 1992's Royal Albert Hall and ends with "Touch and Go" [from the Emerson, Lake & Powell album] from the band's last world tour in 97 . Disc 2 is the complete California Jam 1974 concert and it's spectacular, from Palmer's grand entrance on "Tocatta" to Lake's classic center-stage performances of acoustic gems "Still You Turn Me On" and "Lucky Man", to Emerson's "Piano Improvisations" and "Spinning Piano" features – this is one of rock's legendary shows to be seen.
The set also comes with plenty of extras, most notably previously unseen rehearsal footage from 1973, which is cool to see the band working out a song, as Emerson and Palmer work out the timing. As well there's an interview with the late Bob Moog [who's synthesizers became such as vital part of the ELP sound and legacy]. Best bits though are the pre ELP of The Nice performing "America", The Crazy World of Arthur Brown Beat Club performance of "Fire" and King Crimson's "21sr Century Schizoid Man". All packaged nicely with a 23-page color booklet.

*Carl Palmer's "Anthology" release features one disc of Palmer's ELP days, featuring Palmer's stellar moments on such classics as "Concerto For Percussion", "Bullfrog", "Tank", "Fanfare For The Common Man" and "March Militaire". The second disc is a chronological collection of his pre and post ELP highlights, beginning with the first 2 songs he ever recorded in the mid 60s with The Craig and goes on to include single tracks from such bands as The Chants, Atomic Rooster, Carl Palmer's PM, Mike Oldfield and a trio of classic Asia tracks, selections from his '3' project [also with Keith Emerson], as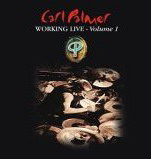 well as Qango [the forerunner to the original Asia reunion] performing "Hoedown" and closing out with Carl performing with the Buddy Rich Orchestra. Packaging includes a 16-page booklet with Carl's own recollections of his recordings included in the set and loads of rare photos and images.
Palmer's "Working Live – Volumes 1 & 2" are live versions of ELP and the odd new composition performed live by Carl Palmer's band [2001 and 2003 respectively], also consisting of bassist Dave Marks and guitarist Shaun Baxter. Fresh and energetic takes of ELP tracks are given with the guitar substituting for Emerson's keyboards.
For more info check out: www.carlpalmer.com
BLINDSIDE BLUES BAND [Grooveyard Records]



Ohio bred guitarist/singer/songwriter Mike Onesko's latest Blindside Bluesband disc boasts a number of solid classic blues-rock to almost blues-metal tunes, as well as a number of special guests and a trio of classic covers.

Keepers Of The Flame kicks off with 3 solid heavy rocking original blues songs, most notably the album's title track, followed by "Sonic Love", and "Jagged Edge", at times having that very heavy feel of heavy blues rockers like Mountain with the hard hitting rhythm section of [drummer] Jeff Martin and [bassist] Kier Staeheli. This really is a heavy sounding disc with loads of killer guitar intros and solos throughout.

A cover of Deep Purple's "Maybe I'm A Leo" loads up on the extra guitar with guest players Mike Varney & Joe Romagnolia, which leads into 3 further great blues rockers, "Lonesome Road" featuring some acoustic and slide guitar as well as harmonica [though this album doesn't soften up], the near metal pounding of "Back Stabber" and "Electric Wave". For us Uriah Heep fans there's a great cover of the gem "I Wanna Be Free", complete with the high pitched harmonies in the ending [compliments of drummer Jeff Martin]. "Bad Luck" is my pick for best track here, it's a great blues rock epic, starting out fast & furious [reminding of Hendrix' "All Along The Watchtower" for a minute] and working into a Robin Trower kinda extended moody solo [courtesy of Onesko and fellow guitarist Scott Johnson]... which is a perfect lead in to a stellar cover of Trower's ballad "Hannah", featuring guest vocals by latter day Trower vocalist [and ex Gamma] Davey Pattison! This album's made me wanna pull out my old Trower albums. Keepers Of The Flame ends with the aptly title "Bluesion", which is a jam track of blues rock, which swaps off plenty of cool speedy and heavy guitar breaks and solos as well as a drum solo. There's also another lengthy jam rocker hidden a good few seconds following Bluesion; a neat bonus.

For more info or to order check out: www.mikeoneskoband.com & www.grooveyardrecords.com