-2-
HEEP'S FIRST BIG BREAKTHROUGH

Although Heep had a record deal in hand, their first major breakthrough occurred in Germany. The band scored a major reputation in Germany at a two day festival in Hamburg. Soon, word of Heep's popularity in Germany reached Mercury Records in the USA.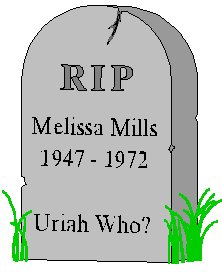 MELISSA WHO?

Uriah Heep had quite a bit of negative publicity in the early years........ actually throughout their entire existence. Rolling Stone magazine reviewer Melissa Mills summed up her feelings on their first album, entitled Uriah Heep in the USA, "Uriah is watered down, tenth rate Jethro Tull." Her infamous quote, "If this band makes it, I'll commit suicide!" has landed her in the Heepsters' Hall of Shame. Currently Melissa's whereabouts are unknown and there has been no word on whether she followed through on her vow.
ORIGINATORS OF HEAVY METAL GENRE

Martin Popoff's Collector's Guide To Heavy Metal released in 1997 lists Heep's first album ( Very 'Eavy, Very 'Umble in the UK) as one of the three major originators of Heavy Metal along with Black Sabbath's Paranoid and Deep Purple's In Rock. Ironically, in an interview with Chris Tetley in 1979, David Byron stated that he had never had done anything in his career that should be considered "Heavy Metal" and he added he didn't care for the term.
ROCKING KEYBOARDS

Early on, Ken Hensley added a unique style to his on stage presence. By placing his knee under the front of the hammond, he would rock the keyboards back and forth to the point they appeared to be tipping over.
HOW MANY GUYS ARE IN YOUR BAND?

Ken took an opportunity to sneak in a lot of his relatives to a gig in his hometown of Stevenage. He had his relatives carry guitar cases and claim they were with the band. By the time Mick arrived at the gig with his guitar case, the bouncer was fed up with it and he refused to let Mick into the gig. Eventually Mick and his guest (a Mercury Record executive) had to purchase tickets to get in to the gig. Mercury Records later signed Uriah Heep to a record deal so the story had a happy ending!
REVOLVING DRUMMERS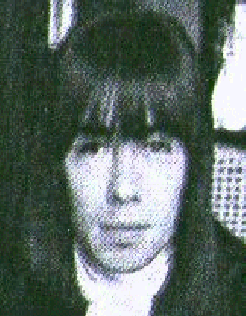 Uriah Heep went through four drummers during their first year. Perhaps this was the inspiration for Spinal Tap's exploding drummers. Their first drummer, Alex Napier, was reputed to be a difficult person with which to deal. Even the roadies were scared of him. As Paul Newton put it, "If at rehearsals you were to say the drumming wasn't quite right, you had to be careful of how far you took it, because you could only go so far, then he'd want to take you outside to settle it." He told the band he was single to get the job and eventually they noticed he was living with a wife and three kids. When the band decided to fire him, everyone was afraid of how he'd react so they sent him to the management's office for them to do it.

Nigel "Ollie" Ollsen replaced Napier during the recording of Very 'Eavy, Very 'Umble but he only played on two songs. After a tour of the UK, Ollsen joined Elton John's band and left to tour North America.

Keith Baker played on the Salisbury album and was with the band during their first North American tour, but he didn't care too much for all the traveling and he quit after the tour.

Iain Clarke, formerly of Cressida, was the next drummer to join Uriah Heep. He played on the Look At Yourself album, but due to contractual problems, he was left off the album cover of the English release. Iain eventually was burned out on all the touring and left the band.
MAGICAL LYRICS

Although Ken Hensley's fantasy, magical lyrics became a Heep trademark, Spice also had some magic in their setlist.... "The Magic Lantern". In fact the first Uriah Heep song that would qualify as fantasy lyrics were probably Paul Newton's "Dreammare", a very Heepy song in it's own right. The Dreammare instrumental intro was originally written for another song but it didn't really work. Dreammare was written later and the intro slotted in perfectly.
SINK OR SWIM

On Heep's first tour of the U.S., the band was figuratively thrown into the deep end. They went from playing small clubs in England to performing in 20,000 seat arenas as support for Three Dog Night and Steppenwolf!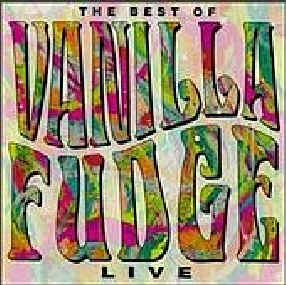 VANILLA FLAVORING

Both Ken Hensley and Mick Box cite Vanilla Fudge's guitar and keyboard sound as a major influence on Uriah Heep's musical direction.

MAN! YOU REALLY CAN HOLD YOUR LIQUOR!

Keef Hartley told Mike Taylor about an incident that occurred when Hartley's band was touring with Heep in the very early 70s, probably about 1971. During Mick Box's guitar solo each night in the show, a bottle of vodka was lowered from the rafters on a rope. Mick would continue playing guitar with his left hand and grab the bottle with his right hand and take a large drink. Of course, the bottle was actually filled with water normally. As a prank, the bottle was filled with vodka on the last night of the tour. When Mick turn the bottle up this time, he reacted with a look of shock and all the color drained from his face. Being a true professional, Mick carried on with the show without even a break.