Wonderworld
Wonderworld started out as another concept idea from Ken Hensley but the band took charge of the idea and this album presented multiple glimpses into the talent possessed by the band itself. The only remaining link to the original thought was the title track itself. The album cover for this LP was unique as each member was portrayed in statue form. Each band member sent in an entire set of clothing to be covered in a metallic material used to present the work. During an interview with Chris Tetley, Mick Box was quoted on that particular subject, "They wanted to make each of us a statue." After misreading the instructions the band had received, Mick only sent in his jeans so he ended up with the old saying on the photo of "no shirt, no shoes, no service". He followed up with commenting, "All they managed to do was gray up the hair and my jeans were covered in concrete stuff." Mick also joked that Lee resembled a garden gnome on the cover.
Overall Wonderworld was felt to be a bit of a strange turn for the band. David Byron wrote the lyrics for So Tired and Suicidal Man. He was quoted in Circus Magazine in August 1974 with, "So Tired I wrote pretty well on my own. I got the chords together on my piano at home. The lyrics are kind of tongue in cheek, you know, kind of making fun of ourselves, but there's a certain truth there too. Standing alone in the spotlight you tend to feel a bit naked." Ken Hensley wrote Wonderworld, The Shadows and the Wind, The Easy Road and Dreams. The rest was a band effort as was this entire album. Each member contributed in the studio as the band was given time to work on the album to present a full collaboration of work. Worlderworld charted for three weeks in the UK and peeked at the # 23 position. In the US it lasted 15 weeks and topped out at # 38. Not a bad showing but the overall sales were dropping for the band and Gerry Bron wasn't happy.
Again the band embarked upon a massive tour to support the album and again it didn't come without major difficulties, this time however it would force a lineup change. At Moody Coliseum in Dallas, TX on September 15, 1974 Gary Thain received a major shock on stage. Barry Lombardo quoted Ken Hensley with, "All I remember is that Gary was very strung out at the time on heroin and very weakened by that condition. I know that the shock that Gary got which was measured after the show was something that you or I or any healthy person would consider to just be a jolt. Because he was so weakened by his condition for him it was much more than that and it threw him across the stage. It wasn't the shock that knocked him unconscious, it was the impact of the ground and the amplifiers and stuff like that. He crumpled into a pile! I just remember it was a pretty bad scene."
Soon after the incident, Gary Thain gave an interview to Sounds magazine in which he gave his side to the story. "All I remember was going to the amplifier to adjust the equalizers so I could get more treble on my bass. The next thing that happened was I blacked out. David immediately realized I was electrocuted and he rushed over and pulled the bass from my hands. At first he thought I was dead because I wasn't breathing and I was lying there stiff as a board." Gary also aired his displeasure with Gerry Bron, "In some kind of way, I think he thinks I'm putting it on! The music's been forgotten and now it's a financial thing!" The remaining US and UK tour dates were cancelled but after a month Heep did short tours of Australia and New Zealand (with Thain). Gary played his last show with the band on December 14th that year and was dismissed from the band in February 1975 due to unreliability. On December 8, 1975; Gary was found dead from an overdose of heroin. The world had lost a tremendous musician and the band had lost a dear friend.

Recorded January - March 1974
Musicland / Munich, Germany
Initial release April 1974

Original Album Credits:

David Byron: Lead Vocals
Ken Hensley: Organ, Guitars & Vocals
Mick Box: Lead Guitars
Gary Thain: Bass
Lee Kerslake: Drums

"The Easy Road" Orchestral Arrangements by Michael Gibbs
Produced by: Gerry Bron
Recording Engineer: Peter Gallen
Photography and concept by: Graham Hughes
Cutting Engineer: Harry Moss (from EMI
Studios, Abbey Road London)
Equipment Crew: Del Roll, Tom Schlum & Tony Patrick
All Songs written and arranged by: Uriah Heep
EMI Music Publishing Ltd.
©1974 Bronze Records Ltd.

Track Listing: (sample audio files marked in yellow)

Side A:
1. Wonderworld (Hensley) 4:29
2. Suicidal Man (Box/ Byron / Hensley / Kerslake / Thain) 3:38
3. The Shadows and the Wind (Hensley) 4:27
4. So Tired (Box / Byron / Hensley / Kerslake / Thain) 3:39
5. The Easy Road (Hensley) 2:43

Side B:
1. Something Or Nothing (Box / Hensley / Thain) 2:56
2. I Won't Mind (Box / Byron / Hensley / Kerslake / Thain) 5:59
3. We Got We (Box / Byron / Hensley / Kerslake / Thain) 3:39
4. Dreams (Box / Byron / Hensley) 6:10

1996 Remaster Bonus Tracks:
What Can I Do (B side to single)
Dreams (Previously Unreleased Version)
Something Or Nothing (Live)
The Easy Road (Live

2004 Re-Remaster Bonus Tracks:
What Can I Do
Love, Hate and Fear
Stones Throw
Dreams (extended version)
I Won't Mind (Live)
So Tired (Live)

Single Releases:




Wonderworld US Promo Ad #1

Something Or Nothing / Denmark


Something Or Nothing / France


Something Or Nothing / Germany


Something Or Nothing / Italy


Something Or Nothing / Japan


Something Or Nothing / Norway


Something Or Nothing / Spain


Something Or Nothing / Yugoslavia


Wonderworld / Brazilian EP


Wonderworld / Thailand

Related Articles:




Wonderworld / Thailand EP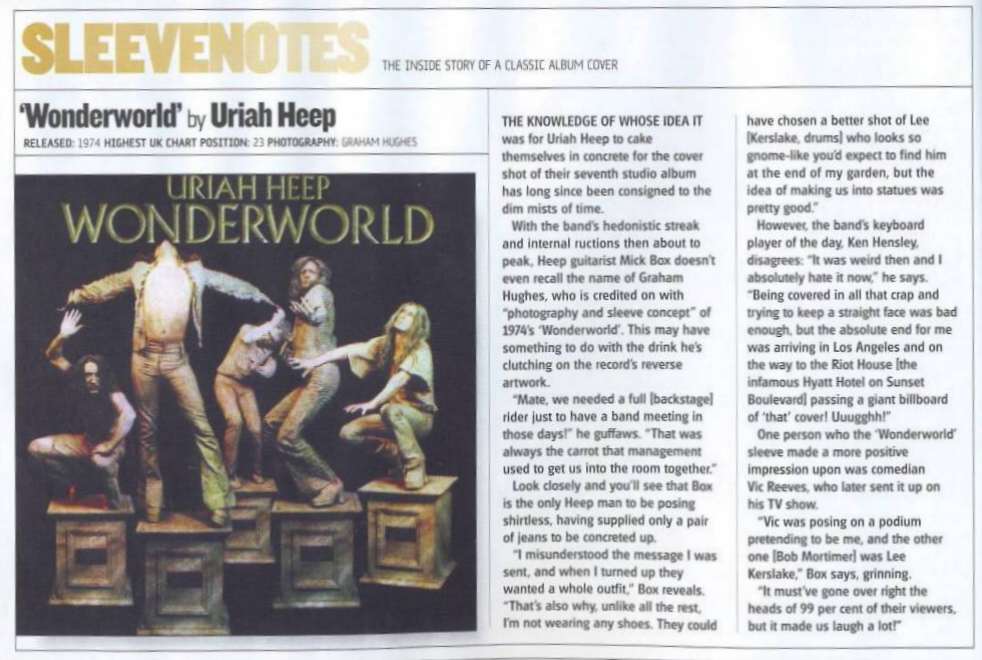 Gary Thain Articles: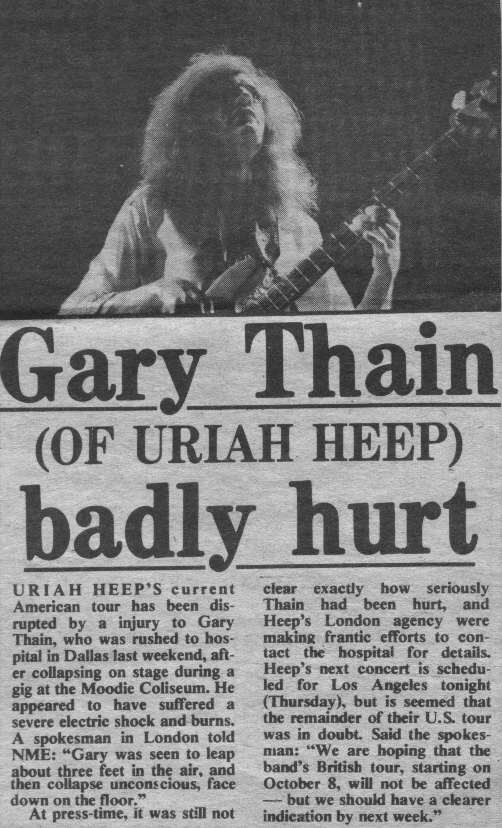 Wonderworld US Promo Ad #2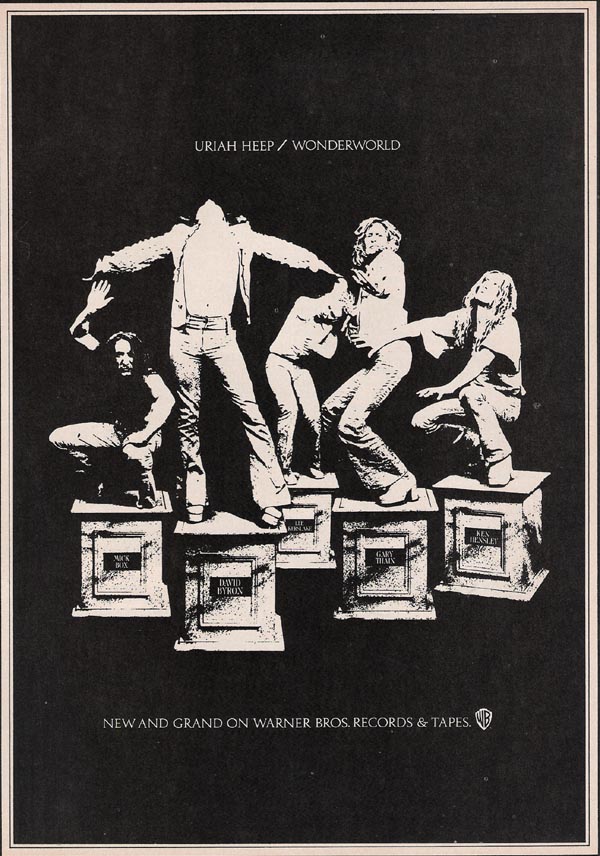 Back To Heep Studio Albums | Back To Discography Page