Live At Shepperton 74
Has there ever been an official live release with less information then provided on this CD? No credits are given for production, mixing, cover design, nor does the disc include any information on the date it was recorded or the venue. Some releases of the same concert titled it simply Uriah Heep Live and that is slap in the face of the music industry. This however was the concert filmed for the US TV broadcast of "Don Kirshner's Rock Concert" that aired on September 30th, 1974. The video was used for the VHS and Laser Disc releases of "Easy Livin' - The History of Uriah Heep".
Several takes were done of some tracks due to technical problems and the story goes that David was intoxicated during the filming and all the delays. It gave us some great bonus tracks and alternate improvisation to the normal material however so this becomes a collectors mainstay. Many stories have passed around on the show itself but none top the true moment in time when the naked streaker [pictured below] ran across the stage in front of the band. During the original film you can see the facial reactions of the band but the actual person was cut from the film which is understandable. A true Heep road moment.



Original Album Credits:

David Byron: Lead Vocals
Ken Hensley: Keyboards, Guitar, Vocals
Mick Box: Lead Guitar, Vocals
Lee Kerslake: Drums, Vocals
Gary Thain: Bass, Vocals

Recorded: March 15, 1974
Sound Stage/ Shepperton Film Studios / Shepperton, UK
Initial Release 1986
©1986 Castle Communications PLC

Track Listing:

1. Easy Livin'
2. So Tired
3. I Won't Mind
4. Something Or Nothing
5. Stealin'
6. Love Machine
7. The Easy Road
8. Rock N' Roll Medley: (Roll Over Beethoven, Blue Suede Shoes, Hound Dog, At The Hop, Blue Suede Shoes)

1997 Remaster Bonus Tracks: (alternate takes)
The Easy Road
Sleazy (Easy Livin')
Easy Livn'
Stealin'


Original Hammersmith Odeon UK Ad for a
show schedule later in '74 on June 22nd

Related Photo:

Original photo of the streaker running across stage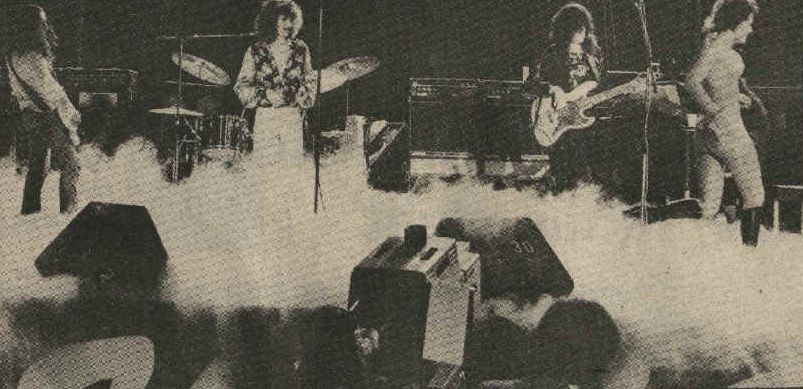 Back To Heep Live Albums | Back To Discography Page