Uriah Heep Live
Uriah Heep Live may be the original title but over time it's become known as Live 73. This stands as what may go down as the most remarkable recording Uriah Heep ever put out. In many aspects this one reflects the magic and the direction the band had. Most of the studio tracks sounded better on this live recording than the initial album release version. The fact that this album was done to fulfill a contract with Mercury Records in the US and the management, the band nor the promoters took it seriously at first is astonishing. Paul Stanley of Kiss was quoted with this remark, "Alive was so cool. There was a band called Uriah Heep who had a live album and we sort of patterned the album after theirs. It happened in the blink of an eye. It went two, three and just kept going. That was like the start of real mega-success for us."
There is some question of whether the Live 73 album was not recorded entirely at one concert. Todd Fisher, who was a member of Heep's crew at the time, has theorized that the album was compiled from different concerts from that UK tour. His tour notes indicated several shows were scheduled to be recorded although the January 23rd concert at the Birmingham Town Hall was not one of them. Todd speculated that the Birmingham gig was recorded as a last resort back-up. Being very much a big part of the band's tour Todd also got the honor of introducing the band each night. His voice is the one heard at the first of this album, "Ladies and gentleman, will you welcome please, England's own Uriah Heep!"
Live 73 had a simple cover, yet very memorable to all fans. The original gatefold album had a full print booklet inside with photos of each member and embedded signatures. The original vinyl has become a collectors item around the world just for the packaging alone. Approval of the release came from critics and fans in groves. In the UK the album hit the charts for 8 weeks and gained the # 23 position while Heep were touring the US. In the US Live 73 stood on the charts for 30 weeks, the second longest of any release and peeked at # 37. It was certified "gold" by the RIAA on October 12, 1973.

Recorded British Tour January 1973
Mixed at Lansdowne Studios, London
Initial release March 1973

Original Album Credits:

David Byron: Lead Vocals
Ken Hensley: Keyboards, Guitars, Vocals
Mick Box: Lead Guitar
Gary Thain: Bass
Lee Kerslake: Drums

Produced by: Gerry Bron
Production assistant: Peter Gallen
Sleeve Design: Fabio Nicoli Associates
Photographs: Fin Costello
Sleeve Notes: Geoff Brown (Melody Maker)
Recorded by: Pye Mobile Recording Unit
Engineers: Alan Perkins, Neville Crozier & Richard Brand
Tour Manager: Mel Baister
Equipment Managers: Del Roll, Todd Fischer, Chris Healey, Billy Joe Reisch & Bas Marshall
Sound Equipment: Europa Hire
Lighting: Edwin Shirley and Andy Bridge (ESP)
Sleeve Co-ordinators: Lilian Bron & Adrian Matthews
Manufactured & Distributed by: Island Records
©1973 Bronze Records Ltd.

Track Listing: (sample audio files marked in yellow)

1. Introduction
2. Sunrise
3. Sweet Lorraine
4. Traveller In Time
5. Easy Livin'
6. July Morning
7. Tears In My Eyes
8. Gypsy
8. Circle Of Hands
9. Look At Yourself
10. Magician's Birthday
11. Love Machine
12. Rock N' Roll Medley [Roll Over Beethoven / Blue Suede Shoes / Mean Woman Blues / Hound Dog / At The Hop / Whole Lotta Shakin' Goin' On / Blue Suede Shoes]

2004 Remastered 2-CD Bonus Tracks:

1. Something or Nothing [US Radio Show]
2. I Won't Mind [Us Radio Show]
3. Look at Yourself [Us Radio Show]
4. Gypsy [US Radio Show]
5. Easy Livin' [Film Mix Version]
6. So Tired [Film Mix Version]
7. I Won't Mind [Film Mix Version]
8. Something or Nothing [Film Mix Version]
9. Easy Road [Film Mix Version]
10. Stealin' [Film Mix Version]
11. Love Machine [Film Mix Version]
12. Rock 'n' Roll Medley [Film Mix Version]

Related Promo Advertisement:



US Live 73 Promo Ad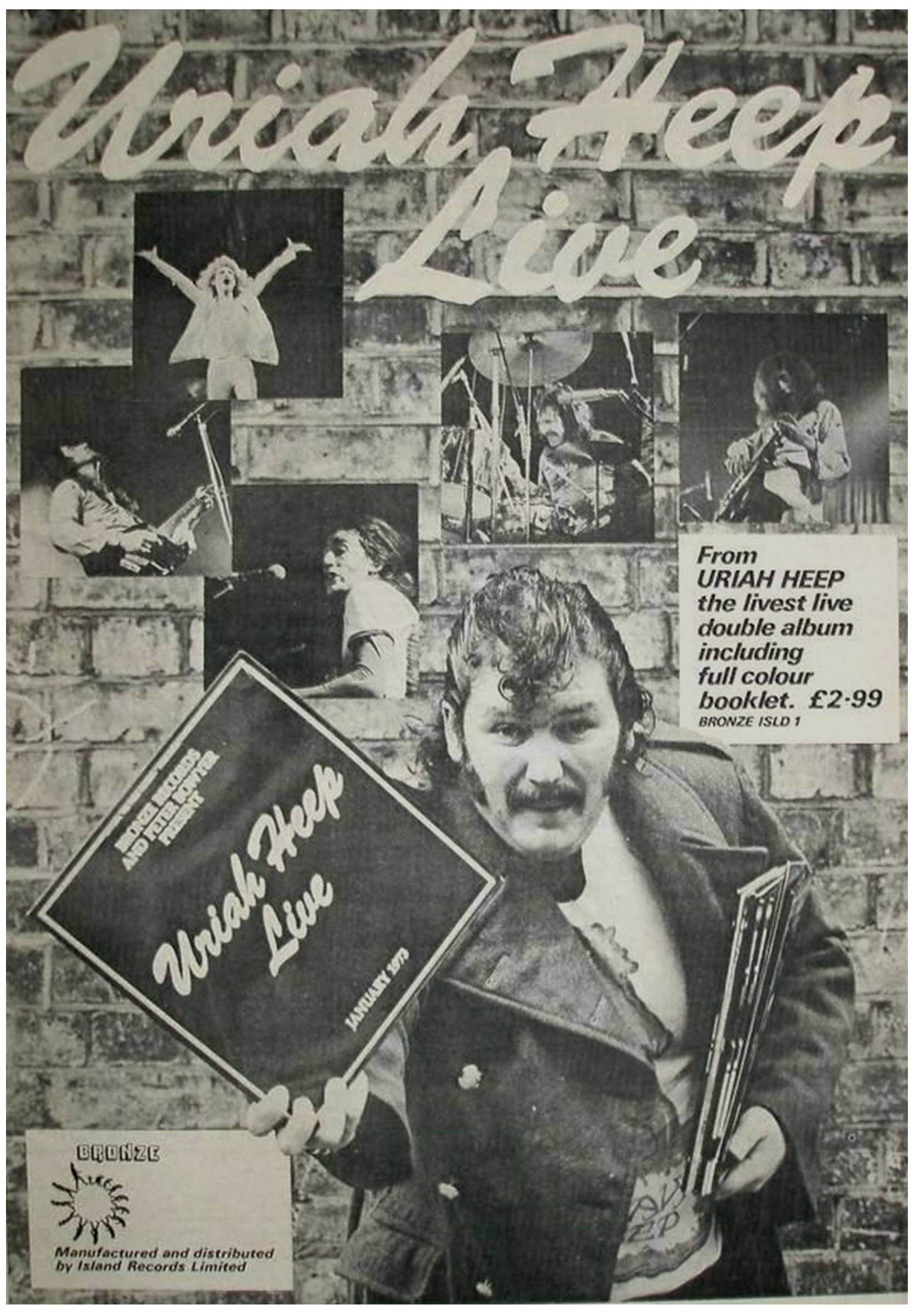 Back To Heep Live Albums | Back To Discography Page