Look At Yourself
This was the real breakthrough album from Uriah Heep and the closet to a "hard rock" album the Byron era produced. Paul Newton made his farewell after the release and Iain Clark only lasted this one album. The lineup was still changing as it went along but the music was being accepted finally on the charts as Look At Yourself was the first Uriah Heep album to break through in the UK even if it only charted for one week at # 39. In the US it made the charts for 20 weeks and peeked at # 93. Still it was a monumental mark for the band.
The movement into the progressive territory ranks this release with those considered classic and the song July Morning is regarded as the most significant song in the bands history. The song itself has inspired a Bulgarian tradition known simply as July Morning. In an interview with Metal Hammer, Mick Box related how "July Morning" came to be, "The song started off in rehearsals. It was three separate pieces of music being worked on in different songs; there was the riff, the actual verse and the middle eight up to the chorus. I had the flu at the time. When I went back after a few days, I saw they had not gotten any further. So it occurred to me that the three pieces were all in C minor and that they would all fit together. That's how it was born. It was Kenny's lyrics and till this day I don't quite know where the ideas for that came from."
Mick Box suggested the cover concept for Look At Yourself as he felt it would make the album stand out on the shelves to have a mirror on the front of the album. The distorted reflection on the cover tied in with the album title as well as making the cover visually unique. The feeling of the band was that everyone sees themselves in a different view than the world. That was put into concept with the rear photos on the album itself [see promo poster ad below].
The album however produced some remarkable tracks and unforgettable moments. I Wanna Be Free stands as an anthem today for most fans, Tears In My Eyes is also a highlight along with Shadows Of Grief. The songs released as bonus tracks from those sessions also ring a tone felt world wide. What's Within' My Heart should have been on the initial release but there wasn't enough room it seems. The song Why is also intriguing and a band favorite even if Gary Bron didn't agree: originally the song was called Why 13 minutes? As a tongue in cheek joke about how long the song would last when played live. The song was a great vehicle for the whole band to jam!

Recorded July 1971
Lansdowne Studios, London
Initial release September 1971

(mouseover for alternate cover view)

Original Album Credits:

David Byron: Lead Vocals
Ken Hensley: Organ, Piano, Guitar & Vocal
Mick Box: Lead Guitar & Acoustic Guitar
Paul Newton: Bass
Iain Clark: Drums

Teddy Osei, Mack Tontoh & Loughty Amao of
Osibisa (Percussion on Look At Yourself)

Manfred Mann: Moog on "July Morning"

Produced by: Gerry Bron
Design: Douglas Maxwell Ltd.
Photography: Tony Evans
All arrangements by: Uriah Heep
EMI Music Publishing Ltd.
©1971 Bronze Records Ltd.

Track Listing: (sample audio files marked in yellow)

Side A:
1. Look At Yourself (Hensley) 5:07
2. I Wanna Be Free (Hensley) 3:59
3. July Morning (Hensley / Byron) 10:36

Side B:
1. Tears In My Eyes (Hensley) 5:02
2. Shadows Of Grief (Hensley / Byron) 8:40
3. What Should Be Done (Hensley) 4:13
4. Love Machine (Hensley / Byron / Box) 3:37

1996 Remaster Bonus Tracks:
Look At Yourself (single version)
What's Within My Heart

2003 Re-Remaster Bonus Tracks:
What's Within My Heart (out-take)
Why (out-take)
Look At Yourself (alternate single version)
Tears In My Eyes (extended)
What Should Be Done (out-take)
Look At Yourself (BBC session)
What Should Be Done (BBC session)

Single Releases:


Look At Yourself Promo Ad

July Morning / Thailand EP


July Morning / Thailand [version one]


July Morning / Thailand [version two]


July Morning / Thailand [version three]


July Morning / Japan


July Morning / Russian EP


Look At Yourself / Germany


Look At Yourself / Holland


Look At Yourself / Italy


Look At Yourself / Japan


Look At Yourself / Spain [single version]


Look At Yourself / Spain [promo]


Look At Yourself / France


Look At Yourself / Thailand


Look At Yourself / Thailand EP


Look At Yourself / Thailand EP [version two]


Original Mercury Records Promo Letter:


Love Machine / Japan





Love Machine / Russian EP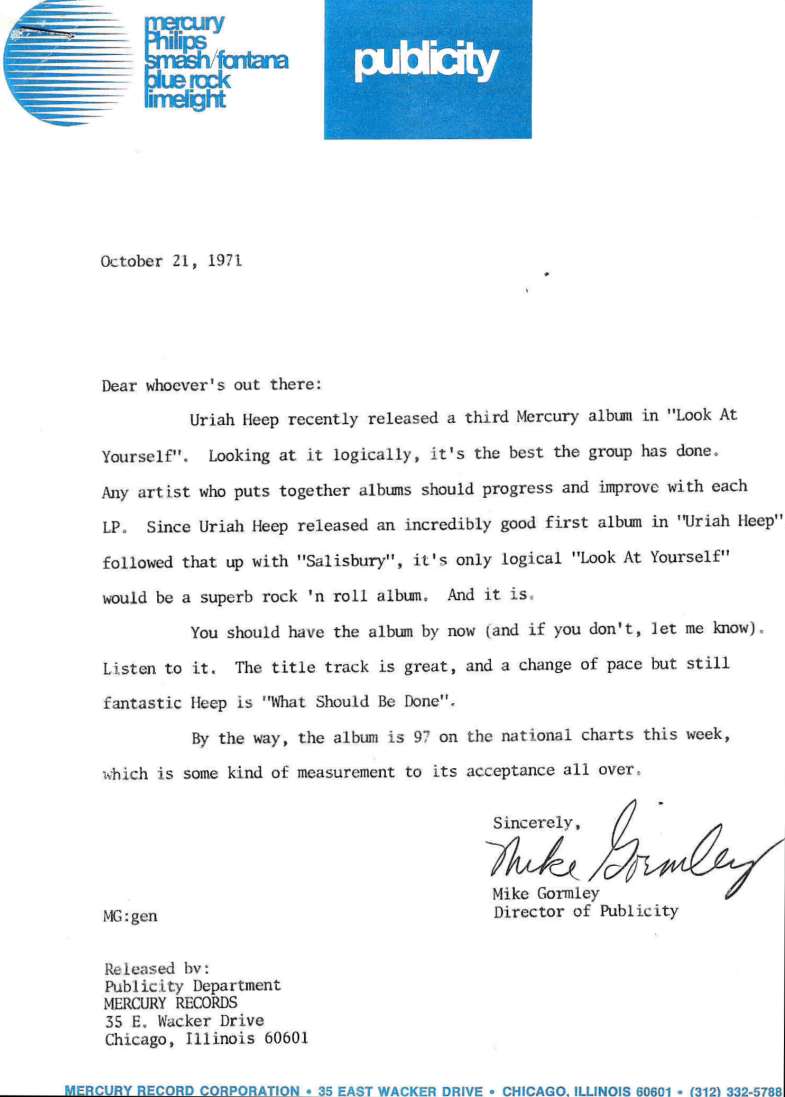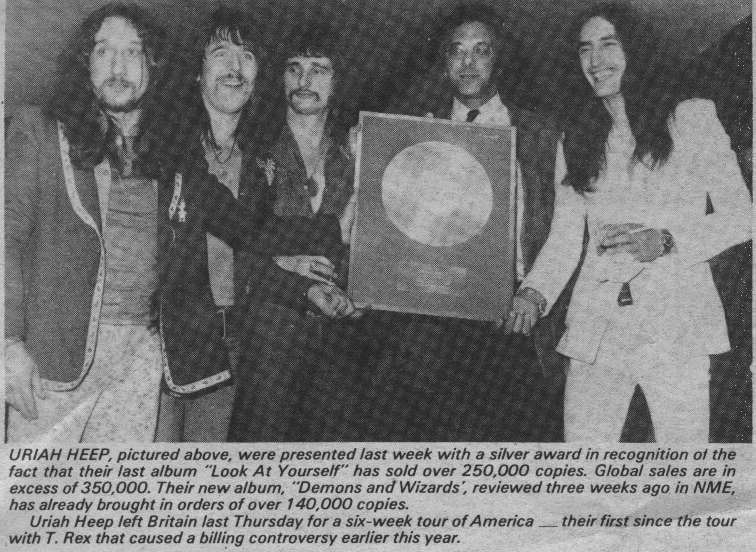 Back To Heep Studio Albums | Back To Discography Page