Very 'Eavy, Very 'Umble
The first release from Uriah Heep. The release featured two separate album covers for the European and US markets. The US version was simply titled Uriah Heep and featured a different track listing as well. The UK version of the cover is a major upgrade to the US version and the face covered with cobwebs on the cover is actually David Byron's. The effect was created by Mick Box who used a glue based cobweb machine. The album didn't chart in the UK and only made a small dent in the US for four weeks with a peek position at # 186 where it was greeted with some harsh reviews. None more remembered than the Rolling Stone Magazine review by Milissa Mills. She referred to the band as a "watered down, tenth rate Jethro Tull" and left us with the famous quote, "If this band makes it, I'll commit suicide!"
The beginning is marred in the writing credits; nothing is credited to Ken Hensley due to contract and it's hard to believe an album was done without his involvement in the writing of the work. As far as the writing goes, it's not up to par with other Heep releases, some tracks lack the feel that put a stamp on the band's history. The drummer credits are also strange. Originally the band Spice included Alex Napier and he played on all but two tracks on the first album. His replacement was Nigel "Ollie" Olsson but he lasted only two songs recorded on this album before joining Elton John. That is understandable however since he was offered double his income and it worked out well. Two drummers while they were Spice, two listed on the first album and the chaos doesn't cease for two more albums. Heep certainly had their Spinal Tap moments holding onto drummers.
Colin Wood played keyboards on two songs of the debut album, Come Away Melinda and Wake Up [Set Your Sights]. Gerry Bron also asked Colin to join the band even though none of the band were aware of this for years. Colin turned down the job because his teaching schedule wouldn't allow him to tour with a band. At that point the job was Ken's by default. But was he the third choice? We will find out in later time as more that is uncovered will be available through other sources.
Martin Popoff's "Collectors' Guide To Heavy Metal" published in 1997 listed this LP as one of the three major originators of "Heavy Metal" along with Black Sabbath's "Paranoid" and Deep Purple's "In Rock". Ironically in an interview with Chris Tetley in 1979 David Byron made it clear that he had never recorded anything in his career that should be considered heavy metal and he didn't care for the term or moniker placed on his work.

Recorded July 1969 - Early 1970
Lansdowne Studios, London
Initial release June 1970
Released titled Uriah Heep in USA

(mouseover for alternate cover view)


Original Album Credits:

David Byron: Lead Vocals
Ken Hensley: Organ, Slide Guitar, Mellotron, Piano & Vocals
Mick Box: Lead Guitar, Acoustic Guitar, Vocals
Paul Newton: Bass Guitar, Vocals
Ollie Olsson: Drums, Percussion

Thanks To:
Alex Napier (drums on all tracks except 4 & 5)
Colin Wood (keyboards on tracks 3 & 8)

Recording Engineer: Peter Gallen
Mixing Engineers: Peter Gallen, Peter Olliff
Production: Garry Bron (Hit Records Productions LTD)
Photographs: Pete Smith
Original Sleeve Design: Robin Nicol
All songs originally published Sydney Bron Music
Co., LTD / ©1970 Bronze Records LTD.
(except as indicated)


Track Listing: (sample audio files marked in yellow)

Side A:
1. Gypsy (Box/Byron) 6:37
2. Walking In Your Shadow (Newton/Byron) 4:31
3. Come Away Melinda (Hallerman/Minkoff) 3:46
4. Lucy Blues (Box/Byron) 5:09

Side B:
1. Dreammare (Newton) 4:39
2. Real Turned On (Box/Byron) 3:37
3. I'll Keep On Trying (Box/Byron) 5:24
4. Wake Up (Set Your Sights) (Box/Byron) 6:22

(US version featured Bird Of Prey as track 4 in place of Lucy Blues)

1996 Remaster Bonus Tracks:
Gypsy (single version)
Come Away Melinda (previously unreleased)
Born In A Trunk (previously unreleased)

2003 Re-remaster Bonus Tracks:
Bird Of Prey (US Album version)
Born In A Trunk (previously unreleased vocal)
Gypsy (extended version)
Wake Up (Set Your Sights) (unreleased version)
Born In A Trunk (instrumental version)
Dreammare (BBC session)
Gypsy (BBC session)

Single Releases:



Gypsy Single Promo Ad

Gypsy EP / Puru


Gypsy / France


Gypsy / Germany


Gypsy / Italy [version one]


Gypsy / Italy [version two]


Gypsy / Russia


Gypsy / Spain

Related Article:



Gypsy / Thailand EP [1971]


Walking In Your Shadow / Thailand EP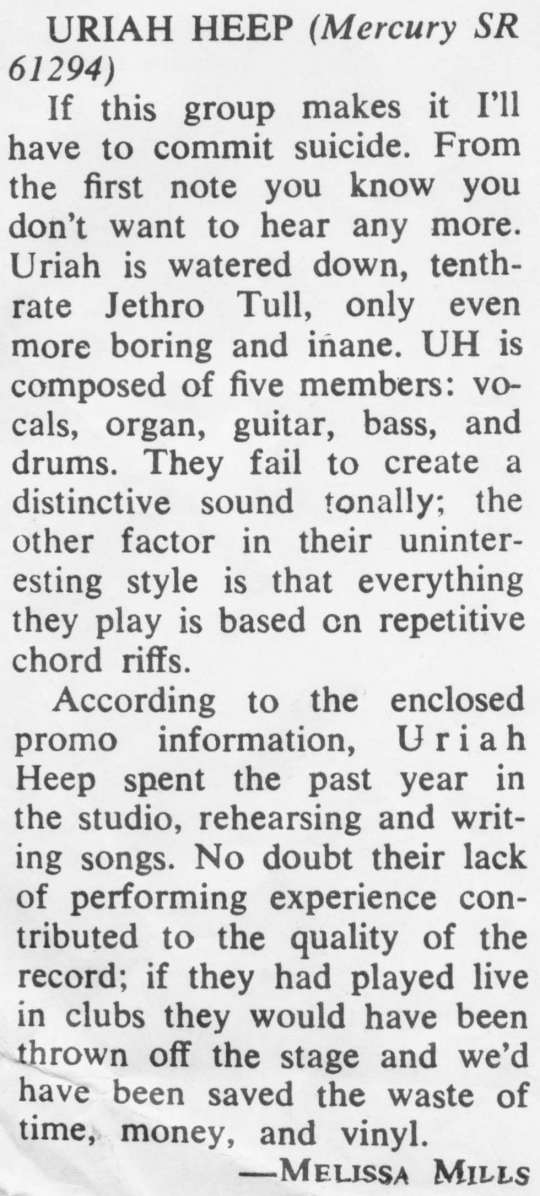 Back To Heep Studio Albums | Back To Discography Page